What is Wix Live Chat & Chatbot Plugin Integration?
Live chat is an important component on almost every website today – but why? Well, instant messaging has become the standard form of communication
Businesses, small or enterprises can not afford to lose their customers. One of the key ways to retain them with you and increase their lifetime value (LTV) is offer real time support and it is exactly the topmost expectations of customers.
And the best part is our Wix live chat and chatbot plugin will empower you to engage your customers in real time on the website or app and address their concerns effectively. You can automate customer service with the help of the Wix live chat and chatbot plugin to enrich customer engagement. 
The advanced features of live chat and AI chatbot will help to offer relevant solutions that improve the first contact resolution metric. It helps customers in faster decision making and increase sales conversion.
So, integrate the plugin for a hassle-free engagement with your website visitors and turn them to permanent customers.
Use Cases of the Wix Live Chat & Chatbot Plugin
The powerful plugin combines the best of live chat and chatbot features to help your website across sales, marketing, and support functions. Some of the key use cases of the Wix live chat and chatbot plugin are as follows:
Real Time Customer Support 24×7
With the Wix live chat and chatbot integration, you can promptly address your customer concerns round the clock. Automating customer support with bots will help to answer the common queries and the complex ones are directed to the support team so deliver hybrid support.
Collect Customer Feedback
Deploying live chat and AI enabled chatbots helps to acquire real time customer feedback to understand the gaps in the product, services or solutions. It helps to improve the areas respectively and increase customer satisfaction.
Automate Sales and Lead Generation
The chatbot plugin integration enables you to identify the product interests, likes, dislikes of visitors & customers, and segment them based on their response. Bots use the sales questionnaire to qualify leads and send them to the right sales rep for further follow-up. 
Order Confirmation and Tracking 
Integrating the chatbot plugin is the best way to combat the traditional process and deliver an excellent brand experience. Customers can stay updated easily just by entering the shipping id.
Product Recommendations
When you use the live chat and chatbot plugin, you can help customers to proceed to the final stage of the sales funnel. It is crucial to answer the queries, understand their preferences, guide them and recommend them the best option accordingly in their buying journey. 
Appointment Bookings
With the Wix live chat and chatbot plugin integration, you can offer appointment slots to your visitors so they can book meetings 24×7 without human assistance by connecting bots to the calendar.
Better Customer Engagement
Chatbots can engage with your customers with immediate responses and increase customer satisfaction, which makes them happy to retain your brand. Bots are easily scalable during busy hours to engage customers and deliver a better customer experience.
Improve Team Efficiency
Live chat performance analytics helps to evaluate the effectiveness of your live chat and know the areas you need to improve. With regular measurement of the key chat KPIs, you can improve the chat performance experience of your customers and also boost team productivity.
REVE Chat Integration Process with WiX
To integrate REVE Chat with Wix please follow the below mentioned steps:
Login to your WiX dashboard and go to the edit panel. There click on 'Add' button placed on the left side bar.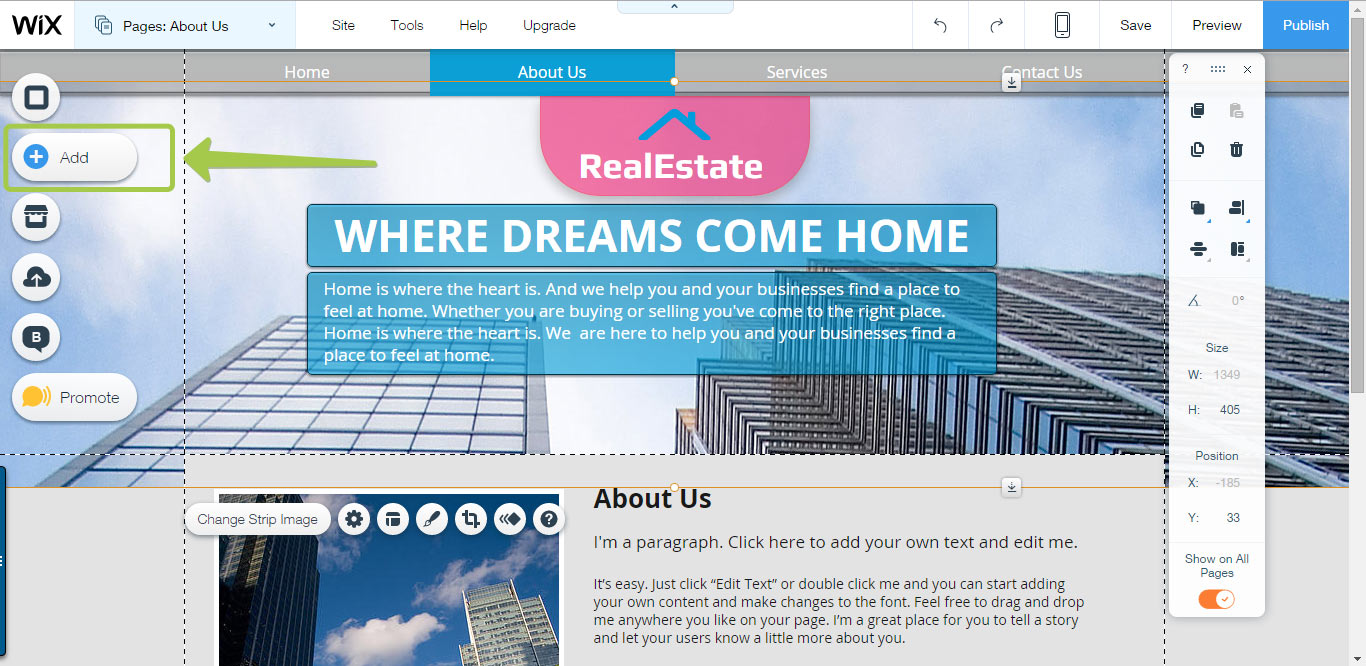 Next from the drop down list, click on 'More' and then select 'HTML Code'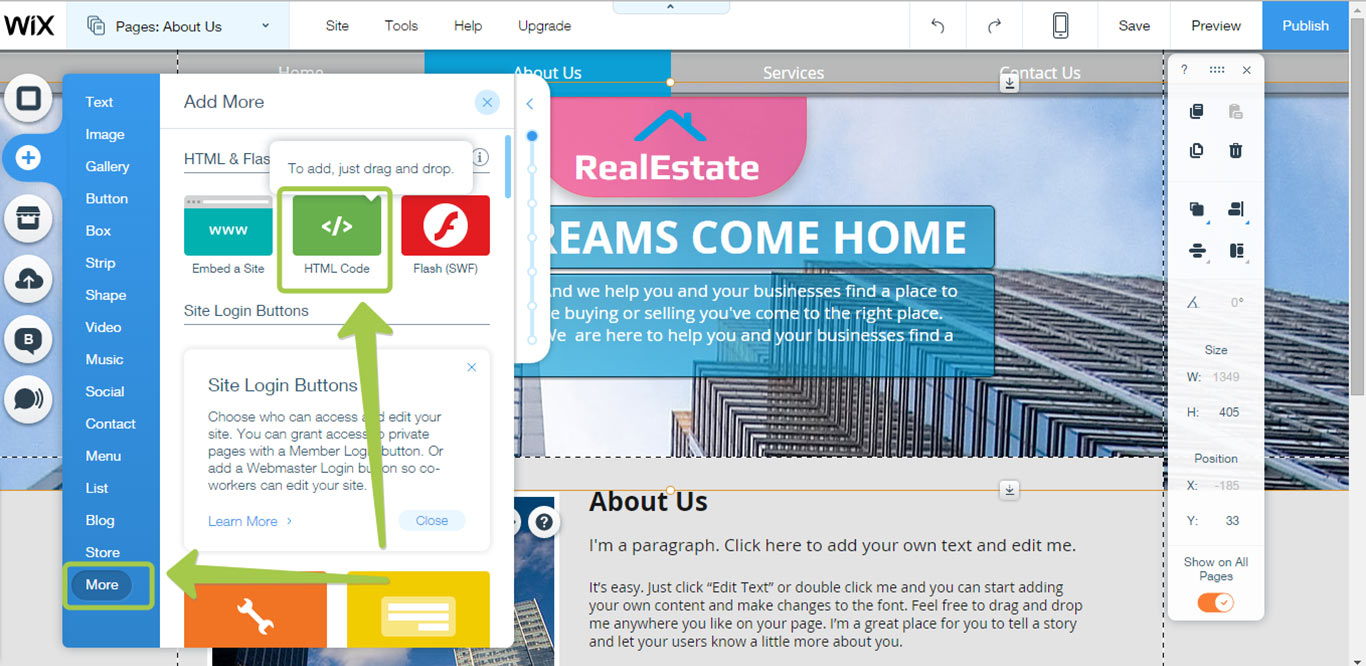 Clicking on the 'HTML Code' option will open a small box. There click on the 'Enter Code' button placed just above the small box.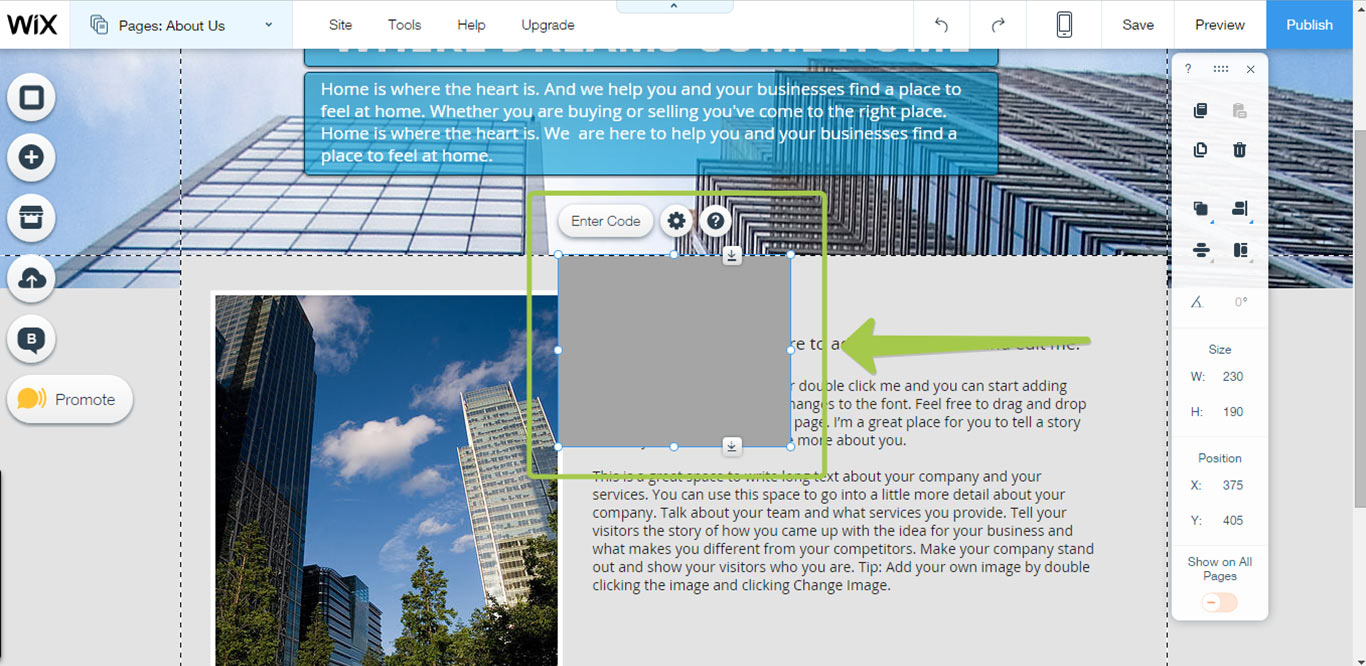 Next in the 'HTML Settings' section, select 'Code' under 'What do you want to add?' part and paste your REVE Chat code in the 'Add your code here' section.  
Next click on 'Update' button. Here you will see the "Chat with us" banner.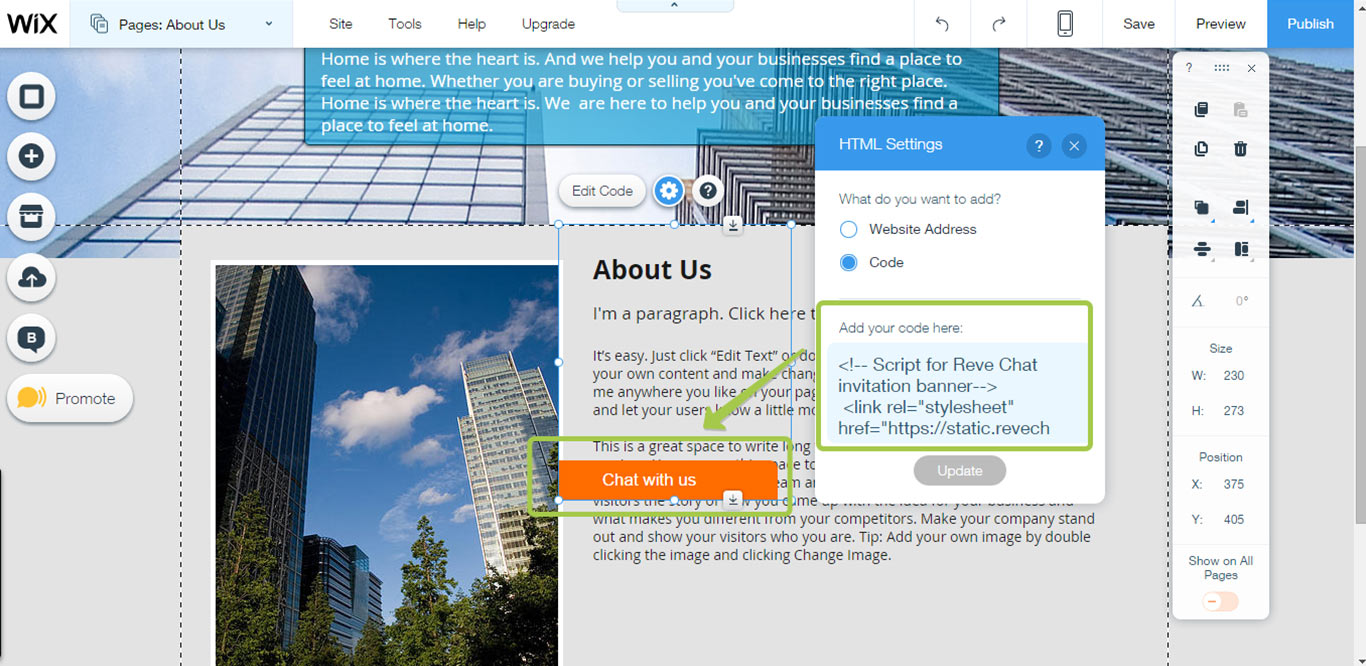 Resize the chat box (Chat with us) as per your choice. While dragging it towards the footer part, you will get a button named 'Move To Footer'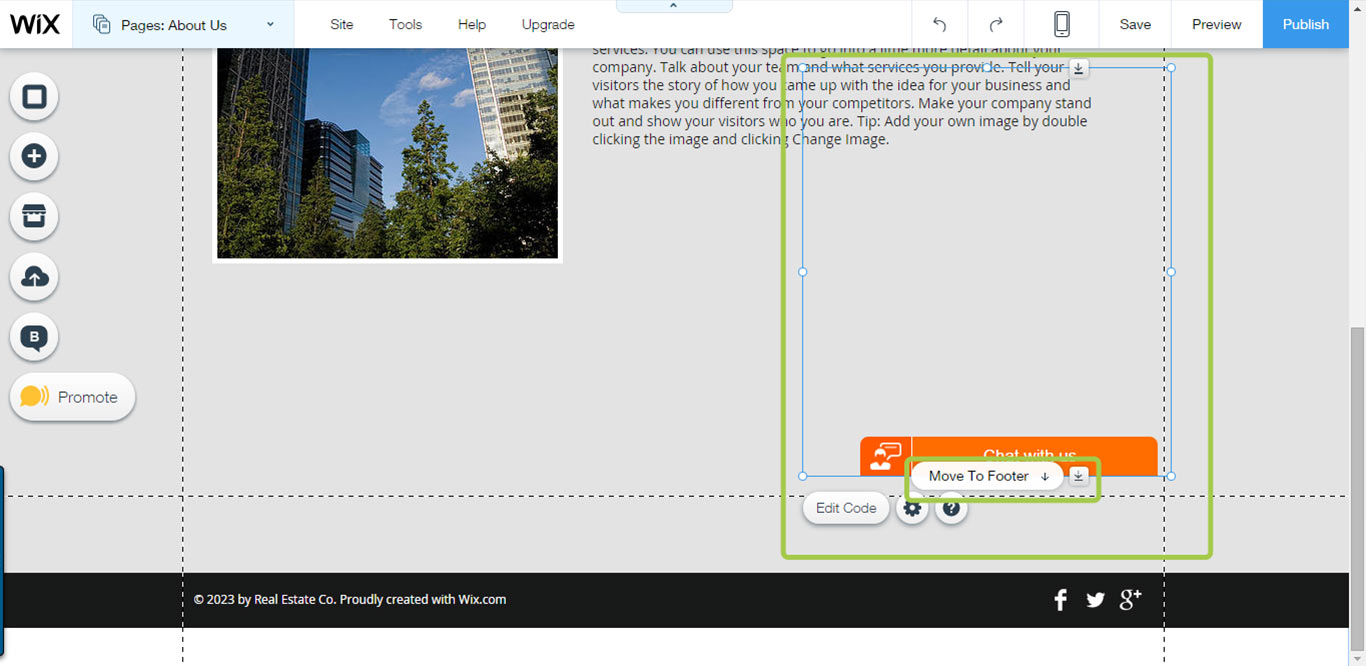 Clicking on 'Move to footer' button will place the chat box in the footer section.
Next click on 'Freeze Position' to freeze it. Finally click on 'Save' and then 'Publish' to complete the process.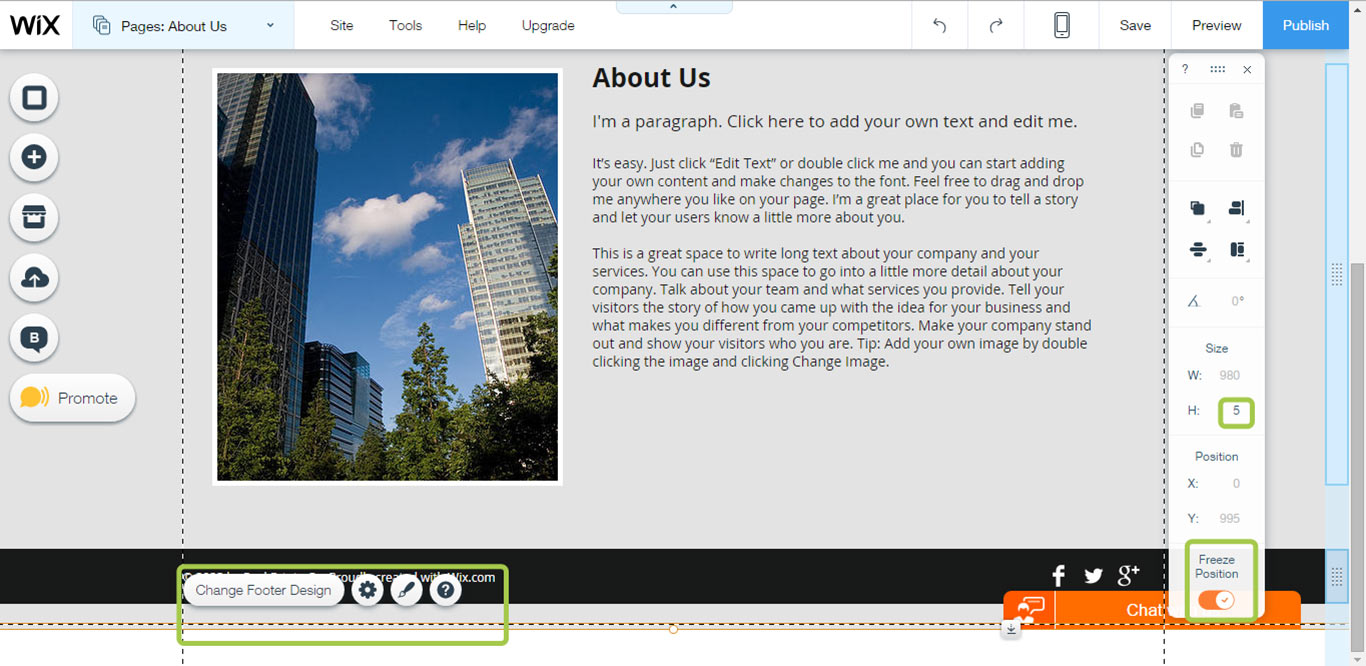 Key Benefits of the Wix Live Chat & Chatbot Plugin
Reduce Cart Abandonment Rate
Wix live chat can significantly reduce cart abandonment rate by helping you start a proactive chat session with visitors to convert them into leads. It gives the option to target customers based on their interests and stage in the sales funnel.
Improve First Contact Resolution (FCR) Rate
Wix live chat makes it possible to organize chats better by routing them to the right agent and then provide an effective solution and improve the first contact resolution (FCR) rate. 
Understand Customer Preferences Better
When your customers are able to get in touch with you in real time, you can not only meet their expectations but also gain a competitive advantage in the market. Wix live chat helps agents to be available at every touch point and deliver a better experience.
Maintain Faster Response Time (FRT)
Wix live chat helps brands provide faster solutions by using advanced features like canned responses and tags, therefore handling multiple conversations together that reduce queue time.
Proactive Customer Support 
Implementing Wix live chat helps businesses to deliver real-time service and offer proactive assistance. Customers feel delighted when there is a personalized experience and quick support. They always prefer chat assistance without delayed response to make quick decisions. 
Enables Customers to Make Faster Decisions
Active engagement and quick support can have a great impact as 35% more people made a purchase online after using live chat. Using our Wix live chat helps agents to trigger personalized messages based on the action that shortens the sales cycle and boost sales.
Provide Instant Response 
Wix live chat and chatbot integration help you to handle the queries of thousands of customers instantly as well as simultaneously and improve the average response time. 
Offer Consistent Answers
The integration of the Wix live chat and chatbot plugin can help your business to maintain a great level of consistency in answers and improve customer experience with the brand.    
FAQs
How can the Wix live chat plugin help my website?
Integration REVE Chat's Wix live chat plugin will help you to engage with your website visitors and customers in real time and provide them effective answers. It will encourage them to make quick decisions and positively impact sales. The integration of Wix live chat helps you to engage customers promptly across various channels like Website live chat, Voice & Video Chat, WhatsApp, Facebook Messenger, Viber, and Mobile apps (Android, iOS) using a single platform.
Does REVE Chat offer any trial period for the WIx live chat plugin?
Of course Yes. REVE Chat offers a 14- Day free trial period with this plugin. You can access most of the features without incurring any cost during the trial duration. Post that, if you find the plugin a right fit, you have to upgrade to the paid or premium subscription plan.
What are the steps to integrate REVE Chat's Wix live chat plugin?
The integration of the Wix live chat plugin is super easy. You just need to follow the steps followed with instructions. To integrate the plugin, follow the step here.
Does REVE Chat offer the flexibility to add the Wix live chat plugin to multiple sites?
Yes. REVE Chat allows you the option to add the Wix live chat support plugin on multiple sites simultaneously only if you are holding an advanced subscription plan.
How can I sign up?
It is a simple process.  Sign up for REVE Chat's plugin today and improve your customer communication.