Companies with a product-centric approach ignore customer's value in favor of being product-obsessed. They focus more on their products or services to maximize product expertise, rather than investing in strategies that will garner higher returns by acquiring and retaining the highest-value customers.
Whilst every sector and business is different there are some common benefits of customer-centricity that apply to almost every organization. Real time assistance is so much more important when it comes to quality support.
63% of consumers reported that they are more likely to return to a website that offers instant support. Slow response time discourages customers and impacts businesses negatively
Considering this, it's clear that response time is an important customer service metric that determines customer satisfaction (CSAT) scores. Customer response time is the key to deliver the kinds of exceptional customer experiences that drive revenue and build loyalty.
What is customer response time?
Customer response time is defined as the total time it takes for your support team to first respond to a customer query. The shorter the response time, the better.
CMO Council found that the most important attribute of a good customer experience, according to the customers themselves, is a fast response time.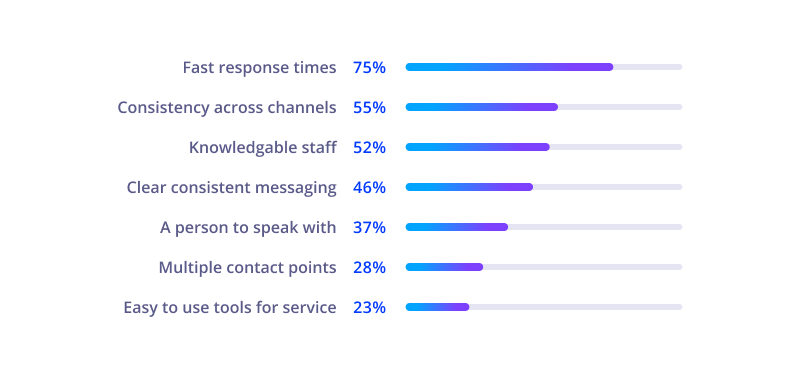 While great service comprehends many things, response time is one of the most vital components. Customers expect immediate answers to their problems. And when done right, good service leaves customers delighted and preventing churn.
Here are two important metrics to measure your customer service response time:
First Response Time (FRT)
First Response Time (FRT) also known as first reply time refers to how long customers have to wait for the initial response of the support agent. This metric indicates that issues are being looked into at priority.
The formula to calculate the first response time is:

The FRT KPI indicates the promptness of your team's issue addressing. It helps you to learn if your team is sufficient enough or needs to add more resources.
Average Resolution time Time (ART)
Average resolution time indicates the average time taken by your support agents to solve the opened tickets in a given time frame. When you measure on a per-agent basis, you get to know who is taking longer to solve tickets. 
Below is the formula to measure the average resolution time:

The lower resolution time indicates that less time was used to resolve the issues and it has a positive impact on the customer satisfaction rate.
Impact of improved response time to your business 
The prompt response is a key customer concern when deciding which businesses they will continue to engage with and whether they have received a satisfactory level of customer service.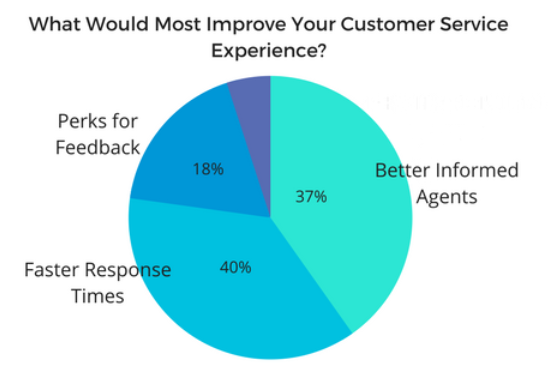 When businesses invest efforts in being customer-focused, they witness significant benefits like:
Deliver faster resolution 
59% of customers are more likely to buy when brands answer their queries in under a minute. By deploying live chat and chatbots, you can engage customers 24×7 and offer faster solutions even when your support team is not available.
Higher customer satisfaction
Customer satisfaction determines how happy your customers are with your service. Offering a  fast response delivers a quick desired solution and creates a positive brand image, which goes a long way. Higher satisfaction (CSAT) scores indicate higher customer lifetime value (CLTV).
Drive sales conversions
78% of consumers will buy from the first company that answers their questions quickly and accurately. Addressing the sales queries with fast responses reduces the sales process and encourages customers to make quick sales decisions. 
How to improve customer service response time
The risk of slow response time can leave your company in vulnerable situations with consequences like negative word of mouth, negative reviews, etc. Hence, fast customer service responses are incredibly crucial. We have outlined proven ways that can help businesses of all sizes to increase response time.
Here is a list of effective ways and best practices to increase user response time.
Let us dive into a comprehensive discussion on the rules or best practices to improve first response time.
#1. Define your goals
There is no better way to deliver consistently great customer service and challenge your support team to grow than by setting smart goals. Outlining goals for your team and business is like taking the time to check the map that will help you to know where you are heading.
As fast response time is one main part of customer service, you need to set up goals on how to improve customer response time. In order to do that you have to:
Identify your channels
Customers reach out to a business through various channels such as websites, social media, email, phone, etc. You have to identify those channels that your target audience uses to reach out to you. It will help you to plan a process and use different tools to respond to customer queries immediately.
Define Key Performance Indicators (KPIs)
Defining KPIs is important as it helps to understand how your customer service team is performing against your customers' expectations. The first response time KPI differs from business to business. Suppose you define your FRT as 2 mins & ART as 5 mins, it should be well conveyed to the team to maintain it.
#2. Outline a process
When organizations have solid outlined processes, it becomes easier to manage customer service communication. In order to create an effective process for handling customer response time, there are some key things to be looked into seriously. 
Identify common queries
Going through the earlier and recent chat history will help you identify the most common queries that your business addresses. Whether it is shipping related or product-related, you can automate such FAQs with a chatbot. The bot will engage customers 24×7 and answer the common queries promptly.
Internal process
Having a well defined internal process helps you to address customer queries efficiently. The best practices for building an internal process are:
Set up clear expectations to be transparent and plan the workflow

Adopt the right tools (email, live chat, chatbot) to deliver real time response

Provide self-service support options like an internal knowledge base or a community page
Escalation process
When you define the escalation process, the query will be further escalated to the team of agents with a more in-depth understanding. It improves the first response time and reduces the number of touchpoints significantly. After escalating a ticket, it is a best practice for the agent to convey to the customer to assure them the problem is being addressed as quickly as possible.
Follow up process
After the support tickets are resolved successfully, you need to have a follow-up process. Following up with your customers via email or chat improves their overall experience. For example, if you communicate with the customers even after a sale is made, you will be able to deal with any problems they had with the products quickly. 
#3. Use live chat support for faster response
Response time plays a vital component of good customer service. 82% of consumers say the number one factor that leads to a great customer service experience is having their issues resolved quickly.
One of the main reasons why customers abandon an online transaction if their questions or concerns are not addressed fast. The two most common customer service frustrations are:
Waiting for the support or sales agent to connect with

Being kept on hold for a long time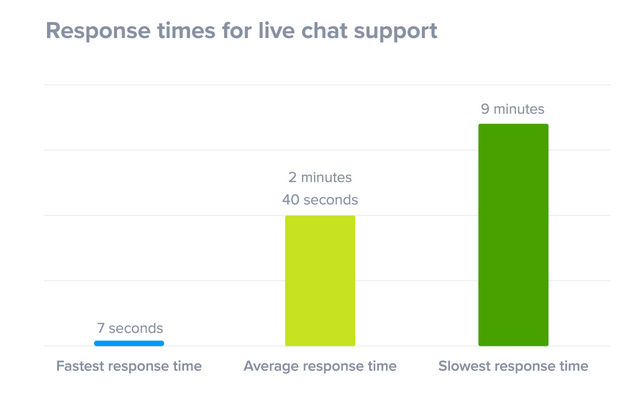 Live chat is the most preferred channel by businesses as well as customers to deliver real time responses to customers. 73% of 79% respondents indicated that "Response time is the main reason why live chat reaches satisfaction rates".
Email and live chat are two important channels where response time is highly critical.
Here are some live chat features that help to improve first response time.
Create predefined responses for the common queries and deliver faster and consistent responses.

Canned replies reduce the response time and improve customer satisfaction.
Route conversations across the right departments

to connect with the right agent, which increases the response time by reducing the queue time.

Categorize conversations with tags to label important conversations

& organize them better. Based on the nature of the query, you can promptly engage with your customers.

Manage multiple conversations simultaneously

to respond to customers' queries instantly. Thus, customers get an immediate response without waiting for a long time.
#4. Deliver 24×7 support with chatbots
62% of companies view customer experience delivered by a brand as a competitive differentiator". In order to provide an exceptional experience, you can automate customer communication with chatbots. 
Automating your repetitive customer support tasks with AI chatbots help your team to focus on complex tasks, ultimately speeding up the workflow.
For example, FundsTiger uses a chatbot for loans related queries to engage customers 24×7 and deliver answers in real time. 
Automating the ways how to communicate with customers improves the brand image, but the caveat is that it should not be over automated.
How to improve response time by deploying chatbots?
Always-on support –

Chatbots offer prompt support and engage customers 24×7 when your support team is not available. 

Train your chatbot

– Build your chatbot flow based on your use case and train your bot to deliver an effective and faster response to customers in real time.

Offer hybrid support –

Not all the time the bot is 100% correct. You have to follow the hybrid approach – it means the query is handed over to the support agent when the bot is unable to answer.
#5. Use visual engagement tools to improve FRT
One of the biggest customer frustrations is reaching out to the support team multiple times to seek resolution of the same query, which is also a reason for churn. Implementing visual engagement tools empowers support agents to view, engage and resolve customer issues.  
Leveraging live customer engagement tools like co-browsing, voice & video chat goes a long way towards fulfilling first response time. The tools enable agents to provide better, faster resolutions to the majority of support issues, thereby improving the first contact resolution metric significantly.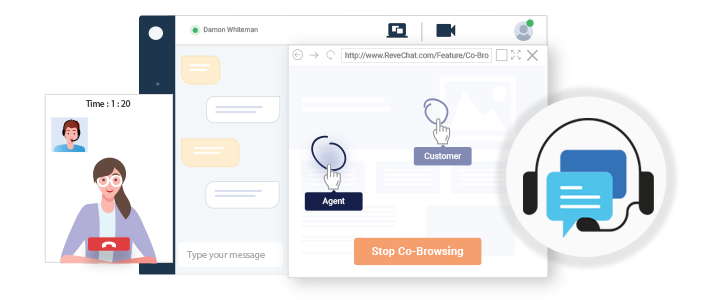 Here is how visual engagement helps in increasing the response time.
Reduce the number of touchpoints

–

Co-browsing

and video chat helps to diagnose the exact issue and serve a solution faster. Viewing the issue helps to learn the cause of the error and solve it in the first attempt, thus reducing the number of touchpoints.

Personalized solutions –

Face to face chat during real time encourages personalized conversations and delivers effective solutions to complex issues.

Improve first response time –

Visual engagement is based on the essence – see and fix. Gaining first-hand knowledge of the issue helps in delivering the right solution faster.
#6. Power your team with adequate product knowledge
Customers expect relevant answers to their queries delivered over the touchpoint and channel of their choice. Not having a competent team can create the worst customer service examples.
89% of consumers switched businesses due to negative customer service and shared their negative experiences online.
If your business is missing out on having a knowledgeable support team, there are chances of losing loyal customers and deflecting brand reputation. This brings out the vitality of roofing a knowledgeable and competent support team.
Best practices for improving team efficiency.
Regular training

– Conduct training sessions on the updated features of your core products or services and convey crystal clear brand messaging. It should be consistent across all departments and teams.

Disturb business details

– Share all the important business information across the whole support team to make them aware of the issues and solutions.

Monitor and improve

– Keep monitoring your defined business metrics and KPIs to understand the areas when you need to focus more on the forthcoming training sessions.
#7. Develop a knowledge base for self-service
Sometimes, the best solution allows your customers to help themselves by giving them access to immediate knowledge without requiring personal assistance.
Having a comprehensive knowledge base including product guides, tutorials, FAQ pages, etc. acts as a self-service portal that can be easily accessed by customers. An effective knowledge base allows you to stay two steps ahead of your customers' issues. 
However, a knowledge base is not meant to replace human support. It is there to assist them while allowing your customers the luxury of getting answers to their questions with no hassle.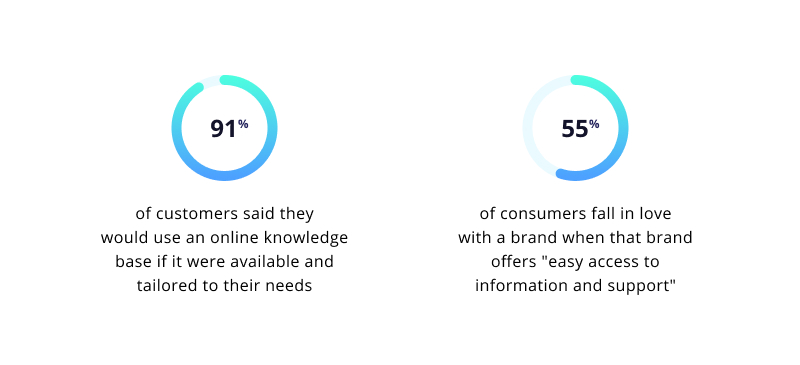 Many customers immediately submit a ticket or drop an email when they encounter an issue. But, most prefer to fix their own problems without getting others involved.
Your customers will be empowered to find their own solutions, feel accomplished, and appreciate your effort to make things easy and approachable.
How does a good knowledge base help support agents to increase the response time:
Find solutions faster

– Shifting basic support queries over to the knowledge base makes it easy for the customers to find answers and save time from connecting with the agent and being in the queue. 

Making customers happier

– Getting quick solutions to the issues with human support makes customers delighted and delivers a  great experience. 
Level up customer experience with improved customer response time
Customer expectations should drive how businesses perceive and deliver support. It means businesses need to align with the customer expectations. However, response time is a customer-related metric and businesses need to be as close as possible to improve customer response time.
Every business should strive to provide fast response time as it is a direct metric that impacts higher customer satisfaction. With a solid process, businesses will be able to achieve the desired net promoter (NPS) scores.