Evolution of customer service channels has opened new modes to deliver better and faster customer experience. Today, almost 9 out of 10 customers choose live chat support due to the lucrative benefits like interactive engagement with customers, sync with the external apps, route the customers smartly to curtail the rate of customers decline and maximize First Call Resolution (FCR).
With 92% customer satisfaction, live chat support ranks top over the phone, e-mail, and social media support and according to a stat: 79% of customers choose live chat because of the instant support.
First Contact Resolution, commonly known as FCR is an imperative key performance indicator (KPI) for monitoring the customer service department. The meaning of the first contact is the resolution rate of chat conversations on the first contact by providing quick feasible solutions, waiving out the need to make contact again by the customer.
What is First Contact Resolution?
First Call Resolution is a standard set to measure customer satisfaction. The higher the graph of first contact resolution rate, the higher is the customer satisfaction level. The organizations that have high FCR undoubtedly have a high customer satisfaction level. FCR amalgamates efficiency and effectiveness into a distinct metric to handle customers queries.
9 Ways for Achieving First Contact Resolution with Live Chat Support
1. Streamline support across multiple channels
Communication by social media is in vogue. Today, companies prefer investing in different social media channels such as email, phone, chat, Facebook, Viber, Skype, Telegram to communicate with customers.
Measuring and unifying customer information across various contact channels to deliver exceptional customer support is the prime objective. The customer support team manages customer conversations via different channels from one place.
The different support channels can be linked and fragmentation can be avoided.  The connection of the channels allows syncing of the customer data and automatic communication to deliver better customer experience over their preferred channel.
Consolidating various support channels opens a unique opportunity to address each customer:
Acquire quick and high FCR rate.
Gain more insights into the customer profile.
Easy understanding of the metrics.
View number of conversations managed by individual agents across time
See the missed out missed conversations
View overall customer satisfaction feedback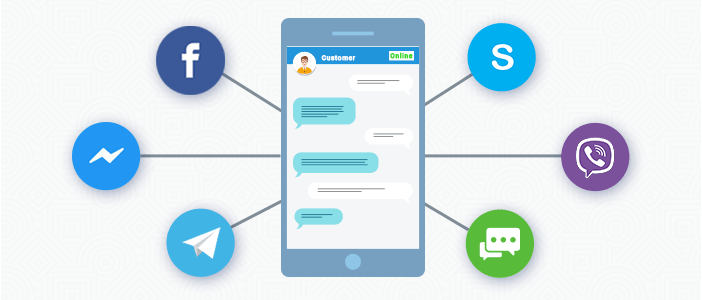 2. Route customer chats to right agents with departments
Routing is the better way to organize the chat request inquiries to be handled by the appropriate agent of the departments.
By routing the customer chats to the right department, you can provide excellent support services and improve your first call resolution rate.  You can customize routing according to the internal process through different mediums such as email, social media, chat etc.
Benefits of Routing:
Authorizes your business to stockpile the finest agents for higher-level support
Maximizes chances of quick resolution of the inquiry.
Effective resolution by right agent reduces the number of touchpoints.
For instance, if a customer is looking for pricing of the software services, he can visit your website and follow automated instructions to connect to the right agent within your organization.
3. Train your team with the right skills
Customers hate waiting and expect instant service assistance from somebody who holds product expertise to diagnose the exact reason for the issue and resolve in minimum wait time.
Once the target objectives of your business are set, the next important step is to train the team to rightly used live chat tools. Training agents and giving autonomy in terms of approach to an ample amount of information will assist them to resolve customer's queries/issues upon the first contact. Relevant skill enhancement will help keep them to in be the game and help your organization inefficiently dealing with issues reported by users.
Tips to follow:
Give priority to training on a monthly or quarterly basis.
Training should be provided by experienced people of the team.
4. Co-browsing for virtual support
Users don't really like resolving issues even when they are articulately provided instructions. Big organizations realize that we live in a lazy world where people expect everything to be done for them.
How about providing real-time assistance to web visitors with different channels like live chat, co-browsing, screen sharing, video chat etc. With co-browsing, your experts can directly interact with the user's system/ browser and help them in accomplishing particular tasks.
Remote cooperation features, such as Co-browsing, screen-sharing or presentation are remote cooperation features that are beneficial for both the agent and the customer to guide and fix the issue completely.
5. Real-time resolution with video chat
Virtual support is the essence of every business. You need to connect with the customers globally and include video chat for real-time resolution.
Video Chat is the best way for successful real-time resolution. It brings direct contact of the agent with the issue of the customer helps in getting a clear picture of the exact cause of the issue and the best possible resolution in the minimum time frame.
6. Canned responses for common queries
Time is money. Saved time can be used productively for planning new business strategies to accelerate the growth of your business.
Canned responses can be a better way to save time for you as well as for customers. Prepare a catalog of canned responses for frequently asked questions that will allow to provide more resolutions to more customers and further escalate efficiency of the team.
Canned responses help in attending the customers promptly that improves the value of time and regard for customer service.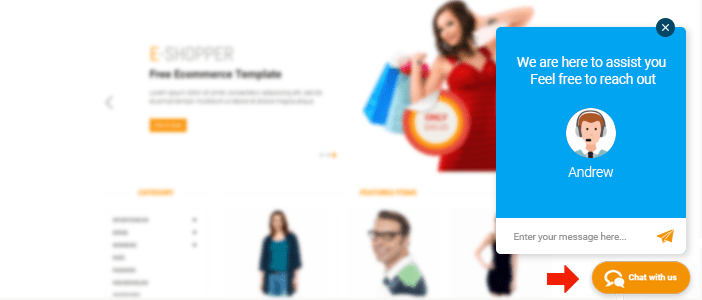 7. Get a complete customer profile for better response
Knowing your customers and analyzing their behavior to anticipate their requirements helps to improve the FCR. By gaining access to information about the user, you can create better leads and convert more sales.
The more the organization knows about the customer profile and what they exactly want, the more seamlessly will be able to meet their needs. Such practice will bring more customer satisfaction and raise the first contact resolution rate.
You can learn customer profiles in different ways:
Create customer profile into different groups (e.g. products used by customers, service industry, designation, etc.)
Evaluate the demographic data of the customers (figure out the age, gender, marital status, income level, etc. of the customers on the basis of the way of distribution.
8. Customize live chat with right messages
An appropriate message added to the live chat window will not 'let go' the customer. Your customers get the right message in your absence is highly imperative. When there is no agent online, users will get a predefined message which can be customized easily.
With the automated customized messages you not only improve your First Contact Resolution but also gain regard from the customer. You can customize your live chat with such messages to inform your customers just by going to the offline message window. For e.g.
You need to enter your message on the fields:
Set chat window title: offline message window
Configure greeting message: Please leave us a message and we will get back to you shortly.
9. Set realistic customer expectations
It is very important to set customer expectations by using different ways like – Updated wait times, backlog reports, monitored turnaround etc. This helps the customers to frame an expected resolution time of the problem, maybe a day or a week. In such scenarios use wait time or queue time.
It is always a bad idea to overburden your support agents with multiple users at once. To counter this problem, the queue time becomes a very effective and unique solution. Users, when they open the chat, will be provided with a wait time. Once your agents have addressed previous users, they can move forward and tackle the issue with the next user.
Bottom Line
The aforementioned ways help to streamline the systematic approach for expanding the First Contact Resolution. While many might not be applicable to your situation but bringing alterations to it to deal with different issues will certainly bring a significant impact on the company's FCR. For making first call resolution effective devote time and resources to monitor the first point of contact customer service consistently. Also, resolve issues that negatively impact the FCR rate and improve the factors to increase the first contact resolution.