Effective communication is not just part of customer service but the most important part. The real secret to effective customer service communication lies in the ability to gauge your customer's expectations and then to mirror and respond appropriately.
The cost of poor customer communication to businesses is estimated in billions. A recent estimate claims that the cost in the U.S. alone is close to $4 billion annually.
Fostering effective customer communication skills should be an integral part of the company's values. Improving the ways on how to communicate helps to promote your brand to future customers, build a strong relationship with existing customers, and address customer concerns.
What is customer communication management (CCM)? 
Customer communication management (CCM) is defined as the process of developing a strong connection with the customers and helping them with their objectives and problems. Having the right communication strategy is a great way to acquire and retain customers.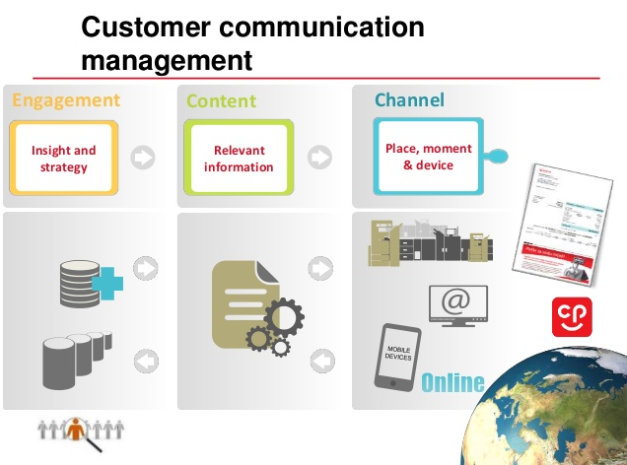 Both business-to-business (B2B) and business-to-consumer (B2C) businesses strive for CCM solutions to design and deliver critical business communications that are highly personalized as well as interactive.
Why effective customer service communication is important?
The effectiveness of communication is not defined by communication, but by the response – Milton Erickson.
Good communication skills is one of the most important traits for improving the bottom line of every business. Whether it is internal or external communication, you should be able to communicate flawlessly to make it effective.
If you communicate well with customers, your odds of success in business greatly increases by following ways:
Faster support: 

Effective communication with customers helps to learn the customer problem accurately and enable you to deliver faster support.

Reduce touchpoints:

 With an effective communication, the number of interactions required to resolve an issue can be drastically reduced.

Increased conversions: 

Helping customers in real time help to close the sales faster and increase sales conversions.

Boost customer loyalty: 

By having personalized conversations builds trust and cultivate loyalty with your customers.
Best practices & tips for effective customer service communication
Communication methods vary from business to business. It is important to learn the right way to connect with customers so that it has a positive impact on business growth.
Here are 9 proven ways on how to improve customer service communication and why you must.
1. Use live engagement tools for real time assistance
The customer service communication strategy of your business depends upon the support tools you implement to connect with your customers. Real time support with live assistance tools is advanced level support you can offer your customers. 
With the help of live engagement tools, you can identify the error in the first touchpoint and offer the right solution, thus reducing the number of interactions. Live tools such as co-browsing & video chat help to collaborate in real time and guide them directly through personalized conversations.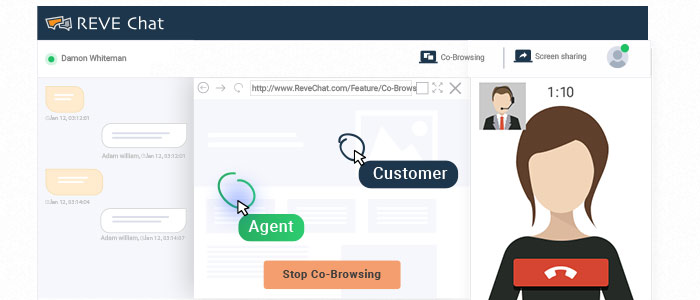 How to improve customer communication management with customer engagement tools?
Faster solutions

– Video chat helps to offer faster resolutions through face to face personalized conversations. It helps to identify the main cause of the error and deliver effective solutions in the first touchpoint. 

Technical assistance

– You can collaborate with the customer's browser in real time with co-browsing and guide to complete a complex application process. It allows to acquire first-hand details of the issue and reduces the number of touchpoints made by the customers.
2. 
Build omni channel customer communication strategy
Businesses that adopt an omnichannel customer service strategy retain an average of 89% of customers compared with 33% for those with weak omnichannel strategies. It is very important to connect with customers where they are and deliver consistent support across all channels.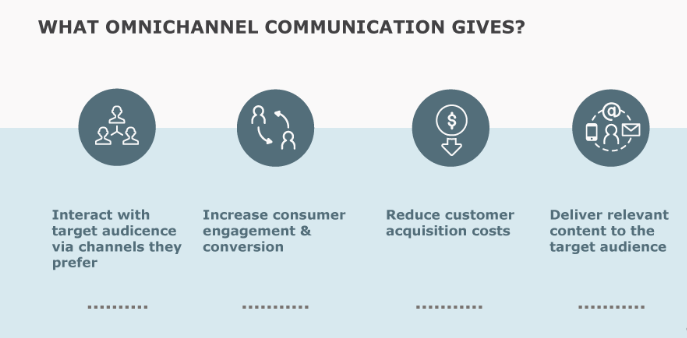 Source: viseven
Having an omni channel platform helps you to redefine how you communicate with customers both online and offline channels. You can gain insights on your customer journey that can help to enhance communication across all touchpoints.
So, what is the starting point to design your omni channel communication strategy?
You have to focus on three core parameters to enhance customer experience:
Identify the communication channels preferred by your customers.

Create an effective customer engagement strategy across the identified channels.

Deliver a consistent experience throughout the customer journey.
Sephora builds an omni-channel experience that connects its shoppers' online purchases to their in-store visits. It allowed customers to use in-store tablets to access their Beauty Bag account while shopping. Customers can look up item details and virtually try on products using digital software. If they like a product, they can add it to a wish list and purchase the entire list using the app. Sephora recognizes and integrates its Beauty Bag feature with its in-store communication channel.
3. Improve the first customer experience 
If I ask you, when was the first time you really had a great experience as a customer, it probably wouldn't take you long to come up with the story. How the lasting impression of the experience made you happy and satisfied.
On the contrary, what if the first experience makes you angry, upset, annoyed, frustrated. It might risk your business badly. United Airlines had a brand crisis, in which $1.4 billion in value was wiped out overnight when a passenger's experience went viral on social media. 
Thus we can say the first positive experience not only results in making your customers satisfied, but it also accelerates revenue. 
Here are some tips to enhance communication skills to build a strong first customer experience:
Reduce wait time: 

Longer queue time is a key reason why customers might leave your website. You can automate your customer support with chatbots to engage your customers 24×7.

Avoid scripted conversations: Overuse of canned responses can lead to a bad customer service experience. So, you need to balance to make conversations meaningful and impactful.
Real time support: 

You can implement both live chat and chatbot to deliver real time support to your customers, depending upon your business requirements.
4. Use chatbots for automated customer communication
According to Deloitte, "62% of companies view customer experience delivered by a brand as a competitive differentiator". In order to provide an exceptional experience, you can automate customer communication with chatbots. 
Here is how to improve customer service communication with chatbots?
Always-on support: 

Chatbots offer faster support and engage customers 24×7 when your support team is not available. 

Boost customer communication: 

Bots can engage customers by providing immediate answers that boost their satisfaction.

Assist in buying journey: 

AI bots assist customers across the journey and help them in buying decisions. 

Better customer experience: 

When customers get real time support & sales assistance over their preferred time, they deliver a better experience.
Automating the ways how to communicate with customers improves the brand image, but the caveat is that it should not be over automated. Emarketer research shows, "55% of customers prefer to live chat over a chatbot".
So, the balance should be rightly made on how to communicate with common queries. You can use bots as the first contact channel and transfer the complex conversations for human support.
Hipmunk's "Hello chatbot" is a good example that showcases the perfect use of digital technology for personalized customer engagement.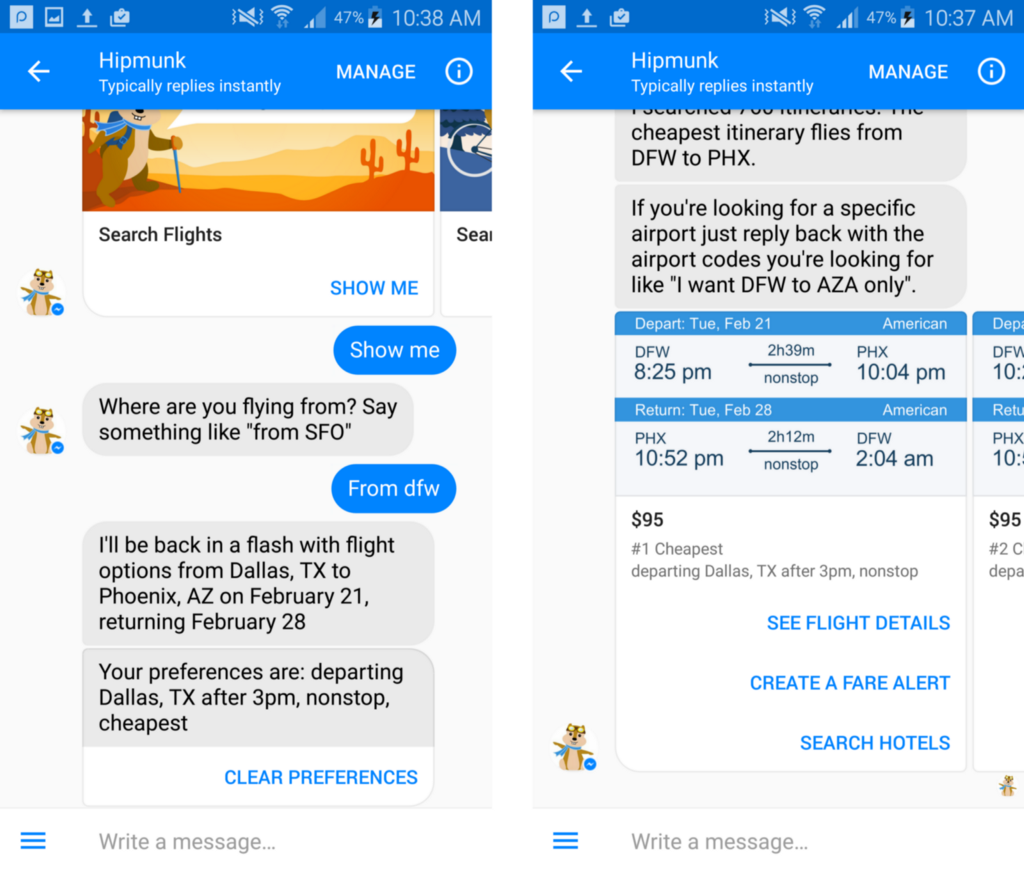 The Hello chatbot interacts with customers with a friendly tone that encourages users to book flights and manage conversations with its high level of engagement. The bot is capable of answering vague questions as well, which delivers a great user experience.
5. Follow customer service etiquette & best practices
Customers generally switch brands because they are put off by untrained or rude support professionals. McKinsey's report says, "70% of the customer's journey is dictated by how the customer feels they are being treated".  
Here are some of the customer service etiquette tips for improving communication skills:
Active listening
Active listening involves complete focus and full concentration to understand what the customer says without interrupting or asking questions in between. Listening helps to figure out what exactly your customers want, their opinions, feedback, etc. 
Personal touch
You can manage communication with customers by adding a personal touch. You can be friendlier by addressing your customers with their first name, asking how they are doing, etc. to make communication closer.
Use positive words
While communicating with customers, make sure to use positive words in your conversation. Using words and phrases like definitely, certainly, absolutely, why not – sounds good, sounds personal and positive. 
Be empathetic
Customers need to know that you are understanding them. You need to put yourself in their shoes and understand their situation and communicate accordingly with them. 
Avoid  jargons
You should not use complex terms that are difficult to understand and often can confuse customers. Try using simple and easy terms to make your communication skills effective with your customers. 
6. Measure your customer communication metrics regularly
For a business measuring communications can be overwhelming and out of control. So, it becomes vital to develop a strategy to measure the conversations effectively. 
So, come to the questions – What are the different metrics should you be looking at? And how should you be tracking different communication KPIs?
Here are the key customer service communication metrics that are to be measured on a regular basis:
First response time (FRT)

– It helps to improve the response time across every interaction. 

Average resolution time(ART) –

It helps to reduce the resolution time to resolve an issue once it is opened. 

Customer satisfaction metrics

– CSAT and NPS are important metrics to understand whether your customers are satisfied or not.



How measuring these metrics help to improve customer communication?
Assess your team performance –

You can identify the gaps in the agents' performance that needs to be improved. You can conduct additional training sessions to increase productivity.

 
Improve communication skills

–  Measuring communication metrics helps you to know how to work on improving the linguistic skills of your team.

Better customer interactions – Regularly monitoring helps you to know the common issues and proactively communicate with customers.
7. Collect customer feedback to improve communication skills
Customer feedback is vital to measure the success of customer service communication. As per Microsoft, "52% of people around the globe believe that companies need to take action on feedback provided by their customers".
Here is how customer feedback plays an important role in the growth of every business:
Feedbacks from customers helps you to know what customers feel about your brand.

Identify the gaps between the customers and the business and end up with a product that is sheer perfection.

It opens up a conversation with customers and develops a long-lasting relationship.

Customers feel appreciated for their opinion regarding the product. 

Learn the drawbacks and improve the effectiveness of your products and services.
If you want to measure how effective your customer communication strategy has been, you have to ask customer feedback regularly and implement it. 
How can you improve communication skills by acquiring customer feedback?
Collecting customer feedback shows you value their opinions – By asking your customers for feedback you communicate that their opinion is important to you. You involve them in shaping your business so they feel more attached to your company.
Listening to their voice helps you create stronger relations with them. This is the best way to gain valuable brand advocates and share positive word-of-mouth for you.
Customer feedback helps you create the best customer experience – Modern marketing is entirely based on the experiences people have with products, services, and brands. If you focus on providing the best customer experience at every touchpoint customers will stay loyal to your brand. 
And naturally, the most effective way to give them amazing experience is by asking them what they like about your service and what should be improved.
8. Monitor social conversations
Customers use social media to reach out to the brands. It is one of the most preferred go-to channels. 80% of consumers use social media to engage with brands.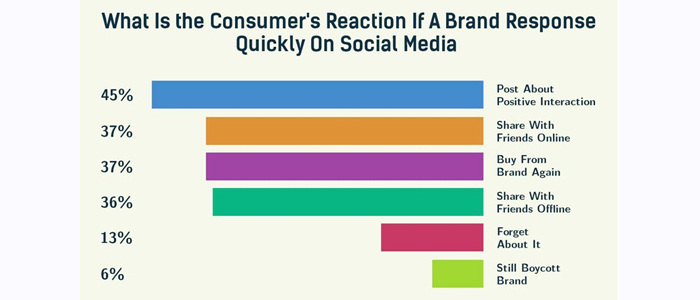 Source: jeffbullas.com
In order to improve customer communication effectively over social media, you need to:
Understand your customers' preferred social channels and be actively engaged with them.

You need to deliver similar support across those channels to create a consistent social service experience. 

Use social media for announcing product releases, company news, content updates, events, etc. 
Engaging conversations on social media is important for businesses because it can provide valuable feedback, build your brand reputation, develop customer trust and acquire potential customers through referral marketing.
9. Know what your customers want
One of the important ways to help your customers is 'self-help". Predicting issues or queries that your customers might face in the future and preparing solutions or support documents will definitely help them.
It is an essential component to be followed to improve customer communication and reduce confusion over your product or service. You can create support documents such as:
Knowledgebase

FAQs

Video tutorials

How to guides
Knowing what your customers want and keeping things ready will help them positively. It also helps to reduce repetitive interactions by the customer and improves customer communication skills. You can also create fresh and healthy content at a steady pace on your social networks, blog, and website as well. 
Final thoughts on effective customer service communication
In the age of digital communication, when you may not be able to meet your customers face to face, it becomes more critical to have an effective customer service communication strategy in place. It would help your business to grow and thrive without having any negative impact on the customer service experience.