Customer service experience is a vital cog for any business, but how vital is it?
HubSpot research says, "83% of companies that believe it's important to make customers happy also experience growing revenue.
In such a hyper-competitive business era, it is important to know the consequences of bad customer service interaction and the benefits of an efficiently functioning customer support department.
Good customer service and business success are closely associated.
Understanding what is good customer service and knowing how it is closely associated with the overall business, help companies to build strong client relationships.
When businesses slide their service standards, they face negative consequences with serious repercussions on the overall business.
What is Bad Customer Service? 
Bad customer service can be defined as when a business fails to meet customer expectations in terms of service quality, response time, or overall customer experience. The factors that have a negative effect on customer service are inefficient support staff, lack of real-time support, or unable to understand your customer needs.
An example of poor customer service not only worsens the existing customer relationships but also endangers the potential opportunities, and obviously erodes the bottom line of your business. Research by Microsoft states, "58% of consumers choose to switch companies because of poor customer service experience."
Good Customer Service vs Bad Customer Service
Good customer service really speaks for itself. It is when you answer one of the top customer experience questions to deliver a higher level of satisfaction offered by the company. Some key attributes of good customer service are:
Timely resolution of the problem

Effective solution in the first contact

Valuing customer's time and feedback

Good customer service etiquette
Bad customer service results in clients' dissatisfaction and builds a negative customer experience. It might have adverse effects on business, such as decreased customer loyalty and higher customer churn. Some key elements of poor customer service are:
Multiple touchpoints needed for resolution

Provide wrong or inaccurate information

Unreasonable payments and unexplained surcharges

Overuse of scripts to respond to customers
How Does Poor Customer Service Affect your Business?
According to the report by WalkerInfo, customer experience will outshine price and product as the key brand differentiator by 2023. The customer experience (CX) continues to be a decisive factor for many customers. It is important for businesses to understand how a poor service experience would impact the overall brand.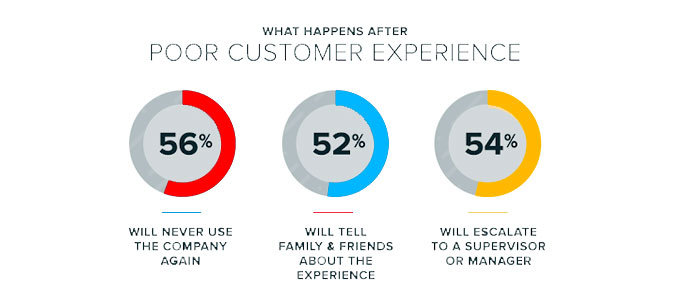 Here are the implications of bad customer service:
Increase churn rate

– When you deliver a great experience, customers will return back to you and on the contrary, substandard service will encourage them to churn. A single instance of bad customer service is enough to switch to a new company. 

Affect brand loyalty

–  Customer loyalty is a strong predictor of a business's long-term viability because loyal customers are durable. Poor customer service affects customer lifetime value (CLTV) as they leave you after a negative customer support experience. Loyalty and brand image are interrelated and losing loyal customers affects the overall brand. 

Higher customer service costs

–  Acquiring a new customer can cost

five times

more than retaining an existing customer. When customer service standards decline, the number of touchpoints increases which has a drastic impact on customer service costs.
Top Reasons for Bad Customer Service Examples (and How to Fix Them)
What are the reasons that may label businesses with the worst customer service tag? Let us go into detail and discuss the "how-tos" that businesses can practice in order to fix bad customer service experiences.
1. Fail to offer real-time support
Customers expect real-time responses. Hubspot research says, "90% of customers rate "immediate response" as very important when they have queries". It means the response time of the channels you provide should be reasonable. 
Businesses that focus on delivering 24×7 real-time support increase customer satisfaction that drives revenue and builds loyalty. Live chat and chatbots are the best communication channels when it comes to delivering real-time support.
With live chat, businesses can deliver real-time support to customers. It helps to initiate a proactive chat with website visitors & customers to provide the right guidance, stuck on a specific page on your website.
You can automate your conversations to deliver 24×7 engagement to customers when your support team is busy or not available. AI chatbots can answer FAQs promptly and improve customer satisfaction rates. 
Bad customer service example 
 The customer experience example of Frontier Airlines shows the importance of CX. The famous airlines miserably failed to fulfill the two core elements of customer service i.e. compassion and communication. It shows that one instance of worst customer service failure can have serious consequences.
How to fix it?
You can use live chat for offering real-time sales and support assistance to customers. It means more sales conversion and higher retention. It also improves customer satisfaction and cultivates loyalty.

You can engage your customers 24×7 by chatbots. They are always available to answer simple queries, which reduces the number of support requests and improves team productivity.

You can also combine both channels and deliver hybrid support to your customers. Use bots as the first point of contact to answer simple queries. The queries that need human support can be directed to live agents. You can witness improved customer satisfaction rates by giving customers the best of both worlds.
2. Fail to resolve in the first touchpoint
One of the principles of customer service is a faster solution in the first contact point. When the customer issue is identified in the first contact, not only is the resolution faster but the number of touchpoints is reduced. 
For identifying the problems in the first contact visual engagement tools play a very important role. Gaining a visual understanding of the issue helps you to offer a concrete solution and improve customer satisfaction.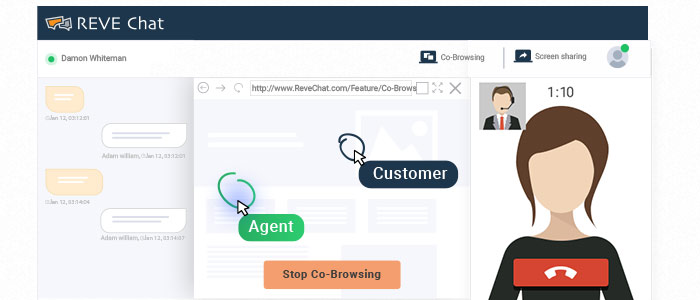 By using live engagement tools such as co-browsing and video chat, businesses can improve one of the key metrics i.e. average resolution time. These tools help your business to reverse from bad customer service to a good examples. 
REVE Chat offers a complete toolkit of digital customer engagement tools such as co-browsing, and video chat. Sign up with REVE Chat and collaborate with customers in real-time and resolve their issues in first contact.
Key takeaways:
With co-browsing, collaborate with your customers' screen in real-time and know where exactly the customer is facing the issue and help to complete the complex process or form fill up much faster.

Have direct conversations with video chat to help agents to understand the problem with clarity that further helps them to deliver the right solutions in the first contact itself. You can deliver technical support and deliver the best virtual in-person experience.

With live engagement tools, deliver faster solutions with interactive and personalized communication. It has a significant increase in customer satisfaction levels.

You can use live engagement tools to greatly increase your team productivity and deliver a good customer service experience.
3. Inefficient customer support team
A dedicated support team is a great pride for any business. Not having a competent team can create the worst customer service examples.
If your business is missing out on this factor, it might not be able to offer proactive support, therefore, losing loyal customers and deflecting brand reputation and more customer complaints. This brings out the vitality of roofing a knowledgeable and competent support team.
While hiring new support reps follow the below tips:
Make the new hires aware of the importance of achieving a high level of customer experience.

Maintain transparency as part of your customer service in the higher education training module. When you are transparent to your team in conveying the goals, they will put their best efforts into meeting customer service needs and expectations.
How to fix it?
Regular training about products and etiquette should be for all employees. It should be consistent across all departments and teams.

You can share all the important business information with the whole support team to make them aware of the issues and solutions.
4. Lack of customer service etiquette
Serve your customers with a pleasing smile. Does it really happen the way it is said?
It is crucial for the support team to have the right skills and etiquette to use powerful phrases for effective customer service. It reduces the negative impact of customer support and helps build great success stories.
Here are the key areas of customer service skills
Practice clear communication
You should convey to customers what you mean actually. Provide authentic information related to products and services to avoid future confusion among customers. Know your brand offers and discounts prior to offering to customers to maintain brand efficiency.
Understand customer psychology
Customers expect businesses should listen to their problems, value them and offer prompt solutions. Businesses that focus on understanding the psychology of customers provide a higher level of intuitive support and have better customer satisfaction.
Use positive scripts and phrases
You should design customer service scripts based on the scenarios where agents have to address customers. Positive chat transcripts and phrases can help to deliver faster responses and a consistent brand experience.
Set the right expectations 
You should not be over-promising to your customers, especially about the things that you cannot fulfill. Saying 'yes' to everything that your customer demands leads to dissatisfied customers when you turn out. So, don't make fake commitments and set customer expectations that will break their trust and loyalty.
Key takeaways:
You should train your customer support team to be realistic and say yes to only the practical demands of customers. This leads to the right expectations and hence makes the customer experience better. 

Proper training over customer service skills and etiquette will build up a dedicated team that will improve your brand reputation and increases customer loyalty.
5. Not measuring your customer service 
Measuring customer service quality is one of the vital aspects of every business. If ignored, it can have a terrible impact on your business. Companies that miss out on measuring customer service fail to gain the below benefits:
Do not get insights into how your business is performing

Unable to know your customers' perception of your products & services

Not able to identify the gaps between business and customers.
Thus, it negatively impacts your business in achieving complete success in team productivity, customer satisfaction, and retention.
This shows how critical it is to define customer service KPIs and measure them regularly. 
The metrics are the performance measurement used by the support teams to monitor, analyze and take necessary actions to enhance customer service success.
Here are the key KPIs & metrics to measure customer service satisfaction
Customer Satisfaction Score (CSAT)

– The CSAT score tells you how satisfied customers are with your business. You directly ask your customers to rate their satisfaction with your products and services.

Average Response Time (ART):

It measures the time between the customer initiating the chat and the agent responding to it. It is a very important KPI for customer service to consider for performance evaluation as it is one of the main customer complaints. 

First Contact Resolution (FCR):

FCR measures the efficiency of your customer support team to fix an issue on the first call. It indicates how capable your agents are in understanding and resolving the issue at the first touchpoint.

A number of touchpoints

– It measures the total number of returning interactions made by the customer to get the right solution for the same issue.
How to fix it?
The higher the CSAT score the better is customer satisfaction. You can collect feedback in real-time like just after purchase, to know what is or is not working.

In order to reduce your response time, you must either scale your support agents or use chatbots. Bots can handle the basic queries 24×7 when the agents are not available which reduces the number of support tickets.
6. Not taking customer feedback regularly 
Have you been bothered to know whether your customers are happy with your service quality, products, or overall brand? If not you are missing out on a key element that results in setting poor customer service examples – i.e. Customer Feedback
As it said,  "Your most unhappy customers are your greatest source of learning. Customer feedback is a vital ingredient for the success of every business.
How to fix it?
Practice collecting customer feedback regularly. It will give a clear view of how your business is performing. You can identify the gaps between the customers and the business and end up with a product that is sheer perfection. It also opens up a conversation with customers and develops a long-lasting relationship.

You can

ask for feedback

right after a customer service conversation, after a product demo, or after a successful transaction. In order to value customer feedback and make it effective you have to analyze and act upon it. 

Collect feedback from customers on a regular basis. Further, categorize it and share it with the respective departments to work on it.
Make a plan of action by consolidating all the results. Train your support team to ask the right feedback questions at the right time via the right channels.
7. Not using the right tools
One of the important aspects of good customer service is using the right tools. The tools help in reducing the negative impact of support. When you equip your business with the right tools, it can benefit your business in the following ways:
Helps to improve your team productivity 

Make better communication with customers

Gain valuable insights about your customer journey 

Boost customer satisfaction 
Some tools that you can use to deliver a better customer experience are:
Customer engagement tools – Give your agents an omnichannel engagement platform to know more about their journey and deliver consistent real-time service experience across all channels by using tools like live chat, co-browsing, and video chat.
Feedback tools – Use NPS or CSAT surveys to measure your customer satisfaction. The resulting score determines the level of satisfaction of your customers and highlights the areas that need improvement.
How to fix it?
Identify your business needs and select the right tools to ensure a higher level of customer engagement and better customer satisfaction.

Use your customer feedback to build improved products and services to match customer expectations. Also to make them feel an important part of your business.
Final Thoughts on Bad Customer Service
Bad customer service is detrimental to any business. However, if your business is customer-centric, delivering a better customer experience becomes the utmost objective for your organization. By becoming CX's first brand, you not only eliminate the negative impact of customer service but also build lifelong customer relationships and brand loyalty.
REVE Chat provides an automated customer service platform that allows your business to deliver real-time sales/support assistance. Sign up today and empower your support team to deliver a great customer service experience.