It's no secret that exceptional customer experience (CX) is critical to a brand's long term success. In order to deliver better CX, it is important to understand your customer journey and align services more meaningfully by creating maps of their journey.
Companies that use tools like customer journey maps reduce their cost of service by 15-20%.
Customers interact across multiple channels and hence businesses need to ensure that they are giving consistent experience at every interaction. Hence, when it comes to improving the overall customer experience, omni channel communication strategy needs to be outlined.
Experience-driven companies that invest in omnichannel communication see over 1.5x higher YoY growth than other businesses in repeat purchase rates, and customer lifetime value, and reduced customer churn.
What is omni-channel customer communication strategy? 
Omnichannel communication happens when a business maps its client's journey and delivers a consistent experience across any customer touchpoint starting from pre-sales to post-sales and everything in between. Omni channel customer communication redefines the interactions and delivers an enhanced customer service experience.
A well-executed omnichannel communication strategy includes online and offline channels such as websites, mobile apps, social media, kiosks, physical stores. It is all about providing personalized support by integrating the reactive & digital communication channels to deliver a cohesive experience.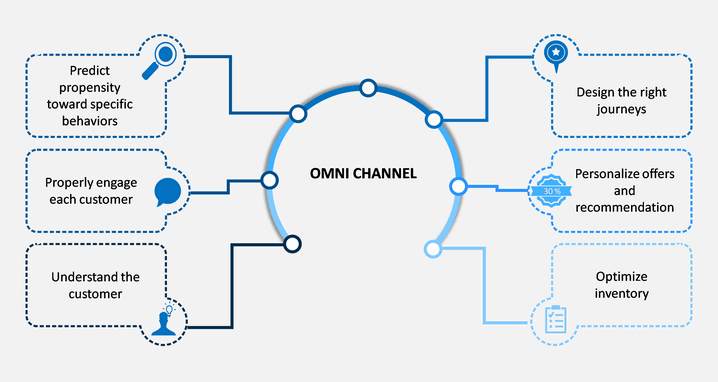 So, what is the starting point to design your omni channel communication strategy?
You need to build an omni-channel communication framework that needs to focus on three core elements.
Identify the communication channels –

Understand the journey of your target audience and identify what are their preferred channels to reach out to you (both online and offline).

Create an effective customer communication strategy

– Once the channels are identified, you need to use different tools like live chat, chatbot, knowledgebase to make communication interactive and real time. 

Measure business metrics

– You need to evaluate the customer data and optimize the KPIs. Suppose the NPS is low, you need to plan strategies to improve the scores by measuring it regularly.
Omnichannel vs Multichannel Communication: Key Differences
Both the terms, omnichannel and multichannel, are used interchangeably when it comes to effective customer service communication strategy. 
Here is a table of key differences between multichannel vs omni-channel customer communication.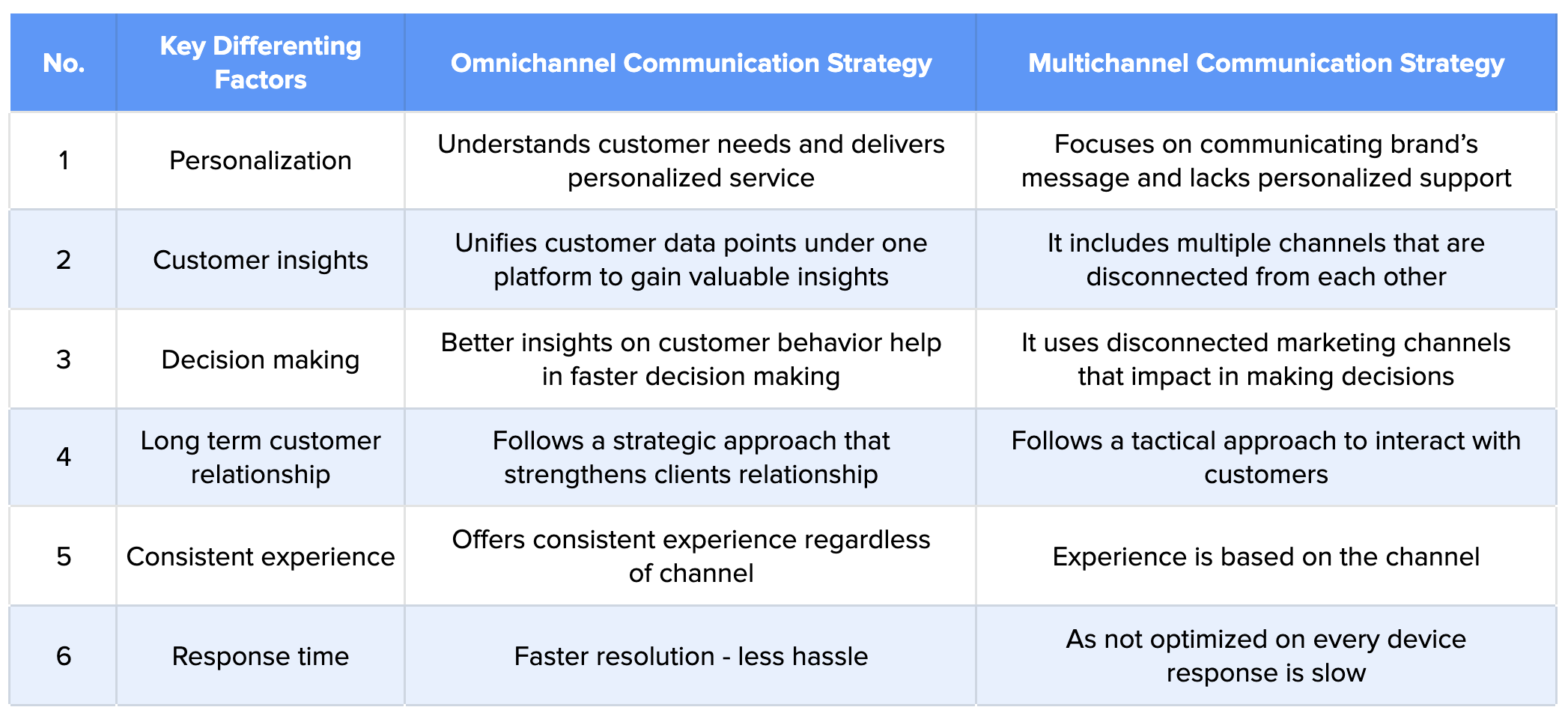 While both solutions provide multiple interactive touchpoints to customers, such as social media, website, phone, instore and mobile, the omnichannel approach connects these channels, bridging technology communication gaps that may exist in multichannel solutions. 
Why omnichannel communication strategy is important for businesses?
Now that we have defined omnichannel and outlined the key differences between multichannel vs omnichannel communication approaches, we will explore the important factors to consider when implementing an omnichannel solution. Shifting to an omnichannel communication strategy ensures accessibility across channels and helps put the customer experience at the forefront.
Let's dive in.
1. Deliver a consistent customer experience
The very first step in delivering a consistent customer experience is to understand their journey and their entire lifecycle. Companies that provide a consistent service quality across multiple channels retain 89% of their customers. 
Today's customers expect contextualized engagement and seamless transitions between channels. Businesses that engage customers by understanding them are able to deliver a personalized service experience.
Walgreens invested in an omnichannel communication approach so that customers should are able to go online, offline, and back online again to a mobile phone. And that experience should be seamless, and it should be cohesive.

Here is how omnichannel communication strategy helps to deliver a consistent experience
Identify & streamline channels under a single platform –

Figure out the needs of your target audience and identify their preferred channels of reaching out to your business. Then identify the online & offline communication channels and integrate every outreach method under a single board to eliminate siloed engagements.

Map customer journey

– Mapping the journey helps to gain critical insights on their previous interactions, conversation history, etc. that helps to take proactive actions. Based on the insights, you can create a process to deliver customer support with the right channels like self-service portals, live chat, or

visual engagement tools

.
2. Proactively engage customers
Nowadays, businesses are expected to be available to customers in their desired manner, anywhere, and anytime. It is similar to moving in a never-ending circle of touchpoints, without deviating from the loop. 
And for nailing omni channel communication, it is crucial to scale the customer support across all channels available by using the right tools.
If a customer is reaching out through Facebook Messenger, active customer support should be available. The same is the case for website and app support. Redirecting customers across channels to reach out for support impacts customer experience and brand reputation.
Here are some digital tools that can be part of omnichannel customer communication strategy.
Visual engagement tools –

Tools like

co-browsing

and video chat can help to identify the issue faster and provide effective solutions via personalized conversations and reduce the number of touchpoints significantly.

Chabot

– Deploy

chatbots

to engage customers 24×7 when your team is not available. Automating the common queries reduces the number of support tickets and increases agent's productivity.

Live chat – Address all the sales and support-related queries with omnichannel live chat. By routing the conversation to the right support team the queries are solved faster.
Self-service options

– You need to create and provide access to portals that can help customers to resolve issues on their own such as knowledgebase, tutorials, FAQ pages.
3. Unified customer data
Omni channel communication focuses on unifying all your customer conversations in one place to understand your customer journey better. You can gain valuable insights by analyzing previous interactions, which helps to personalize customer engagement across all the touchpoints.
TGI Fridays' integrates all of its owned customer data as well as online digital experience tracking metrics into one centralized platform to create an MGP (master guest profile), which is updated in real-time to reflect the latest customer interactions.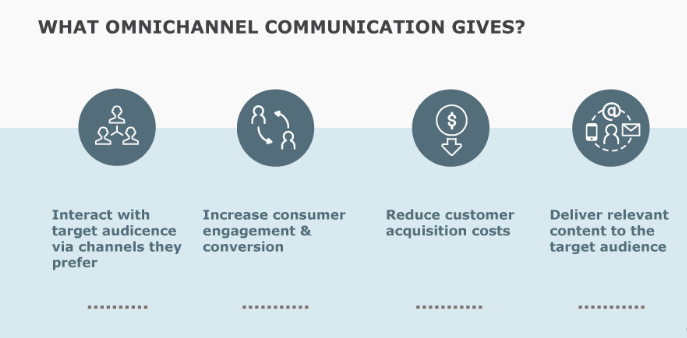 Knowing customers' behavior helps to optimize your processes to reduce customer frustration, bridge the gaps in the process, and deliver a better omni channel customer experience.
Here how unifying data enhances omni channel communication.
Better understanding of the customer journey

– Unifying the data gives a 360-degree view of the previous interactions and helps agents to understand the customer journey better. Understanding all touchpoints will help you to act proactively across the behavioral stages of the customers.

Quick decision making with the right insights

– Having an in-depth analysis of the insights helps the agents in faster decision making to assist the customers better and deliver a great customer service experience.

Create processes and self-service options

– The customer data insights can be used to define better strategies to deliver effective real time support with the right channel to improve customer experience along with enhancing self -service portals
4. Improve agent productivity metrics
Usually, resolving an issue involves a lot of time having a long thread of back and forth conversations with the customers. Omnichannel dashboard empowers your team with real time feedback about their interactions on their customer interactions handled on each channel. 
Having an omnichannel communication strategy helps agents meet the key metrics to improve performance. The key metrics are First Response Time (FRT), Total Resolution Time, Average Response Time (ART), and Missed Chats.
Here is how the omnichannel communication approach improves agents productivity
Less touchpoints mean less complexity

– The insights help agents to understand the customer journey better and all departments have to be constantly aligned to deliver personalized solutions at the first touchpoint. 

Manage resources efficiently

– When the first response time is improved, you are able to solve more queries by improving the average response time. You can manage the resources accordingly across different business functions.
5. Increased customer retention
Businesses that invest in omni channel communication strategy have gained an 89% increase in customer retention and a 9.5% year-over-year increase in annual revenue.
Hence, it is very important to connect with customers where they are and deliver consistent support across all channels. Brands that make the effort to engage their audience with an omnichannel avoid attrition and act as one of the customer retention strategies of your business. 
Omnichannel communication strategy empowers customers to connect with the brand via their preferred channel and allows smooth transition in the same interaction. It is the best way to reduce friction in the user experience since customers are guided and fed all the information they need about your service.
Old Navy focuses on its customers, a key component of an omnichannel approach. They build connections between their website, their stores, and their customers' homes at every point in the customer journey.
Key ways to increase retention with an omnichannel communication approach.
Offer faster resolutions

– Omnichannel businesses are capable of addressing customer concerns faster by using digital tools & strategies, which increase customer satisfaction.

Be where your customers are

– No matter what channel your customer chooses to reach out to you, be actively available to engage them in real time.

Speed up customer service

– By using the live chat tool, you can deliver faster answers with canned responses and routing chats to the right agents. You can leverage chatbots to deliver 24×7 support.
6. Higher return on investment (RoI)
Investing in an omni channel customer communication strategy is an expensive affair. As businesses need to make investments in advanced technology, tools, and processes. But it has a long-term impact on overall business growth. 
It involves a broader vision by businesses and needs to be driven from the very top for it to be successful. However, investing in customer engagement strategies results in 2x-3x RoI in the long run. 
Here is how omni channel communication approach benefits your businesses.
Reduce the number of touchpoints

– Omni-channel communication strategy empowers your agents to understand customers' concerns faster and provide effective solutions in the first go. It improves the

customer response time

and reduces the number of touchpoints.

Boost customer satisfaction

– With the right system and technology in place, you can identify customer issues faster and deliver effective solutions in the first contact, their satisfaction level increases. 

Higher customer lifetime value

– When businesses put efforts to understand customer pain points and align their services to their expectations, they become more loyal and it increases the lifetime value of the customer (CLTV).
7. Personalized customer communication
The major challenge in achieving effective consistent personalization is the capability to identify and engage users across multiple touchpoints. It requires collecting and unifying customer data from all digital channels under one central location. 
It enables businesses to view the details such as the customer's online behavior, buying intent, support queries, etc.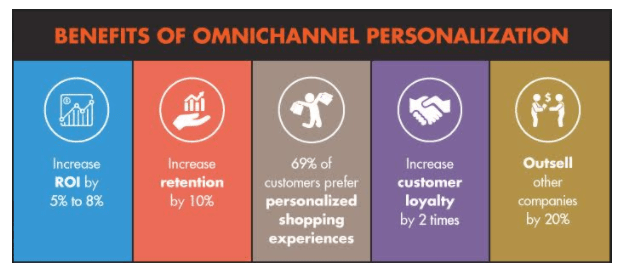 Omnichannel personalization creates customer experiences that are informed by real-time data from all channels and extending them across every touchpoint, to build consistent customer relationships wherever they interact with the brand.
How omni-channel communication helps to deliver a personalized experience.
Understand customer needs

– Align your services to match customer expectations. Send high-quality communication, consistent with the company's brand voice, to meet their unique needs. 

Make use of the right etiquette

– Create high-volume communications across all channels while leveraging positive language, tone, and customer knowledge that resonates with each individual recipient.
8. Deliver unified experience with centralized technology 
Customers prefer both online and offline channels like live chat, Facebook messenger, kiosks, or visiting storefronts or service centers to engage with businesses. 
With the centralized omni-channel communication strategy, businesses can effectively operate as a single channel, delivering high-value customer experiences across the preferred touchpoints. Creating consistency among every channel not only improves the experience and delivers great omnichannel customer service.
The communication channels centralized under one platform bring stability, ensuring consistency across the board. The experience is the same regardless of the touchpoints used by the customer.
How omnichannel communication impacts customer experience?
Allows businesses to get in touch with the customers in real time across their preferred channels and

reduces the average response time

.

Boost customer satisfaction by using customer data insights to provide personalized solutions in the first go and

improve the first contact resolution (FCR) rate.

Provide crucial insights about the customer profiles analyzing their journey to get a

better understanding of customer needs and interests.
Omni channel communication is the future
Omni channel communication isn't just about putting all channels together. But it is a holistic approach to unify your customer data along with the organizational process together to make better and faster-informed decisions about customers that drive retention, as well as revenue.
The evolution of major technologies has a significant impact on the way that businesses and consumers interact with one another. Understanding how omnichannel customer communication is important for your business success and how you can fit into your business strategy can help put customer experience at the forefront of being ready for whatever comes next.