Many businesses make the mistake of focussing only on customer acquisition while neglecting the need of keeping the existing customers happy. 
This strategy won't serve in the long run when seen in the light of how building strong relationships and connecting with customers encourages faster growth. 
So much so, it's 6 times more expensive to attract a new customer than to retain an existing one.
And when it comes to retaining a new customer, what better way than using customer service to great effect. 
With a proper customer service marketing strategy, your business can find a scalable and affordable way to keep the eye on the customer acquisition ball and deliver great experiences as well.    
Advantages of Bringing Customer Service and Marketing Together   
Customer service and marketing always have a reciprocal relationship with mutual benefits to each other. When customer service is used as a marketing strategy, it helps a lot in improving customer retention alongside acquiring new customers. A customer driven marketing strategy with a greater focus on support holds great importance for businesses in many ways.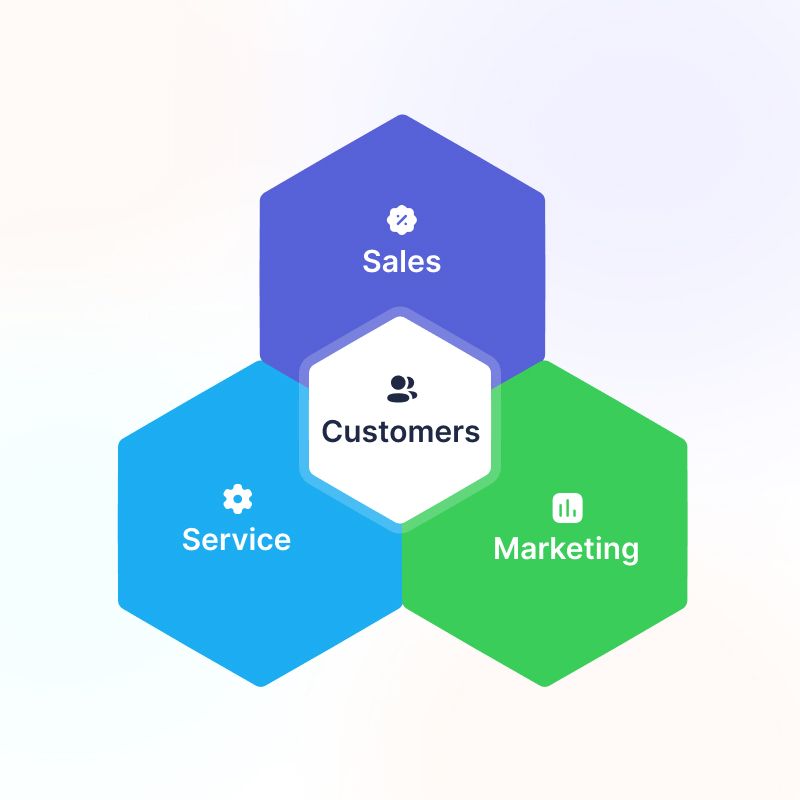 Bringing customer service and marketing together has many advantages for your business. 
When customer service and marketing mix go hand in hand

for a business, it not only helps delight the existing customers but also wins future prospects as well.

Your business can

positively affect the bottom line

by combining the virtues of customer service and marketing. 

By providing great support, it's possible to

make customers stick with your business

and spend more.  

Customer service always needs to complement great products

and services so that a business always grows and carves a niche in the market. 
10 Ways How Customer Service Can Be Part of Your Marketing
The pairing of customer service and marketing objectives can help accelerate business growth and achieve the goals faster. In fact, making excellent customer service a part of your marketing strategy can make your customers stick and become your brand evangelists. 
Customer service can be the new marketing if you're ready to combine the two and leverage their potential. 
1. Empower Your Customer Service Team
2. Use live engagement tools for better customer service
3. Scale Your Engagement with Chatbots
4. Devise a Social Media Customer Service Strategy
5. Create Strong Communities with Customer Service
6. Deliver Positive Experiences for Customers
7. Implement Your Customer Service Process
8. Drive Your Acquisition Strategy with Customer Service
9. Build Your Brand with Customer Service
10. Offer Proactive Customer Service with Live Chat
Let's discuss each of the reasons in detail. 
1. Empower Your Customer Service Team  
A customer service team needs to feel empowered so that it can easily add value to the organization and contribute to retention. 
53% of customers are likely to ditch the purchase midway if they don't get quick answers to their questions. 
This shows how your team will always need the support of the right tools and technologies to get better at their job. 
Empowering the customer support team means giving them the freedom to access technology and other ways to deliver excellent customer service to make customers happy. 
It also means you need to motivate customer service team, train them well to figure out and act on opportunities to improve customer service.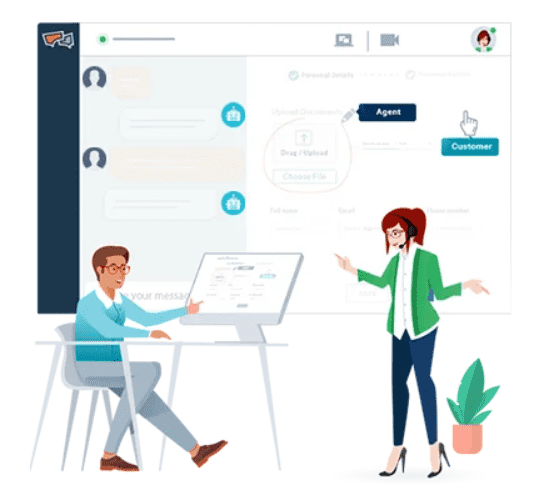 Benefits of empowering your customer service team  
The employees should have complete freedom and knowledge to

handle customer's queries independently.

 

Your service team must h

ave the ownership to make customers happy

by working as a team or by performing together to deliver superior service. 

Having a proper feedback management system in place can help the team

capture and analyze customer insights from every channel

for excellent service. 

 
2. Use Live Engagement Tools for Better Customer Service
You can easily WOW your customers by using live engagement tools and deliver an interactive service experience. 
Live engagement tools answer customers' immediate need for quick resolutions to issues. They are an effective tool for improving customer experience (CX). 
For example, co-browsing allows agents to take temporary control over the customer's browsers and lead them to different products and pages on the website to ensure quick answers.  
Similarly, the video chat function enables face-to-face interaction and enables agents to acquire information about the customer issue and provide faster solutions.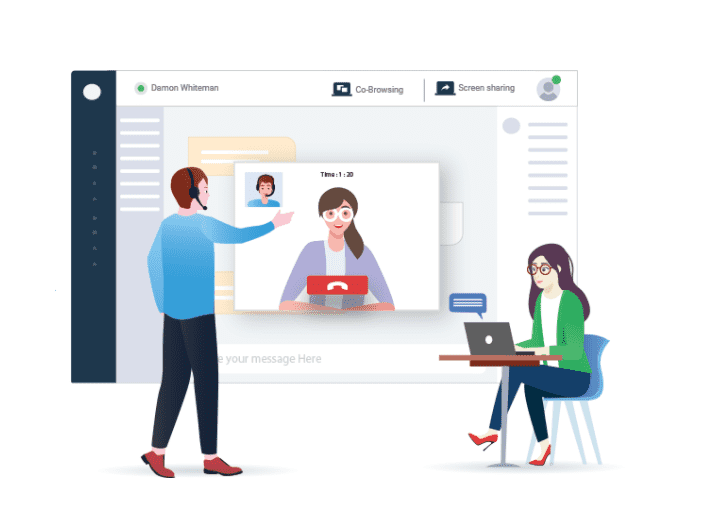 Reasons for using live customer engagement tools 
Better customer experience

– Communicating with customers in an interactive manner boosts customer satisfaction and experience.

Faster resolution

– Live engagement tools reduce the total number of touchpoints and deliver the right solution in minimum wait time.

Instant conversion

– Live tools help customers with quick decision-making by assisting them to offer quick solutions.  
3. Scale Your Engagement with Chatbots
With Artificial Intelligence (AI), chatbots have evolved significantly that can help you automate various business processes.
Apart from helping with customer queries, AI-powered chatbots can be used for customer engagement, a part of the marketing campaign, and help nudge your customers seamlessly through your sales funnel. Using a bot is a good customer-centric selling example that is the need of the hour as well.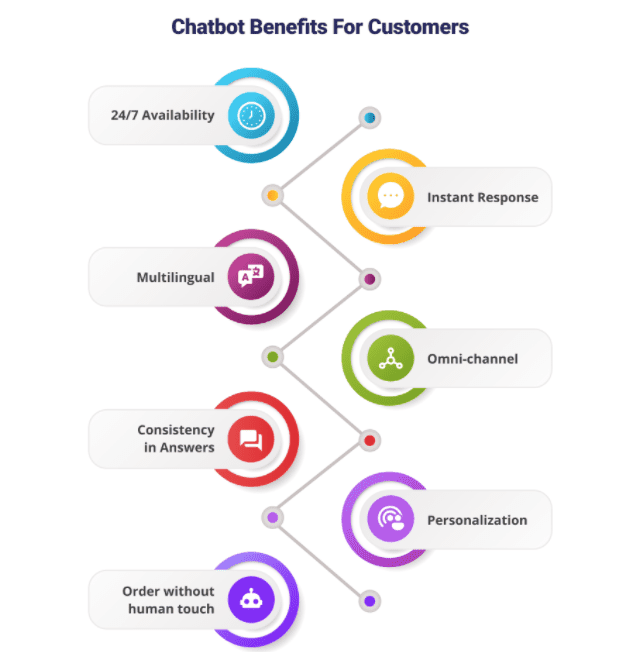 How chatbots can fit into your customer service marketing strategy?
Deliver personalized experience

– Chatbots can integrate with social media channels and gather all the data. When an inquiry is made by the customer, the chatbot can answer it accurately and ensure

personalized customer service

based on the customer's history and preference.

Collect and analyze customer feedback

– An AI chatbot can analyze the gathered feedback, giving you more insight into what your customers are looking for.

Send notifications

– Chatbots are capable of capturing and analyzing data, they can send personalized notifications through social media that are relevant.   
4. Devise a Social Media Customer Service Strategy  
90% of consumers have used social media in some way to communicate with a brand.
This clearly shows the need to implement a social media customer service strategy with a focus on prompt customer support across all social media channels such as Facebook, Twitter, Instagram. 
Like marketing, social media helps to increase your brand engagement and gain new customers. It helps you to know more about your target audience and accordingly position your product/service as the best option for them.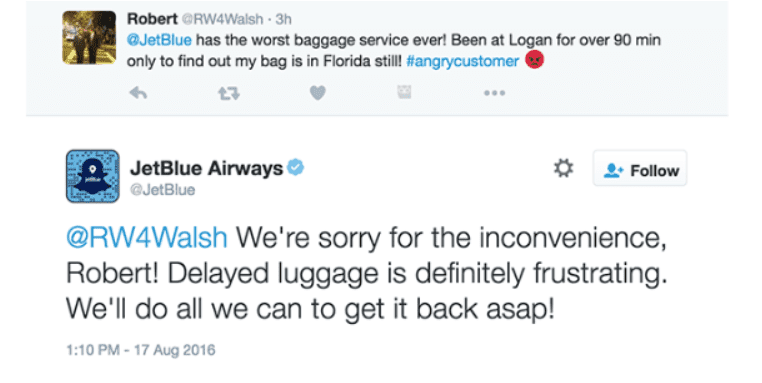 JetBlue Airways shows how to respond to customers on social channels and handle delicate situations in a way that makes customers feel heard.  
How social media customer support can help in accelerating business growth?
Social listening for engaging customers

– Social listening helps your brand to monitor, respond, and engage your customers across social channels to improve customer service marketing strategy.

Shaping your brand reputation

– Social media is an important source by which customers encounter brands and can reshape your brand rapport.

Word of mouth

– When the customer is satisfied with the customer service they turn out to be your brand advocates recommending your brands over different social media channels. 
5. Create Strong Communities with Customer Service 
Customers often don't mind switching companies after a bad service experience. Your business however can create brand affinity and build strong communities with good customer service.
67% of businesses use their communities for insights on new products or services and features.
With interactive communities, brands always have the opportunity to listen to their customers, develop the next focused marketing strategy, or even the next product.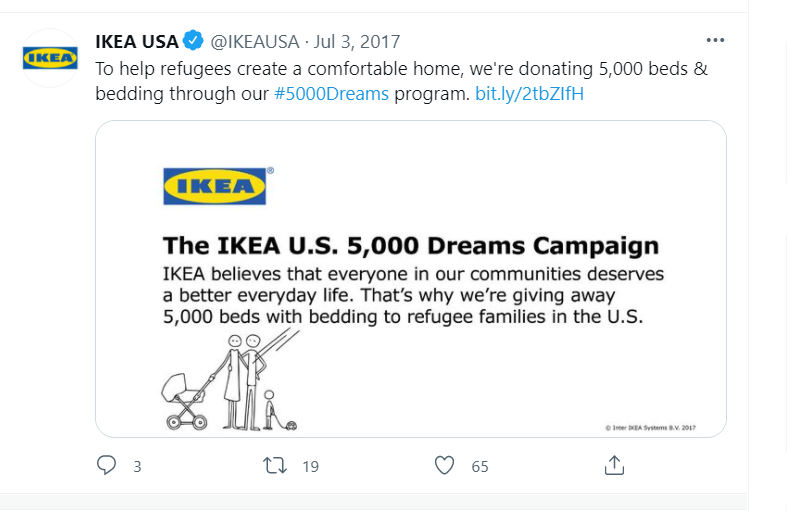 IKEA for example values the customer-first purpose and has an excellent customer-first business plan. Its U.S. 5,000 Dreams campaign is working in partnership with three refugee organizations. It has supported its local communities by donating 5,000 beds and bedding to refugee families who are starting new lives in America.  
Tips to build communities with customer service
Make customers feel part of the brand

– When you give priority to customers and offer them a service they are looking for, they are satisfied and return back to your brand again. They feel valued and part of your company.

Build customer loyalty – Good customer service helps you to gain more loyal customers who stay associated with your company for a long time. And building loyalty could also be a key Shopify marketing strategy for your business. 
Get new product ideas

– When customers are strongly associated with your company they come up with new product ideas that profit your business. 
6. Deliver Positive Experiences for Customers 
"Well done is better than well said."
Customers often respond better to what you do for them rather than what you say you're going to do. 
More so, the majority of customer reviews are based on how customers are treated by the customer service team and whether the team pays close attention to what people say.  
76% of consumers say they view customer service as the true test of how much a company values them.
A positive experience with customer service creates loyal, happy customers that spread the word about your service, driving referrals. 
Tips to create positive experiences for customers
Prompt response

– When customers reach out to you with their problems, address them promptly with effective resolution and personalized conversation as this helps to

improve customer experience

.  

Continuous engagemen

t – Delivering real-time support to customers without making them wait longer wins the customers for your company for a lifetime. 
7. Implement Your Customer Service Process
Even the best of service teams will fail if they don't have the support of a standardized process coupled with the knowledge of communication skills for customer service and the understanding of the proven strategies of communication.
When there is a customer service process, the team will find it easy to maintain the required flow of support, handle customers efficiently and ensure a great experience. 
For that reason, you need to have a proper process and decision-making patterns in place so that your customer service team always feels prompt and efficient in handling customer interactions.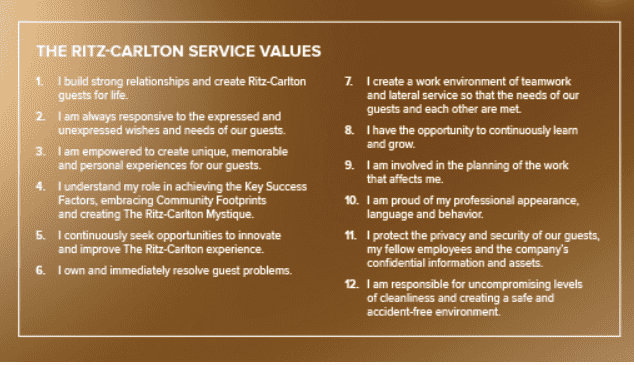 The Ritz-Carlton Hotel Company is so much committed to customer service that each of its employees is authorized to spend $2,000 per day to improve their customer experience. It has invested in the customer service process and that's why its customers become brand advocates by sharing positive experiences and stories. 
Best practices in implementing your customer service process 
Create a customer journey map

– By creating a customer journey map, you will help your support team easily understand the different stages a customer can take and based on that, offer benchmark customer service.  

Align customer service goals with KPIs

– Make sure the customer service goals are aligned with key KPIs such as the resolution time, first response time, etc. so that the support team has a measurable goal to achieve.  

Service Level Agreement (SLA)

– SLA will always have a great utility in helping your customer service team deliver services as per the agreed standards. 

Design an escalation process

– When there is an escalation process for customer service, your customer service team will always have an easy understanding of the stage when the problem needs resolution by a higher level of involvement.   

 
8. Drive Your Acquisition Strategy with Customer Service  
The customer acquisition strategy is an essential component for any business. One of the most difficult parts of scaling any business is actually figuring out, which channel is the most sustainable for bringing through new customers.
Around 80% of consumers say they would rather switch over to a competitor after more than one bad experience.
When you deliver superior customer service, you are able to retain your existing customers and spread positive experiences to the prospects about your brand.
How to drive your acquisition strategy? 
Provide good customer service

– Providing good customer service leads to a good customer experience. When potential consumers are satisfied with your products and services, it leads to word-of-mouth recommendations. As a result, there is more profit and save money on both advertising and marketing.

Exceed customer expectations

– When your service reaches and exceeds customer expectations, it results in satisfied customers. Loyal customers, on average, are up to 10 times as much as their initial purchase. As they are impacted by your services, they will be inclined towards your brand and have the same experience again.

Increase average order size of the customers

– When the average order size of the customer increases, your business earns more profit. Average order value is the average amount a customer spends when placing an order on your business.  
9. Build Your Brand with Customer Service  
Delivering great service and prioritizing customer experiences is the key to building your brand.  
From the moment customers make their first touchpoint by asking a query or showing the intent of purchase, your business will have many ways to show the right direction and a unique brand experience.
Customers usually want to deal with an expert agent so that they get their problem resolved at the first touchpoint. Empowering your employees to deliver the best service to the customers will help avoid negative experiences and win new customers for your business.
Tips to build brand with customer service 
Real time engagement

– When you engage with your customers in real time and deliver the right solutions, it reduces the response time and improves customer experience.

Consistency in services

– The customers who are satisfied with your service will be associated with your brand. Make sure you deliver consistent service to keep these customers coming back to you again and again. 

 
10. Offer Proactive Customer Service with Live Chat 
82% of customers think quick response a key factor when asking a customer service question.
Live chat solution is a dynamic way to interact with your customers and provide instant sales and support assistance. 
Your business can use the features of live chat to understand customers' pain points and provide the help that aligns with their expectations, which improves customer experience. 
How to use live chat to deliver proactive support?
Your business can use live chat to

identify repeat visitors based on demographic data

and then serve to their needs in a proactive manner. 

You can Identify your busiest customer hours and provide live chat support to

resolve issues in real time

.

Live chat technology can prove handy to respond to customers based on

predicting customer queries and seeing whatever customers type

.     
Make Customer Service Your Marketing Tool and Delight Customers  
Customer service should always be a crucial part of your market customer acquisition strategy. If you're giving great experiences to customers, they will stick with your business and create positive brand awareness about you. 
Rather than investing in some other channels, it would be great if you took customer service seriously and leveraged its potential in the true sense. Once you did that, there is no reason you can't have happy customers.