Customer engagement strategy is a key objective that needs to align with your organizational vision. Having a strong focus on user engagement strategies, by interacting with them consistently throughout their life cycle, should be one of the key focus for the teams and business metrics. 
63% of customers say that organizations should make getting to know them better a top priority
Customer experience is an important part that contributes to the success (or failure) of a business because a customer who has a good experience with a brand is more likely to become a loyal customer and repeat purchases.
With such demanding customer expectations, having a sound customer engagement strategy is the next thing to focus on.
What is digital customer engagement strategy?
Customer engagement strategy allows organizations to build strong relationships with their customers by understanding the customer life cycle and how customers interact within their brand across the entire journey.
Supporting customers through engagement and interaction helps to foster brand awareness, build customer loyalty and nurture their customer relationships from acquisition, conversion and retention.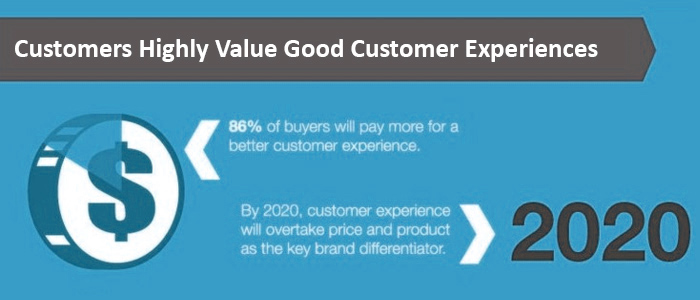 Source – ShipEarly
Why is customer engagement important?
No matter small or big, user engagement strategy is an important factor in all businesses. The importance of engaged and satisfied customers cannot be overlooked, as it helps to:
Improve customer loyalty – 

Yeah, loyalty from customers comes from excellent customer service. Customers who receive a personalized experience will return to their favorite brand to buy more in the future than disengaged customers.

Boost revenue –

 When businesses invest in better customer engagement plans and ideas, it is directly reflected in their revenue. Customer satisfaction finally leads to higher profits and increased revenue.

Differentiate your business

– A well-planned strategy allows you to deliver a consistent customer experience that helps create business differentiation and attract even more customers.
Looking deeper into this, implementing an effective customer engagement model is the foundation for every organization. Without that, it wouldn't be possible for brands to not just grow but even survive in a competitive market. 
Top customer engagement strategies and ideas that actually work
In this ultra connected digital era, the main goal now is to retain customers by keeping them well engaged with your brand across all the touchpoints. We have compiled good examples of customer engagement ideas and strategies to help you achieve it.
Here are eight customer engagement strategies for building loyal customers:
Deliver consistent omni channel customer engagement

Provide real time support with live chat

Automate your user engagement strategy with chatbots

Deliver personalized conversations with video chat

Provide live customer engagement with cobrowsing

Provide social media support 

Collect customer feedback for continuous improvement

Regular communication is the key
#1. Deliver consistent omni channel customer engagement
Majority of customers start interacting with a brand on one channel but continue their conversations across other channels. Therefore, delivering consistent customer experience across all touchpoints is the key to the customer engagement model and loyalty.
Omni channel customer support is all about providing consistent, personalized and seamless customer experience across multiple channels like website, social media, phone, apps or retail store.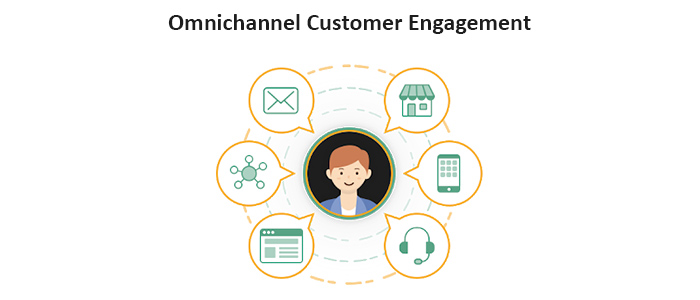 Regardless of the number of touch-points involved, customer review their journey with a brand as an overall experience, and this is what determines the customer engagement. Delivering an omni channel strategy to meet customers' expectations can help your brand in the following ways:
Strong customer relationships –

Personalized interactions across all touch-points engage customers in a better way, and ensure they receive a positive overall experience with brand through all channels. This not only improves conversion rate but also boosts customer's loyalty.
Enhance brand reputation

– A cross channel customer support leads to increased awareness. If you launch a new product or run a service, customers are at least familiar with your brand name.
Improve the bottom line –

As you expand the omni channel presence and engagement with customers, it will build loyalty and advocacy among them, which in turn boosts the bottom line of your business.
A perfect example of omni channel customer service engagement strategy – Starbucks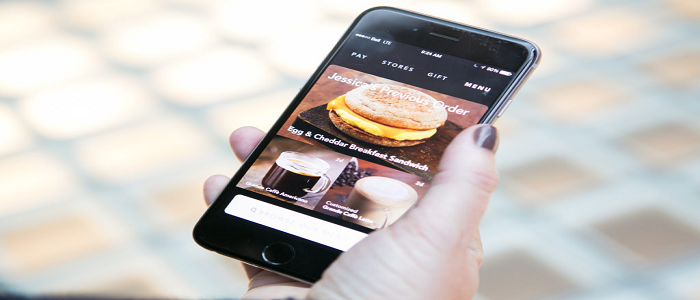 Source – marketing interactive
Starbucks has smartly created its omni channel presence, allowing customers to order, pay, collect rewards, and even track purchases both through mobile and in-store interactions. With combined interactions, the brand can provide its customers with a seamless and consistent experience.
Today, omnichannel customer engagement model is becoming synonymous with excellent customer experience. By giving customers options to reach you, you are boosting your brand's growth. 
#2. Provide real time support with live chat
The customer engagement quote by Kevin Stirtz says: "Every contact we have with a customer influences whether or not they'll come back. We have to be great every time or we'll lose them."
Live chat is one of the most popular customer support tools that provide real time assistance. Simply put, customers need queries solved and a sense of reassurance that can only be offered through live assistance.
"Live chat has overtaken other options as the most preferred channel for customer communication"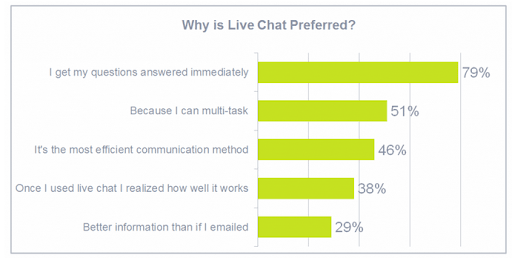 Live chat platform allows agents to turn every interaction with visitors or customers into an excellent experience and build strong relationships.
Some of the key areas where live chat helps brands to have better conversations are:
Increased conversions and sales –

You can segment your customers and use a proactive trigger to re-engage with them with the right messaging at the right time, which would help to increase your conversation rates and sales.
Build long term customer relationships –

Live chat offers an instant connection to customers. When their voices are heard, they will share a positive experience with the brand, building long term relationships.
Rapid resolutions –

Having live support allows the agents to resolve customers' issues at hand rapidly. On average, it takes not more than 30 seconds to resolve a query using live interaction for support.
Increased productivity –

  Chat support allows agents to handle multiple conversations concurrently and hence improves their productivity metrics while reducing their cost of support.
As it's quite clear, live chat has completely transformed the way brands interact with customers. With this technology, you can resolve queries, enhance customer satisfaction and give your brand a competitive advantage.
#3. Automate your customer engagement strategy with chatbots
"Chatbots are key tools of good integrated customer experiences." – Olivier Ezratty
Chatbots are computer programs that can interact with humans in real time over the internet. The purpose of these automated tools is to support and streamline the overall customer experience on your website.
Opus Research says 35% of consumers want to see more companies using chatbots.
Bots are increasingly capturing the limelight in terms of better interaction and have completely changed the customer engagement plan.
Here are the reasons why chatbots are going to dominate the next phase of customer service.
Instant response-

No one likes to wait and so do customers. Chatbots manage to resolve customer' queries instantly with automated responses.
24/7 availability –

Bots functions engaging customers 24/7 by providing personalized support outside of regular office hours.
Personalization

– Bots offer customers a personalized experience, targeting them with the right messaging and helping them make better buying decisions.
Cost savings

– Chatbots can automate your support conversations and can save on customer service costs and hence deliver a consistent experience.
Chatbots can be implemented across all customer channels like Facebook messenger, websites or even instant messaging apps. Pizza hut's Chatbot is a great example of how bots can help to streamline workflow and provide good customer service.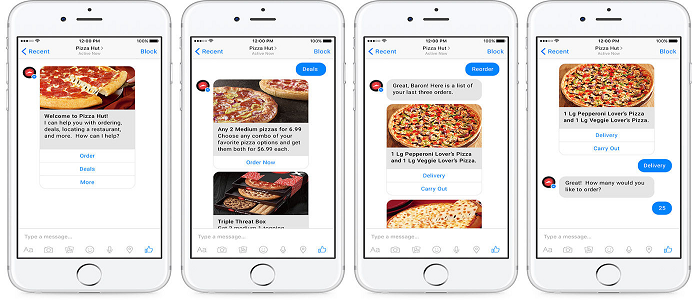 Pizza Hut's chatbot makes it ridiculously easy for customers to order their favorite pizzas from Facebook messenger or Twitter. The chatbot automatically responds with the current deals and offers. 
This has helped Pizza Hut to deliver unparalleled customer experience, thereby enhancing customer service engagement and loyalty.
Chatbots are gaining popularity in the business world and are here to stay. This is because they are bringing several innovative ways for brands to engage their customers across all messaging channels.
#4. Deliver personalized conversations with video chat
Video chat is one of the advanced customer engagement tools that help brands in providing excellent service to their customers. It eliminates the requirement of standard phone support and provides real-time support to customers across the world without any hassle.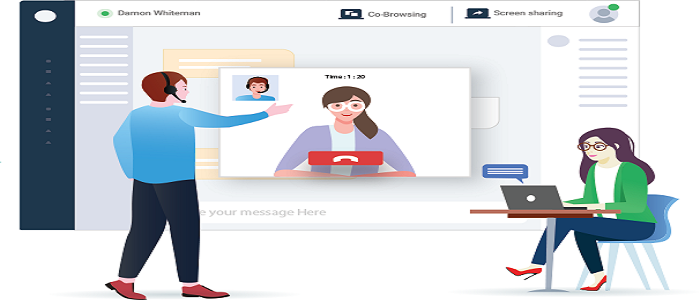 With the pace of businesses implementing innovative communication channels, video chat has gained significant foothold in delivering real time conversations.This tool is winning the hearts of customers, as it saves time for both brands and customers besides providing a seamless customer experience.
Some of the key benefits of using video chat for your customer service are:
Higher customer satisfaction

–  Advanced video solutions on websites can solve customers' queries instantly and give them satisfactory customer service. 

Personalized experience

– Face to face interaction with customers provides brands an opportunity to offer a more personalized service and keep the conversation up to the business' standards.

Give your business a competitive edge –

Visual conversations with customers offer real time service with faster identification & resolution of issues. Simply put, using automated tools to resolve customers' queries in real time can differentiate your brand from competitors.
#5. Provide live customer engagement with cobrowsing
Customers expect their queries to be resolved in their first contact itself. To reach a company's customer support, nobody enjoys waiting, so do your customers. 
Therefore, a lot of brands need to consider the use of live engagement tools to assist the customers and resolve the issues.
According to Sprout Social Index Report -If you keep your Customers waiting 36% will shame you publicly, and 1 in 3 will switch to a Competitor.
Co-browsing solution allows agents to take over customer screen and provide them real-time assistance. Visual engagement takes your customer service to the next level by bringing in a personal touch and resolving queries right on time.
According to Forrester, cobrowse leads all other interaction channels with a customer satisfaction rating of 78%.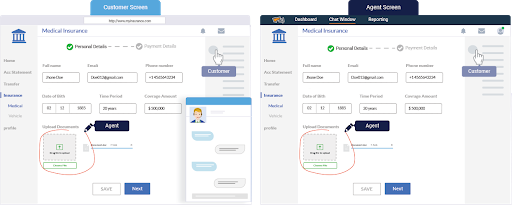 Commercial Bank of Kuwait (CBK) has implemented REVE Chat's co-browsing and video chat solution to assist their customers through online banking operations. With live client engagement tools, the bank has witnessed a significant increase in online customers engagement and a reduced number of touchpoints to resolve the issues.
Why do brands and customers prefer co-browsing as a customer service channel? It helps to :
Resolve issues faster – 

When agents can view the customer screen, issues can be identified and resolved much faster than phone calls or chat (without any visual content). 
Unique customer experience – 

 With instant response and personalized guidance, customers' fears and frustration settles faster, thus, building personal and reliable customer relationships.
Streamlined real-time support – 

Live sessions have the strongest impact on customer satisfaction. With co-browsing, customers can experience real time live support and get issues resolved instantly.
Co-browsing is the best option to offer excellent customer service and build a strong customer base. Implement this live engagement channel as per your requirements and you get customers for life.
#6. Provide social media support 
Today, the majority of the population uses social media to connect with businesses and expect their favorite brands to be available on the same for their assistance.                 
" GlobalWebIndex says 54% of social browsers use social media to research products."
With unstoppable growth, every business today needs to leverage social media platforms in the best possible way to better connect with their customers. Being available on social media goes a long way in terms of customer loyalty and differentiate your business.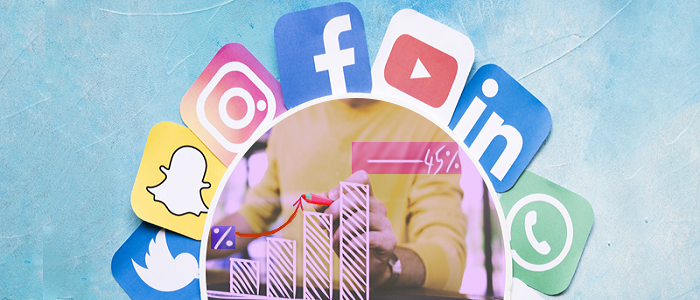 One of the top leading brands Amazon is also social media savant to better connect with the customers. Let's take an example when a customer wrote a complaint about a late delivery, Amazon responded to the tweet with an apology and assured immediate delivery.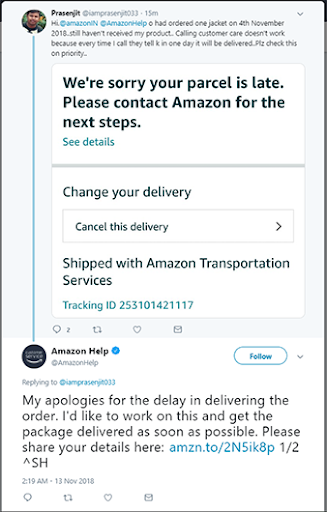 Source – The Manifest                      
All this signals the brand's commitment to how customer-centric they are. This leads to increased customer service engagement and improved customer satisfaction.
From developing strong interpersonal customer relationships to promoting your brand, there are several ways social media can improve customer satisfaction and expand your business growth. 
Direct communication

– Social media allows brands to directly communicate with the customers or vice versa and provides prospects an opportunity to get to know the business.
Creates word of mouth –

Social media is the best channel for word-of-mouth expressions. When customers leave opinions and feedback about a brand on social media, it increases the credibility among prospects.
Boost brand awareness

– Interaction via social media allows customers to get familiar with a brand, they create positive associations with it and remember it easily.
Social media is no longer a trend, it's an excellent reality. Customer engagement strategy on social platforms plays a major role in the success of brand loyalty. When used correctly, social media tools can give an immense boost to your brand.
#7. Collect customer feedback for continuous improvement
The essential aspects of digital customer engagement strategies and plan is all about understanding the customer journey and collecting solicited feedback. Customer feedback is a review of a brand's product or services that comes directly from customers about their satisfaction or dissatisfaction.
"Gartner predicts that by 2019 more than 50% of organizations will redirect their investments to customer experience innovations."
Here's an email example from leading fashion brand Myntra asking for customer feedback on exchange experience: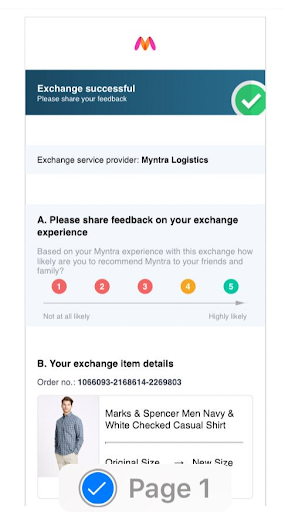 Source- Twitter
Including customer feedback in your emails can improve customer engagement process and drive customers for repeat purchases.
Acknowledging what your customers think about your brand is an important aspect of customer engagement plan, as it helps :
Know your customers

– Real-time customer feedback helps to create effective marketing strategies based on customers' needs. This opens doors for better customer engagement, while influencing prospects.
Build customer loyalty

– Being available 24/7 and measuring customer satisfaction from time to time helps build loyalty for the brand.
Improve business performance –

Regular, timely and specific feedback helps to work on the loopholes by creating a customer centric business strategy. 
To stay ahead in the game, it's critical to take customer feedback seriously as it allows to personalize engagement with the customers in the right way at the right time.
#8. Regular communication is the key
The best way to help your brand standout is to stay connected with your customers and prospects. Even if a website visitor did not become a customer at the first interaction, he still can be a potential buyer.
One important aspect of excellent customer engagement plan is to have regular conversations with your prospects, customers or churned customers by :
Send newsletters

– Regular newsletters allows brands to share targeted information with the existing customers as well as attract new ones at the same time.
Organize workshops –

Organize events or workshops for your customers. These can be both paid or free.
Reward your customers –

If you are introducing a product or service, offer a discount or special price to your loyal customers. 
Collect Feedback – 

Run a survey or send an email to collect their valuable feedback about the products and services you are offering.
Keeping in touch with customers and prospects can offer several business benefits. Few of them are as follows:
Building goodwill and the value of your business

Keeping your customers returning to your brand

Increasing revenue and improving profitability

Developing better customer relationships
Customer engagement examples
The importance of a customer engagement strategy on driving revenue is undeniable. More engaged customers mean higher customer retention, lower churn, increased loyalty and customer lifetime value, greater sales and revenue. Here are two great digital customer engagement strategy examples for businesses to learn.
Customer engagement marketing example #1
Buzzfeed Tasty sets a good example of how to build client engagement process. 
It aims to create a seamless experience for consumers who look for inspiration from tasty cooking videos.

It comes out with fun behind-the-scenes videos to ensure its customers know everything about the brand right from the workspace to the people working there. 
This allows customers to connect to the brand instantly and invest in it.
Customer engagement strategy example #2
In order to engage clients properly, Zips Car Wash needed to keep track of customer contact information and their customer data under one platform.
They uploaded their list of email subscribers and with just a few simple clicks, they invited subscribers to sign up for their customer loyalty program, Zippy Rewards.
Their efforts for customer engagement programs paid off. After sending just one email campaign inviting loyal members to join their program, they acquired thousands of new loyalty members and experienced a 9% conversion rate.
Customer engagement strategy: What's next?
As a brand, developing a thoughtful customer engagement model should be the foundation of a business. To survive in a competitive market, all you need is to focus on understanding your customer needs, identifying your core messaging and communicate it effectively.
Ultimately implementing right client customer engagement ideas and strategies would lead to build stronger customer relationships, better conversions, and improving the bottom line of your business.