Providing excellent customer support is no longer a choice, it has become a necessity. 
56% of people would stop doing business with a company if it offered a poor customer service experience.  
This shows how not maintaining the standards of customer service is something that can affect organizations in many ways. 
On the other hand, when the quality of support is great, it always leads to happy customers. 
So, you need to service customers to the best of your ability so that they always get value and stay loyal to your business for long.  
All this can happen only when you avoid making customer service mistakes and follow the standards of support. 
Why Avoid Customer Service Mistakes? 
Customers always expect businesses to provide great service and amazing experiences to them. And when the level of service is not great, they can always switch over to competitors and this could impact the bottom line in a big way.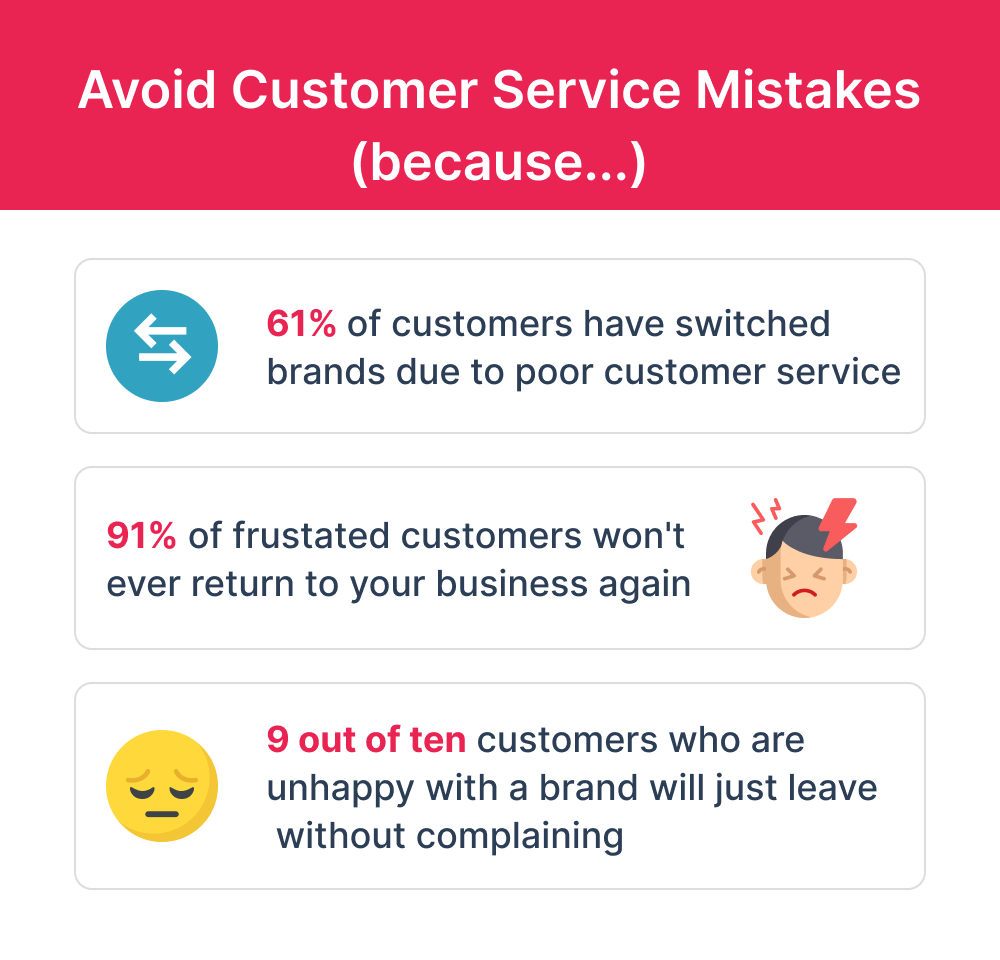 Your business needs to fix customer support mistakes for many reasons. 
Superior customer satisfaction

– Customer satisfaction increases when your service team avoids mistakes and ensures a hassle-free experience for customers.   

Lower customer churn

– Customer churn is greater when the quality of service is not up to the mark as nobody likes a substandard experience with brands.  

Better online reputation

– Bad customer service spreads faster and creates unhappy customers who can spread negative words about the business. 

Positive impact on the bottom line

– How a customer service team does its job often has a huge effect on the overall performance of the business and it can also impact the bottom line.  
9 Most Common Customer Service Mistakes ( and How to Fix Them) 
Customer service holds great value for any business. Any mistake to it can have serious repercussions as then the value of service is compromised. Your business always needs to focus on following the customer service trends so that customers get the best possible experience with your brand. 
Customer service mistake issues can take many forms and some of the most common ones may include. 
Let's discuss each of the mistakes in detail.    
1. Lack of Customer Centric Approach 
Many organizations don't consider customers as their top priority since sales or products often keep them consumed for most of the time. 
This approach is flawed given how brands that offer a superior customer experience accumulate some 6 times more revenue than others. 
So, your business needs to keep customers at the center of attention to deliver great experiences at every step of the way and ensure personalized communications. 
How to adopt a customer centric strategy? 
Invest in customer service

– Your business has to invest more in customer service, give more focus to customer happiness, and empower the service team with the latest tools so that the interests of customers are not ignored.   

Prioritize relationship building

– Giving priority to building relationships is one of the basic tenets of customer centricity as it ensures loyalty and long-term benefits for your business. 
2. Not Being Available Where Customers Want 
Customers are becoming quite demanding by the day as they want quick responses and personalized services all the time. 
More importantly, they want to approach the business from the channel of their choice and expect instant answers to their queries. 
So, if your business does not have a broad presence across communication channels, it is making a mistake with customer service and thus will always find it hard to meet and exceed customer expectations.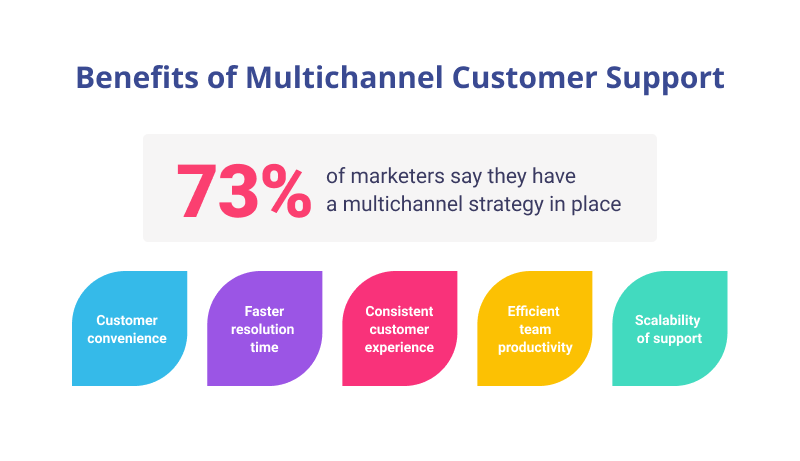 Tips to be available where customers want 
Multi-channel approach

– Make sure your business is present on multiple channels together as this gives customers a lot of choices to reach your business and start quick communication.  

Live chat

– Integrating

live chat software

to your website is a great way to enhance the availability of your business and deliver real-time responses to customers.  
3. Absence of Proactive Support 
A lot of businesses make the mistake of waiting for customers to come up with their problems. 
This approach is not right as 87% of customers want brands to proactively reach out to them for and ensure great services. 
Similarly, an absence of proactive support means you're not always making the first move or taking the extra effort to solve service-related problems of customers. 
Not being proactive means your customer service team allows the issues to fester further and become a pain point, which adversely affects experiences.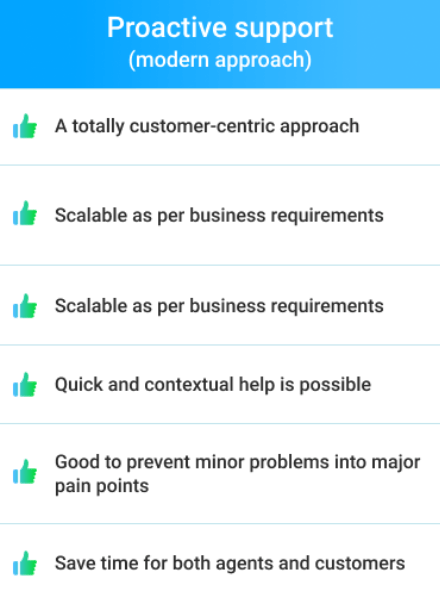 Best practices in delivering proactive support 
Co-browsing

– Customers may leave your website if they don't quickly find what they look for but you can use the

co-browsing

feature to provide real-time support using their web browser. 

Chatbot

– The use of

chatbots

can help your business prioritize customer service by automating your customer support and ensuring answers to questions even when agents are not available.   

Video chat

– Top brands are using

video chat

 to make conversations interactive, offer personalized experiences, and ensure quick responses in real-time.  
4. No Training To Customer Service Agents
Bad customer service is often the recurring theme when agents are not properly trained or when they lack complete knowledge of the processes. 
Without a knowledgeable team, it's never possible to deliver the kind of experiences customers crave.  
Sadly, a lot of businesses don't focus on implementing the right customer support training program and this always hugely dilutes the quality of support.  
How to train your customer service team? 
Define internal processes

– Your customer service team must be aware of the internal processes in an inside-out manner so that it has a fairly good idea of the standards to follow in handling customers. 

Product knowledge

– Lack of adequate understanding of the product/service is often one of the key customer service letdowns, so you need to ensure that the team is aware of the product and able to offer the right responses to customers.    

Customer etiquettes training

– Make sure your support team is trained on the basic customer etiquettes so that it can follow the rules that often lay the foundation of quality service.   
5. Ignoring the Need of Omnichannel Strategy 
Companies that deliver omnichannel service retain 9 customers out of ten.   
A lot of businesses however ignore the need for omnichannel strategy so they don't align all of their communication channels and fail to deliver consistent support. 
By implementing an omnichannel strategy, you will work effectively as a single channel and deliver great experiences across all the touchpoints. 
More than having a presence on different channels, this approach ensures all the channels are integrated together to offer a seamless experience.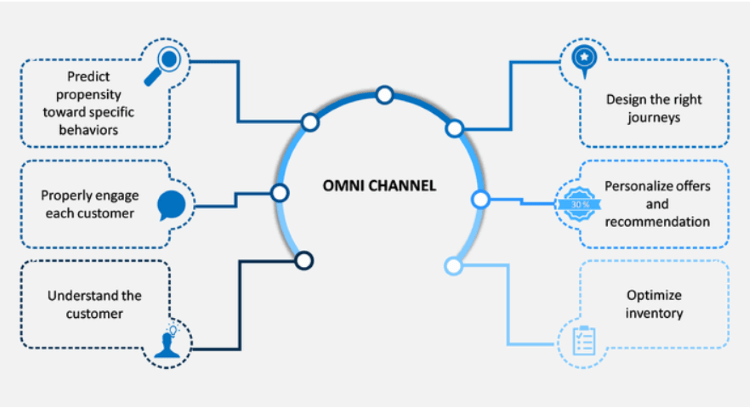 Benefits of investing in omnichannel strategy 
Faster resolution rate

– Brands that use omnichannel strategy are able to achieve faster resolution rates and enhanced customer experience by effectively using various digital tools and strategies.  

Customer journey insight

– Thanks to the omnichannel approach, it becomes easy to streamline the customer journey, understand their lifecycle better with data, and deliver personalized support.   

 
6. Low Emphasis on Collecting Customer Feedback
Having a robust feedback mechanism in place is one of the vital aspects of customer service. 
If a business is regularly collecting feedback and implementing the changes, it means it's rightly following customer service tips and taking steps to deliver great experiences to customers. 
Any feedback, whether positive or negative, needs to be taken seriously as it often tells where your business stands in regard to customer service.  
By not having a proper feedback strategy in place, your business will definitely not be able to know the areas to work and improve and this can affect the customer service in the future. 
Best Practices with collecting customer feedback 
Collect real-time feedback

– Your business can use popular methods like live chat, in-app, or chatbots to get quick feedback after every conversation and better understand the level of customer satisfaction. 

Escalate feedback to the right team

– The real utility of the feedback data is realized when it's handed over to the right team for analysis and insight, therefore giving a chance to create a better product or improve customer service. 
 7. Not Offering Personalized Experiences to Customers 
Customers always want a unique and personalized experience throughout their journey with a brand.
In fact, 80% of them will make a purchase if the business is offering personalization.  
Sadly, many businesses just focus on giving a smooth customer experience without considering individualized touches aligned with consumers' preferences and needs. 
If your business is not meeting customers on a personal level, it's losing a chance to cater to their evolving tastes and therefore might lose their trust sooner rather than later.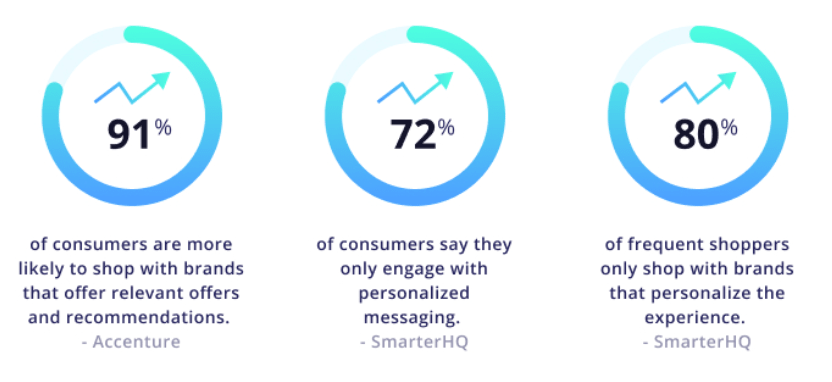 How to offer personalized experiences? 
Tweak the content to suit customers

– Make sure your website is not showing the same content to all visitors and rather take effort to ensure that each page appears to have been designed for the visitor on the page.  

Leverage customer data

– A business can never offer personalized services unless it capitalizes on the customer data related to demography, geography, site visit, etc.  

Analyze different touchpoints

– It's important to map a customer journey and know the different touchpoints customers go through in order to better understand customers and serve them better.   

 
 8. Inability to Identify Customer Needs Better   
76% of customers expect businesses to understand their needs.
The more you know your customers, the better you will serve them. 
Despite knowing that, many businesses adopt a random approach of dealing with customers with a lack of any proper strategy in place that stops them from understanding customers better. 
And when you're not sure of what customers want, how can you improve your products or enhance their experiences with your business.  
How to identify customer needs?  
Measure customer satisfaction regularly

– it's important to keep measuring the key KPIs such as customer satisfaction score (CSAT), net promoter score (NPS), and customer effort score (CES) to understand the level of customer's satisfaction with your business.   

Be consistent in customer communication

– One of the easiest ways to know what customers want is by being consistent in customer communication and seeking regular responses from them.  

Know the types of customers

– When your business knows the type of customers it's engaging with, it will avoid making the mistakes of treating different types in the same way.  
9. Zero Awareness of Common Customer Pain Points 
Unless you know the customer's pain points, how can you resolve them and ensure great experiences? 
Many businesses falter on this crucial part as they largely ignore customer service communication, so routinely make the mistake of tarring all the customers with the same brush. 
The right approach however is to know what customer pain points are, whether it's related to the sales, marketing, process, or customer service, and then take steps to resolving them. 
Once you are aware of what is bothering your customers, you can always approach them confidently and offer quality support. 
Tips to know customer pain points
Conduct qualitative market research

– Your business can conduct a qualitative market study and evaluate the data to understand exactly what the customers want.  

Listen to your customers

– To know what troubles customers, you must first listen to them, give them a platform to reach you easily, and pour their issue out to the open.   

Take inputs of your customer-facing teams

– The marketing, sales, and support team are the ones that are always in constant touch with customers, and seeking their inputs can help know customer pain points easily. 
Minimize Customer Service Mistakes to Deliver Memorable Experiences  
Customers will stay loyal to brands that offer them great experiences. If your support agents are able to minimize service mistakes, it can definitely help you win more loyalty and trust in the market. The key is to adopt a customer-centric approach and know what customers want as this often helps in improving the value of services. 
In addition, you need to focus on offering personalized services and be proactive in support so that customers feel valued. And all this will help you make fewer mistakes with customer service and achieve a better performance level.