Great customer experience is the essence of business success. It is something customers are willing to pay more for, customer engagement strategies that help engender such experiences can add perceived value across your business.
When it comes to customer support, most businesses have some kind of dedicated call center or support team that manages all kinds of customer service communication. Video chat solutions have seen an exponential rise after post COVID 19 pandemic.
Enabling a video enabled call center can bridge the gap between an organization and its customers by providing a personalized customer experience. It allows contact centers agents to connect with clients face to face and resolve issues quickly.
73% of customers point to experience as a primary factor in their purchasing decisions, just behind the price and product quality.
Here are the key benefits of video based contact centers can witness the following benefits.
9 Practical ways video based call center accelerates customer experience 
Businesses are always looking for new and innovative ways to enhance customer experience, and video call center is one such solution that offers a rich feeling of presence to the customers and highly collaborative communication due to its real-time nature.
Using video chat for customer service has many benefits of video call but the key reasons why companies are opting for it are that it delivers a superior personalized experience to customers and has become an innovative competitive differentiator for businesses.
Explore how video based call centers can improve your customer service
 #1. Increase First Contact Resolution (FCR)
Lack of visual contact has always been a major challenge of call center interactions. 
Industries like healthcare, telecommunication, banking can find it particularly challenging to deliver superior customer support. 
Identifying an issue largely depends upon the customer's ability to accurately relay equipment status and information, and voice calls or chats alone come with many limitations.
Enabling video call as a support option gives your call center agents the ability to directly observe equipment behavior and issues in real time. Face-to-face chat dramatically improves the efficiency of your customer support and one of the key customer service KPI i.e. First Contact Resolution (FCR)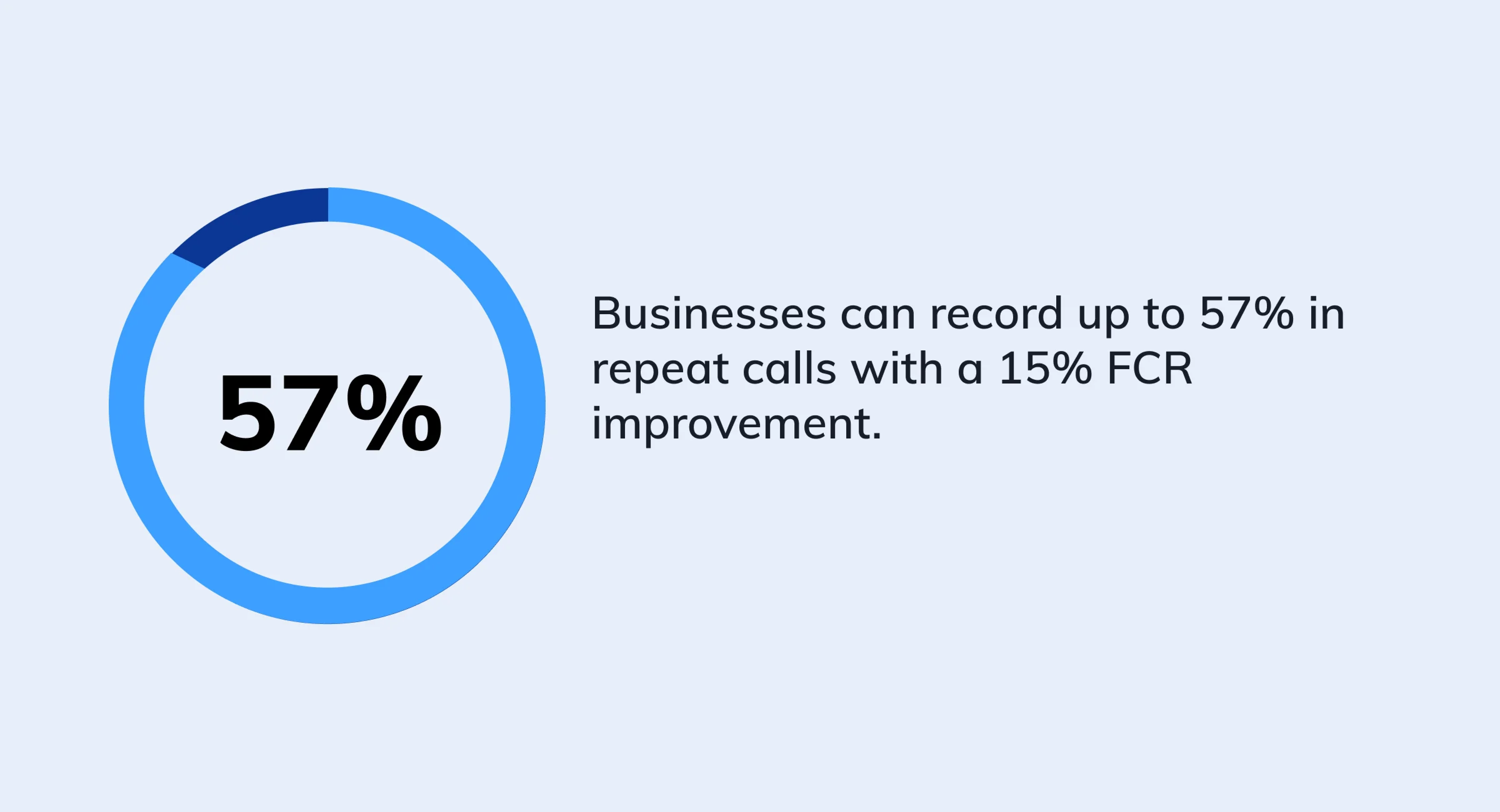 How does the video contact center help to improve the FCR metric?
Faster issue resolution: Contact center reps can diagnose the exact issue via video call and offer faster and effective solutions that improve customer satisfaction.
Real-time exchange of information:

Video based contact center solutions empower customers to exchange additional information related to the issue that helps in faster resolution.

Personalized experience:

Direct interaction with customers provides brands an opportunity to offer more personalized service and keep the conversation up to the business' standards.

Reduce average handle time (AHT):

 A contact center enabled with video accelerates responsiveness and helps agents reduce the time to address customer queries and deliver a better experience.
#2. Lesser touchpoints, more effectiveness
Lesser touchpoints lead to excellent customer experience.
It means if your contact center successfully manages customer expectations in the right manner you are able to deliver a great experience.  
Implementing a video enabled call center solutions to your contact center empowers reps to identify the root cause of the problem and offer an effective solution faster thus reducing the number of digital customer touchpoints.
You can escalate your VIP customers or high-value cases to video enabled agents for more effective resolution.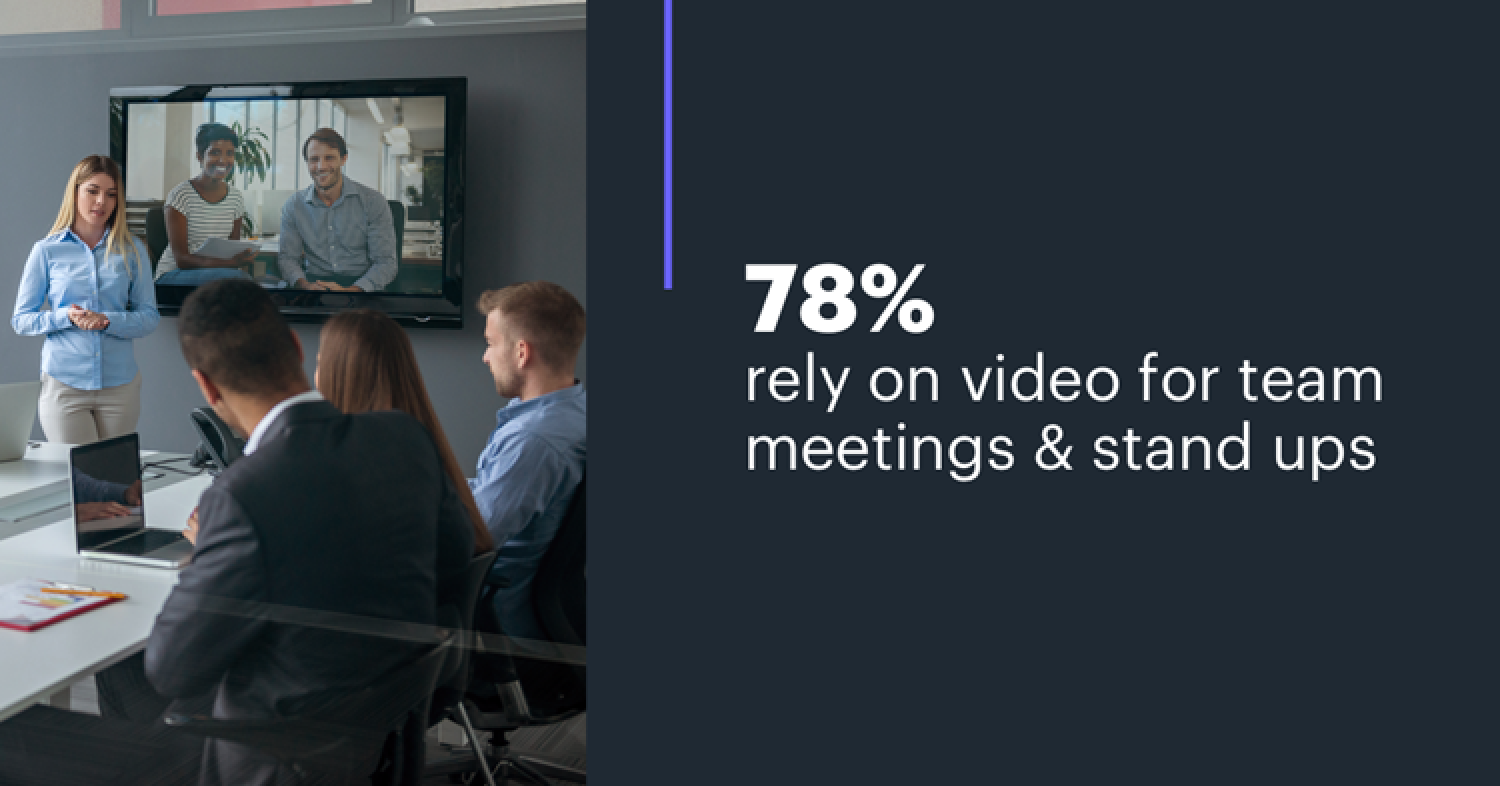 Here is how video enabled contact centers can improve customer service effectiveness.
Identify issues in the first go:

The contact center reps who use video interactions to engage with customers can diagnose the root cause of the issue at the first touchpoint.

Provide effective solutions:

Knowing the issue via visual contact allows the representatives to reach the right solutions to the issue faster.

Reduce the number of touchpoints:

Issue identification and providing the right solution in the first go happens with video call centers that reduce the total number of touchpoints.
#3. Higher Net Promoter Score (NPS)
There is always a hidden opportunity in every customer call that can help your contact center. 
With a video enabled call center, you can understand your customer's problems and needs much better. Based on your understanding you can offer the best support and align your services according to their expectations.
Live video conversations resulted in 73% satisfaction levels – the highest for any customer service channel.
Video call being a proactive support channel allows:
Contact center agents to identify issues faster and provide effective responses.

Significantly reduce the number of touchpoints by delivering contextual solutions.

You can personalize conversations with customers and build trust.
Adopting a video first approach to support results in higher NPS scores. Higher NPS scores mean customer happiness.
Positive NPS ratings from video contact center support indicate a positive connection between NPS and new customer referrals. 
There is a correlation between the relationships we have with customers and a higher likelihood to refer to our product. And with video char, it is easier to build those relationships at scale.
Note: Measure your customer satisfaction scores (CSAT) with key metrics like NPS and CES. It can be done by asking a simple question "How satisfied were you with your experience?" at the end of every conversation or checkout.
#4. Humanize call center experience
To fabricate a long lasting relationship with a customer, adding a personalized touch is imperative. Video enabled call centers to make this process much easier. 
Video call support inherently delivers personalization. Because customers can see your call center agents face to face on live video, they can connect with your brand on new emotional and non-verbal levels. 
As seen in the study from McKinsey, customers' desire for personalization in their shopping experience is becoming a point of differentiation in many industries. 
Contact center managers and executives can even use video calling as a criterion for routing customers to particular agents based on the customer's personal communication preferences and the agent's personal skill set.
Business giants like Zappos and Amazon have grown tremendously by focusing on the customer experience, and personalization has become a key facet of CX. 
How video based contact center contributes towards personalized customer experience
One-on-one video conversat builds trust:

Contact center reps when engaging with clients face to face are able to have friendly conversations, which

increases customer loyalty

and trust.

Give personalized attention to customer queries:

With just a click, your call center agents can provide the undivided attention that your customers deserve. 
Note: Encourage face-to-face virtual conversations to understand what exactly your customer needs and provide better solutions.
#5. Combine video chat with co-browsing for contextual support
Customers often get frustrated trying to explain problems they are facing, while agents lose valuable time trying to understand the issue. With video chat combined with co-browsing, agents can collaborate with customers and provide real time help.
Co-browsing along with video call can engage customers in a more personalized manner and deliver a virtual in person experience.

Engaging customers with the visual engagement tools brings true efficiency and effectiveness to customer interactions. It allows the support team to dive directly into guiding customers skipping the chat or phone support, thus improving team productivity. This explains the need to use video chat for business and boost the level of customer engagement. 
How to deliver a better call center experience by amalgamating co-browsing & video chat?
Collaborate with customers in real time to the exact page where they are facing problems and provide instant solutions.

Guide customers towards the right direction whether it is filling up a form, making a purchase, or resolving an issue.

Provide faster solutions by where and what exactly is the issue the customer is facing and reduce touchpoints.

Meet your customer expectations of getting immediate support and deliver a superior experience.
#6. Reduce customer service costs
Be it a small business or enterprise, they like to invest in tools or strategies that help them in the long run and improve customer experience.
Video call center software is affordable to leverage and it helps to deliver faster responses. 
Usually, contact centers enabled with video save more than 50% on support costs compared to other methods. It helps to provide immediate assistance and reduce the number of support requests significantly. 
Here is how video based support helps to balance business costs and reduce longer queue times
Reduce the number of touchpoints:

Video call center solutions helps to find out the exact issue and deliver immediate solutions that reduce touchpoints and improve chances of first contact resolution. 

Save customer service costs:

Video based contact center allow you to handle customer queries there are fewer chances of follow-ups. It reduces costs in terms of hiring more agents, infrastructure to manage conversations.
#7. Monitor Quality of Service (QoS)
One cannot improve what one cannot measure.
Considering the above statement it is very important to record video conversations. Recording customer service conversations helps businesses to gain valuable insights on how your team is performing and improve the customer engagement strategy.
Recording of customer service calls acts as a tool for training customer support staff and improving their performance. The training managers can listen to conversations between the agents and customers and prepare notes to enhance the customer experience.
Here are the key benefits of recording video conversation sessions.
Improved customer service:

It helps call center managers review them and get a better understanding of how agents handle customer conversations. 

Train support reps effectively:

You can monitor the recordings and can instantly figure out the agents performing well and those who require some additional training.

Evaluate agent's performance:

The training managers can listen to conversations and categorize the areas that bring results from those that need improvement. 

Improve regulatory compliance:

The call center recording feature empowers businesses to comply with legal, industry, and service-level compliance guidelines. 
#8. Boost productivity of call center reps
Only experienced agents know what it takes to deliver great customer service in a call center. And such agents too need the support of the right tools to add value to customers. 
Video based contact centers empower agents to engage customers in real time by having direct interactions. It increases responsiveness and accentuates customer engagement to enable the complete effectiveness of customer interactions.
Focusing on the digital customer engagement model and using a call center backed with video helps in contributing to boosted agent utilization, and profitability across your contact center. 
The contact center reps directly guide customers with direct video interactions, which help them in the following ways:
Identify issues faster and offer effective solutions to customer problems

Reduce the number of touchpoints across the customer journey
Using video call center solutions increases the resolution speed of agents' time that can be utilized in specific training or other priority tasks that will impact the call center revenue.
#9. Gain feedback faster personally
Basically, it is a post video conversation benefit. 
Coming to the last phase in the video interacted customer journey. It allows you to bring the customer journey to a full circle, in a consistent user experience.
When the video interaction completes, call center agents can ask for feedback instantly? And redirect customers to one of your own website pages or documents?
You get to control where you lead your customers after the video conversation has ended. For example, you can ask them for immediate feedback, resulting in high response rates. 
Industries that can benefit from the video call center 
Video conversations' impact has been noticed more in certain industries than the rest. These industries rely on their extensive B2C relationships; thus, innovative methods of interaction are a must to sustain the business. These industries vary from healthcare to education to retail to banking and even law firms.    
Here are key industries where the video based contact center plays the lead role. 
BFSI
Many banks struggle to serve all of their customers with in-person customer service. Now, banks are using video enabled call centers to enhance the experience and better serve customers. It provides the human element of a local bank from anywhere, anytime.
Healthcare
Telemedicine uses video call center solutions for patient consultations, patient portals and/or sending images for diagnosis, remote monitoring of vital signs, and nursing call centers. It helps to bring medical experts to remote areas and save time and travel costs.
Automotive
Website visitors looking to buy a car can start a conversation with the dealer in their preferred mode and easily switch to any mode they/you want. A call center based on video  helps to start a conversation with the visitor to quickly show your expertise while you build rapport and get them in the buying mood, all in real time. 
Law Firms
For many law firms, in-person consultations are costly, time-consuming, and sometimes impossible (as with COVID-19). But video call centers allows law firms to provide face-to-face time with clients in an instant.
Retail
Retailers today can provide customer service over a variety of channels like phone, live chat, email, knowledge base. But for complex or really specific customer issues video based call center is the best solution.  It enables you to streamline your customer support practices and ultimately boost shopper satisfaction and loyalty.
Furniture
Furniture sites are capitalizing on the benefits of video customer support, using the platform to offer one-on-one consultations with customers who have questions about buying a mattress or another significant furniture purchase. This personal attention increases customer satisfaction and loyalty, as customers get to connect with a real person and still enjoy the convenience of online shopping.
One of the most popular brands- IKEA has adapted the video calling facility to guide their customers with their products. It is innovations like this that lead a brand closer to its customers, gaining their trust, and building a constant stream of revenue.
The need for video based call centers are now more than ever 
Video based call centers are relatively new adaptation in the customer service ecosystem, yet it has the potential to bridge the gap between an organization and its audience.
The efficiency of video conversations and adaptability have been recognized and are envisioned to pervade every sphere of commercial activities. 
It is a safe bet to consider that the contact center based on video interaction will become mainstream in the coming years, especially for every B2C relationship.