With the rise of emerging technologies and Artificial Intelligence (AI), chatbots are bringing a new way for businesses to communicate with their customers with the help of exploding popularity of messaging apps. As each business has different requirements, they need to meet an effective chatbot strategy to meet their use case.
37% of customers prefer to interact with chatbots to get a faster response for their queries. It means more and more customers are relying on bot interaction for real time assistance.
However, chatbots have their own downsides: deploying a bot helps to grow your business whether it is to acquire customers, increase sales, or build brand awareness. So before you plan to implement a conversation AI, it is essential to map your chatbot strategy based on the use case framework.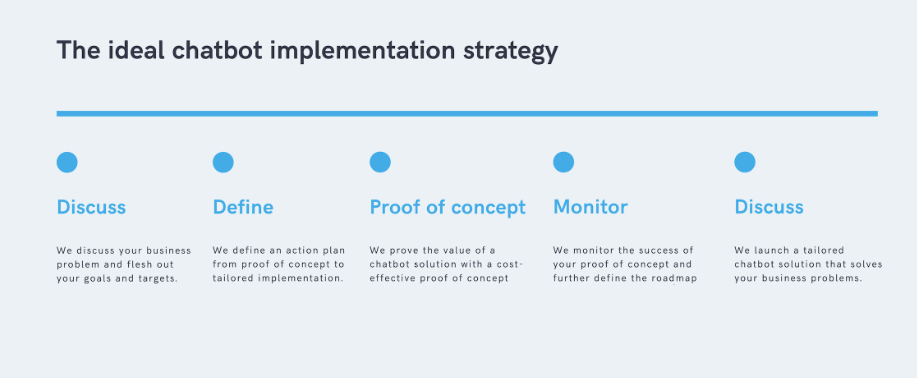 Benefits of having a chatbot strategy 
Leveraging conversational bot solutions delivers a seamless customer experience. The real goal of AI chatbots is to automate conversations at scale, making the users feel like they are having one-to-one conversations with your brand. 
Although there are many benefits of creating a chatbot strategy, here are the important ones.
Easy Scalability 
Unlike your live support, chatbots can effortlessly manage conversations at scale during peak business hours without additional customer service costs of adding extra manpower resources.
Reduce operational costs
Cost savings are estimated to reach $7.3 billion globally with bots. Planning out a chatbot strategy helps businesses to save customer service costs of hiring resources that require additional costs such as salary, training, and infrastructure costs.
Streamline customer engagement
Conversational bots can engage customers round the clock to the common queries or by starting proactive conservation and offering personalized recommendations that boost customer experience.
8 Steps to implement a successful chatbot strategy 
Implementing any new strategy to your business needs to be properly planned and discussed. A well-designed layout is a foundation of the successful implementation of conversation AI chatbot strategy. Irrespective of the industry and business, the steps remain static and act like a success formula for all of them.
Let us comprehensively discuss the steps of the chatbot implementation strategy.
1. Define your business goals
Outlining the purpose or objectives is the first and foremost part of the chatbot strategy. Visualizing the best-case scenario for the audience and what actions you want them to take to create the experience is the way to leverage chatbot benefits for your business.  
Usually, businesses deploy bots to drive sales, automate support, or improve the brand's online presence. In particular, you should also align your chatbot strategy with your customers' needs.
While defining your goals keep in mind chatbots' strengths and plan how your business can benefit from them.
Reduce response time

– Chatbots are the best way to ensure that customers receive an instant response that they are looking for without making them wait in a queue. 

Increase customer satisfaction

– Bots can engage customers 24×7 with real time answers to all the common queries. Getting immediate assistance has a great impact on customer satisfaction levels.

Boost sales conversions

–  Automate your sales funnel with

lead generation chatbots

to qualify leads and direct them to the right team or schedule appointments that increases conversion rates.
2. Understand your target use case
The initial phase of your chatbot strategy should involve segmenting the audience to figure out who your bot interacts with and how the bot can enrich relations between customers and your brand. The narrower you can get with this step, the better the outcome.
Identifying the use case is crucial – whether it is sales, support, or general visit. Once you have a well-rounded view of your customer, this will shape the scope, design, and execution of your chatbot strategy and deliver a measurable improvement.
Developing a deep understanding of your use case involves getting answers to the following questions:
What are the typical queries customers ask about a particular use case?

How to structure the bot flow in order to provide a better customer experience?

Which is the point fallback option for human support needs to be provided?
Every decision made from this point should be influenced by this buyer persona – do not attempt to complete any further steps without establishing your target audience.
Each industry has unique needs for deploying bots. An industry-specific example of a use case is a customer feedback chatbot.
IKEA, the leading furniture brand created a chatbot called ORC to collect customer insights. They are friendly, offer incentives, use emojis and ask qualitative & quantitative questions. They finish the session with some demographic questions like asking for an email address.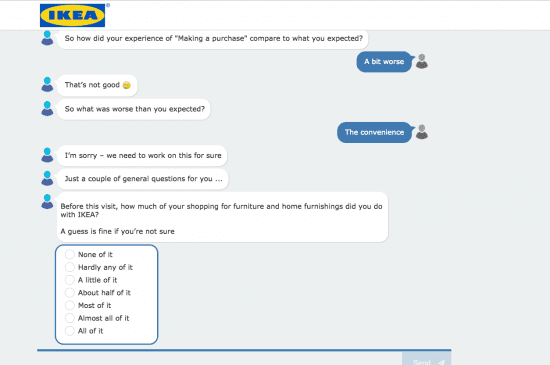 The survey highlights were that it consisted of shorter questionnaires but open-ended. It was more about gaining insight and having a conversation with customers. The customers find it easier and simpler as it offers a real variety of question types and styles, whilst being conversational. 
3. Choose the right platform
The best way to decide on the platform for your chatbot strategy is to see what your customers use. However, choosing the right platform for your chatbot strategy is highly imperative. It entirely depends on your business needs. 
You can choose a ready-to-use platform as it saves effort and time. In case your business use case is unique or complex, you can customize the bot platform. With a platform, you are sure how to buy a chatbot for varied business needs. 
Key criteria to select a bot platform
Easy accessibility – A ready-to-use bot platform comprises predefined chatbot templates for customer support and it makes it easy to build the bot as per your needs and deploy it across multiple channels.
Zero coding

– With zero coding, you can create a chatbot with less effort & time and for better customer engagement. 

Human handover

– Having a bot platform that provides the capabilities of live chat and chatbot helps to handle customer conversations effectively. Bots handle the simpler queries and the complex ones can be transferred for human support.

Security

– Bots collect a lot of information from customers. They also have all the conversational data consisting of sensitive details. Businesses need to implement measures to safeguard customer data in order to earn and maintain our trust.
4. Having the right balance of live chat & chatbot
Whether you are implementing a chatbot strategy for marketing and customer service, 100% automation is not possible. While depending on any of the channels might put you in a compromising state, the right balance of live chat vs chatbot can be a wise decision.

Both communication channels provide better insights and it is recommended that businesses should combine both channels to deliver a higher level of customer experience. The business functions can be balanced by using both platforms to deliver automated conversational support to customers. 
The businesses whose priority is instant response and 24×7 availability can use chatbots as the first point of interaction to answer FAQs. The conversations that are complex and need additional support can be directed to the live chat agents. 
Tips to follow:
You can give a hybrid support experience to your customers with live chat and chatbot – automated support for common queries and human support for complex conversations. 

Provide your users with an easy way to connect with your support team. It is a great way to increase user engagement and boost customer satisfaction.
5. Develop the right set of AI skills
The main goal of leveraging bot solutions should be customer-focused and outcomes that are efficiently delivered to customers. As a result, the repetitive tasks can be automated and the support agents can focus on more value-added tasks with complex exceptions. 
The main purpose of implementing a chatbot strategy plan is to eliminate repetitive tasks not replace staff. Human support is essential to understand the complexity of the context and deliver a positive experience.
Best practices for developing AI skills
The support team needs to understand that a well-trained bot can fulfill the metric of successful bot conversations. Hence, they should

identify new intents and add relevant responses while programming the bot

, which will improve the overall customer experience. 

The customer support staff needs to be focused on

improving the learnings on conversational AI technology for chatbot strategy

and have the training necessary to shift their work processes from repetition to new skills and more in-depth knowledge.
6. Create customer journey maps 
An effective bot strategy must provide a successful customer experience for the use cases that are within the scope of work. 
Customer journey mapping is an important step when it comes to customer experience management. It helps businesses to understand how to engineer a better overall experience that results in higher customer satisfaction and increased loyalty. 
The goal is not only to create better results using a bot as an additional channel but also to create an experience that delights your customers.
Understanding customer intents

– Learning the intents of the customers through his queries is crucial in developing successful conversations but also in helping to define an appropriate scope for the bot. 

Define better structural bot flow

– Once you identify customer intents, the bot flow can be aligned to the target use case. It will help to deliver effective responses and reduce the number of human fallback options.

Create a subset of customer intents

– Define subsets for the most relevant outcomes that are well understood and well documented. Well-defined use cases based upon customer journey maps and data help to design and deliver a better experience.
Note: Consider the most common use cases first and then expand the scope of the bot as the company learns from the experience.
7. Design a use case-specific chatbot flow
Once you have created the customer journey maps, the next step in the chatbot implementation plan is how will the bot guide the users in different scenarios. When interacting with the user, the bot should be capable of engaging visitors with instant solutions. 
You can convert the scenarios into small steps known as a node with the help of different actions to build the bot flow. The actions could be setting a customized welcome greeting, collecting visitor information, or giving options to the user's request.
As every single node for specific actions and the small actions are interconnected with the other, you can make the bot flow highly conversational and deliver a superior customer experience.
Tips to make your bot flow conversational 
Add relevant visuals

– Make the flow interactive with the help of videos, emojis, gifs. Interactive visuals process

60,000 times faster

and bag your user's interest.

Reduce friction

– Focus on designing the structural flow of the bots based on a thorough understanding of the typical use case. It will help the bot to seamlessly direct customers in the right direction. 

It results in less scope of confusion for the bot as its structure is designed based on the use case. Likewise, customers are also not confused as they get the relevant solution and human fallback options are reduced. It improves the bot performance as well as team productivity.
Define fallback scenario

– While designing the bot flow define the stage when they can easily reach out for human support. If the user wants to connect with the support agent, there should be an easy way available.
8. Test & measure your bot performance 
One of the vital aspects of chatbot strategy is to measure your bot performance. Testing the bot helps you to understand how chatbots contribute to achieving your business objectives.
With the right chatbot KPIs in place, you can gauge – How do your customers perceive chatbots? Are they satisfied with the responses? Is it helping users to direct towards taking certain actions? 
The bot metrics help in tracking the effectiveness of the bot, identify if there are any hindrances in the workflow, and continuously improve its performance.
Key
chatbot metrics
to be measured for accessing bot performance 
Total human handover

– It refers to the total conversations that are transferred by the bot to the human agents. It shows how capable the bot was to engage the customers by answering their queries.

Successful bot conversations

– It refers to the conversations that are entirely handled by the bot ending up with a successful conversion. There is no human interference at all.

Failed conversations

– The conversations where the bot is not able to provide relevant answers and indicates the areas the bot needs to train further for delivering a better experience.

Customer satisfaction

– With the help of CSAT & NPS surveys, you can calculate the satisfaction score and know how happy customers are with your bot responses. 
Chatbot strategy is the core of successful conventional AI experience 
Having a well-planned blueprint helps not just to design the chatbot but at the same time improves your customer metrics. However, chatbot strategy can not be done in a silo without your overall customer strategy
Developing an effective chatbot strategy, it is important to note that Artificial Intelligence (AI) technology provides incredible insights into the customer experience. The implementation of a chatbot strategy is easy but establishing a strategy that will allow your business with a new channel and opportunities will develop over time.