Digital transformation is compelling businesses to change their business models and adapt to the new market reality. Surprisingly, it's not the companies that are driving this change. Instead, the change is being driven by the customers according to their preferences and needs.
Two-thirds of the CEOs of companies across the globe have shifted their focus from traditional, offline strategies to modern digital strategies like visual engagement tools to improve the customer experience. 
A majority of companies are adopting live engagement solutions that enable real time digital interaction with high efficiency. Business view customer experience management (CEM) as a blend of processes and technology. But practically, creating happy customers just requires getting the basics right, specifically, what existing and potential customers need throughout their purchase journey.
Let us dive into an in-depth discussion on what is visual engagement and the different tools that help in improving customer experience.
What is visual engagement? 
Visual engagement is defined as delivering personalized one-on-one conversation with the customers in real time with the help of advanced tools like co-browsing, screen sharing, video & voice chat. The live engagement tools have great power to identify the issues faced by your target audience in their journey. 
Getting the context and comprehensive elaboration of the issue helps to deliver personalized solutions that provide a positive customer experience and build customer loyalty. The real time engagement concept hinges on the simple foundation 'seeing is believing' is widely adopted across industry verticals that include retail, banking, contact centers, and healthcare.

Types of visual engagement tools
There are different live engagement tools that can be used for various industry use cases. These tools are used to simplify customer communication across customer journey are as follows:
Video & voice chat 
Using video and voice chat helps support agents to deliver real time personalized customer service. It allows identifying your customer issues in the first interaction and delivers an effective solution, thus reducing the number of touchpoints significantly. 
Co-browsing
Co-browsing solution allows agents to interact with your customers in real time on the website or mobile apps. You can collaborate with customers and manage their browser to proactively guide them in the right direction, which accelerates sales conversions with one-on-one interactions.
Screen sharing
Screen sharing allows you to assist your customers with online sales and customer support. With this visual engagement tool, you can arrange product demos for your customers by sharing the screen. 
How visual engagement tools deliver a great customer experience (CX) 
Businesses that leverage live engagement tools as a part of their customer engagement strategy can guide customers through the sales funnel with increased velocity while creating a positive brand experience.  
Let us discuss the benefits and significant impact of using live engagement tools to improve customer experience.
1. Improve First Contact Resolution (FCR)
Just imagine a situation – A customer has to repeatedly reach out to the customer service team on the same topic multiple times because their original problem was not resolved the first time. 
We all might have undergone such an experience, which is really frustrating and a strong reason to churn! 
The ultimate essence of real time engagement is all about being able to see, engage and resolve customer issues. Leveraging advanced tools goes a long way towards promoting first contact resolution (FCR) and preventing customers from returning back.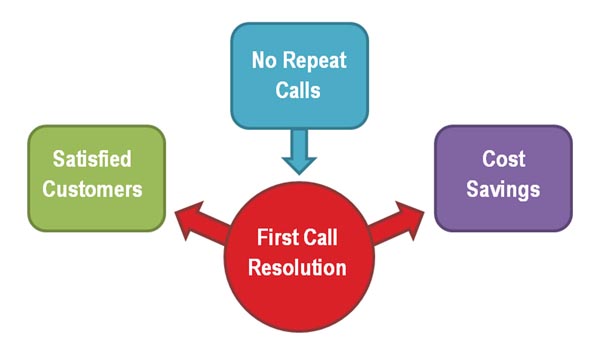 Here is how visual engagement tools help in improving the FCR metric.
Co-browsing tool helps agents to

deliver real time assistance by collaborating with the browser and guide them in accomplishing particular tasks

.

Learn the root cause of the issue faster with video chat and

provide an effective solution through personalized conversations.

Visual conversations help to deliver effective solutions that

reduce the number of touchpoints.
Empowering your support team with real time customer engagement tools allow them to connect with customers at the right moment and diagnose the issue. It enables them to provide better, faster resolutions to the majority of support issues, thereby improving the first contact resolution metric significantly. 
2. Reduce the number of touchpoints
Not every time customer support agents are able to deliver effective solutions. One main reason is that agents fail to understand the exact problem. If the conversation is happening over the phone or chat, the customer might not be able to comprehend the issue due to its complex nature.
As a result of which the number of touchpoints increases, which is a resemblance of bad customer service. 
Implementing the live engagement tools is the best approach to overcome the challenge. When the customer issue is identified in the first contact, not only is the resolution faster but the number of touchpoints is reduced.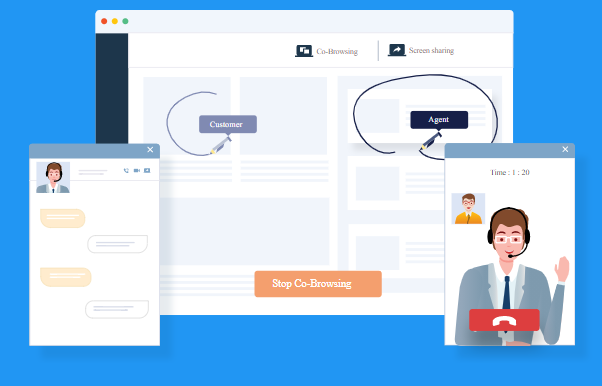 Gaining a visual understanding of the issue by using live engagement tools such as co-browsing and video chat, businesses can offer a concrete solution and improve one of the key metrics i.e. average resolution time.
Here is how the tools help your business to reverse from bad customer service to a good example. 
Co browsing allows you to

collaborate with your customers in real time

and know where exactly the customer is facing the issue and help to complete the complex process or form fill up much faster.

Direct conversations with

video chat help agents to understand the problem with clarity

and deliver the right solutions in the first contact. You can deliver technical support and the best virtual in-person experience.

Visual engagement tools

deliver faster solutions with interactive and personalized communication

. It has a significant impact on customer satisfaction levels.
3. Live engagement increases conversions
Companies can increase their conversion rates by up to 2.5X with the inclusion of visual channels to assist the overall visitor experience.
In the retail sector, a positive online shopping experience is often the most important factor when it comes to converting website visitors into buyers. Companies make significant investments in live engagement tools for increasing sales and creating seamless user experiences for their online visitors. 
Co browsing between agents and customers provide excellent opportunities to increase sales by upselling and cross-selling products or services.
How visual engagement tools help in boosting conversions?
Shortens sales process

– Visual tools allow agents to collaborate with customers in real time and assist them in filling up complex forms for faster check out.

Provide product demos

– By using the live engagement tools, product demos can be made more convincing for the customer. 
By combining a great user experience with helpful service options, companies can significantly reduce visitor abandonment rates.
4. Higher customer satisfaction
Live engagement is a powerful real-time concept that enables agents and customers to reduce conversation clutter, better understand each other, and drastically save time in problem resolution.
The ability to provide positive customer experiences with superior customer service is one of the best ways to drive customer loyalty. By adding visual customer engagements to your customer service efforts, you can gain an edge over your competitors.
Visual engagement with co-browsing facilitates hassle-free communication and real time collaboration to guide your customers through complex workflows. You can provide personalized customer service solutions by using live chat and video chat assistance.
Using visual tools for engaging customers helps in the following ways.
Drive an overall positive customer experience by effective solutions in the first contact.

Prompt resolution leads to higher customer satisfaction for the brand.

There is a better understanding between customers and agents during interactions.

Visual tools can reduce potentially frustrating and stressful situations.

It brings overall improvement in the customer engagement metrics.
5. Boost customer lifetime value (CLTV)
Customer Lifetime Value (CLTV) is one of the most important statistics your business should be focusing on for assessing marketing strategy.
Relying on live engagement tools has the capability to drive more meaningful customer engagement, and with good reason; a fully-engaged customer is likely to spend over 20% more on average throughout the lifetime of their brand relationship.

How can visual engagement increase customer lifetime value (CLTV)?
Improve customer onboarding process

– A poor customer onboarding process is one of the leading causes of churn for any business. Personalized video chat is a great way of welcoming customers to your brand by creating a personal experience that instantly creates positive brand sentiment.

Personalize customer experiences

– Offering experience that is tailored to their specific needs is an effective way of increasing retention rates and supplementing CLTV.  Video chat allows brands to offer this personalization to their customers as videos can be customized to customer's needs and made interactive. 

Offer high-end customer service

–

One-third of consumers

are likely to switch brands after a single instance of poor customer service. Using different visual interaction tools, help to collaborate with customers in real time and provide effective solutions at the first touchpoint.
6. Reduce customer churn rate with visual engagement
Lack of real time engagement is one of the key reasons why customers churn. Making the right use of live customer engagement tools can make conversations meaningful and interactive. Companies have experienced 9.5X customer retention rates after the adoption of visual channels to differentiate their customer service, from competitors that lacked these channels.
Visual engagement is extremely rewarding for companies to successfully convert website visitors into buyers. It is equally important to nurture, delight, and retain existing customers through smart customer service. It helps to reduce customer churn rate significantly.
Here is a case study by Mention, a leading social media tool used live engagement to deliver improved customer support and decreased their churn rate by 22%. 
With live engagement you can:
Assist your customers through complex form technical processes.

Educate them by providing the right information they are looking for.

Strengthen customer relationship with better customer service communication
Having a visual communication channel in addition to other platforms like live chat and chatbot transforms the support experience into a better, simpler, more intuitive process.
7. Improve team performance
Visual engagement tools do not limit their potential only towards contextual customer engagement but also it has a great impact on overall team performance. 
According to Forrester's research, "Visual engagement drives team productivity and revenue for customer service".
Implementing the live engagement tools helps your team to work faster and smarter. It streamlines the process of engaging customers and allows you to share information or provide solutions efficiently that improves team productivity.
How does live engagement help in increasing team productivity?
By viewing the problem in real time helps to resolve the solution faster. It helps the agent to

handle maximum conversations

successfully.

Learning the root cause of the issue helps to close the conversation effectively. It

reduces the number of touchpoints

and improves the agent's performance.

Improve the key customer service metrics like

total issues resolved, average resolution time, lesser touchpoints. 
Thus, using live engagement tools can greatly increase your team productivity and deliver a good customer service experience.
Visual engagement: Key industry examples & use cases
The live customer engagement tools are being widely adopted across different industrial sectors and use cases with the end objective to accelerate growth and efficiency. 
Here are some of the key industry examples where live engagement tools are playing a dominant role. 
#1. Contact center
Visual engagement solutions have been a game-changer for contact centers. The co-browsing tool has proved to be an effective solution in accelerating handling time and delivering first contact resolution. 
Promote self-service

–

Co browsing for contact centers

helps in showcasing the self-service options available to customers. When customers report the issue, agents can view their screen and guide them to the right resolution.

Reduce average handling time (AHT)

– By using live engagement tools, contact center reps can access the customers' browsers directly to identify the problem and resolve it quickly that saves time for businesses as well as clients.
#2. Banking, financial services, and insurance (BFSI)
Online banking transforms traditional engagement into an intuitive banking platform. With co-browsing software, banks can safely facilitate customer interactions with bank experts, which is similar to visiting the physical branch.
Assisting in complex procedures

– Co browsing helps customers to complete difficult banking processes like loan application fill up and submission. The agents can view their screen and guide them step by step until all is resolved.

Secured personal data 

– All the details shared during co browsing session with the bank advisors like card details or screenshots of statements are completely secured. 
#3. Health Care
With visual engagement, healthcare organizations can instantly collaborate with medical professionals across any device. Cobrowse solutions enable healthcare institutions to improve customer engagement by:
Share and view

– With co-browse solutions, healthcare organizations can offer instant on-screen guidance. Sharing a view eliminates the verbal exchange that often precedes traditional customer support sessions.

Personalized conversations

– Video chat improves the real time consultation between gives patients and doctors. 
#4. Automotive
Visual engagement tools like co-browsing and video chat help automotive buyers to drive their engagement level. Having direct conversations helps in resolving queries faster and creates an immersive digital customer experience.
Provide high-end support

– You can guide your buyers in making decisions on the website or mobile app by having a live engagement.

Increase engagement

– Co-browsing helps to assist your buyers in filling up forms or applications by collaborating with them in real time. 
#5. Retail
In the retail and eCommerce sector, customer experience is playing an increasingly important role. There is widespread adoption of live engagement tools to enhance customer communication and their experience.
Allows upselling & cross selling

– Co-browsing solution helps in upselling and cross-selling to existing customers and mass purchase deals.

Offering the right product

– Visual engagement allows support agents to view the same page in real time as the customer and educate them about the right product.
#6. Services 
Providing visual support to engage customers in real time is worthy enough to improve customer experience than traditional text conversations. Visual engagement with co-browsing solutions helps you to provide contextual information to your customers while they are browsing your website.
Engage customers in real time

– Co-browsing helps your support agents to collaborate with customers, highlight important information, and make the tricky process clearer.

Build strong customer relationships

– You can have personalized conversations while providing assistance via video chat and build stronger customer relationships.
#7. Onboarding
At times, product videos integrated into the website are not worthy enough to explain the product thoroughly and leave the customers confused with so many questions in mind. 
Product tour

– Co-browsing helps to provide a complete product tour to customers. It enhances the product understanding for the customers to make quick decisions for their business.

Assist in quick decision making

– While customers are going around the product, your product support team can provide an interactive demo on how to use the product efficiently so that they can take action accordingly.
The bang for the buck with visual engagement is evident 
As customers need more and more real time assistance options that can provide them effective solutions with minimum touchpoints, it is evident that visual engagement tools play a critical role in the major stages customer journey. The right use of co-browsing, video chat, and screen sharing capabilities can bolster the overall customer experience.