Customer communication has evolved with the advancement of Artificial Intelligence (AI) and Machine Learning bots. There has been a shift from traditional channels to omnichannel customer service strategy to deliver supeior support.
Companies that delivered strong omnichannel customer service retained 89% of their customers.
It becomes crucial for businesses to be available on customers' preferred channels. So how do you plan your omnichannel vision to enhance customer support?
Before we go deeper into the strategies, let us understand what omni customer service is.
What is Omnichannel customer service?
Omnichannel customer service is defined as a synchronized framework of all of the communications channels that are aligned to deliver consistent customer support in one place. In an omni-channel approach, businesses effectively operate as a single channel, delivering high value customer satisfaction across all touchpoints.


Implementing an omnichannel strategy helps businesses in better understanding the customer lifecycle, conversation history, and delivering personalized support consistently.

Unifying of channels under one platform ensures consistency regardless of touchpoints used by the customers. It helps customers to interact whenever, wherever, and however they want.
Why omni channel customer service is important?
Omni channel customer service means delivering a more cohesive, integrated experience, free of restrictions no matter how a customer reaches out. It allows a seamless transition between channels and has the same engagement the whole way through.
For example, customers can easily hop from their desktop to their phone and then walk into a physical store and experience similar service across the channels.
The ultimate goal of omnichannel customer support is integrating every method of outreach and communication in one board to eliminate siloed engagements. 
Here are some key reasons that prove the worth of omnichannel customer service.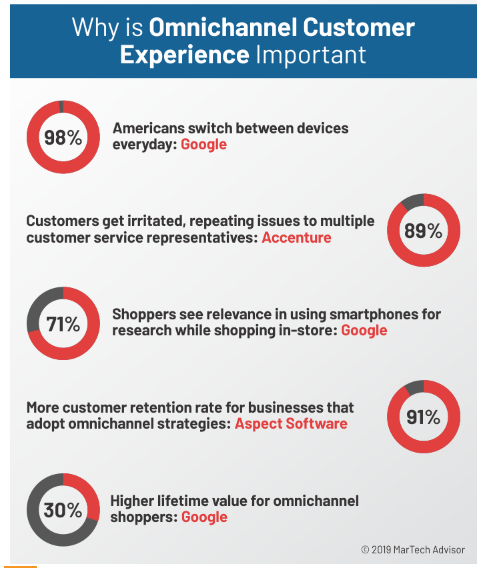 Enhanced user engagement

– When brands engage across all online and offline customer service channels to deliver consistent support, they tend to deliver higher engagment.

Streamline customer journey for better insights

– Businesses can understand the customer lifecycle better with conversation history and deliver personalized real time support.

Reduce churn

– Customers expect instant response and when they are entertained across their preferred channels in real time, churn rate reduces significantly.
How to build an omnichannel customer service strategy (Tips & best practices)
Once businesses have selected between omnichannel vs multichannel customer support strategy, it is crucial to understand and implement the benefits of strengthening the omni services to deliver better customer engagement.
Let us start a comprehensive discussion on deploying a successful omnichannel communication strategy.
1. Understand your customer expectations
"The very first step in exceeding your customer's expectations is to know those expectations." Roy H. Williams
To know your customer expectations, you need to understand them, their journey, and their entire lifecycle. Customers expect contextualized engagement and seamless transitions between channels. Businesses who engage customers by understanding them are able to deliver a personalized service.
According to Digitalcommerce360 says, "Businesses that choose omnichannel customer service strategy have gained 89% increase in customer retention and a 9.5% year-over-year increase in annual revenue."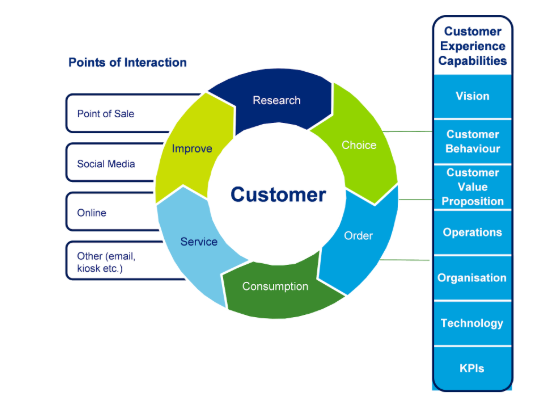 When you understand how customers interact with your brand across multiple channels, you can begin to optimize your processes to reduce customer frustration, bridge the gaps in the process, and help nudge customers towards conversion. 
In order to build a successful omnichannel customer engagement strategy need to focus on the framework of customer interaction. The key components are as follows:
Know customer wants and needs
The omni channel customer support strategy helps to gain customer insights into their profile and previous interactions. Their journey maps can be used to personalize interactions and meet their needs or exceed expectations. Thus, delivering an optimal multi-channel messaging support and increased opportunities for future interactions. 
Identify the most preferred channels
Every business has a specific target audience. As you try to figure out their needs, you need to identify their preferred channels of reaching your business. You need to consider both reactive and proactive channels in order to make your omnichannel customer service approach successful.
Map customer journey
Mapping their journey provides valuable insights on their previous interactions, conversation history, etc. that helps to take proactive actions. Based on the insights, you can create a process to deliver customer support with the right channels like self service portal, chatbot, live chat, or visual engagement tools.
Best practices
You can collect customer feedback to know whether your customers are satisfied or not. Accordingly, you can improve the support process and exceed customer expectations.

When businesses go omnichannel, you are able to reduce the number of customer touchpoints by reaching them across various channels.
2. Provide self service options to customers
More and more businesses are recognizing the benefits of reliable self service portals for improving the overall brand image. Not only that, but it also allows businesses to stay ahead of the game and adapt to the new ways of communication rather than just following the traditional rules.
Self service portals provide customers with instant access to information, allow personalization, and save valuable time and business resources. According to Nuance Enterprise, "67% of customers prefer to use self-service options instead of speaking with a company representative."
There are many ways you can build a content hub in the form of tutorials, manuals, videos to help customers to solve their problems on their own. They effectively engage customers in the following ways:
Improves agent productivity –

With self service options reducing the support tickets raised, agents can be managed for other priority tasks.

Reduce customer service costs – 

When customers are able to find answers on their own, it reduces the agent's support requirement and the volume of tickets.

Leverage personalized information –

The self service portal can maintain a record of the products or services purchased and display what is relevant to them. You can identify customer issues and take adequate steps to address them.

Increase positive recommendations –

Such portals help to strengthen the brand reputation by creating positive client interactions.

Educate customers –

You can expand your customers' knowledge & skills they require for solving other similar issues in the future. 
MIF, the mutual insurance provider built service portals to serve their customers proactively. The portal integrates 7 existing business applications and 35 web services onto one single platform for more than 50,000 members.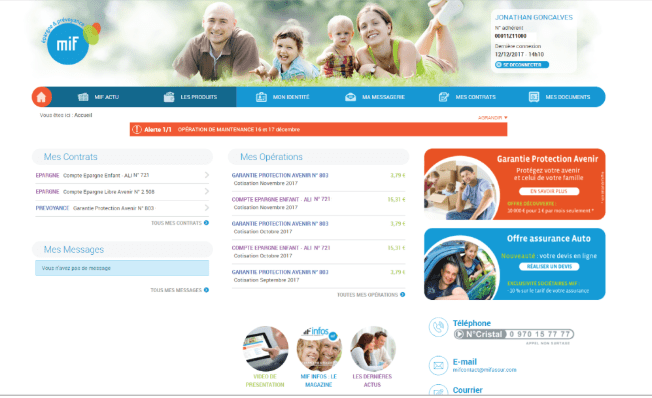 The customers have easy access to services such as accessing and managing policies, modifying personal information, and directly consulting MIF advisors. Empowering customers with greater control over their own accounts results in increased customer satisfaction and encourages MIF to continue offering greater digitization of processes.
3. Respond to customers instantly with live chat
One of the topmost frustrations of customers is longer wait time when they reach out to you for support. The single bad experience is good enough to demotivate customers and leave your brand permanently. 59% of customers are more likely to make purchase decisions when brands answer their queries in under a minute.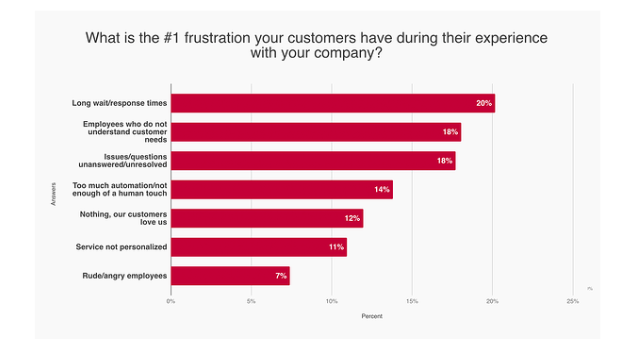 Source: Hotjar
Live chat is a perfect solution to combat customer frustrations. The tool helps to significantly reduce the queue time by providing real time sales and support assistance to customers. When customers receive instant engagement, what they expect their satisfaction increases.
Businesses that offer live chat witness a 34% rise in customer satisfaction rates.
How live chat helps to improve the omnichannel communication strategy?
Immediate assistance

– It helps to provide instant solutions to all the sales and support related queries. By routing the conversation to the right support team the queries are solved faster.

Increase customer satisfaction

– It drives customer satisfaction by reducing wait time and converts visitors to loyal customers who not only retain with your brand but also advocate with positive word of mouth.

Proactive customer engagement

– You can engage customers proactively in the right direction before the doubt becomes a big problem. 
4. Engage customers with live engagement tools
To deliver personalized real time support is a big challenge faced by most of the businesses. For a successful omnichannel communication strategy, you can empower the customer support team with live customer engagement tools such as co-browsing and video chat, to build long lasting relationships with their customers.
With the advanced tools, your support agents can connect with customers in real time by collaborating with their browser or having face to face personalized conversations. They help to identify the issue faster and provide effective solutions and deliver a virtual in person touch. 
How co-browsing and video chat deliver effective omnichannel customer engagement?
Faster resolution of customer issues

– By direct interaction or collaborating the browser together with customers, agents acquire first-hand knowledge and offer faster solutions than reactive channels significantly improved first contact resolution rates.

Streamlined customer support in real time

– Direct interactions have a great impact on customer satisfaction. With the co-browsing solution, customers can be assisted instant and resolve the issues in first contact itself.
5. Enhance your social presence
Social media is considered to be a great customer service tool that helps to drive customer satisfaction rates. Forrester says, "80% of consumers use social channels to engage with brands."
Managing social media conversations over all channels such as  Facebook, LinkedIn, Twitter, Instagram is hectic. By implementing social media tools for monitoring and listening to your audience becomes easy and offers consistent service across all social platforms.
Sprout Social Index says, "90% of consumers have used social media in some way to communicate with a brand." Over 34.5% said they preferred social media over the reactive support channels like phone and email.
Having an omnichannel support strategy in place, here is how it helps your brand to achieve your social media customer service objectives:
Customer service –

Customers choose social media as the main source to interact with a brand as they get instant attention. Promptly responding to your customers across their preferred channels improves omnichannel customer service. 

Brand awareness –

Social media

enhances brand engagement and acquires new customers by knowing their target audience and positioning their products or services for them as the best option.

Word of mouth

– The happy customers turn to be the best brand advocates. They share their positive stories over social channels.

Ambassador

says

71% of customers share their brand experiences and recommend it to their friends & family.
Social listening

– Social listening allows brands to monitor, respond, and further engage customers across different social channels to deliver superior customer service.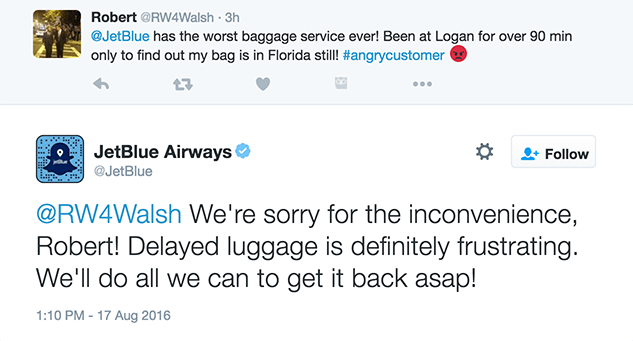 Source: JetBlue Airways
JetBlue Airways, for example, shows how their customer service representative handles the frustration of an angry flyer. Replying to such responses needs being polite and using positive words can make customers feel heard.
Best practices:
You should be prompt in responding to social media comments and posts. By analyzing comments you can deliver the right solution that will keep your customer churn rates low and boosts brand awareness.

Always mind your tone while handling customers across social channels. Try to keep it conversational.
6. Balance automation and human support to deliver a hybrid support
Hybrid support is really happening in the new era of customer experience. Businesses can level up customer service experience by balancing AI chatbots and human support to deliver hybrid support ( including the best of both worlds). 
Choosing the hybrid support approach requires a thorough understanding of the use of live chat vs chatbot by learning the pros and cons of both channels. The balanced support approach manages the resources on priority tasks. You can use chatbots at the primary stage and put human support for complex conversations.
Using AI chatbots helps to engage customers by answering their simple queries and pre-qualifying leads by asking relevant questions.
How can customer service chatbots help to communicate better with customers?
24×7 support

– You can engage your customers round the clock to answer the FAQs and increase user experience.

Collect customer details

– Use bots to automate the repetitive tasks of collecting information when the conversation begins and then transfer to the right team or self-service options. 

Build customers' trust

– Chatbots use the insights from previous customer service touchpoints and apply them to present customer interactions. 
Best practices:
Your customers will not face any inconvenience as the transition is absolutely seamless when made between the chatbot and human agents.

The hybrid support approach minimizes touchpoints for overall resolution. If the bot is not able to fix the issue, they are handed over to the right agent for an accurate solution possible in the first contact.
7. Measure your customer service metrics regularly
American Express survey says 70% of consumers say they have already made a choice to support a company that delivers great customer service.
Customer service KPIs or metrics is a measurement of team performance used by businesses to monitor and analyze customer relations by considering the overall customer journey.The key customer service KPIs or metrics used by businesses to monitor and analyze customer relations are as follows: 
Net Promoter Score (NPS)

– NPS metric measures customer satisfaction and find out how likely your customers are to recommend you to their friends and relatives.

Retention rate –

It helps to find out whether your customers are satisfied with your service and choose to retain your business.

Number of touchpoints –

The metric indicates total touchpoints made by the customer to get the right resolution. 
Measuring customer service is vital for businesses as it helps to understand how well your business is performing and customers' perception of your products & services. It also helps to improve the gaps to achieve complete success in the three major areas. They are as follows:
Increase team performance

– Measuring customer service with the defined metrics & KPIs, you can know about your team productivity. Further, you can schedule training and improvement plans to enhance customer service benchmarks.

Customer satisfaction

– Customer satisfaction score is an important KPI for customer service. If your customers are satisfied they will be with your brand that will increase their lifetime value and also recommend to their friends and colleagues.

Reduce churn rate

– When you measure customer service, you come to know the customer satisfaction rate. The happy customers retain with your business for a long time and advocate your brand with positive word of mouth.
8. Deliver a great mobile experience
In today's time, mobile accessibility is everything. If your website is not mobile optimized, then you are in deep water. Customers tend to complain when a mobile site is not displayed properly, delay in loading, or is difficult to navigate. 
Akamai report says, "100-millisecond delay in load time can cause conversion rates to drop by 7%." It clearly means that even the least wait time in website loading or haven't optimized their websites for mobile users, can negatively impact user engagement and conversions.
These frustrations are compounded when they are looking for assistance.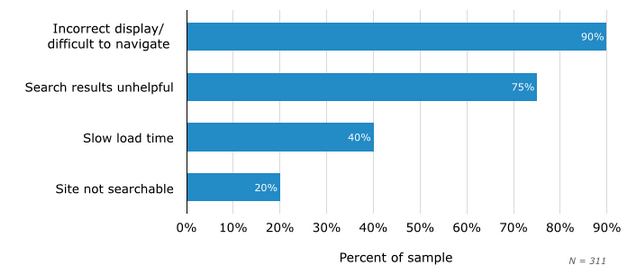 Source – Superoffice
As omnichannel support includes mobile devices, it is vital that your website, as well as mobile applications, should have fast load times, accurate search results, and accurate displays. 
Pro tips: 
Make certain that all your customer support and solutions pages are mobile-friendly.

Ensure that your

website engagement strategies

focus on mobile optimization while designing the website.
Final thoughts
Omnichannel customer service is a strategic direction for businesses than a tactical one. However, having an omni channel strategy is not enough. In order to deliver a great omni channel customer support, businesses also need to train their customer-facing teams to be able to understand various customer data points across each interaction. Building a well trained, dedicated support team is one key asset to transform your business into an omni channel-centric and enhance brand credibility.