A business with a great quality product that captures a niche in the market but fails to appease customers can never be successful.
Did you know many U.S. companies lose more than $62 billion annually due to poor customer service?
In order to retain your customers delivering consistent experience is imperative. CX is perhaps the most important aspect of a successful business. 
Businesses that build a strong customer experience strategy can reap the benefits of repeat business and develop a loyal customer base. Hence, online customer service is a vital part of the customer experience. It comprises the specific touchpoints across the journey when customers request and receive assistance. 
Deliver prompt customer support, reducing friction, and addressing customer concerns in real time boost customer satisfaction.
Why is online customer service important? 
It takes years to build a brand reputation and five minutes to ruin it. Businesses who have understood it, plan their strategy differently. The importance of online customer service can never be underestimated as the impact of poor customer experience is worse.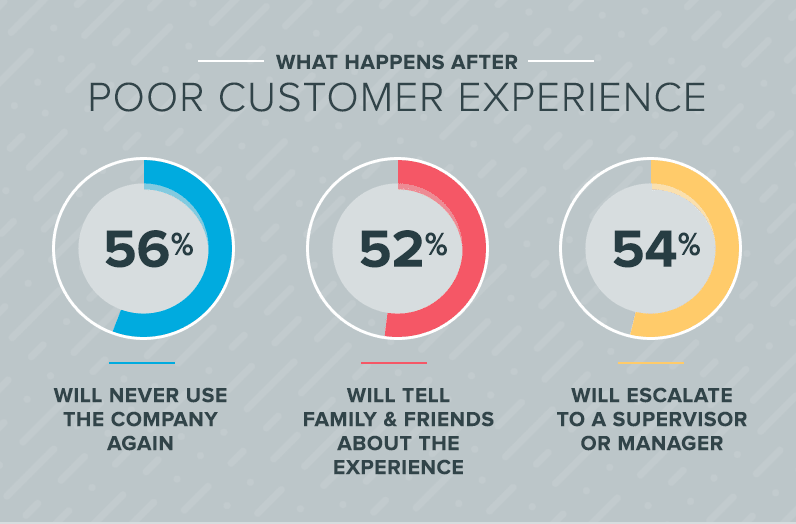 For small and medium businesses (SMEs) acquiring customers can be financially compromising. Acquiring a new customer can cost five times more than retaining an existing customer. Making your customers feel valued and happy can be the difference between liquidation or long term success.
Great online customer service programs should focus on addressing their concerns promptly and exceeding expectations by using the right tools and processes. Businesses adopting such an approach can engage customers and build strong relationships along with reaping other significant benefits listed below.
Boost satisfaction:

When the primary goal of your business is to add genuine value to your customers, there is a significant increase in customer satisfaction. And satisfied customers tend to become loyal customers.

Brand credibility:

Happy customers build a better brand reputation. After a positive customer experience,

69% would recommend the company

to others. Excellent online customer support leads to happy customers who talk about your product or service with future customers.

Higher CLTV:

Customer lifetime value (CLTV) correlates directly with revenue. High service quality engages customers in a superior way and encourages them to make more purchases from your company.
10 practical tips to improve online customer service
Online customer service is crucial to the growth of any business, be it product or service-based. If you make customer service mistakes, you won't be able to deliver the kind of service customers needed, and eventually, they will leave. 
For improving online customer service in education sector or any other industry, service, below are the key tips & best practices that will help you to enhance customer support and gain customer satisfaction and loyalty.
Let us dive into the top 10 ways for you to deliver the best online customer service.
1. Focus on customer experience (CX)
Customers today have multiple channels to connect with businesses. Delivering the first impression that a customer receives sets the stage for the customer experience. The first impression can come from any customer touchpoints. Make sure that you are all set to treat your customers.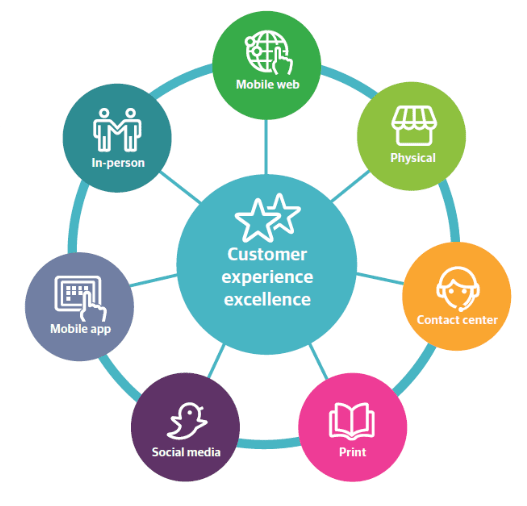 As a business, you need to identify the channels preferred by your customers and be available where your customers are. 9 out of 10 consumers want an omnichannel experience with seamless service between communication methods. 
Streamlining all the interactions across multiple channels like website, social media, email, physical store, etc under a single platform allows you to deliver a cohesive and consistent omnichannel customer service experience.
For example, Oasis a renowned fashion brand that operates online and has physical stores worldwide smartly integrated both online and offline stores together to provide a seamless omnichannel shopping experience to its customers.
Here are some best practices that you can follow to improve digital customer service.
Understand your customer journey: Knowing the customer journey helps to engage customers across all touchpoints and deliver a seamless digital customer service experience by removing the friction points.
Make use of social media: You can encourage customers to explore your site through social channels. Listen to them and promptly respond to their concerns to improve social media customer service.
2. Deliver real time customer support
Real time support is a critical aspect of improving online customer service. Live chat is a popular channel that empowers your agents to deliver instant sales and support assistance to your customers.
Live chat has become the leading digital communication method for online customer support, as a staggering 46% of customers prefer live chat compared to just 29% for email, and 16% for social media.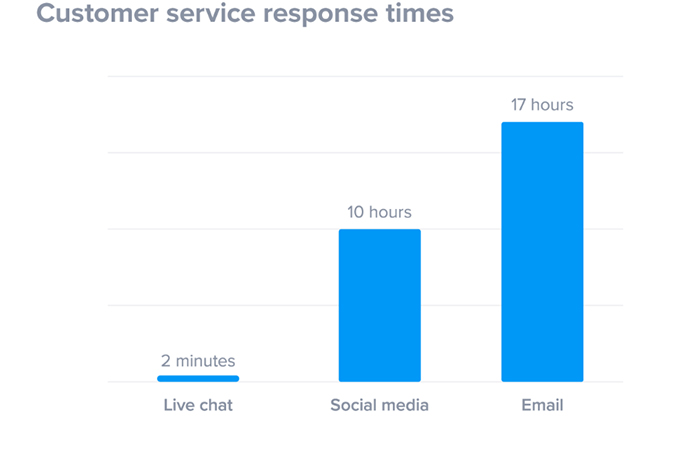 Implementing live support service also helps to deliver effective support solutions and boost customer satisfaction during the holiday season. It is the best way to manage online holiday customer support for your website in the following ways:
Faster resolution:

With live chat you can deliver instant resolutions to customers, thus closing issues faster and reducing wait time significantly.

Reduce support tickets:

Offering immediate assistance to customers reduces the number of support requests and helps to improve team productivity.

Proactive conversations:

Start as proactive chat with customers when you see them stuck at a specific page. It will help them to clear their doubts and make quick decisions.
3. Collaborate with your customers with cobrowsing
One of the great ways to improve online customer service is using a sophisticated visual engagement solution i.e. co-browsing. 
Co-browsing solution takes customer interaction to the next level by resolving queries effectively. It creates a better journey for the customer, leading to higher conversion rates, and shaping a greater level of success for your business.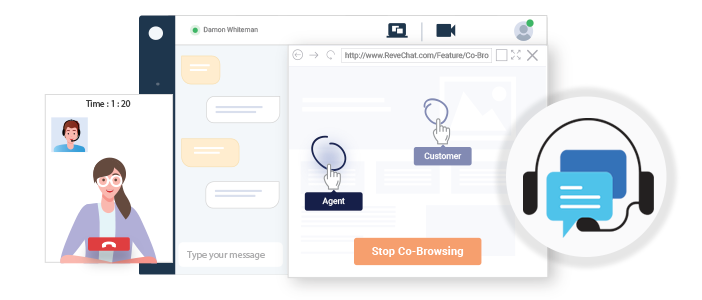 Here is how Generation Tux, a B2C platform used co-browsing solution to help customers to easily manage all the rental detailing from home. When the customers faced any problem, they could call, chat, or even co-browse with customer service reps and handle issues on an immediate basis. 
How co-browsing can improve online customer service:
Reduce buyer's uncertainty: Usually, customers are wary about purchasing products online. With co-browsing, you can help customers to make the right decision and reduce shopping cart abandonment.
Complex form fill up:

There are scenarios when customers abandon due to complicated online forms or applications. Co-browsing helps you to collaborate with the customer's browser and guide them through the complex processes.

Technical issues:

In case customers face technical glitches like a problem in the portal or a hidden dropdown menu, cobrowsing can be used to resolve the challenges effectively.
4. Personalize your customer care with video chat
Video chat is the modern way to deliver excellent online customer service. You can showcase your products to your customers through direct video chat, allowing your customer to see instantly how a product is used, and adding an extra level of engagement in the transactions. 
With video call center solutions, your agents can provide customers with in-store, in-person experiences from the comfort of their home using a mobile device, tablet, or laptop. It improves the overall customer experience, boosts satisfaction, and high sales revenue.
How to improve online customer service with video chat?
Reduces touchpoints:

With video chat, you can diagnose the exact issue in the first go and provide an effective solution, thus reducing the touchpoints significantly.

Personalized service experience:

Being able to communicate face to face in real time helps to establish stronger relationships and build trust with customers.

Reduce average handling time (AHT):

Using video chat

improves net promoter score

(NPS), average handle time (AHT), conversion rate –  the key customer service metrics. 
5. Add self service options to improve online support for website
Self-service is no longer a "nice to have". It's a necessity to provide a positive customer experience. It has become so critical that 70% of customers now expect a company's website to include a self-service application.
Having self-service options is a great customer service channel that allows businesses to improved online service without requiring any interaction with a service representative. The most common types of customer self-service include FAQs, how-to videos, knowledge base, and online discussion forums.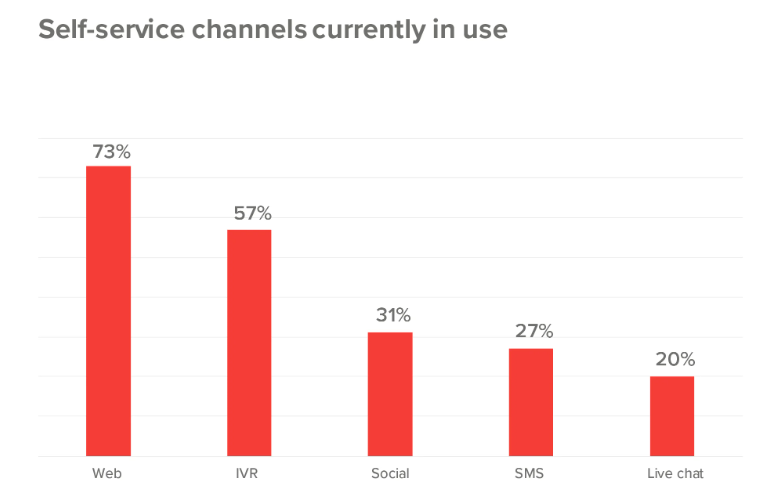 Here are some tips for a better self service portal for better customer care online:
Highlighting the common FAQs:

One important way to make your self-service portal become a valuable resource is by identifying the top reasons why customers are reaching out to your support team. Your customers should be able to find the answers easily in your self-service portal.

Make use of interactive content:

Using pictures, videos or screenshots can help customers to understand the process step by step without any added help.

Update content regularly:

A self service section is not a "set it and forget it" kind of thing. You need to continuously improve your knowledge base to make sure your self-service portal is updated and helping customers. 
6. Use social media for online customer support
Gartner says that companies who ignore support requests on social media see an average churn rate that's 15% higher than companies who don't.
Businesses using social media for customer care online can witness a boost in brand awareness, market their products or services, and listen to customers. Building better customer relationships via online social support can add up to huge wins when it comes to increasing customer lifetime value.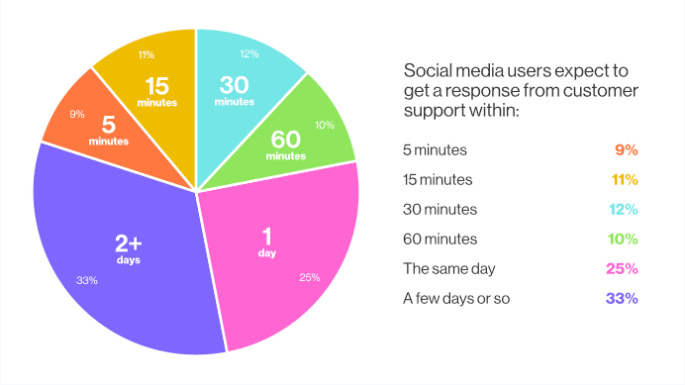 You can follow the below social media customer service best practices:
Reply promptly on social media: Customers expect always-on support on social media channels like Facebook, Twitter, Linkedin.

42% of consumers expect a response

on social media within 60 minutes. Your online customer support strategy should include quick replies to inquiries, reviews, and complaints.

Use the right tone: 

Tone is everything.  It is very important to mind the tone of social media. The best way to get the tone right is to adjust your tone to match the customer.
Here is an example of JetBlue customer service agents who diffuse the emotion of an angry flyer.
When crafting online customer service responses on social media, mirroring words can make someone feel heard: "I understand that you are upset about ….". We would like to speak with you by phone to learn more about the situation, so we can find a solution for you. Please call us: XXXXXXXX.
7. Measure customer service metrics regularly
American Express says, "70% of consumers say that they choose companies that deliver great customer service." 
Measuring the right customer service KPIs and metrics are vital as it helps you to understand your business performance, evaluate team productivity, and boost customer retention. It also helps to understand the changing trends and plan the online customer service strategy in the same focus.
The key metrics to evaluate in order to improve online customer support are as follows:
Response time:

It helps you to find how prompt are your support agents in addressing customer queries. 

Resolution time:

This metric helps to identify how quickly agents are able to close the chat by providing an effective solution.

Number of issues resolved:

It shows the total number of problems fixed successfully out of the total chats assigned.
Based on the evaluation, you can implement tools and strategies to improve your website customer service. You can arrange training programs to enhance the agent's efficiency to deliver better customer support.
8. Train your team with customer service etiquette
Proper customer service etiquette is key in creating the first impression when customers interact with your business. It can give you the edge over your competition. Empower your support team with proper training and education on how to interact with customers. 
Ingraining the service etiquette and manners can help businesses to deliver superior online customer service, strengthen client relationships, and build customer loyalty.
Here are some key etiquettes that will help you to deliver the best online customer service:
Use positive words and phrases 
Customers generally switch brands because they are put off by untrained or rude support professionals. 70% of the customer's journey is dictated by how the customer feels they are being treated. The support representatives should choose the right words or phrases to create a first good impression and delight customers with excellent service.
Listen to your customers
Active listening is very important when customers are expressing their experience. Listening not only helps you to identify the right way to resolve their issues but also reduces a significant number of customer complaints that usually happens due to no one listening to them. 
Empathize with your customers
Using empathy statements for customer service shows that you are understanding customers by putting yourself in their shoes. It helps to create a connection during a customer conversation and shows that you are ready to take responsibility for them
Personalize your conversations
79% of buyers only consider brands that understand and care about them. Interacting with customers in a friendly manner makes them feel comfortable, develops trust, and delivers a better experience. 
9. Listen to customer feedback
Customer feedback is one of the best ways to gather business-specific data that lets you understand how your customers really feel about the product or service you deliver. Listening to customers can be a great way for you to gather insightful data and use it to improve online customer service.
When you ask for customer feedback and listen carefully, you are fundamentally providing a window to manage customer experience, reduce customer churn, improve your products and services. It is the best way to gain valuable brand ambassadors who will spread positive word-of-mouth for you.
Customer feedback keeps you informed of whether customers are (not) happy with your brand. Happy customers are more than satisfied customer, they retain with your business.
Here is how customer feedback improves online customer support:
Customers always appreciate when businesses ask them if they are happy (or unhappy) with your service. 

Listening to customer feedback shows you actually value their opinion and that you are taking the responsibility to resolve it.

They value your company vision to resolve their problems and fulfill their needs. It puts a customer in the central position of your company and this is the right way to run a business.
10. Treat customers how you want to be treated
Very true! what comes around goes around. 
Ensure that you are treating customers with the same respect and courtesy that you would like to encounter. 
Most of the customers look for human support even if there are a number of digital channels available. Having good communication skills helps to deliver effective support with humanized touch.
Building a strong customer service communication strategy should be a vital part of your business values. These strategies help to promote your brand to future customers, build a strong relationship with existing customers, and address customer concerns. 
You can train your support team with effective customer communication management (CCM) to develop strong connections with customers by helping them with their needs and issues.
Final thoughts
Online customer service plays an important role for customers who prefer digital channels to communicate with the business. Improving customer support for websites helps in meeting customer service goals and a deep impact on business growth as well.