The standard perception of good or poor customer service in business also applies to the education industry as well. 
Now, more than ever before, colleges and universities have a customer service imperative.
Customer service in the education sector is a must-have and the fact can't be ignored.
Here is the reason why.
If a student had a bad experience with any educational institution, they would share their story with their friends and relatives, which is likely to have a negative impact on the college/university enrollment and retention rates. 
The schools/colleges that meet these customer service expectations can increase retention by 20%.
However, with increased digitization, globalization, and competition, schools and colleges are now acknowledging the importance of considering a student as a customer and offering education as a product (via books and modules) or service (via training, tutorship and paper writing).
Customer service in the education sector has gained even more momentum due to online teaching mechanisms. 
Let us discuss the importance of customer service in higher education and different ways to improve it.
Importance of Customer Service in the Education Sector 
The importance of customer service in education has never been clearer as the market density has grown. Offering excellent customer service can create a significant impact on your students along with their community. 
Great customer service equals happier and more productive students which leads to better rankings to the educational institutions in the long run.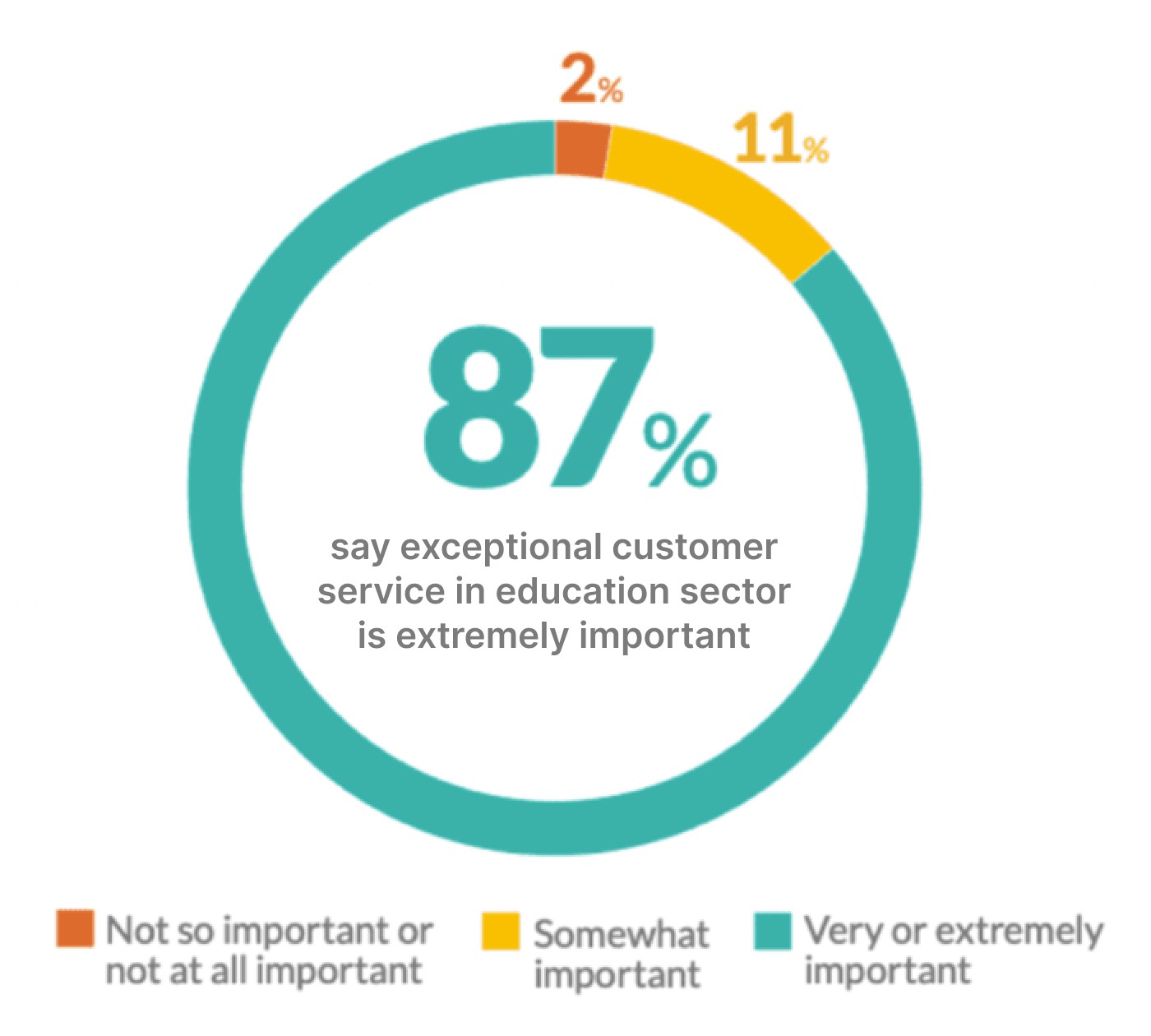 The reasons that make customer service in the education industry vital are as follows:
Great customer service will create happy students:

When customer service is aligned with the expectations of the students, it boosts their satisfaction and provides a delightful experience.

Happy students will refer others:

And, when your students are happier, they are more likely to share their success stories with friends, family, and relatives. In fact,

72%

of customers will share a positive experience with six or more people.

Good customer service in education increases loyalty:

Personalized support impacts the trust and loyalty of the students and parents towards the institution.
8 Practical Ways to Enhance Customer Service in Education Industry
Institutions looking to succeed in the long run have started to realize that they do not operate in a bubble. 
According to an Academic Impressions survey, only six higher education professionals from 79 colleges and universities graded their school's student-centric service with an "A." 
Changes are happening at all levels of the institution, but the overarching theme has become "How can institutions serve students better in order to retain them for the long run?"
We have summarized some innovative ways that will help to deliver exceptional customer service and leave a long-lasting experience.
1. Provide Omnichannel Support to Students & Parents
Omnichannel approaches to both communication and sales are fast becoming the new standard for the education sector across the globe.
Implementing customer service software like CRM platforms help in funneling the requests of students and parents from various channels such as email, phone, Facebook, Twitter, etc. into a single interface. 
Streamlining all the conversations under one platform helps your team to connect with your students and their parents via their preferred channel and resolve issues faster.
The integration of all channels and providing the best user experience are the key benefits of omnichannel marketing.
Shall we throw light on some of the benefits of an omnichannel marketing strategy?
Personalized experience to students, alumni, and other stakeholders.

Gain valuable insights about the concerns of students and how to resolve them easily.

Able to ensure the delays in education with the intervention of e-learning and digital resilience.

Omnichannel marketing strategy reduces cost and saves time.
Learnsignal, the Dublin-based online education platform has helped many students earn accounting and financial services certifications. 
The company provides its customers with subscription-based access to online classes, tutorials, and 24/7 access to expert tutors. Being able to provide that round-the-clock support across multiple channels has been the success key to the company.
2. Focus on First Response Time (FRT)
Parents can be impatient when it comes to a child's education. 
It is the responsibility of any educational institute to provide quick and effective answers to their queries, deliver adequate information and be available every time a parent reaches out.
Just like shoppers, students can become impatient and dissatisfied quickly, which is why you need to react to issues quickly. 
The only way to guarantee a high FRT is to leverage advanced tools like live chat software that can be there for your students at any time and anywhere.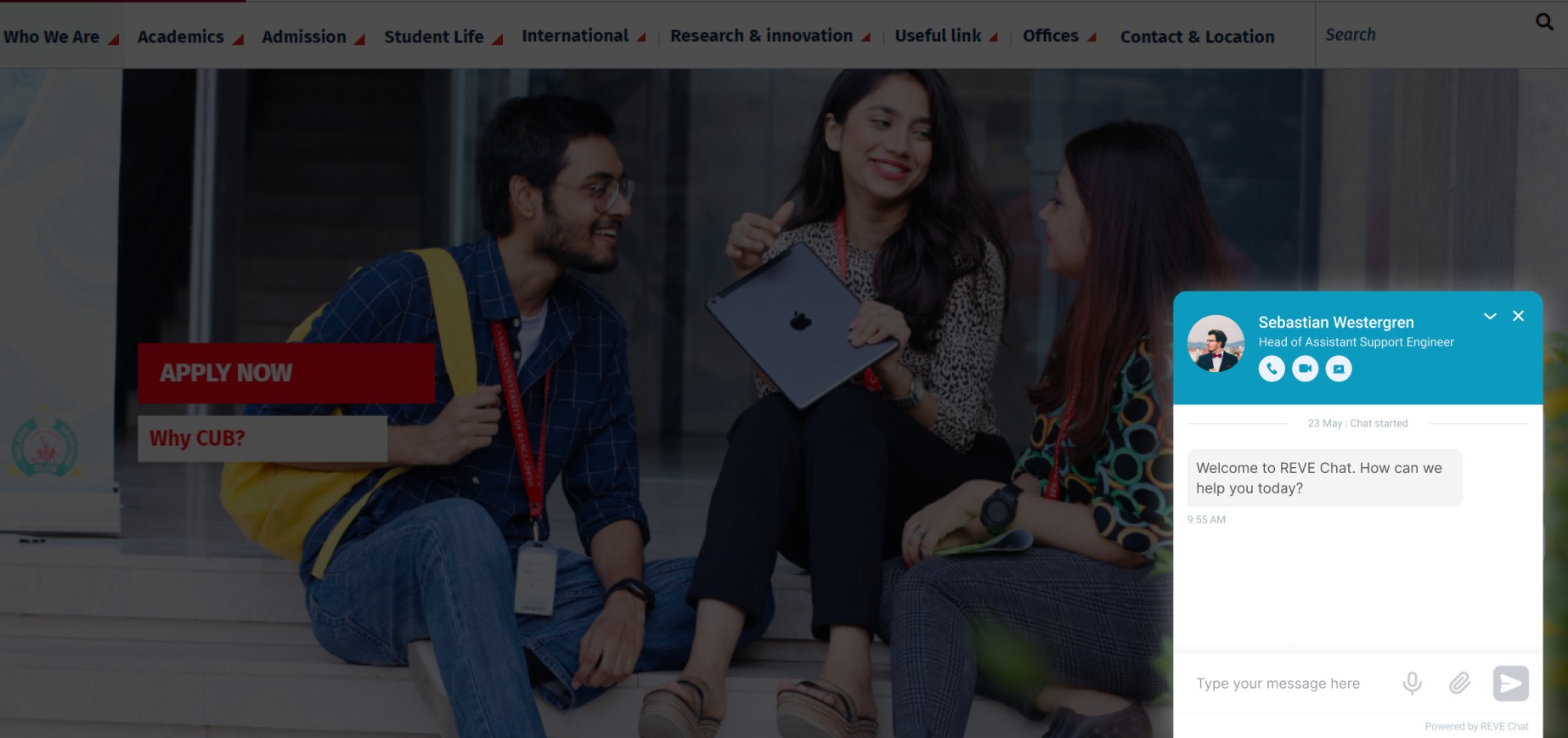 How is live chat best fit for customer service in the education industry?
With online chat, you can address the concerns raised by parents or students and deliver real-time support.

Live chat allows

routing the chats to the right departments or teams

for faster and more effective support.

You can

boost parents'/students' satisfaction

by delivering faster replies by using canned responses.
Undoubtedly, the FRT metric is a powerful one and can be the deciding factor between your institute and any other, for parents or students when choosing. 
Note: Especially if you provide remote education, you will need to consider adding customer support tools that reflect the brand identity you aim to establish. A smart way to check if your team is providing a fast response is to track the average First Response Time.
3. Assure Round the Clock Availability
A conversational AI bot engages with the users to provide solutions to their queries in a personalized humanoid manner is being deployed for all customer support domains. 
Following the AI trend of customer service in the education industry will help make the newly implemented systems more efficient. 
37% of students use an educational chatbot to get a quick answer!
AI Chatbot can provide answers to many topics including
Admission processes

Courses and specializations

Campus life

Fees and payment-related information

Sponsorships and benefits
An education chatbot can help students, teachers, and staff to provide instant access to information and support enhancing their experience with the institution.
Here are how chatbots help the education sector:
Bots can identify the emotional state of the students and offer relevant responses.

Provides personalized learning, according to students' needs and specific requirements. 

Bot allows the teacher to reduce the time invested in the organization and execution of tasks since chatbots provide immediate answers, previously predesigned, to frequent questions of the students.

Chatbots help in analyzing data effectively when reviewing the evaluation and progress of students. 
4. Adopt Real-Time Customer Engagement Technology
Learning is no longer confined to the walls of the classroom.
The modern student wants a flexible, convenient education that fits into their schedule—without disrupting their lives.
Online learning is fast becoming the future of education and it's on course to become a $325 billion global industry by 2025.
Live engagement tools like video chat and co-browsing provide a huge opportunity for educators to create personalized and interactive learning experiences while delivering accessible, flexible education.
Using visual engagement tools helps in creating a more personal experience compared to other channels. 
Engagement tools improve customer service in many ways like:
Live video-based learning is not only helping education providers engage, retain, and attract a global student base. 

With live video, expert teachers and instructors can be called upon to lecture remotely from any continent. 

Lesson sessions can be recorded to create rich sharable and reusable educational content.
5. Collect Students & Parents Feedback
"We all need people who give us feedback. That's how we improve," says Bill Gates. 
To understand your students' and their parents' needs, you should collect and analyze their feedback on the quality of teaching, interaction with your staff, and learning environment. 
Acquiring feedback is a great way to offer excellent customer service in the education industry as it provides insights into how good your customer engagement strategy is working. 
It is the best way to find out if your students and their parents are satisfied with their experience. And, if not, what exactly makes them feel uncomfortable.
Tips to collect feedback to enhance customer service in education:
You can automate surveys as a part of your monthly or quarterly routine. It will help to out the loopholes and thus take the right action to fix it. 

You need to go through the customer reviews about your school. Handle the negative reviews carefully. The best strategy is to apologize politely and work on those gaps. 
6. Give Self-Serve Options by Integrating Knowledge Base 
Self-service education is proactive. Having such options resolves the problem before it becomes a problem. 
66% of customers start with a self-service option first before reaching out to an agent.
Working closely with the support team helps to learn where customers face issues or challenges, build educational content to resolve them and provide it to customers before they happen.
Self-service education doesn't have to focus only on using the product, either. It can also focus on strategy, helping people grow their skills at a higher level.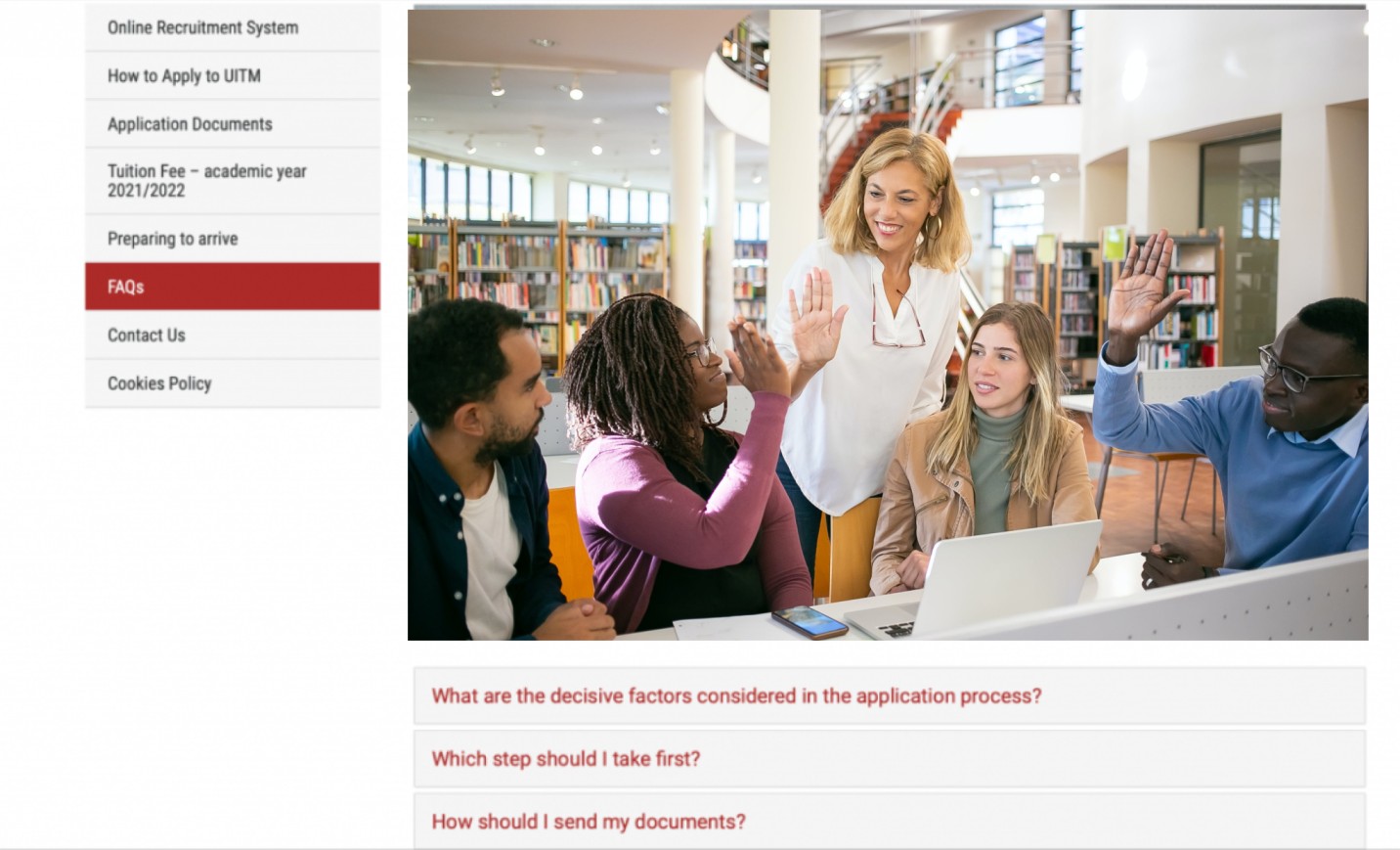 The self-help option means students and their parents can find any information they seek with no effort from your side. 
There are many types of content you can create to provide self-service education:
Blogs – How-to's, did you know, x ways to do y

Videos – Product videos

Knowledge base – In a user-friendly, readable format

Webinars & Podcasts – Live and on-demand

Tutorials & Product Tours

Whitepapers & eBooks

eLearning courses

Events – Customer only, or open to everyone / paid/free
Having self service-options on your website acts as a one-stop resource that provides answers to the most frequently asked questions.
Students appreciate creating such options for them where they can navigate easily without your help.
Additionally, a FAQ section can help you increase the online visibility of your school, boost the level of student enrollment, and improve the overall customer experience. 
7. Choose the Right Tools & Technology
Irrespective of the ways you interact with students and parents may be email, phone, or chat, having a help desk will make it easier. 
Having a help desk can assist in managing the student experience via measuring and monitoring student communication with a variety of departments.
Help desks have a wide range of features that can really help to enhance customer service in education as well. 
Service Level Agreements (SLAs):

It ensures to respond on time by tracking the time to first reply and resolution time. Identifying the gaps in service helps to outline strategies to improve response.

Customer Satisfaction (CSAT) Surveys:

You have to follow up after every interaction to ensure queries were addressed rightly and are satisfied.

Automation: Direct queries to the right department using customer service automation software and ticket routing features. Instead of using a human triage team, you can save time to deliver the right solution in the first contact. 
Some other benefits of having a help desk are, for example, a knowledge base that can help students find the information they need at any point in time with any human assistance. 
8. Make your Presence on Social Media
Social media is a must-have for schools with the key objective to improve customer service in education and boost satisfaction. 
84% of people aged 18-29 use social media. These people can be your potential customers who want to learn more about your educational offers through Facebook or Instagram. 
Most of the students turn on social media while choosing a new college or to read brochures. They go for the trending hashtags or location of a school on Instagram and look at the feed.
Generally, there are three main goals of social media usage in education:
Marketing – to attract new students.

Educate – update current students and their parents about upcoming changes.

Stay Connected – to bring the community closer.
Using social media for customer service in the education sector is highly effective for your brand awareness with the help of social influencers. Reportedly, 49% of users depend on influencer recommendations. So do the students. 
How do Customer Service in Higher Education Go Hand in Hand?
Micah Solomon claims, "you're not simply trying to "serve customers." You're trying to build your students into responsible scholars and citizens".
Along with the primary level, customer service in higher education goes parallel. Higher education must create a culture of customer service that will define their brand and image.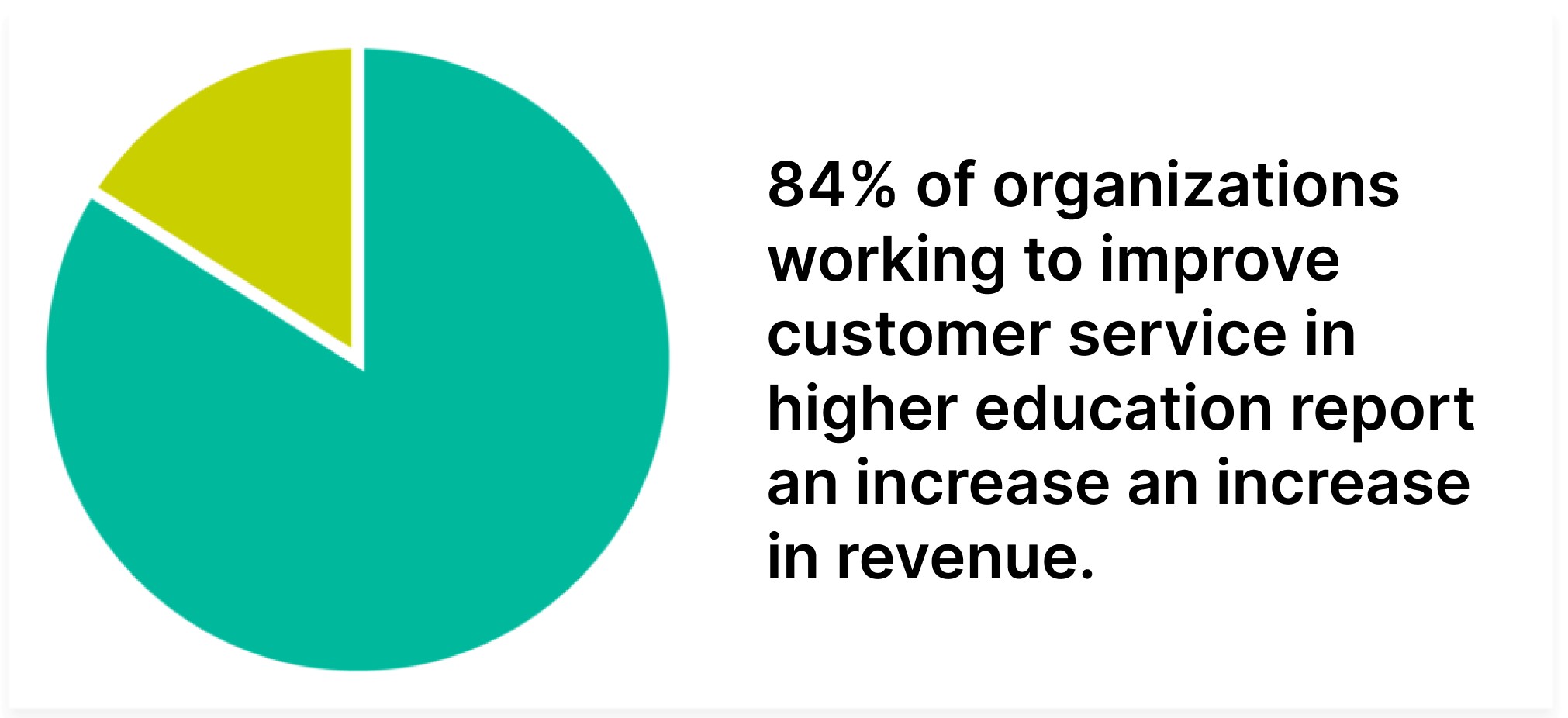 So that you can empower your employees and turn them into higher education professionals to deliver the best customer service. It will help to retain more students, mold them into graduates, and achieve student success.
When customer service goes parallel with higher education the outcomes are:
There is a continuous communication and brand awareness 

You are able to recruit the right employees to deliver effective customer service 

It helps in conduct educational orientation and higher education training programs

You can measure customer satisfaction and accordingly set goals 
Change the Culture of Customer Service in Education
Meeting the demand for excellent customer service in the education industry and treating students as customers don't demand sacrificing academic standards. It is because the tenets of good customer service, i.e., responsiveness, efficiency, clear communication, and conflict management, have little to do with academic processes.
More and more colleges and universities are starting to adopt customer service as it helps institutions attract and retain students. Institutions must focus on efficiency and allocate resources properly to create economies of scale. You can implement REVE Chat to deliver improved customer service for higher education training and a better experience. Sign up now!
Institutions that understand their students and provide them with rapid and personalized service stand to increase enrollment, improve retention and reimagine market potential. Implementing the above ways will help you to deliver exceptional customer service.