Holidays are always an exciting time for businesses. 
They bring a great opportunity to capture new customers and increase sales revenue. 
In fact, 44% of customers consider holidays as the best time to shop online.
On the flip side, the festive season comes with its own set of challenges and the biggest of them all is the fierce competition to grab a pie of the market.   
For most retailers across industries, delivering good quality support is a challenge when there is a sudden spike in the demand for products and services.   
To manage holiday customer service, you need proper planning with the aim of maintaining support effectiveness without impacting the quality in the rush times. 
And when you have planned well for holiday customer support, it will make it easy for your team to do their work efficiently and also deliver great satisfaction for customers. 
Tips to Plan for Holiday Customer Service
The spike in customer service requests can test your team and system efficiency in a big way. And unless you have thorough planning and well-rounded preparation, it will be difficult to come out successful on the other side. 
Some tips & best practices can definitely help you prepare the holiday marketing campaigns easily and deliver a superior support experience.  
Let's discuss each of the tips in detail.  
1. Outline a Solid Plan
The first step in creating an eCommerce holiday customer support strategy is to outline a concrete plan beforehand and then communicate the vision to your employees. 
A well-defined plan helps in handling support requests seamlessly without affecting the support quality. 
It is the best approach that helps to anticipate your customers' raised stress levels and work to deliver exceptional service.
When the preparation is robust, things can never spiral out of control and you will always come out on top of the situation.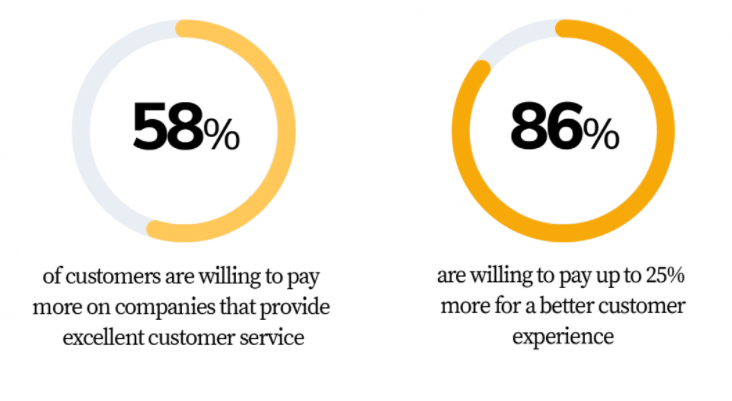 How to create a solid plan for holiday customer support?
Gain insights from previous holiday trends

– You need a different

online customer service

strategy to successfully handle the festive season, so avoid any haste and take time to review trends, metrics, patterns from last year. 

Provide omnichannel customer support

– Identify the most preferred channels of the customers, consider both reactive and digital channels, and most importantly, provide omni-channel customer service to be where they are. 

Focus on frequently asked questions (FAQs)

– To focus on that part, you need to do a few things right: 
                 —Go through the most viewed blogs during the last holiday season 
                 —Collect details from the ticket data to look for what customers ask you frequently
                  –Make sure the blogs are updated and are easily accessible        
2. Schedule Your Holiday Service  
Managing holiday customer service requires a good understanding of the best practices of the retail industry and the proper scheduling of your support team. 
The scheduling means, you have to align your team and notify your customers on how they can reach your business during the holidays, or help themselves. 
There has to be a modified schedule with a focus on monitoring how the support team is responding to the messages and complaints on social media channels. 
When there is no proper schedule of service, it always paves the way for bad customer service which might cost your business dear.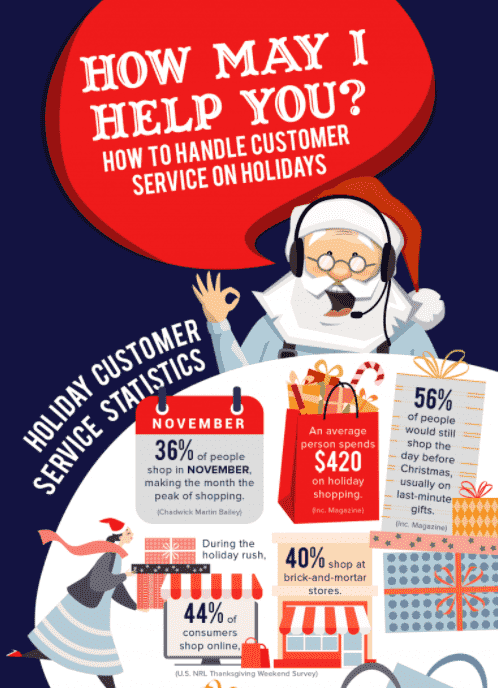 Tips to schedule your customer support during holidays 
Identify your peak support hours

– You need to know what are the peak hours when customers rush to you. Manage your agent's availability to address customer requests effectively.

Plan for additional resources

–  To manage the influx of B2C holiday customer support requests, you need to add more people to your team, hire temporary agents.

Amazon

expanded its manpower to meet customer demands. It hired almost 2000 support associates to manage its holiday customer support. 

Be ready to offer 24×7 support

– You can deploy a chatbot to offer round-the-clock support even when your support team is not available. Bots engage customers in real-time and provide prompt responses generally to the commonly asked queries. 
3. Include Live Chat Support  
Customers prefer live chat over other channels due to convenience and prompt assistance.
The best part, 79% of businesses said that implementing live chat helped them achieve increased customer loyalty, sales, and revenue. 
Rightly so, online chat can help you deliver instant holiday customer support that results in a higher satisfaction rate, which finally boosts conversion.
For that reason, adding the best live chat tool to your website can assist support agents to address customer queries in real-time. 
Canvas Candy, a renowned art studio had customized the live chat widget to match with their website style and company's branding, which helped them to deliver great holiday customer support.
Best practices in providing great live chat support for holidays 
Engage your website visitors with personalized welcome greetings.  

Route the chat requests

to the right department to provide effective support in the first go and improve first contact resolution.

Reduce cart abandonment

with personalized

live chat triggers

at the right time of the buyer's journey.

Prepare canned replies

for the frequently asked questions and add solution articles if needed to improve the response time. 

Tag conversations

with specific details like shipping, support, pricing, etc, and help your team address customer concerns immediately. 
4. Automate with Chatbots
The holiday season brings along its fair share of chaos. The customers are impatient and the businesses see a substantial increase in queries. 
Leveraging chatbots can save a lot of time for your support agents, particularly during the holiday season. 
Automating some of the mundane, routine queries with AI chatbots can significantly reduce the employees' workload. 
58% of B2B and B2C companies use a chatbot on their website to interact with customers.
You can create a win-win scenario by using bots as they are a great way to keep your response times low, streamline your support process and reduce friction for the customer. 
Your team can go through the chatbot best practices to use bots effectively to deliver good holiday customer service.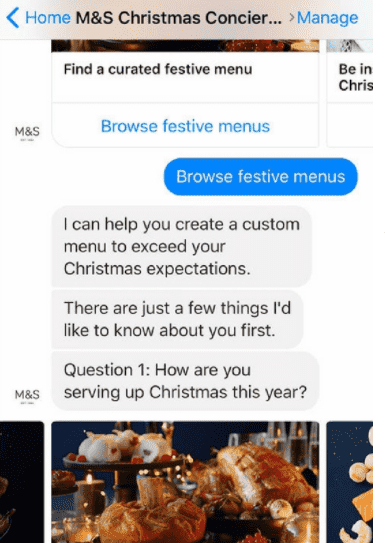 UK retailer Marks & Spencer (M&S), kicked off the winter season with customers' needs in mind by creating the Marks & Spencer Christmas Concierge chatbot. The conversation map provided customers a personalized experience based on their answers to pre-ordered queries.
How to leverage chatbots for holiday customer service? 
Train your bot with common FAQs

based on reviewing past holiday sales to handle customer requests accurately.

Configure the chatbot based on your use case to

manage holiday customer support in the right way

and boost sales conversions.  

Ensure human handover when bots are unable to answer complex queries to handle requests efficiently and

deliver a hybrid holiday customer service

experience.
5. Add Self-service Options to the Mix
79% of customers expect organizations to provide self-service tools to easily find answers without having to contact the support team.
A comprehensive, easy-to-navigate FAQ page can be a great resource for both customers and your team during holiday time.
And quality self-service options allow your team to help a higher volume of people overall, potentially increasing your holiday sales.
But prior to the holiday rush begins, it is important to review the reports of the previous holiday season. 
So, make sure to check out the frequently asked questions that could easily be answered on your website. Then, make it easy for customers to find those answers without having to reach out to support.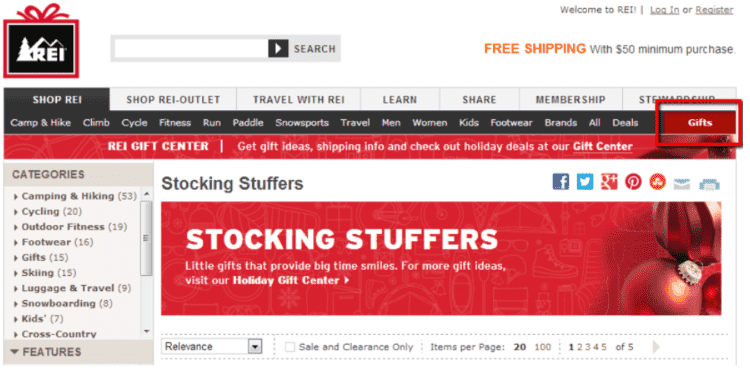 REI's Gift Center is a great example of easy to navigate feature which you can also apply to the holiday season.    
It has made it exceptionally easy for its potential customers to navigate to even more gift ideas by providing a gift-oriented product menu in their navigation. They also differentiated their "gift center" from the rest of the menu bar by highlighting it in red.
Tips to deliver excellent support with self-service options 
Prepare support content

– You need to identify the problems beforehand from the customer's perspective and focus on being proactive in constructing possible solutions for the queries to make holiday customer service seamless.

Create a FAQ page especially for the holiday season

– Having a special FAQ page for the holiday season will definitely help the customers. For example, an eCommerce business could do the same about its return policy, or refund policy, etc.  
6. Employ Live Engagement Tools  
When it comes to online holiday customer service strategies, one size won't fit all.  
Naturally, what suits one business may not to others and vice versa.  
Some businesses may not require a human connection at all, but there will be others that may need face-to-face interaction with your customers.
If yours fall in the latter category, then using live engagement tools like video chat and co-browsing is the best way to deliver personalized support. 
Leveraging visual engagement tools can help your online buyers in making decisions on the website or mobile app in real-time and shorten the sales cycle, thus delivering superior holiday customer support.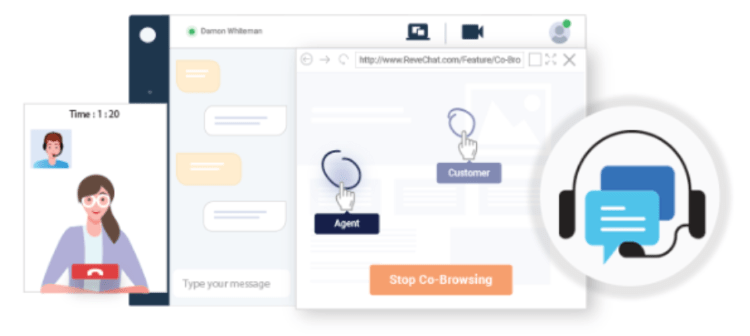 Benefits of live engagement tools for holiday support 
These tools will enable

personalized conversations in real-time

over the website and mobile apps to let customers get the most relevant answers to get a perfect holiday gift. 

Your business can connect to actual people, use the face-to-face chat with a humanizing effect and

make the eCommerce customer service experience meaningful

. 
7.  Train Your Team to Handle Irate Customers
Bad tempers and frayed nerves fly thick-and-fast during holiday times. 
Customers are always in rush expecting quick service, so the chances of their getting annoyed easily are higher in such times.  
For the support team, among various issues of concern, handling angry customers is always a top priority to ensure the best out of the holiday time.  
After all, 73% of customers fall in love with a brand and remain loyal because of friendly customer service reps.
So, your team has to be trained and prepared for calming listening to harsh words, maintaining professionalism under tough situations, and facing rude customers effectively.  
Note: Establish a policy for abuse for cases where customers might cross their limits and use flour language during support. Give the agents the freedom to end the conversation.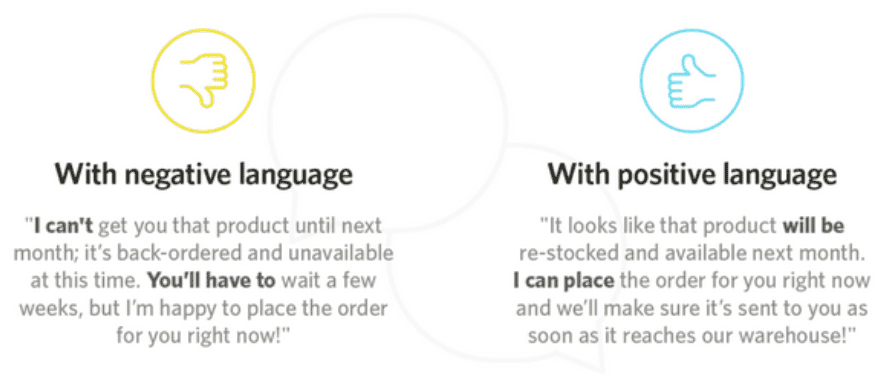 Best practices in dealing with angry customers
Route complex issues to the right team

– If an agent is not able to address the queries, he/she must quickly transfer the chat/call to the expert to ensure an effective solution.

Practice active listening

– Teach your team to calmly hear out aggrieved customers and acknowledge their situation with an empathetic ear and without ever doubting their concerns.

Communicate with a positive tone

– Always choose positive words while interacting with rude customers. Generally, customers switch brands because they are put off by untrained support professionals.  
8. Prepare An Escalation Plan 
Training your support team does never mean that all the customer issues will be away. 
No matter how much you train agents are, there will always be issues requiring escalation. 
It's therefore important to have a well-defined escalation process in place so that support people can stick around that and ensure great experiences for customers. 
When an escalation plan is there, agents clearly understand which issues need transfer and whom to transfer. This is how a sense of accountability is created with the support role.   
Best practices in preparing an escalation plan
Create a list of challenges

beforehand and then lay out their redressal before the holiday so that agents can be ready for the festive time.

Ask the team members to

identify potential issues or loopholes

that might escalate and based on the input give proper training. 

Make sure the support team is aware of the steps for each of the issues to

ensure a smooth escalation.

  

 
9. Let Customers Know About Your Availability  
Customers always expect businesses to be upfront and transparent about their availability.   
When there is no clarity about your business hours, it might create confusion for customers and add to their frustration. 
Imagine customers coming to your website, trying to contact support about their concern, expecting a response but not getting any. 
You need to avoid such a situation else customers might not return for a repeat purchase.
Some of the ways to set transparent customer expectations
Communicate about your availability & business hours

and let customers know about any changes in schedule and next availability as soon as possible.

It is good to underpromise always and overdeliver

as this helps manage customer expectations and sets the stage for a positive customer experience.

You can use autoresponders to

share more information about your holiday

schedule (hours and refunds). 
10. Stay Customer Obsessed
Making customers your focal point will help you deliver great holiday customer support in any season. 
To do that, you need to understand customers by being in their shoes and by knowing what exactly they are looking for.
Based on that, you have to align your services accordingly as it will set a template for a positive experience. 
You also need to measure key customer service KPIs on a regular basis to see if your business is delivering the kind of value it intends to. 
Both Amazon and Zappos are great examples of brands that are customer-focused and put a lot of effort into creating a culture around the customer and their needs. Their commitment to delivering customer value is genuine.
Tips to staying customer-focused with holiday customer support 
Empower customer service agents to make decisions

– Set a limit to your support team for taking decisions independently to offer a great service experience to the customers.

Reduce on-hold times and transfers

– Use the

live chat tool

to respond to customer concerns in real-time without unnecessary routing and ensure excellent conversational support. 

Focus on what your customers want

– Identify your

customer needs

through focus groups then distribute them across the right departments. 
11. Reward Your Employees
If you keep your team happy, they will keep your customers happy! It's as simple as that.
Your support team is always the face of the business, so you need to find ways to be grateful to them this can go a long way in having them inspired and ensuring superior holiday customer service.   
Since the holiday season is quite stressful for the customer support team, rewarding them could be a good step to keep them motivated and deliver their best. 
When businesses put effort into rewarding their team, the employees have greater motivation to taking care of their customers and going the extra mile. 
Tips to reward the support team  
Host a holiday lunch party  

Give out holiday bonuses to the employees

Incentivize based on performance

Offer an extra day off after the holiday season is over

Declare customer service champions monthly 
Stay on Top of Your Holiday Customer Service With Right Planning  
Your business needs to plan the holiday support a bit more meticulously to manage festival rush adeptly, boost conversions and ensure great services to customers. To achieve the goals, you have to enable your customers to self-serve, notify customers proactively, and set your schedule ahead of time. 
Having a conversational support funnel can also help empower your team to deliver excellent efficient support at scale, without compromising on your quality of support. Hence holiday customer support, if planned appropriately, can definitely help your business grow.