The explosive growth of smart speakers and other voice-activated devices is changing consumers' expectations of how they interact with companies. The customer experience (CX) is everything. Hence, it is imperative to realize the utter importance of rock-solid customer service. 
Organizations that rely on traditional customer service channels as their primary interface now have the potential to innovate with intelligent automation to transform the customer experience.
Companies that deliver consistent, quality customer service across multiple channels retain 89% of their customers.
Exceptional CX across all communication channels & throughout the consumer journey can even turn dissatisfied customers into promoters. A consistent quality of customer service across all channels has a significant impact on revenue – which is why investment in omnichannel service strategy is so important. 
Consequently, integrated service across customer touchpoints is the hallmark of a "customer-centric business." 
What are customer service channels? 
Customer service channels are defined as interactions or touchpoints that happen during the consumer journey. By investing in an omnichannel communication approach brand can integrate all the customer support channels such as phone, email, website, social media, messaging apps, etc. to create a unified brand experience.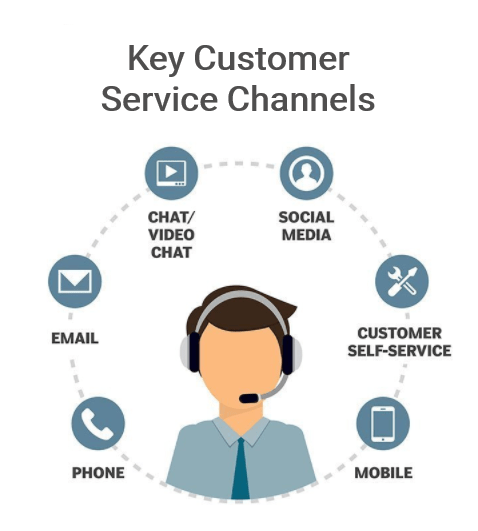 The business communication channels empower customers to choose their preferred channel to reach out to the business. Identifying the channels that your target audience prefers and allowing them the same enables businesses to deliver effective service and improve brand credibility. 
Types of customer service channels for online business 
Gone are the days when you would just pick one contact channel to utilize! The future of customer communication relies on a multi-channel approach. Therefore, we are collating all the customer service channels that can help you manage client requests more effectively and greatly improve the customer experience.
The top communication channels used by businesses are as follows:
Let us discuss the importance of online customer support channels and how they can be used by businesses.
1. Email 
Email is a powerful, low-cost communication channel of customer support for most companies to provide a better customer experience. 62% of customers say that email support is a preferred way to communicate with brands. For online businesses, email customer service is going to be a non-negotiable channel.
A stronghold on email support can take your customer engagement strategy a long way.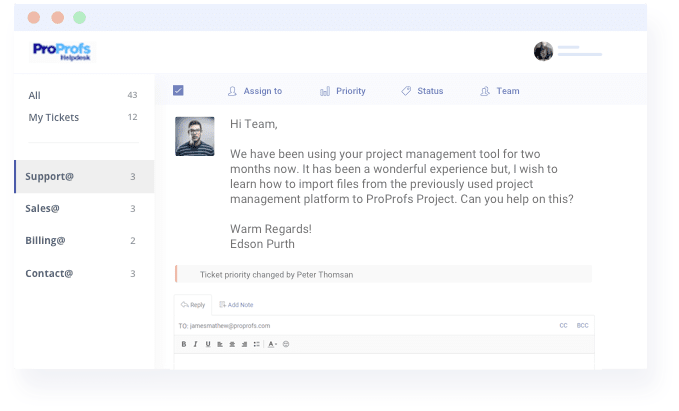 For businesses, email as a customer service channel has many advantages. It is convenient for customers because it allows for asynchronous communication. The customer does not have to wait on hold or queue to get a response. 
How can you use email support for your business?
Email support is perfect for busy customers. It acts as a

catalyst for businesses to manage and segment

such customers and send them emails instantly.

Using email support, customers can describe their concerns by adding all the essential points. It helps to

understand customer pain points

and provide step-wise solutions.

Email support can be

easily integrated into other channels

like voice or chat support. It shows tangible results and always increases your ROI.
Note: While email is an integral part of the support for customers, your business would still need to be available across multiple channels. Having an integrated omnichannel communication platform enhances your customers' experiences.
2. Live chat
Compared to other communication channels, live chat support generates higher customer satisfaction levels, and 79% of customers prefer online chat support because of the immediacy it provides. 
Businesses using live chat for customer service can understand customer needs and align their services to meet their expectations. Real time interaction with the customers not only cultivates brand loyalty but also increases customer lifetime value (CLTV).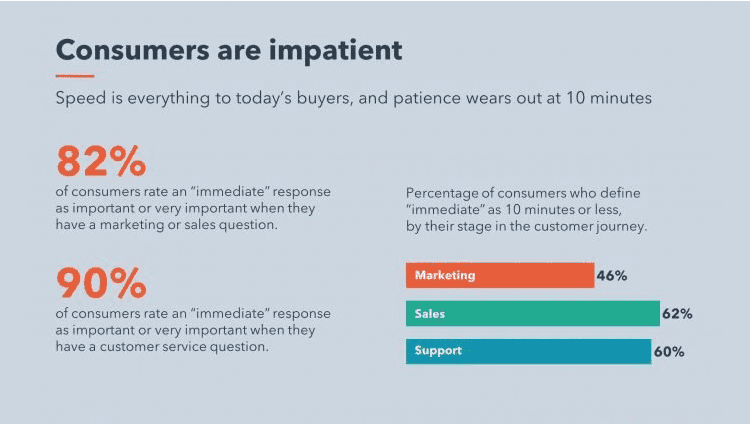 By implementing a live chat tool, you understand customer pain points and address them effectively. Unlike other customer service channels, web chat is a proactive way of supporting customers by avoiding a series of back & forth conversations. It also offers the lowest queue time unlike reactive communication channels in the business.
How can you use live chat as a part of your customer experience strategy?
Identify the places where your customers interact the most

and integrate live chat support for those specific pages.

Allow your customers to reach out to you even if you are not online.

Provide offline forms to raise the query

so that agents can follow up once they are online.

Prepare

canned responses to improve the resolution

by delivering faster and accurate answers.

Collecting feedback after each conversation

helps to understand the satisfaction b

Setup routing rules

to make sure all conversations are routed to the right team to improve response time.
3. Chatbots
Businesses are greatly relying on AI for automating business functions across customer service, sales, or marketing verticals. 50% of consumers no longer care if they are dealing with humans or AI-enabled assistants. It allows businesses to provide better prompt assistance at various touchpoints of the customer journey.
Amtrak's Julie is a good example of a customer service chatbot. Julie promptly responds to the queries from a comprehensive knowledge base on travel information and policies. The bot has answered approximately 5,000,000 support queries in a year. Amtrak witnesses 25% of a significant increase in bookings and 30% more revenue with the help of Julie.
Leveraging a chatbot along with other communication channels in business can help to deliver instant assistance to the FAQs requested by customers. Real time customer engagement increases their satisfaction rate. Thus, a chatbot delivers a superior customer service experience.
How can chatbots be used as an effective customer service channel?
If your business receives repetitive queries, implementing chatbots can be a wise way to provide instant support without making customers wait.

Chatbots can be used as the first point of contact to

reduce customer churn

and make human handover for complex issues. 

You can train your customer service chatbots to anticipate customers' needs and deliver relevant answers. The zero wait time increases the customer satisfaction level.

With customer support messaging bot, you can even reduce the number of support tickets raised by addressing simple queries instantly.
4. Video Chat
Visual engagement is a widely adopted trend by businesses to raise their customer service standards and improve customer experience. Using video chat as a customer service channel makes conversations interactive, personalized, and delivers a better experience. 
Live video chat resulting in 73% satisfaction levels – the highest for any customer service channel as compared with 61% for email and 44% for phone, it's likely to be the service that consumers are drawn to the most. You can use video chat to ensure customer advocacy.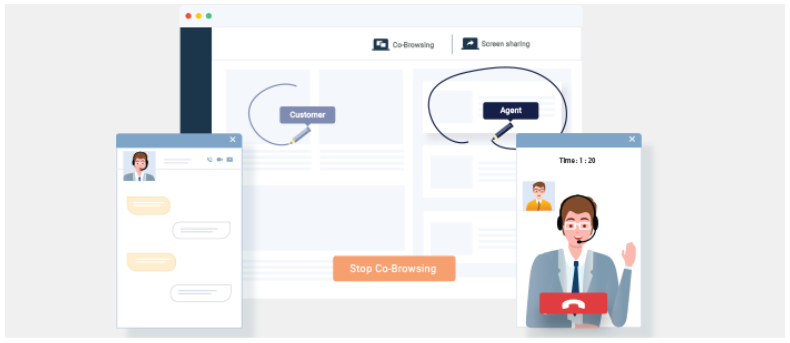 Here is how video chat can be an effective communication channel for businesses.
Live video chat helps to identify issues faster in the first go and provides effective responses.
Using video chat for customer support helps to identify the exact problem in real time and deliver immediate solutions that reduce customer touchpoints

and improves first contact resolution. 

You can provide personalized conversations during the chat sessions that build customer trust.
Video chat along with live chat and co-browsing guides customers through tricky situations in real time, unlike reactive customer support channels.
5. Social media platforms
The use of social media platforms plays a significant role in customer service. The mutual benefits of easy brand accessibility via Twitter, Facebook Messenger, YouTube, and others allow easy customer contact & engaging social interaction, providing brand building and wide-scale contact via multiple channels.
The use of social networking sites allows you to reach a much wider group of customers than using traditional communication methods. 67% of consumers have engaged a brand's social media channels for their customer service needs as they get prompt responses to their queries or complaints.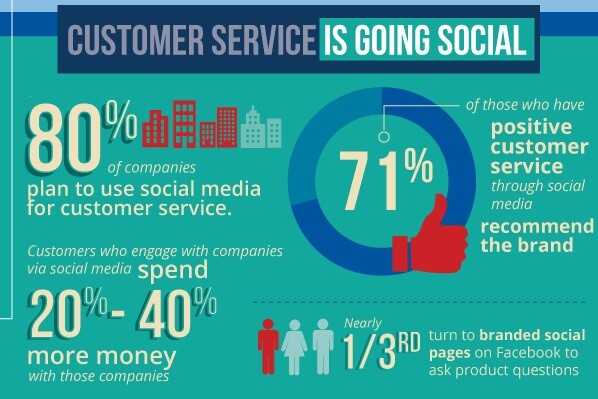 Facebook Messenger is fast and efficient, which makes it a great tool for business/customer interactions and a valuable platform for customer care. KLM leverages Messenger effectively for customer interactions. The airline created a multilingual plugin that allows its audience to use Messenger to receive travel information, booking confirmation, boarding passes, and more.
How can social platforms be used as a communication channel in your business?
Be prompt with your responses

– Integrating social media into your omnichannel support strategy helps to deliver instant support that

delights your customers

. 

Follow social media listening

–  It helps to understand why, how, and where the conversations are happening. Also, what customers think when they mention your brand.

Keep your tone conversational

– Training and knowledge about customer service etiquette can help to start conversations in the right direction.
6. Messaging apps
Over 2 billion active users a month on WhatsApp and Facebook Messenger have shown that today's consumers prefer a messaging interface to other customer service channels.
Based on the demography, messaging apps can be popular such as WhatsApp, Viber, Telegram, Twitter. These apps have now become an integral part of customer service. Customers worldwide overwhelmingly trust businesses more when they can message them.
Messaging apps are great for providing insights about how many of your messages get delivered and read.

They can also be incredibly powerful for broadcasting messages about offers and promotions. 
WhatsApp has become one of the popular channels for customer service globally. Its Business app enables businesses to interact with customers easily by using tools to automate, sort, and quickly respond to messages. 
Bupa Australia has launched WhatsApp as a customer support channel. There are two ways to start the chat. During a call, you may be directed to WhatsApp by an automated voice. Or you can start by using a WhatsApp chat link on their website. 
7. Phone Support
Though phone-based support is a traditional customer contact channel, it is one of the most conventional choices for customer service teams. It is an effective communication channel with proven success as because customers are familiar with the process, they're a popular contact channel for companies to implement.
Phone support provides the most significant human element into the support experience, as agents and customers are able to have a natural conversation. It becomes easier for the agent to read the emotions of the customer and reduce miscommunications. 
Less tech-savvy individuals may also opt to call a company representative to avoid the trouble of having to navigate through a website or customer portal online.
Here are some tips for businesses that use the phone as the primary support channel.
Be sure to train agents with the right

customer service etiquette

to always keep a positive tone when conversing with customers over the phone to maximize the customer experience. 

Agents can make the conversations personalized by using the customer's name, as well as refraining from over-using scripts.
8. Social groups & online communities
Social groups, online communities, and forums act as a great support channel to online businesses. 
It provides customers a go-to place to ask questions, help each other and learn. Your company can create a supportive environment that will complement your pre-existing teams, giving them much-needed relief and improving their insight into customer problems.
LinkedIn Groups are a great way for bringing your customers together, especially if you are a business-to-business (B2B) company. It might be the best way to engage your audience.
How do online communities improve customer service?
Groups or communities allow customers to make the first search attempt to check if anyone else has had a similar issue and reduce support tickets.

Customers can connect with each other, which creates loyalty and makes your online community just that—a community

Letting more people into the conversation opens your customers and company up to more interesting, creative solutions that end up benefiting everyone in the long run.
9. Knowledge base
According to Forrester reports, 67% of consumers regularly use self-service support online. Without replacing the personal support, a knowledge base is an excellent way to extend your customer service channels. 
An online knowledge base can be a vital self-service tool for helping customers to help themselves. Identifying the frequently asked questions and adding answers, a knowledge base empowers businesses to deliver 24X7 support, even with a small team.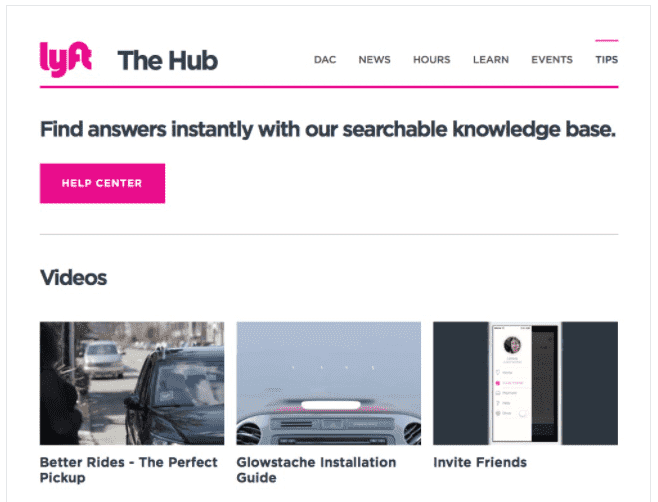 Ride-sharing service Lyft published a "Tips" section aimed at helping their drivers create better customer experiences. It's separate from their customer and driver help center, which they link to prominently at the top of the knowledge base.
How does knowledge base help as a part of customer contact channels?
Beyond turning your help desk into an around-the-clock operation, self-serve support can impact cost savings and help you to stretch your support resources further.

Including answers to FAQs, how-to guides, and troubleshooting instructions, the main purpose is to make it easy for people to find solutions independently.
10. Forms
Forms are online documents that are widely used communication channels in businesses. The visitors can add their information, request services or products, and add any details or specifications that the business needs to provide the service or product with the help of forms.
The objective of providing a form is to establish a customer service channel to allow visitors to reach out to your business easily.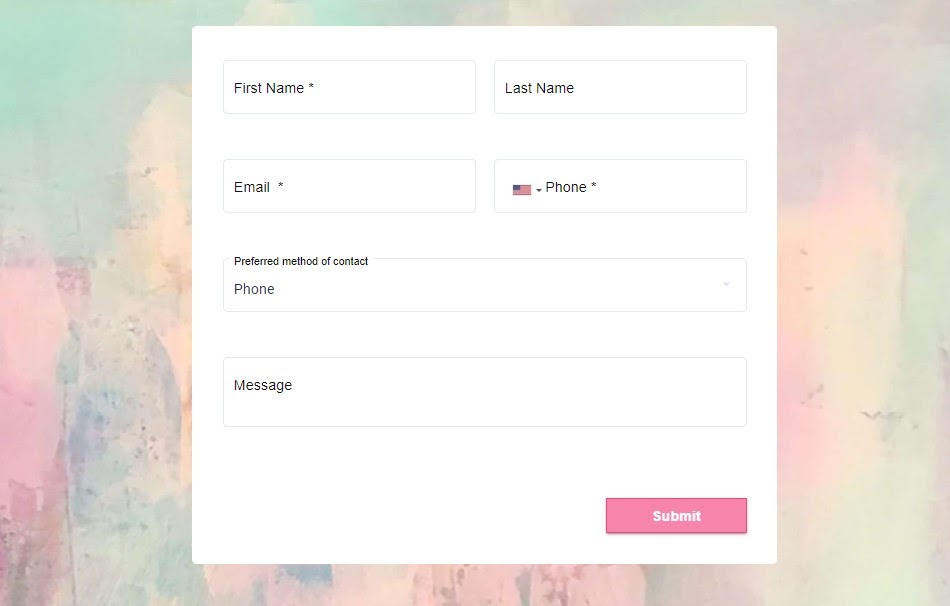 Forms are used to create a closer relationship between company and customer. You can trust your forms to collect data and to guarantee the request will be sent straight to you. The use cases of using web forms are:
Collect basic customer details

Start a conversation with prospects 

Allow the visitor to make comments

Gain feedback from your offers
How to choose the customer support channels for your business?
Which customer service channels should be your primary focus, and which can you leave as a future option? It is a crucial decision and ultimately comes down to three factors:
The support team, their capacity, skills, and interests.

Identify your target customers, their expectations, needs, and context.

The industry trends and norms you need to be aware of.
There are many customer contact channels available but not all of them are relevant for your business. Every business has different target customers and based on that the communication channels vary. 
Best practices to manage omnichannel customer support 
Understand your customer expectations to align your services to their needs across their entire journey and deliver a personalized service experience.

Collect customer feedback to know whether your customers are satisfied or not. It helps to improve your support process and exceed customer expectations.

Ensure that your

website engagement strategies

focus on mobile optimization while designing the website.

Provide self-service options for your customers as a part of customer service channels.

Engage your customers in real time with

visual engagement tools

and deliver a virtual in-person experience.

Promptly respond to social media comments & posts. By analyzing comments you can deliver the right solution that will keep your customer churn rates low and boost brand awareness.
Futuristic scope of customer service channels 
Going forward, having omnichannel customer service channel support is highly critical. To deliver the best online customer experience and customer service, you need to sync up the different communication channels so customers can hop from one to the other when needed. 
Identifying your customer expectations and preferences can give you insights on the right customer contact channels to be used for communicating with customers. When done right, it delivers an omni channel customer experience and brings significant benefits to your business.