Providing a stellar customer service experience is crucial. Customer service efficiency helps businesses save money and improve relationships with customers. 
Over the past few years, increased competition, stiffer regulations, and a host of other factors have made it important for businesses to work harder at building a strong customer service culture. 
In recent times, most companies have started opting for online channels in order to engage with more and more customers. In this article, we'll discuss the definition of customer service efficiency, key metrics, ways to improve it, and more. 
What Is Customer Service Efficiency?
When you think about it, the concept of providing good customer service isn't that difficult to understand. For example, it's simple enough to properly greet your customers and provide them with options and alternatives when they're shopping in your store. Unfortunately, it's not that easy when you're operating online.
Efficiency in customer service is all about providing a focused and quick response to any issue brought up by a customer. 
Ideally, this should be done within 24 hours. What's more, efficient customer service is also about making no mistakes; thus, minimizing the number of complaints you receive will also be an integral part of providing good customer service.
Why Customer Service Efficiency Is Important? 
When it comes to customer service efficiency, it is easy to go astray. A business can let the most minor of issues fester, while the more significant ones are brushed over with a simple, "We'll look into it." This can't happen. When there is an issue with a customer, whether it be a simple request or a formal complaint, it needs to be addressed in a timely manner. This seems like common sense, right?
If you're running a business, it's likely that the last thing you want to think about is customer service efficiency. However, doing so may help you save money and keep your clients happy.
Why efficiency in customer service is important? 
Efficiency in customer service is important because it decreases the time to respond to a customer issue and a fast response time can have a significant impact on customer satisfaction. This is especially so if you have an increase in customers from a successful marketing campaign. In this case, the need for a fast response becomes even more important.

Nobody likes waiting in line or being on hold. In today's connected world, where everything is available at the touch of a button, there's no reason to wait. 
Top Efficiency Metrics in Customer Service
Customer service is the lifeline of any business. It is the single gateway to your customers, brand, or organization, and your success depends largely on the thoroughness and effectiveness of your customer support process.
Understanding how effective your business is at communicating with its clients is key to improving efficiency metrics in customer service. In order to do this businesses must rely on certain statistics and metrics to measure their efforts. Let's take a look at three key metrics in customer service for efficiency. 
1. First Response Time 
The most important metric for customer service is a company's first response time. There are many ways to decrease your first response time when it comes to customer service metrics. 
One of the most common ways to decrease the first response time is to reduce the amount of time it takes to respond to a customer's request.

By using an automated telephone system or an auto-responder, your company can decrease its first response time by almost 30%.

Another way to decrease your first response time is by making sure that you have a consistent response team. By having a team of employees who are committed and trained to respond immediately to customer concerns, you can ensure that your customers will receive responses time after time.
2. Issue Resolution Rate
A high Issue Resolution Rate (or IRR) means we serve our customers quickly and help them achieve their goals in a timely manner. The IRR metric is calculated as a ratio of issues resolved out of all issues reported. The higher the IRR, the better the customer service.
The average Issue Resolution Rate for customer service agents hovers around 72 percent. This means an agent has to resolve three out of four issues before the customer hangs up. 
However, a customer service agent with a 95 percent Issue Resolution Rate resolves nearly every issue before the customer hangs up. 
This can be due to multiple factors, such as:
Listening and understanding the problem/s in a timely manner;

Working to resolve the issue or refer it to the correct department;

Informing the customer when the issue has been resolved during or at the end of the call;

Developing

relationships with customers

so they can easily reach out if they need assistance in the future.
3. Rate of Answered Calls
There are two sides to every customer call, and both need to be measured for a more accurate picture of service quality. Fortunately, these metrics are easy to capture. 
Let's take a look at some efficiency metrics in customer service call center is performing. In order to evaluate a customer service operation, it is necessary to measure the following:
The number of calls answered in a given interval of time.

The average length of time that it takes to answer a call.

The total number of calls received within a given interval of time.

The percentage of calls answered within a specified time frame (for example, 90 percent or 95 percent)

The rate at which calls are answered and handled.
How to Improve Customer Service Efficiency?
It's no secret that chatbots have taken the world by storm for things like ordering pizza and buying concert tickets. But the next logical step is to use them for customer service. You may be wondering "why chatbots and not actual humans?"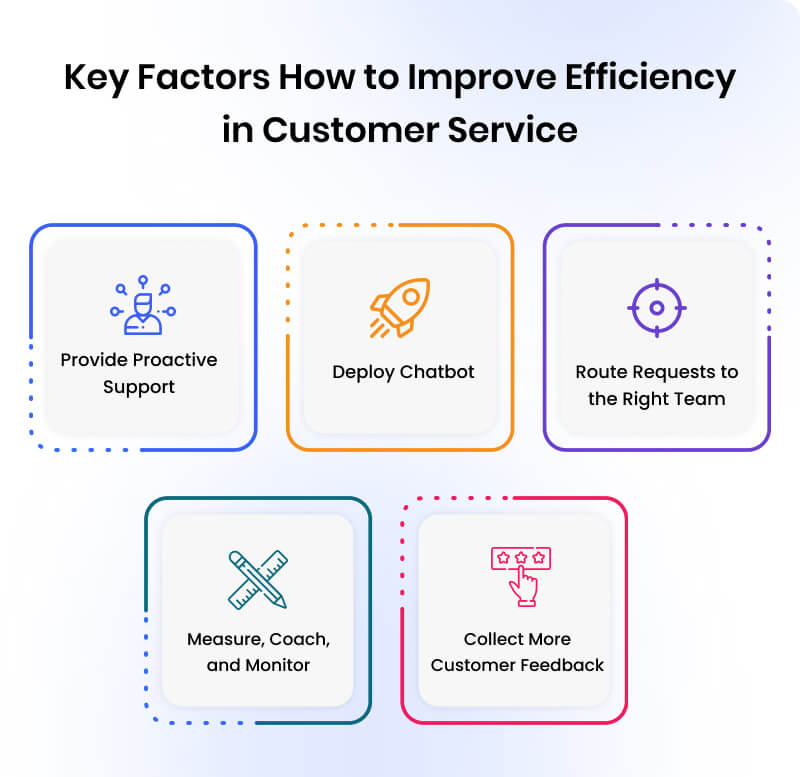 While the use of AI chatbots won't replace all human employees, they will certainly take away the majority of mundane and repetitive tasks, cutting down labor costs and freeing up time for employees to do more complex things.
Let's take a look at some of the key factors how to improve efficiency in customer service. 
1. Provide Proactive Support
When customers contact you with pre-sales questions or problems, be proactive and provide solutions to their issues before they ask.
A good way to use proactive support is to promote one thing that your company does very well, then use it as a weapon against every customer contact you get that mentions that same thing. 
For example, if your company always ships out orders quickly, then every customer inquiry you receive about shipping times should be handled with a polite reminder of how fast you ship things.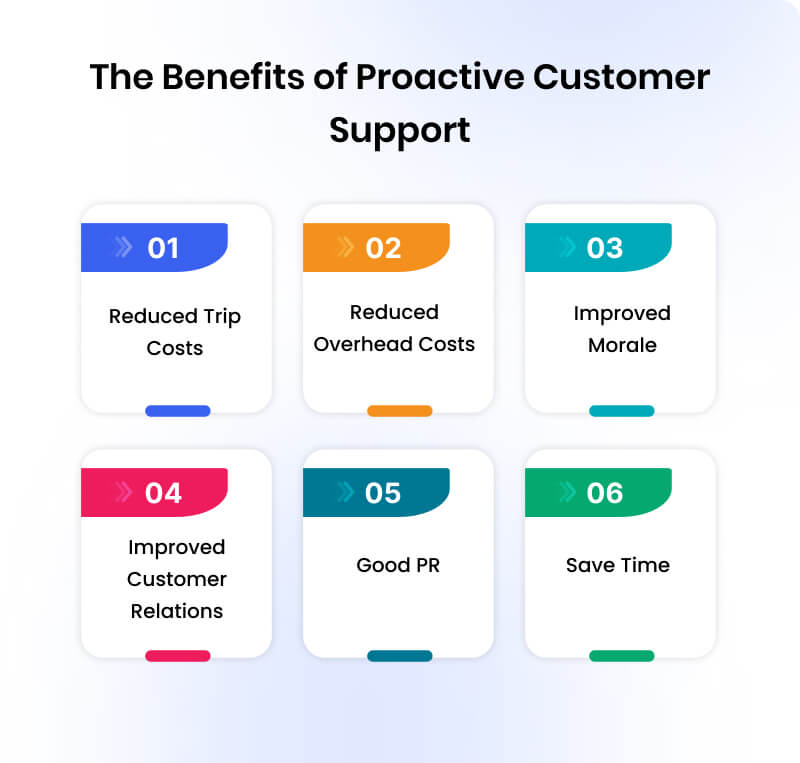 The benefits of proactive support:
Reduced trip costs – agents are less likely to have to make out-of-office calls, as issues can be dealt with before they arise.
Reduced overhead costs – the emphasis on proactive support results in fewer paper files, phone costs, and postage expenses.
Improved morale – having an efficient proactive support system will mean your employees and customers will enjoy a positive experience most of the time.
Improved customer relations – proactive support can help your company maintain valuable relationships with customers to ensure they are happy and remain loyal.
Good PR – having a good reputation both internally and externally is essential; only providing reactive support may cause rumors and gossip to spread within your company and amongst customers.
Save time – dealing with issues before they arise means you will have more time to focus on other areas of your business.
2. Deploy Chatbot 
Customer experience has always been a crucial part of every business. But now this factor is even more important because of the growth of social networks and online reviews that can make or break your brand. 
Some 86% of consumers now read online reviews before buying. And it's not just the quantity of reviews – it's the quality that matters, too; some 81% say positive online reviews influence their purchasing decisions.
Chatbots can be an extremely useful tool for a business, helping to improve customer service and reach a wider audience. Whether you're looking to reduce your reliance on human customer service staff or are trying to expand your reach, chatbots can provide you with a strong tool to help manage queries.
A 2017 study revealed that customers who interacted with brands through a messaging interface were 80% more likely to purchase and 70% more likely to recommend those brands to others.
Benefits of a chatbot deployment 
Chatbots help your customers by making their life easier and allowing them to interact with you without having to spend hours on the phone. 

It can handle many different issues, there is only one single point of contact for customers instead of multiple phone numbers or emails.

They

eliminate language barriers

between customers and your company's support staff, who may not speak the same language as your customers (or may not be fluent in the same language, if your customers are large corporations).

They are always available and ready to help (if they aren't available at that exact moment, they generally respond back within minutes.)

You can get some immediate feedback on what they think needs improvement so you can keep them updated on changes when they occur or customer feedback when things aren't right.
3. Route Requests to the Right Team
You can imagine the frustration of customers when they have to repeat the same information over and over again to get help. This often happens when they are asked to relay their request to multiple agents, who aren't even working for the same company.
The first step in solving this frustrating scenario is getting everyone on the same page. If a customer requests a refund, for example, it's important for you to know where the money is going.
To get started, here are three strategies every service team can use to better route support requests:
Know the status of any request before responding or escalating it.

Implement a ticket-sharing platform with your customer service outsourcing company.

Address the customer problem. 
4. Measure, Coach, and Monitor
Things can't be improved if you don't measure. With REVE live chat for website, you not only monitor the detailed chat conversation between your website visitors and agents but also you can measure its effectiveness. It will help you to understand the efficiency of your agents and the impact of your support service on the website visitors.
So as you can measure your service, if required you can arrange training sessions to improve your support agents' efficiency and productivity.
5. Collect More Customer Feedback.
In order to have complete customer service, we need to listen more to our customers. The importance of collecting customer feedback cannot be overstated. If a business is to have successful customer service, then the opinion of the customer should be sought out.
Lack of customer feedback results in inefficient management. The importance of collecting customer feedback is its ability to help optimize customer service. Unwanted feedback from customers can also be used to improve the quality of customer service. 
What is important to note here is that unhappy customers are more likely to give bad feedback compared to happy ones.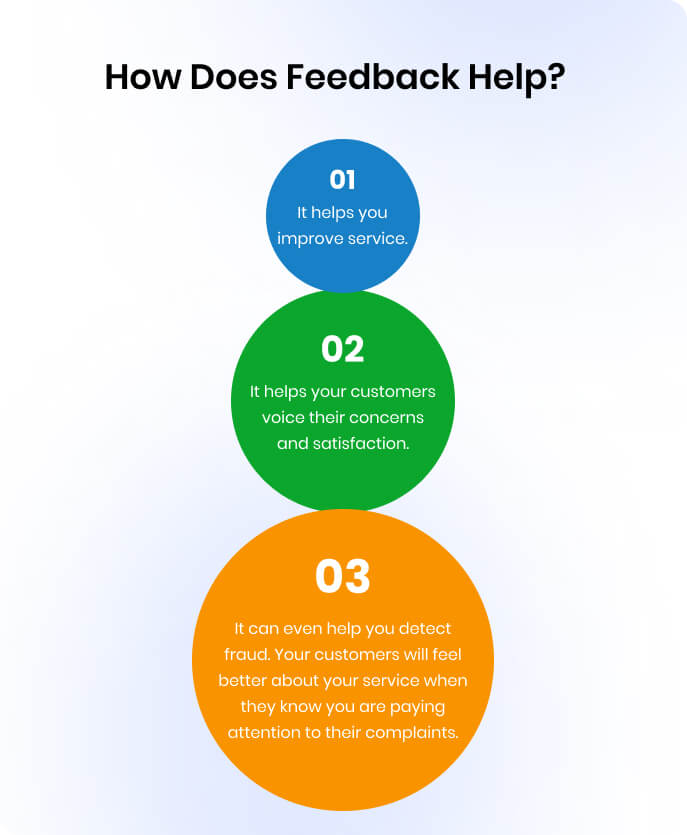 How does feedback help?
It helps you improve service. 

It helps your customers voice their concerns and satisfaction.

It can even help you detect fraud. Your customers will feel better about your service when they know you are paying attention to their complaints. 
How an AI Chatbot Can Help You to Improve Efficiency in Customer Service? 
A chatbot can be a very useful tool in customer service. It is a new generation of artificial intelligence as an assistant, your account manager, and a kind of marketing tool at the same time. 
The main principle of its operation is setting up specific rules for the answers to various questions. As a rule, people do not ask questions, but tell about themselves, how much they are upset, how hard life is, or what problems they need to solve. All the above-mentioned contents are analyzed by the bots, and then it gives an adequate answer.
As a business owner, you're always looking to grow your customer base and AI chatbots can help you do that by simplifying the customer experience. The opportunities to use these bots are endless, but if you're looking to save time while improving your online store's customer service and don't mind paying a bit more, this seems like the obvious solution. Sign Up now and enjoy 14 days free trial.