Social media is the new wave in forward-thinking customer service. Social media for customer service has gained significant importance with the advent of digital channels of consumer communication. 
With social media, customers can interact with their favorite brands and get prompt responses to their queries or complaints. Actually, 67% of consumers have engaged a brand's social media for customer service needs.
Hence, following the social media customer care best practices is crucial for delighting customers that eventually pays back by increasing retention and their lifetime value (LTV) significantly.
What is social media customer service?
Social media customer service refers to the practice of offering prompt customer support via social media channels such as Facebook, Twitter, Whatsapp. Social media may only be one channel for customer care, but since it's so immediate and accessible, customers will be reaching out to you.
Sprout Social Index says 90% of consumers have used social media in some way to communicate with a brand. Over 34.5% of customers said they preferred social media across reactive support channels like phone and email.
Here are the key ways on how social media helps to enhance customer service efforts.
Proactive customer support:

With the help of social media for customer care, you can provide immediate assistance to the queries or complaints and deliver a great customer service experience.

Improve brand credibility:

Social media plays an important role in shaping your brand reputation. It is an important source by which customers encounter brands and their messages. 

Positive word of mouth:  71% of consumers

who have had a good social media service experience with a brand are likely to recommend it to others. Happy customers are the best brand advocates as they share their positive experiences with your brand.
How to use social media for customer service (Examples & Best Practices)
When you focus on social media customer care strategy, it is important to use it in the right way. Let's find out if you are using it in a fair way for your business. Here are 10 main strategies on how to make most out of your social media customer service. 
1. Be prompt with your responses
One of the big advantages of social media is not only for instant support but also to delight your customers. Unlike reactive channels like phone or email, social media helps in delivering proactive support 
Delay in the customer service response creates a negative experience that ends up with an increase in client complaints and spreads the negative word of mouth that can impact brand face value. 
Research says, "42% of consumers expect a response on social media within 60 minutes." The below chart shows how social media reduces the response time to the customers' queries and complaints, unlike other customer support channels.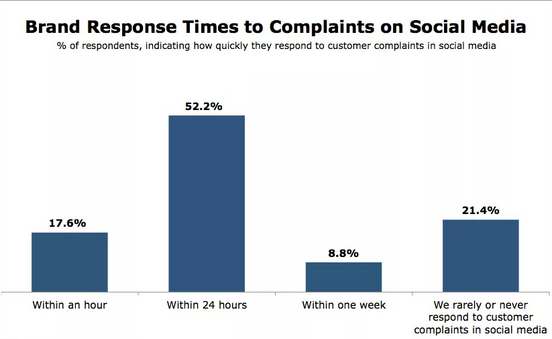 The important social media platforms opted by businesses are:
Facebook for social media customer service
Facebook is the number one social channel so it's likely to be the first line of contact for your customers, for both compliments and complaints. Responding to your followers, owning up to your mistakes, and keeping customers in the loop can go a long way to building trust and credibility.
In order to monitor your social media accounts 24×7 you can deploy programmable messenger bots and customizable away messages for off-hours that allow other effective options for providing customer service on Facebook.
Twitter for social media customer service
Customers take Twitter into the handle to share their reviews, frustrations, and quickly connect with brands. It pays off to respond to social media customer service requests in real-time. When a customer Tweets at a business and receives a response, they are willing to spend 3 – 20% more on an average-priced item from that business in the future.
Having a concrete Twitter social customer service strategy is a must-have for brands who want to keep their customers happy. You can excel your customer support on Twitter by a simple process: listen – appreciate – resolve. 
Social media customer service example: Nike
Nike's customer support strategy is outstanding. They have powerful customer service accounts on Twitter. They also feature a dedicated Twitter account, Nike Support, which provides support seven days a week and in seven languages.

Source: Nike
When any customer mentions Nike's main twitter handle, @NikeSupport rushes immediately to help. As a part of the social media customer service strategy, they separate the main marketing channels from all the support and complaint discussions. It also shows their dedication towards resolving customers' problems.
Best practices for offering excellent social media customer care
If you use any customer engagement platform, you can combine all the social channels under one platform to deliver immediate support.

Whether negative or positive, you must respond to your customer queries. 
2.  Measure your social media conversations
If you as a business are using social media, you must be measuring it right?
How do you know if your social media marketing is working? Wondering how best to report on your efforts?
Regular monitoring and measuring social conversations help you to understand customer experience (positive and negative) with your brand and identify the trends customers are showing interest in.
The social interactions differ from one business to another. But like any other customer service channel, social media also needs to put time and resources. Hence, measuring how your customers are satisfied and your team performance is crucial. 
Here are some key KPIs & metrics that help to measure social media customer service conversations.
Response time: 

This metric helps you to understand & measure the effectiveness of your team in handling customer queries. 

Total resolved & pending conversations:

With this KPI, you can know how efficiently the customer's queries are resolved by your team. 

Net promoter score (NPS):

NPS survey helps you to gain an understanding of how your support service is perceived by your customers.
Pro tip: You should only focus on the social media KPIs that are most relevant to the platforms your brand is active on and that have the most relevance to your customer behavior.
3. Follow social media listening
"Proactive listening is one of the most underutilized aspects of social media today, and probably the most powerful."
Social media listening is about analyzing the brand conversations happening around your industry and using the insights for better business decisions. It helps to understand why, how, and where these conversations are happening, and what customers think when they are mentioning your brand.
With social media listening, you can figure out where the customers are talking about you.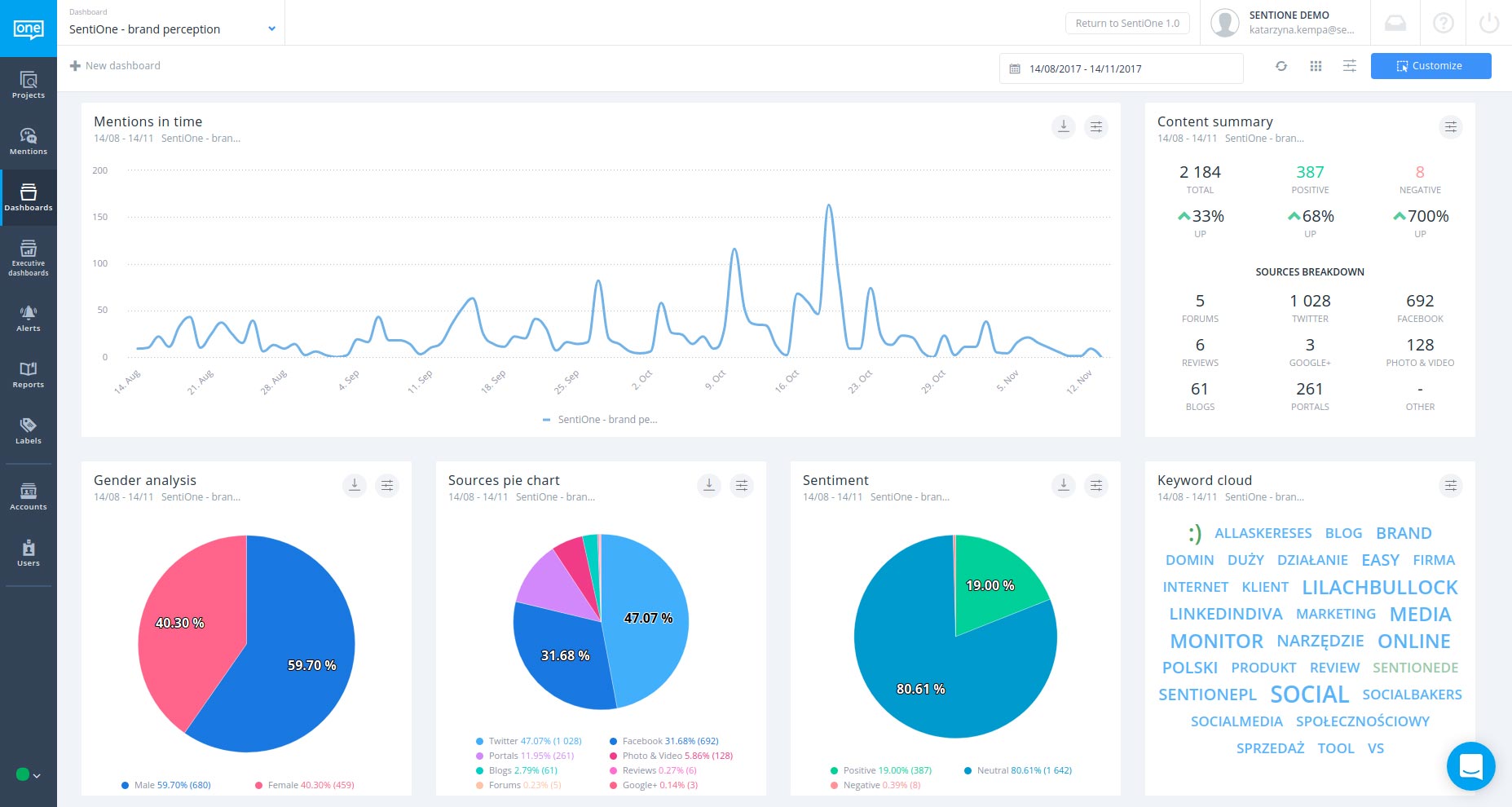 Source: sentione
Every social media comment should be immediately acknowledged. This is one of the social media customer service tips that should be followed by brands.
The customer comments can be viewed publicly, businesses have an incentive to be attentive to everybody via social media. Not replying means you are ignoring the customer. Just like businesses value customers they should value their feedback and comments.
Streamlining your support process by following:
Prepare preset answers for common customers queries for social network moderation

Email replies are more of words so it should be written on way that is not misunderstood

Customers love personal attention so send personalized replies based on the case
Example of social media customer service strategy: JetBlue Airways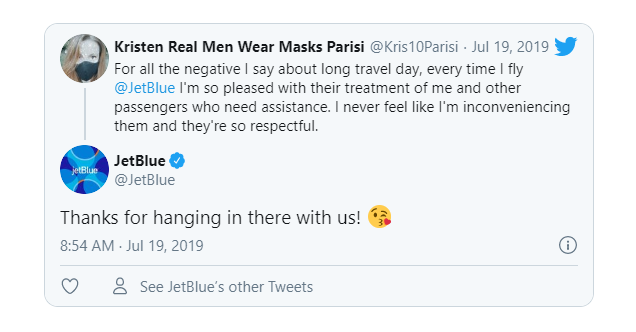 Source: JetBlue Airways
The above situation relates to a scenario where a happy customer expresses his wonderful experience flying with JetBlue airways and how they acknowledge their message promptly by offering gratitude.
4. Keep your tone conversational
Social media allows brands to become more conversational and approachable. A friendly jovial tone and humor can humanize brands, and this gives companies new ways for connection.  
84 percent of millennials don't rely on traditional advertising. It means brands have to get creative in attracting their attention. Friendliness and trustworthiness are highly valued by the customers. And tone has a big impact on how trustworthy a brand appeared.
An excellent example of social media customer service
LaCroix has soared to the forefront of online savvy brands. Its tone is a lot like its product bubbly; and that goes a long way in building personality and connecting with readers or social media followers.
LaCroix used short and concise phrases to relay their brand personality. The more the tone of voice emphasizes these qualities, the more customers associate LaCroix with social settings, friends, and recreation.
Having knowledge of the customer service etiquette can help to start a conversation in the right direction. It definitely creates accountability from both sides. Social media voice can be educational, sophisticated, fun, or helpful. So, how do you find your brand's voice? 
Explore the three vital elements for maintaining conversational tone in social media.
Culture:

The core of your brand's voice must come from its culture as every business has something that makes it unique. What do you stand for? What makes you stand out? This is the personality of your business.

Community:

Having a social media voice lets your community help you to know what to expect when they interact with you. Find out their problems and concerns. Listen to the way they voice their feelings. 

Conversation:

Determine what you are bringing to social media by putting your brand out there and then communicate it with personality and authenticity. 
5. Look for opportunities in customer feedback
Receiving customer complaints and feedback is an open invitation to improve your brand reputation and client relationships.
Every customer expects to be heard and valued. By responding promptly to all the feedback and queries, you not only make them happy but also make the best use of it for improving your brand as a whole.
Here are some tips for customer service reps to proactively engage customers.
Respond even if the user has not directly tweeted at you or asked for help. When you answer brand mentions or comments it shows you are paying attention.

Promote your customers by retweeting a happily resolved support interaction. It is like giving your customers a big thank you.

Give your customer service team a public face. Use a team photo or an agent spotlight. It's nice to connect the face of the brand with the names behind it.

Try to follow-up a resolved interaction with, "How is everything?"
Note: Social media lets you engage your customers directly. When your customers have some feedback or complaints they can interact directly with your team. 
6. Expand your branding with social media
Branding is an important part of any business to prevail in the long term. And the purpose of social media is to boost brand awareness. Social media customer service strategy should be the first priority for enhancing business image and rapport. 
Social media branding refers to using the right ways to engage and deliver customer care across social platforms. Social channels help to differentiate your brand positioning and show your customers that you are easily approachable.
An excellent example on social media for customer service:
Wayfair
An online retailer is known for selling affordable furniture and home goods. As a large group of the audience was active on their Instagram, the big challenge for them was getting followers to go from looking at a photo to going to their website and making a purchase. 
Apparently, it changed when Instagram rolled out new shopping features. Wayfair has done a great job of implementing this feature into their social media strategy.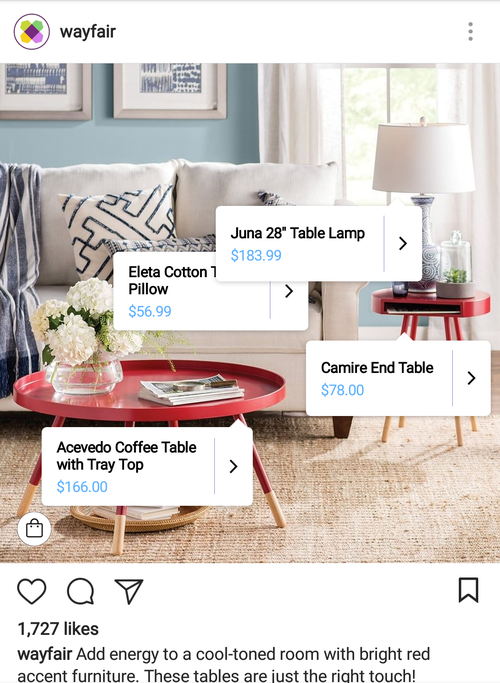 Source: Wayfair
How social media helps businesses to create branding impact?
Sustainability

– Social media is the best platform that can help your business to match the level of competition. With social media customer service best practices, you can boost your brand reputation at minimal costs.

Acquire customers

– With the right use of hashtags & keywords, businesses can easily identify the interested customers who can be easily converted into potential users so that you can convince them for the sign-up process.

Develops a social network

– Creating a strong social network helps your business to develop a social environment. The customers are easily notified and informed about your brand, product, and services.
7. Messaging apps are the future of social media customer support 
Messaging apps like WhatsApp, Apple Business Chat, have now become an integral part of customer service. Customers around the world overwhelmingly say they trust businesses more when they can message them.
WhatsApp has become one of the popular channels for customer service globally. It has more than 1.5 billion monthly active users, sharing more than 60 billion messages per day, a huge amount of on-platform activity. 
WhatsApp has launched its Business app, which enables businesses to "interact with customers easily by using tools to automate, sort, and quickly respond to messages". 
Another example of social media customer service best practices:
Hellman
Hellman wanted more Brazilians to cook with their mayonnaise and they thought of a campaign using WhatsApp.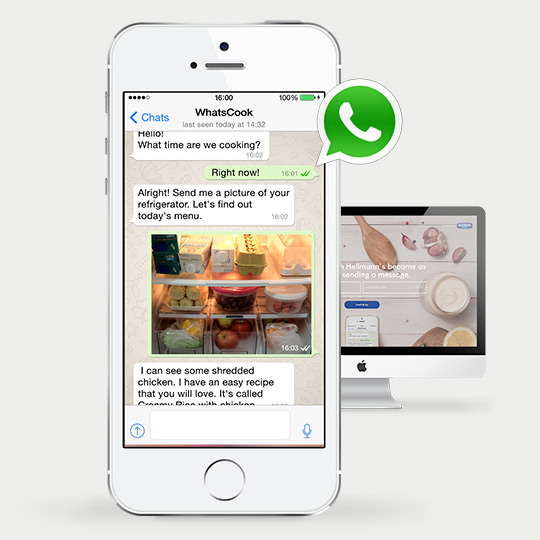 Source: Hellmen
The campaign gave people the option to connect with a real chef through WhatsApp. When the chef got in touch, they clicked a picture of their fridge and sent it. The chef would plan a recipe quickly out of it and cooked the meal together, staying connected through WhatsApp.
8. Handle negative comments positively on social media
When a customer posts a negative comment, businesses tend to defend themselves. Always try to meet negative comments positively. A complaint on social media is noticed by every single customer as it appears in their news feed.
A negative comment brings other followers round your business and depending on how likely your business is to be on the receiving end of social media negativity, brainstorming positive responses is vital for your customer service social media strategy.
The most important thing is to show you care and value your customer's opinion, no matter if it was negative. 
The best example of social media customer service practice:
Applebee's
Applebee's, known for its quirky and humorous responses over social media, handled an issue so smartly.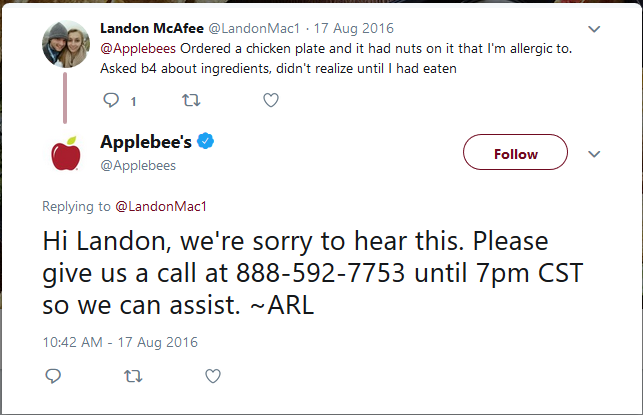 Source: Applebee's
Applebee replies to customers' comments on time, greets customers with their first name, apologizes, and gives a phone number for offline conversation. And it does all these under 280 characters.
9. Streamline your social media customer service process
No matter how hard you try to take your business to new heights, but without social media, it is difficult to reach the goal. 90% of businesses are predicted to leverage the power of social media for better customer service.
Customers prefer connecting with businesses via various social channels. With the help of social media tools, you know how effectively you can use social media for better customer service. Managing all social media conversations over all channels such as  Facebook, LinkedIn, Twitter, Instagram is hectic.
Here are the two tools which can help to improve customer care and monitor your audience across all social platforms.
REVE Chat:

 

REVE Chat

is an omnichannel live chat platform that streamlines customer conversations across social channels like Facebook, Viber, Telegram to deliver a unified support experience. 

Brand24:

Brand24 is a well known social media monitoring tool to track and analyze online conversations about brands, products, and competitors. It empowers its users to monitor their online reputation, prevent PR crisis and discover cooperation opportunities 
10. Social media is all about visual engagement
Social media is a continuous engagement process that plays a vital role in customer communication. According to visual content marketing statistics, 32% of marketers say visual images are the most important form of content for their business.
Using visual content obviously increases brand awareness. Visual content is more appealing and engaging with the social media audience. You can create your own graphics or images and post them on social media.
Almost every business on the market uses social media to tailor their messages and promote their offers by posting content on social media networks. As a matter of fact, 140 million tweets are generated and over two million videos get uploaded to social media every day. 
In order to connect emotionally with your customers, you have many options that can be used such as: 
Videos, Memes, Images

Sneak peek, Behind the scenes
Visual content can help customers to connect with your brand and visuals convey and connect more quickly than simple content. 
Final thoughts on social media customer service
Social media for customer care is the future of business-customer interactions. It plays a vital role in customer service strategy and results in brand success followed with loyalty and advocacy. With the right planning and executive of the strategy can your digital community to a higher level.
Key takeaways for your social media customer service strategy
Reply to social comments promptly 

Measure and monitor customer service via social media tools

Maintain your social tone for a social audience

Respond to both positive as well as negative comments