What is PrestaShop?
Prestashop is one of the most robust open-source eCommerce platforms available right now. With more than 250,000 eCommerce stores running on this platform, it surely boasts to be one of the largest solutions providers too. Its forum has more than 1,150,000 members giving you all the support you need.
Its customer list is coming from more than 200 countries which resulted it to be translated into 65 languages.
REVE Chat integration with PrestaShop
For PrestaShop live chat integration, please follow the below steps:
Download the REVE Chat Prestashop Addon
Login to your Prestashop administration and go to 'Modules and Services' (or 'Modules' depending on your Prestashop version).
On the 'Modules' page click on 'Add a new module' and choose the downloaded REVE Chat Prestashop modules zip file and click on 'Upload this module' button to upload the file.
Once uploaded, you will see a message as 'The module was successfully downloaded'.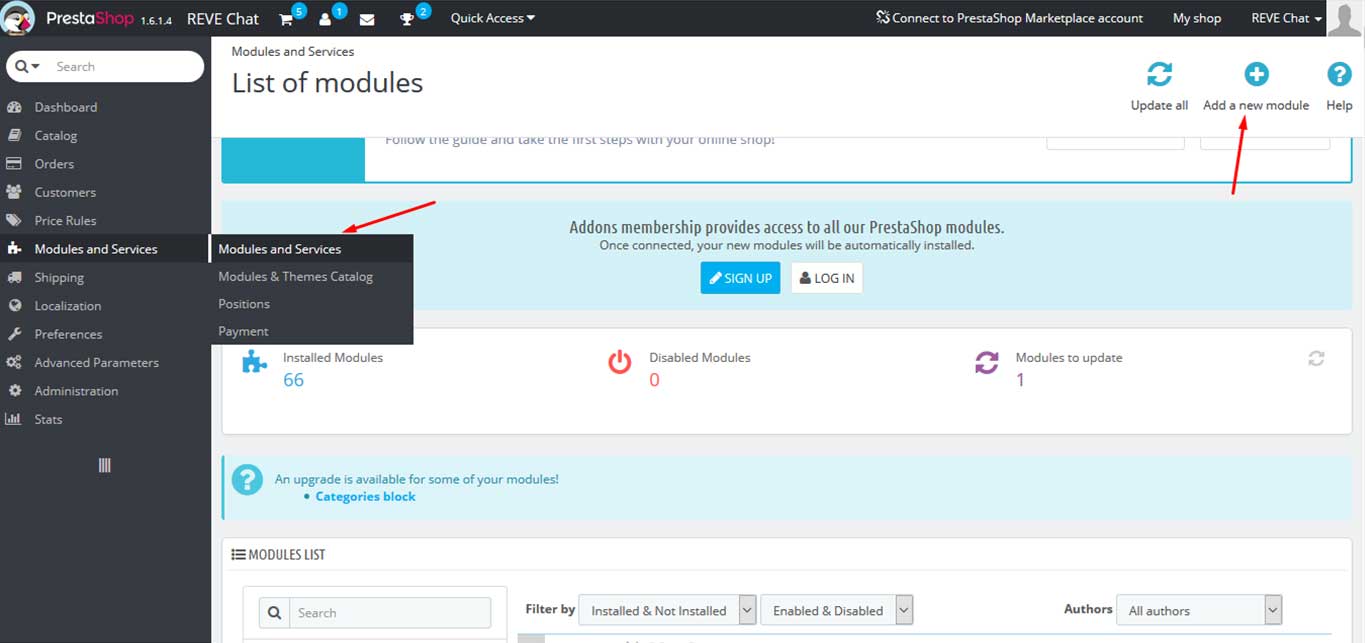 Install the Addon
On the 'Modules' page, search "REVE Chat" in 'Modules List' section. Make sure you have selected 'Installed & Not Installed', and 'Enabled & Disabled' filter.
Click on 'Install' button and you will see 'Module(s) installed successfully message' on top of the page.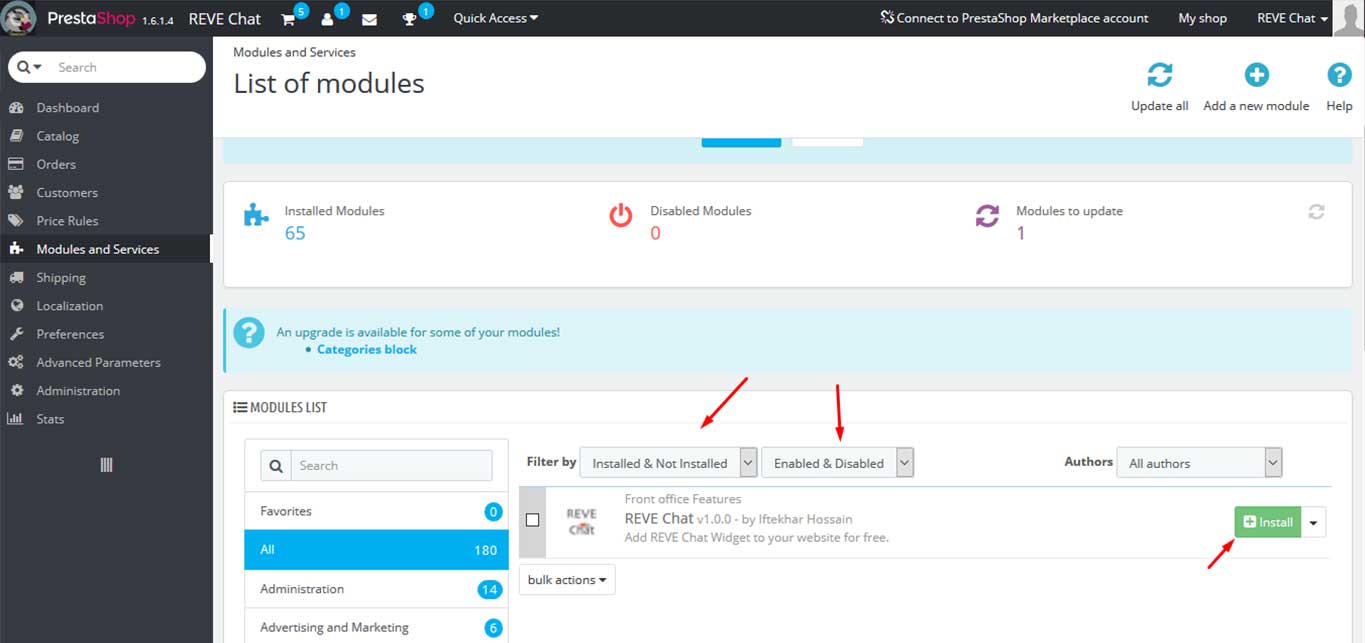 Configure and Sign In
After the module is successfully installed, you can find the 'configure' option.
Please wait for the signup page to completely load.
Sign up for a REVE Chat account if you don't already have one. Log in to your account through this page.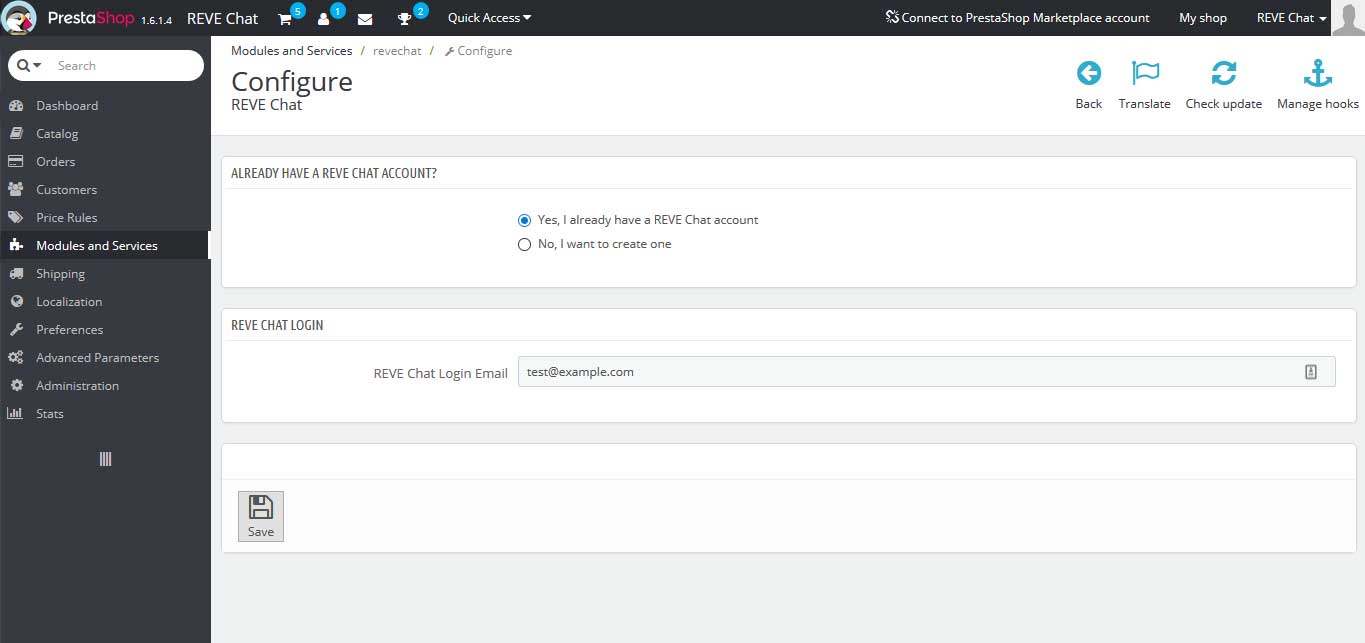 Sign Up a new account
Go to REVE Chat module configuration page.
Choose "No, I want to create one" option.
Fill out the form and submit. Soon you will get a new mail in your provided email address consisting of activation link. Please activate your account using that link and come back again in REVE Chat module configuration page of your Prestashop site and sign in.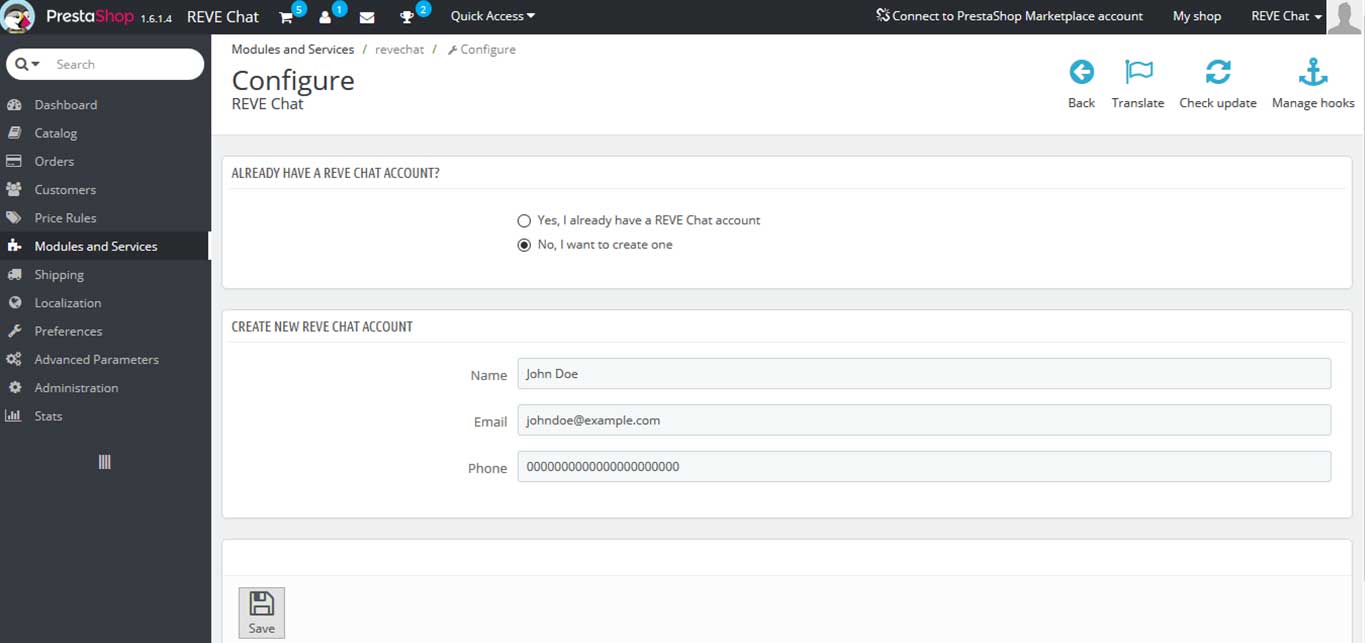 Benefits
Integrating live chat addon in Prestashop powered eCommerce store enables you to interact with your website visitors in real time.

REVE Chat's live chat addon shares the website visitor's location based on their IP in live chat dashboard. This enables the live chat agents to provide customized offers.

Live chat add-on also shares the pages which visitor has browsed in the current session. This information can be used by live chat agents to provide better customer support.

REVE Chat's live chat addon can be integrated on eCommerce store, mobile app, Facebook Messenger and Viber/ Telegram messenger allowing you to provide support from a single dashboard.