Managing customer communication across social platforms is a vital aspect of every business. Facebook is one of the popular messaging channels preferred by both consumers and businesses. Hence, having a communication strategy that is omnichannel help is not missing out on any messages or comments on Facebook. 
REVE Chat allows businesses to integrate with Facebook comments management as a channel. You can bring your Facebook conversations on your Facebook comments and messaging through messenger under one place to deliver a unified customer experience on the Facebook platform.
Key benefits of the integration
By integrating your Facebook account with REVE Chat across posts and messenger, it helps to boost your customer engagement by:
You can assign Facebook comments & messages to the right team members to monitor their progress. It improves engagement and makes customers feel valued.

You can track your conversations across Facebook comments and messenger under one platform. Do not miss any of your conversations and face the risk of losing your customers.

The integration allows measuring your team performance and customer KPIs with advanced reporting. Gain better insights on how the conversations are managed by your team.
How to do Facebook integration?
Integrating your Facebook page with REVE Chat involves few simple steps. Let us break down the steps for better understanding.
Log in to your REVE Chat dashboard. Click on the Integration menu. 
Click on connect your Facebook page and respond to the messages from the REVE Chat dashboard.

If you have not logged into your Facebook account from the browser, you will be redirected to the below page to log in to your account. Provide your registered 'Email or Phone number' and 'Password' to login.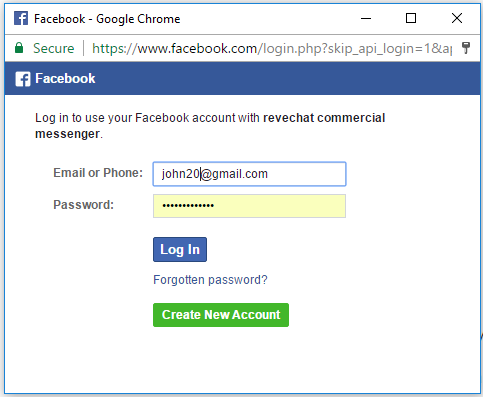 Once you connect successfully, you will get two ways to manage your Facebook messages and comments. They are as follows:
(I) Managing Direct Messages
(II) Managing Comments Separately
You can enable the checkbox based on your business needs. You can choose either Messenger, Comments, or both of them.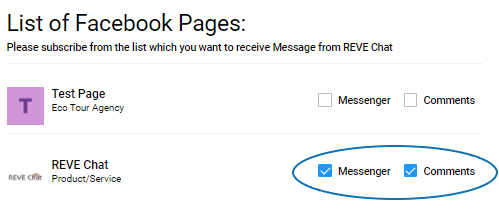 Let us discuss how to integrate both ways in detail.
I. Managing Direct Messages
When you enable the Messenger check box, you can check the direct messages from the REVE Chat dashboard and respond to them. Responding timely to the messages boost engagement and shows that you as a brand value your customers.
II. Managing Comments Separately
In case you enable the Comment check box, your team can get a real time view of the comments left by the customers. Replying to the comments instantly will help you to understand what your customer needs and assist them accordingly.