What is Telegram?
Telegram messaging app is one of the fastest growing application which provides visitors, readers, customers an immediate access to help. It is just like a WhatsApp or Facebook Messenger by which you can easily send messages, videos, files of any type (zip, doc, mp3 etc.) and photos. You can create groups or channels for broadcasting to unlimited audiences. The main focus of this application is to provide privacy, security and speed. It is like SMS and email combined that can take care of all your personal or business needs.
Benefits of REVE Chat Integration with Telegram
Agents will be able to reply to customers directly from REVE Chat dashboard into Telegram.
With the help of Telegram, agents will be able to provide specific help to their customers exactly where they need it.
Telegram gives an opportunity to their customers to start a voice/video call without losing the chat- talk, type, and also send different file formats concurrently.
To Integrate REVE Chat with Telegram Please Follow the Below Steps
Login into REVE chat Dashboard
Go to Integrations > Telegram

Enter you Telegram bot token you have received from @BotFather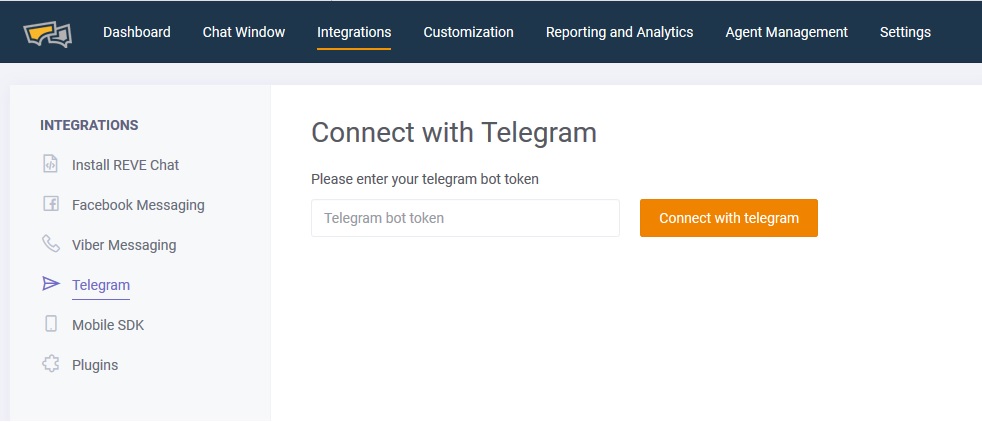 Then click on Connect with telegram button to add your telegram bot
To stop getting messages via telegram, remove your bot from added list.
Select bot's and click on Delete.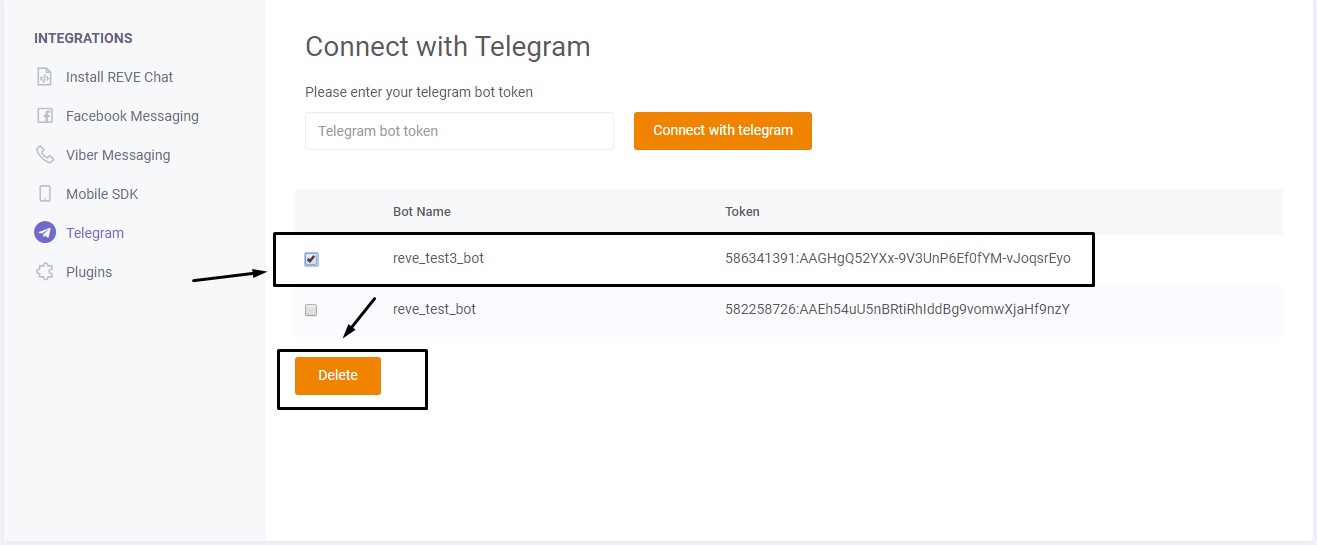 How Messaging with Visitor Happens
Visitors who have telegram account can message any of your bots you have added in dashboard.
The messages will be routed to dashboard agents who has/have registered those bots in their dashboard.

Visitors can easily find those messaging medias(bots) by searching in search box of telegram app.