When it comes to messaging, WhatsApp is easily the #1 platform out there. To leverage its popularity, REVE Chat can help you integrate with the new WhatsApp Business API. The integration will help you give customers the freedom to contact you from whatever device they use for WhatsApp and deliver them the best support.   
Benefits of WhatsApp for business 
WhatsApp Business is a chat app that can add value to customer communications through the functionality and ease of personal messaging. 
WhatsApp offers many benefits for businesses:  
WhatsApp helps businesses

engage with customers personally

and deliver prompt answers. 

Companies can

chat with customers in real-time

, provide prompt support, and foster customer trust. 

Your business will

get a unique identity

by creating

a verified "Business Profile" by using the website URL, location, etc. 

Templates messages can be created to

start more conversations

, notify customers and guide them for the next step.  

WhatsApp ensures a great deal of

security to customer interactions

with features like end-to-end encryption and two-factor authentication.
Benefits of WhatsApp business and REVE Chat integration  
WhatsApp integration with REVE chat opens the window of opportunities for seamless and personal communication with customers. 
Integrating WhatsApp business with REVE Chat can benefit your business on different levels: 
Integrating WhatsApp with REVE chat will help your business

devise an omnichannel strategy

and extend its reach. 

The integration can help you

respond to WhatsApp chats directly from the dashboard

and reply promptly to customers. 

You can

transfer chats to the right department

and route them to the available agents to boost the conversion rates. 
How to integrate WhatsApp with REVE Chat?  
Our integration will use the official WhatsApp Business API and comply with the WhatsApp Terms of Service.  
We collaborate with 360dialog which is a verified WhatsApp Solution Provider and has the rights to allow clients access to the WhatsApp Business API.   
Integrating WhatsApp with REVE chat involves a few steps. Let's break down the steps for better understanding: 
1.Log into your REVE Chat dashboard. Click on the Integration menu.
2.Click on connect your WhatsApp page to complete the integration process.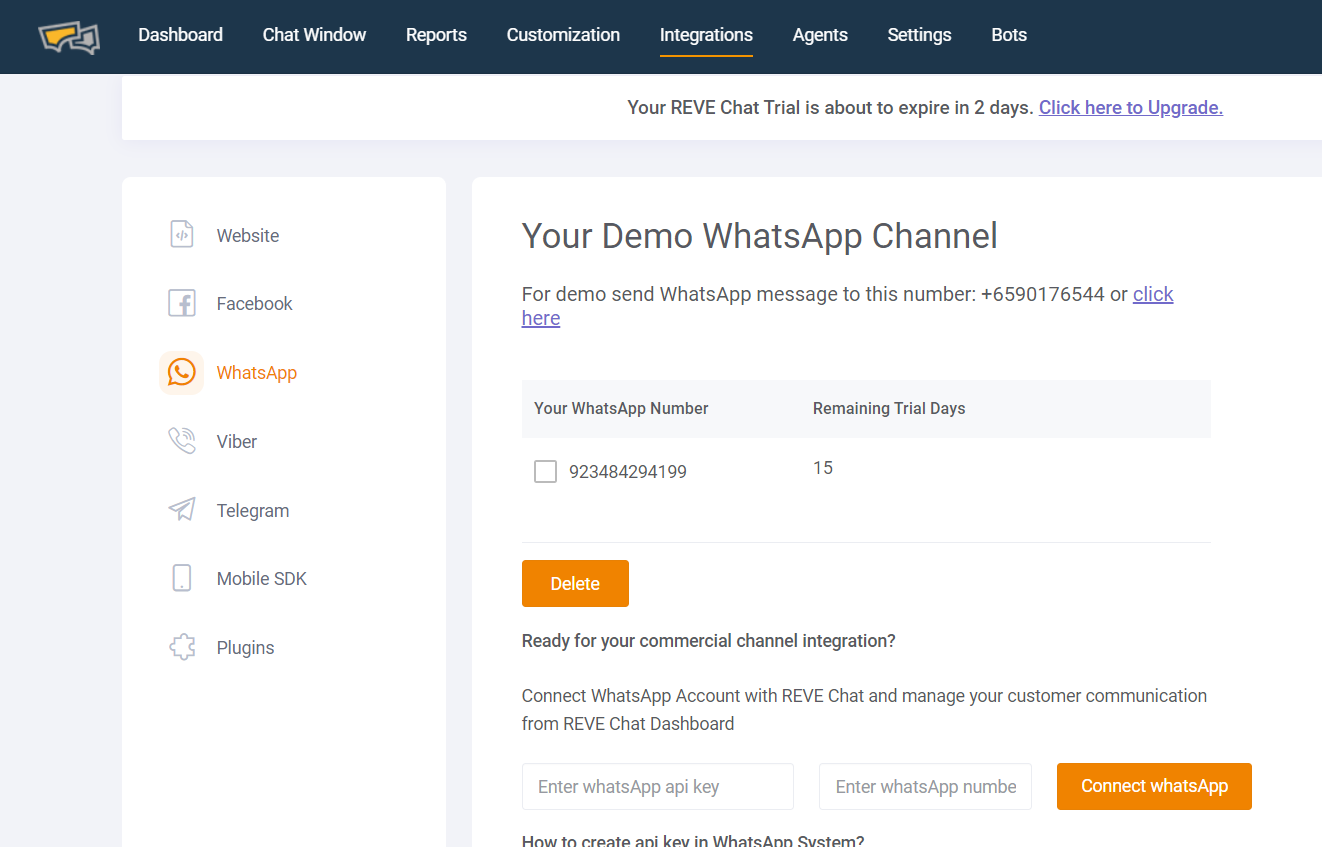 Before the integration, you need to complete the WhatsApp Business API registration process. To do that, click here. 
After completing the registration, you need to copy-paste API Key into the field above to connect your WhatsApp Business Account with REVE Chat.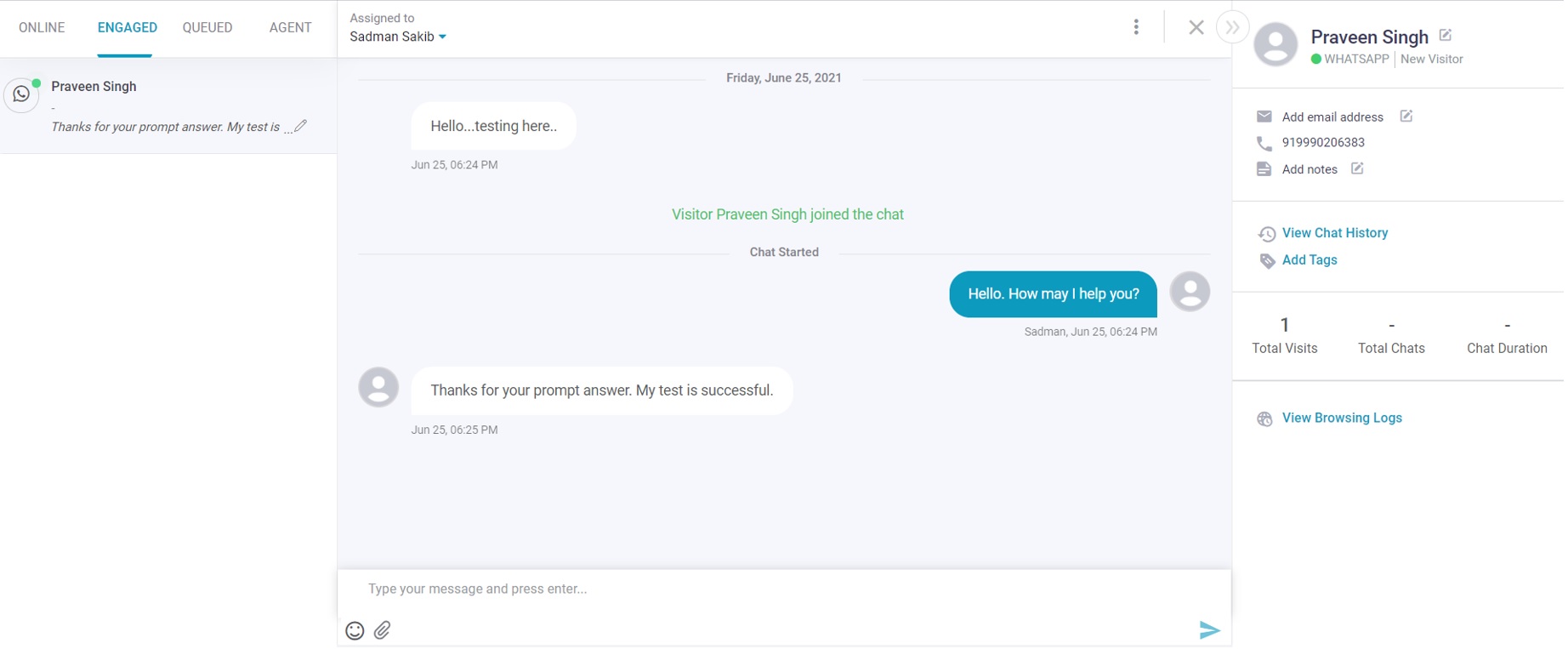 Once the integration is complete, you can click on the "Chat Window" option to see how customer conversations look like in the dashboard.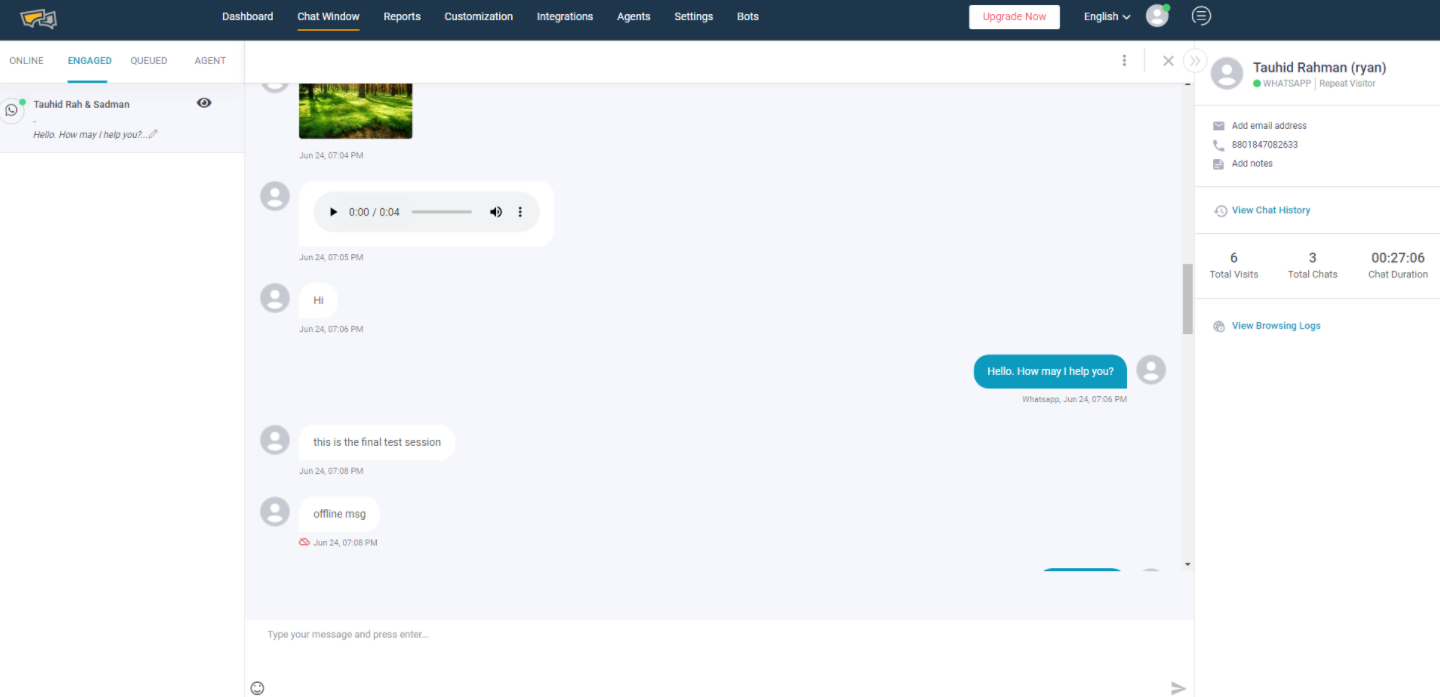 Note: WhatsApp integration with REVE Chat will help you offer rich media content with multiple format options such as videos, images, GIFs, PDF to add value to customer conversations.