What is Salesforce?
Salesforce is specially developed to make organizations function more efficiently and profitable. It also provides cloud-based applications in different fields like sales, marketing, and services. The uniqueness of these CRM lies in the fact that for installation or set up purposes IT experts are not required. The user just needs to log in into the system to connect to customers. This platform is accessible from anywhere to manage customer information and interactions with the company. By offering a number of benefits like contact management, report, and analysis, live chat integration etc. make productive communication between you and your team.  
Benefits of REVE Chat Integration with Salesforce
Salesforce Live Chat Integration allows you to identify customer needs, resolve their issues and close deals faster.
Deliver a consistent customer experience while improving agent efficiency.
Real-time data collection with sales and revenue reports.
To Integrate REVE Chat with Salesforce Please Follow the Below Steps
Login into REVE chat.
Go to Integrations > Plugins

Click plugins.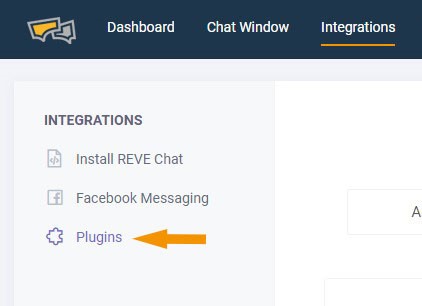 Find Salesforce from available plugin list.
Click Integrate.
A modal form will be opened. There you will be asked to provide your username, password and security key of your Salesforce account.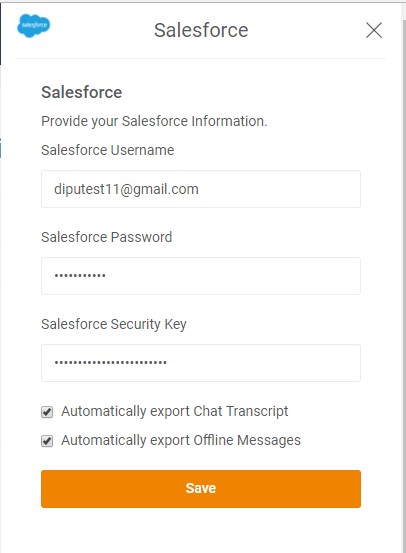 Benefits
Salesforce Live chat app integration allows live chat agents to transfer customer details from chat window to database with a single click.

Live chat agents can access the customer information such as last chat details, whenever they interact with them again.

Using the information about customers last purchase and other patterns, your agents would be able to provide better offers to your customers and hence more revenue.
After live chat integration, your agents can access customer information from the same dashboard instead of checking in different tabs. This will save a lot of time and effort.
While addressing a new chat request, your agent would be able to access the pending issues raised by the customer. Therefore, your agent will be able to answer the customer before they may even ask.
People prefer to talk to a person rather than an email. Live chat gives your website a human touch which increases the chances of customer engagement. This also gives you more leads in you Sales funnel.