What is Agile CRM?
Agile CRM is an all-in-one complete CRM solution that comes with a package of marketing automation, support and end-to-end sales solution. With Agile CRM Live Chat Integration, users will enhance communication and collaboration, and greatly improve productivity and output both at individual and organizational levels.
With the help of Agile CRM you can manage your customers on the go. It is an affordable, simple-to-use and feature-packed customer relationship management (CRM) product that enables businesses to manage the full sales and marketing mix in one platform. Agile offers robust sales and marketing automation, web engagement, payments and reports, project management, contact management, scheduling, customer service, email tracking etc.
Benefits of REVE Chat Integration with Agile CRM
Monitor customer behavior and easily convert website visitors directly to leads in the CRM.
Easily grab targeted lead with the help of customer conversation history and key customer relation data collected through REVE Chat software.
Store all details of the new contacts through REVE Chat and target them to engage with different campaigns.
To Integrate REVE Chat with Agile CRM Please Follow the Below Steps
Login into REVE chat Dashboard
Go to Integrations > Plugins

Click plugins.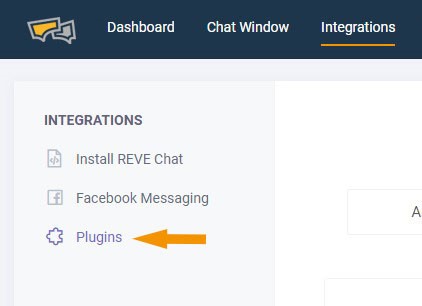 Find AgileCRM from available plugin list.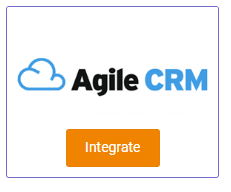 Click Integrate
An input form will be opened to submit your account data: complete subdomain URL, userEmail and REST API Key.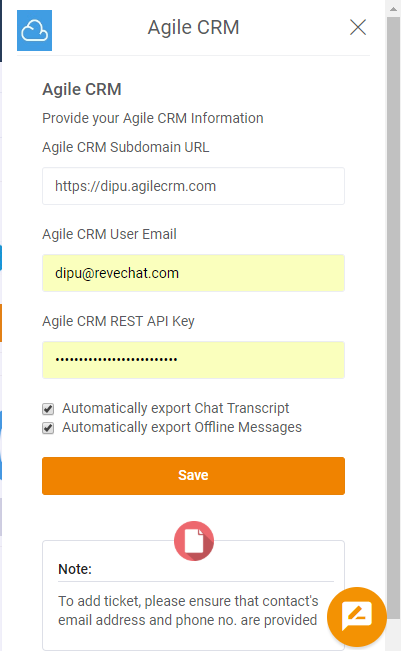 Input your account information and check your ticket settings and then save to complete integration.
A successful message will be shown if integration is successful otherwise error message will be shown.