We all know how websites have a significant role in the growth and success of a business. They not only help brands engage and convert visitors but also serve a variety of purposes across marketing, sales & support. 
For that reason, a growing number of businesses want their websites to become more powerful and have more features. This is where a chatbot can help.
A website chatbot can greatly add to the potential and features of a website and make it more beneficial for the business. Since a bot comes with artificial intelligence (AI) and machine learning (ML) capabilities, it can mimic humans' conversational ability to some extent and prove very handy in customer engagement and conversion.
On top of all, a website chatbot can provide an edge to the business in terms of automating tasks across departments, therefore engaging more customers and increasing the leads.  
In this blog, we will discuss the various ways in which a chatbot for website can positively impact the business in different areas.       
What is a Website Chatbot? 
A chatbot is a programmed chat interface that is developed to support conversations between customers and businesses. When deployed on a website, it can enable the visitors to interact with the business in a conversational manner.  
A website chatbot can closely mimic the way humans converse and facilitate a two-way conversation. Unlike the live chat software where the responses are delivered by persons, a bot is programmed to respond to queries on its own.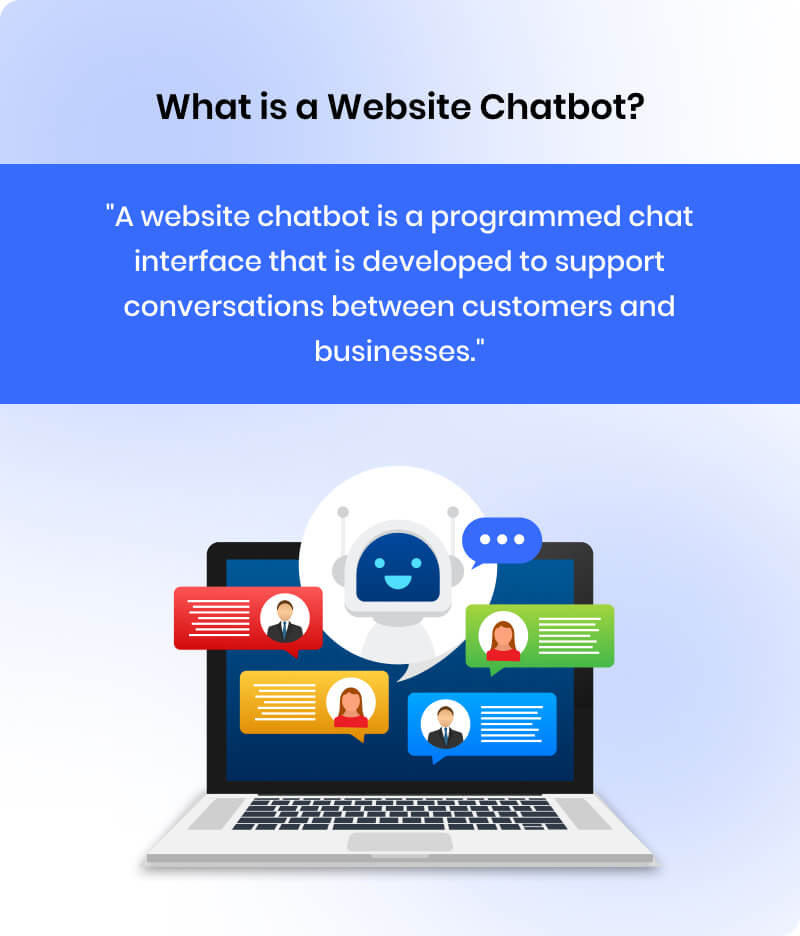 Using a website chatbot, your customers can easily find solutions to their problems, get their issues fixed without any human intervention, and easily access all the information on the website.   
A chatbot for website can either be rule-based or AI-based. And when it's rule-based, the responses will follow the rules it's being built with. On the other hand, an AI chatbot for website is advanced in nature and can handle complex conversations without any rules. 
Top Features of a Website Chatbot   
A good chatbot is one that has all the advanced features of a modern tool for delivering and supporting conversational experiences. It should also combine the right kind of technology, flow, and design to handle customer-to-business interactions without requiring any human assistance.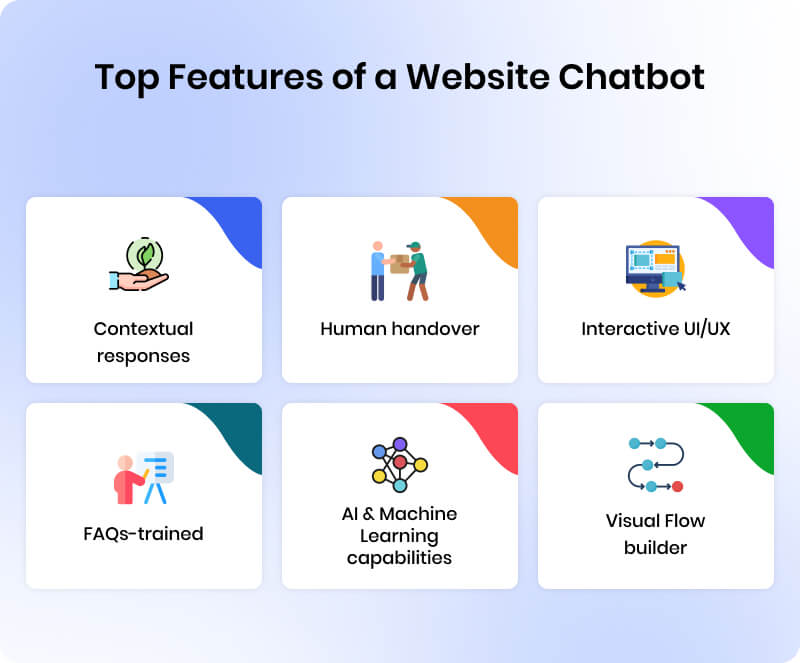 A good example is the REVE chatbot whose features are top-class and ensure value to businesses in diverse areas. Some of its top features include –  
Contextual responses

– The chatbot uses advancements in natural language processing (NLP) which makes it able to understand the context and deliver responses like a real person.     

Human handover

– A good chatbot is often intelligent enough to sense the complexity of a conversation and smartly hand over the conversations to human support when it does not grasp the query.

Interactive UI/UX

– Conversations feel interactive when the chatbot design is simple and intuitive as then users find it easy to use them for answers. 

FAQs-trained

– The bot can be trained on a regular basis to become powerful, support FAQ automation easily, and handle questions and interactions in a hassle-free manner.  

AI & Machine Learning capabilities

– The chatbot is designed using AI and machine learning technologies, can comprehend user conversations and respond in real-time and ensure

personalized experiences

in different tones and languages. 

Visual Flow builder:

Top bots come with the option of zero or no-code development so that anyone can create the bot flow with the help of nodes and actions like text, image, and carousel.   
8 Important Roles Played By a Website Chatbot  
Chatbots are quite a helpful tool when it comes to customer communication and engagement. When you integrate a smart bot with your website, it helps deliver great experiences to visitors and adds value to their journey with your brand. Plus, a bot can play a variety of roles depending on your niche and industry type, therefore proving a wonderful ally in your business growth. 
An AI chatbot for website is capable of doing a wide range of tasks and roles. 
1. Customer Engagement 
Chatbots have become very smart these days. They can think and respond to queries as humans do. In fact, bots can successfully handle up to 80% of standard queries without any human support. 
With regular advances in artificial intelligence and natural language processing, it's quite obvious for bots to handle more and more complex conversations easily without requiring any human intervention. 
So, chatbots can be incredibly fast and intelligent at the same time thereby saving service reps time and hassles in handling customers. More so, they can capture analytics automatically which can help businesses better understand customer behavior.
Plus, a website chatbot can offer immediate one-on-one responses to customers, solve their problems and enhance their experience with your business.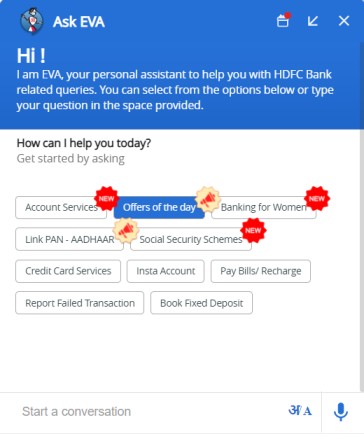 For customer engagement, the EVA chatbot of HDFC is always a good example as it handles virtually all types of bank-related queries effortlessly and solves problems quickly. 
How does a website chatbot assist in customer engagement? 
Chatbots can start conversations with customers, guide them through the website information and ensure one-on-one responses that customers like. 

An AI chatbot can analyze responses based on the customer data such as demographics, past purchasing history and engage visitors at a personal level. 

Using a website chatbot can help you offer fast real-time responses to customers and solve their problems quickly. 
2. Lead Generation 
Chatbots can help in multiple ways when it comes to lead generation. You can use them to connect with more prospects, gather key contact information, and nurture prospects through the sales funnel.
In addition, a website chatbot makes it easier to reach the prospects who're more likely to convert into a lead. You can also use them to engage customers with personalized messaging throughout their journey. 
By using a bot smartly, it's possible to guide customers in making quick decisions. Plus, an AI bot can also be used to present questionnaires to visitors for lead generation which can ensure higher conversion rates.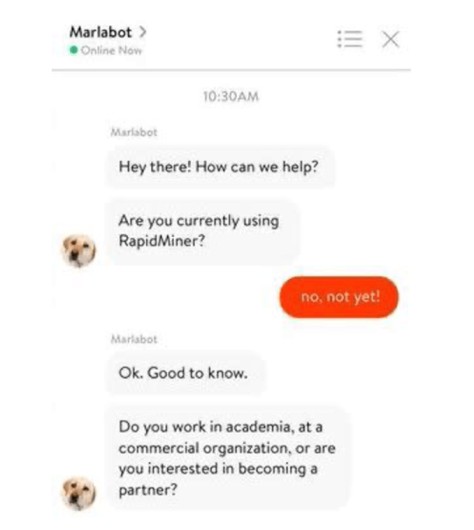 RapidMiner, a B2B tech company, is a good example of how to use a chatbot for lead generation. Its bot – MarlaBot – Can determine a user's need based on the questions and contribute to the lead generation.   
How are chatbots helpful for lead generation? 
Bots can qualify leads by asking relevant questions and then directing the prospects to the sales team for quick conversion. 

The use of a bot is quite common in scheduling an appointment when the team is busy or not available. 

An AI chatbot can engage the customers on an e-commerce website by showing personalized recommendations and offers which can improve sales conversions.
3. Customer Support on a 24×7 Basis 
Chatbots are gaining traction in diverse customer support tasks. In fact, 67% of customers now use a bot for getting support from a business.  
More companies now use them to engage clients by answering FAQs and offering context to conversations. In fact, bots can save support costs considerably by boosting response times and improving the first response time. 
By using a chatbot, you can automate the website support, ensure support inside the mobile app, handle internal helpdesk support and collect customer feedback.
Impulse Creative shows how to use a chatbot successfully for meeting customer service goals. Its bot helps users navigate through its website and easily find the information they need.  
Tips to use a chatbot for customer support
You can deploy the bot on your website to automate customer service, offer prompt responses to every common question, and serve visitors by being available round the clock.   

Bots can be implemented in mobile apps to offer on-the-go support to the users without the need to have other channels in place. 

Chatbots can be trained with an Enterprise Language Model (ELM) to understand the enterprise-specific language and operate as AI assistants. 
4. Conversational Marketing 
Chatbots are now a key element in various aspects of marketing. Your business can use them to automate marketing and ensure timely responses to customers. 
When an AI chatbot for a website is made a part of marketing initiatives, the focus is to push customers seamlessly through the sales funnel and provide a boost to conversions. 
In fact, the use of chatbots in conversational marketing is aimed at using the power of real-time customer interactions and moving buyers through the sales funnel. 
In addition, website chatbots for marketing can easily engage prospects through targeted messaging and therefore drive the conversion rate.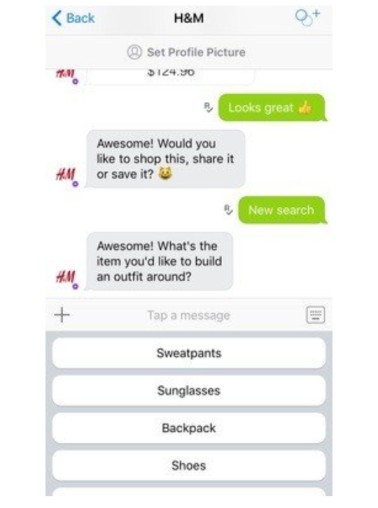 H&M a popular global fashion brand has developed an interactive bot with the purpose of boosting conversational marketing and help mobile customers get customized results quickly.  
Ways to use chatbots for conversational marketing  
The use of a conversational bot can help you reach out to more customers, do more conversations, and achieve a better engagement.

A chatbot can help you leverage the user data to customize the marketing experience based on key information such as name, gender, location, previous browsing history, and past purchases.  

Marketing bots can be deployed to engage with customers 24×7 on your website or in-app and gather contact details for sales calls. 
5. Sales Conversion 
No matter how much traffic you bring to your websites, it won't matter much if you can't leverage it to achieve the desired conversion rate. 
And when you can't turn visitors into qualified leads, the sales will always be hard to achieve.  
Chatbots can help drive the conversion on your website. You should use it because 55% of businesses that do the same generate more high-quality leads. 
With an AI-powered chatbot, you can automate the sales process and engage, and qualify the website visitors effortlessly.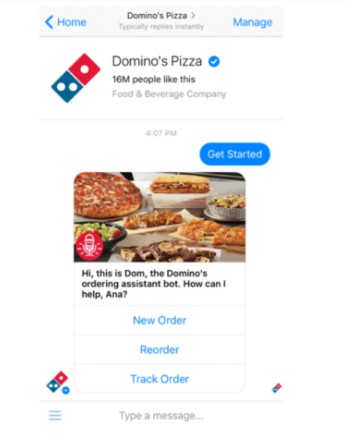 Tips to use chatbots to drive sales conversion
You can use a bot to automate the display of pricing information to customers and then guide them through the sales funnel.

A smart bot can engage customers with conversations, understand their needs better, and recommend products based on analytics. 

Sales can get a boost when you use chatbots to answer the FAQs before and during the purchase either in an automatically trigger manner or in a clicked-on way. 
6. Customer Data & Analytics 
Artificial intelligence bots are very helpful in tracking customer data and bringing key insights to businesses. They can easily leverage user data to track purchasing patterns and analyze consumer behaviors.  
In the same way, you can use a smart bot to gather feedback through questions and adopt the changes to make the product or website better.   
With a chatbot, you can collect tons of customer information and create a profile. You can also use the past data to keep customers engaged through timely push notifications.  
In fact, a growing number of businesses already use AI chatbots to suggest relevant content and provide customers with product details.  
When you have an AI chatbot for website, analyzing customer conversations is always easy and it gives you information about how each one is progressing through the funnel. 
7. Onboarding 
A proper onboarding of new users is crucial. And if you get it right, customers will definitely get success on your platform. 
Having human agents is ideal to run onboarding sessions with each new customer but it is costly and also prone to mistakes.  
Chatbots can add great value to your onboarding process alongside reducing the reliance on human resources and minimizing the risks in the process.   
With a chatbot, it's always easy to guide customers toward success with your product. 
Thanks to the combination of artificial intelligence (AI) and machine learning (ML) technologies, the bot can offer all the information a new user may need and solve their issues quickly. 
And when the onboarding process is smooth and hassle-free, you can retain more customers in the long term. 
8. Customer Feedback 
Your business needs customer feedback on a regular basis to know how effective your products or services are. 
It's however tough to get customers to fill up the feedback form or answer questionnaires. A lot of companies find it difficult to get any feedback at all due to the lack of a proper strategy in place.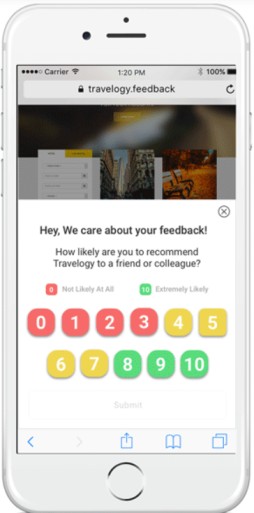 With a chatbot, you can gain a better feedback loop, gather data on users and improve relationships. 
The good thing, an AI chatbot can make the entire feedback process interactive, quick, and easy. Plus, it will fetch you real-time feedback at any stage of your customer's journey.
On top of that, the bots-powered feedback can prove very helpful in improving your products, services, or bot flow for better interaction. 
How Much Does an AI Chatbot for Website Cost? 
A chatbot's cost is often flexible and depends on a variety of factors such as the type, functionalities, and purpose. The cost will also depend on the type of advanced technology you want with the bot. So, there is no fixed cost to building a bot. In general, the estimated price range for a high-quality chatbot could be anything between  $49 to  – $499/month. 
REVE Chatbot offers a wide range of pricing plans to fit every stage of the customer journey. 
The chatbot for website pricing and plans are as follows:
Standard

: $49/mo available with any live chat plan.

Advanced

: $249/mo available with any live chat plan.

Enterprise

: $499/mo, available with any live chat plan.
Choose the right plan by signing up for a 14-day free trial of REVE's chatbot platform. 
How to Create and Use REVE Chatbot For Your Website
You can build a chatbot without advanced coding skills. With the REVE Chatbot platform, you can build conversational bots without writing a line of code. Once the bot is developed, you can deploy it as a virtual assistant on your website for various tasks be it customer service & engagement, lead generation, marketing, and so on. 
To create and start using REVE Chatbot, you need to follow the below-mentioned steps that are simple and easy.
Sign up to the REVE Chat dashboard by clicking "

Start 14 days free trial

".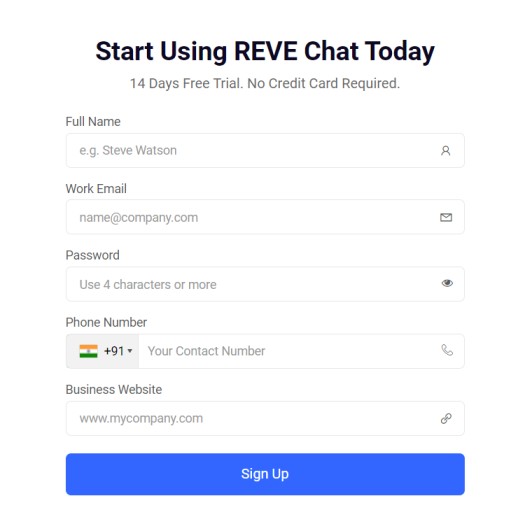 Go to 'Chatbots' in the dashboard menu and 'Create New Bot'.  

After that, you need to customize your chatbot to fit your business needs.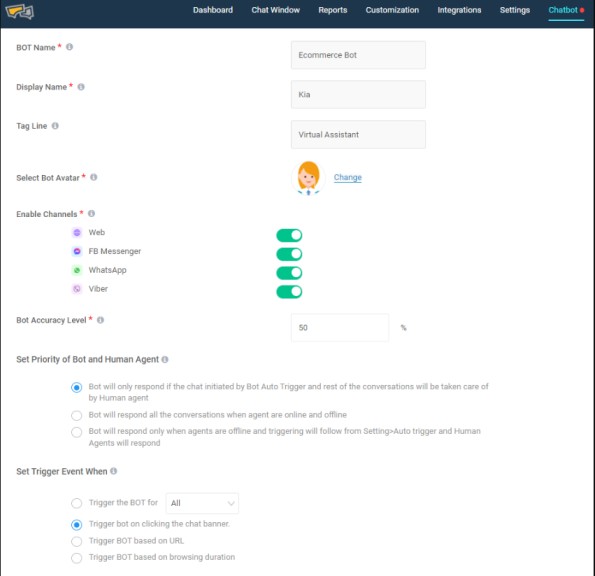 Bot Name:

You can name the bot for internal business purposes. This name won't be visible to your customers. E.g. Sales or Customer Service bot.

Display Name

: You can name your bot in a way that fits your personality or business needs. For example, Eva or Zoe. When customers see the name, they feel as if they are interacting with a human agent.

Tagline

: You can set a designation of the chatbot, which can also be displayed to visitors and customers.

Bot Avatar

: The bot can be personalized by choosing an avatar from the gallery or by uploading one of your choices. 

Enable Channels

: With the REVE Chatbot platform, you can choose your preferred channel to deploy the chatbot for 24×7 assistance. The channel choices include (i) Website (ii) Facebook (iii) WhatsApp (iv) Viber. 

Bot Accuracy Levels

: Here you need to select the query matching the accuracy level in percentage.

Set Priority of Bot and Human Agent

: You can choose from the three options to set the priority of bot and human agent for seamless communication.

Set Triggers

: REVE Chat offers four main triggers with sub-options. Based on the trigger you select, the chatbot will initiate conversations.

 
Do visit our tutorial on "how to get started with REVE Chat" to get a better understanding.
In the next step, you need to build the flow of your business chatbot. To do that, you have to define a bot flow with nodes and actions. With the REVE Chat's business chatbot builder, you will have various nodes and actions to define your bot flow accordingly.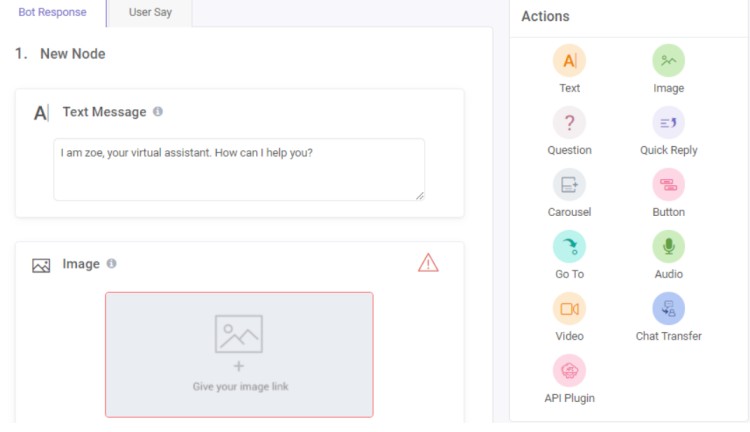 Learn more chatbot overview and understand the different bot actions offered by REVE Chat.
The next step is creating intent samples. Here you can create new nodes for creating intent samples.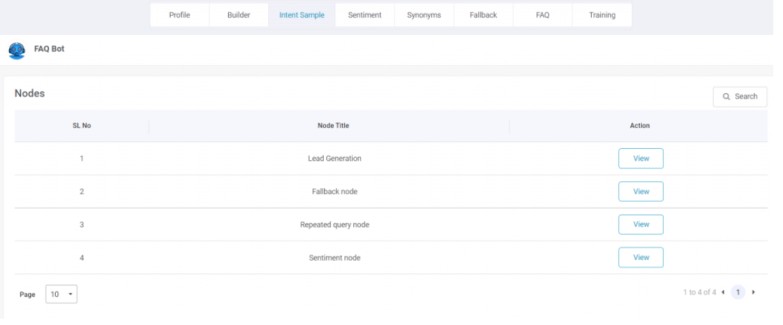 You have to enter sample queries having the same meaning that covers customer intention while interacting with the bot.

When you enter the sample queries, a list is created that is used by the bot to handle customer service conversations.  
The next step is

sentiment analysis

where the purpose is to develop the bot's emotional intelligence. Here you have to 'Add the offensive words and emojis' for your bot so that it can identify the user's sentiments during the conversation.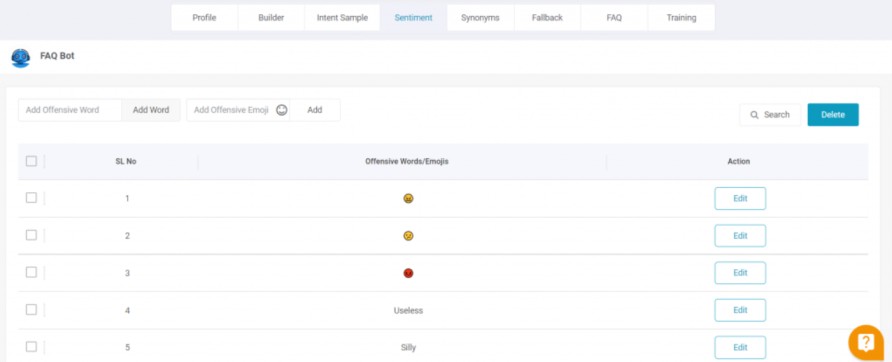 Once the bot's intelligence is developed, you move on to the next step, setting up

synonyms

. With this step, you will empower your bot to understand all the synonyms of a word or jargon used by the customer and then match with the corresponding knowledge base.

After setting up the synonyms, you move on to the

Fallback options

. This feature exists for situations where a default interaction pops up when the bot doesn't recognize the user input. The utility of the fallback option is for scenarios where your bot is not capable of fulfilling the user requests.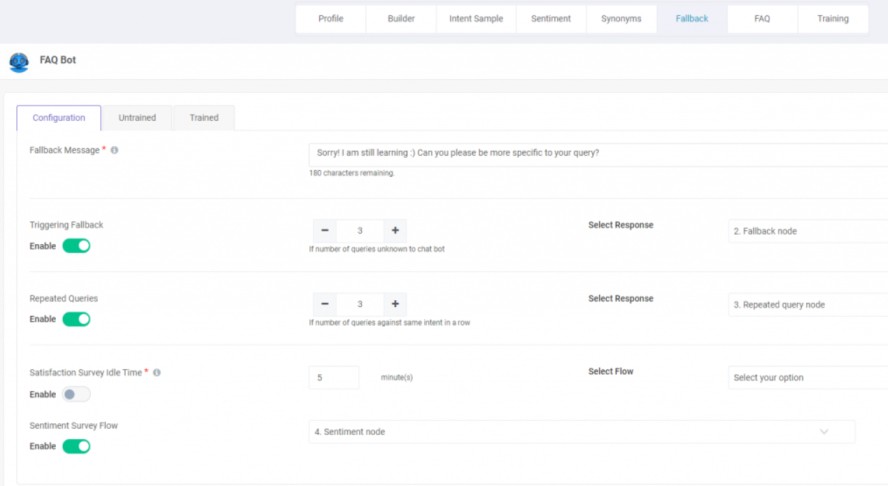 Fallback Message: It's possible to customize a fallback message for situations when the bot is unable to understand the user requests. 
Triggering Fallback:

Here you can define the number of queries unknown to the bot for triggering the fallback option.

Repeated Queries

: There is the option to define how the number of times the query will be repeated. You can choose your preferred number.

Fallback Options:

In case the bot is not able to figure out the user intent, the system can go according to the selected options where it will prompt a fallback message or connect with a human agent.
After having created the fallback option, you can move on to create FAQs for your business chatbot to make the bot learn about your business. By doing this, you train the bot to identify the user intent and manage effective communication with the users.

 

In the last step, you need to train your business chatbot at regular intervals.

Now your business chatbot is ready to use. You can now deploy it across different business functions successfully. 
Take Your Business Forward With REVE's Website Chatbot  
Chatbots are now integral to every aspect of the business. When you have the best chatbot for a website, it boosts your business capabilities manifold and helps you serve customers better.
More importantly, using the AI chatbot for the Wix website can help add tremendous value across functionalities be it sales, support, or marketing.
With REVE Chat, you can start a free trial of the chatbot and take the first step towards bolstering your customer communication.