Do you offer your customers the kind of seamless experience they so richly deserve? 
Probably not, and the worse part is, you don't even realize it. 
You don't realize it because you still trust the traditional way of customer support without realizing its limitations.  Maybe you you don't know it can't meet the demands of modern times. 
In fact, the typical support ticket flow lacks human touch and involves wait time. And that's why it fails to deliver the kind of support users expect these days.   
So, what does all this explain?
All this explains one thing : conversational customer service is the way forward because users now want real-time engagement and quick resolution of problems. And to meet their expectations, you must plan a switch from the conventional to conversational. 
More importantly, you need to focus more on an approach that helps you deliver greater customer service. It means the time is right to change the way you offer customer engagement. 
In this post, we will focus on how businesses need to quickly adapt to bring more conversation-driven service with some form of automation to the support.  
What is Conversational Customer Service? 
Conversational support is a modern strategy of helping customers via personal, one-on-one conversations with a view to forging long-term relationships.
It focuses on using context and personalized touch to resolve customer queries in a seamless and prompt way.   
Compared to a ticketing funnel, conversational customer support is more of a holistic approach that combines elements of automation and human handovers for delivering great customer service.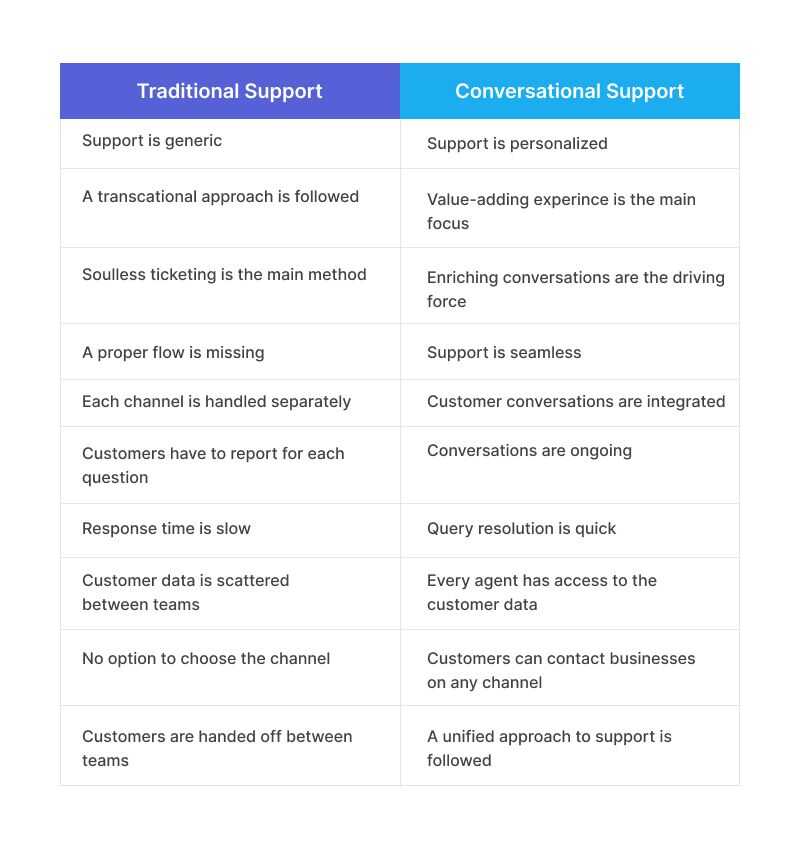 This kind of support aims to create broader and enriching relationships on both sides which makes it different from how the traditional online customer service is delivered.     
Conversational Customer Service Benefits for Your Business
As a business, you need to understand how 82% of customers say getting an immediate response is very important when they have a question. And you can't offer quick responses if you're not ready to use the power of technologies like artificial intelligence and automation. So, the time is right to move away from the old way and adopt the conversational way to improve customer experience and redefine support.
Conversational support features have great potential and can benefit your business in many different ways. 
Richer customer experience

– Keeping conversations at the center of customer engagement will always be a great strategy for your business to create a richer experience and build a pool of loyal customers. 

Lower support costs

– An integrated approach to customer service that is driven by conversations can free up the workload of the support agent and save you any additional investment in stepping up the infrastructure. 

Faster resolution time

– Conversational customer service is powered by a unique approach where agents have easy access to all the data and customer insights from a centralized software system and resolve queries faster. 

Higher customer retention

– Customers obviously feel less frustrated when the response time is low and when they are not passed from one team to another which can only be possible when conversation support is offered. 

Better conversions

– A streamlined support process can help your business always handle customers efficiently, manage lower churn rates, and create loyal customers, and all this contributes a lot to boosting conversions. 
How to Implement Conversational Customer Engagement?  
Making a switch away from the traditional support flow is always a logical next step when customers don't get the seamless experience they deserve. You also need to think of replacing the transactional approach with integrated conversations to forge long-term relationships. This will help you achieve the goal of conversational customer engagement and ensure a great experience.  
There are many ways to implement conversational support to enrich customer service experiences and deliver meaningful interactions.  
You can use AI tools and automation to strengthen your customer experience strategy and change the meaning of conversational customer engagement.  
Let's look at each of the ways in detail;     
1. Think Omni Channel Strategy for Conversational Customer Engagement
Customers expect a seamless experience when they contact businesses. They want the freedom to choose the channel and easily reach out to brands. 
Many businesses, however, make the mistake of not giving customers the choices despite having a presence on many different channels. 
To overcome this challenge, it's always better to implement an omnichannel strategy and let customers decide what fits them the best.  
By doing this, your business will easily be able to keep pace with the evolving customer experience trends of modern times. 

How to adopt an omnichannel strategy? 
Use the right tools

– The success of an omnichannel outreach will depend on the efficiency of the tools such as

live chat

, video chat, and co-browsing. 

Offer in-app support

– Offering in-app support is a good way to ensure success to your omnichannel strategy as then all the customer data will stay in one place and each agent can easily access them for faster responses. 

Plan hybrid support

– By combining AI-powered chatbot automation with a human touch, you can easily enhance customers' experience with your business and answer queries 24×7.    
2. Map Your Customer Journey
Understanding your customer's journey is always the key to delivering great experiences to them.  
If you're aware of what customers look for and how to meet their expectations, you can easily step up the level of service.  
For that reason, you first need to know the places where conversational customer experience happens and then optimize them to enable a seamless experience. 
By mapping customer journeys across channels, it becomes simple to understand the needs and make sure that each touchpoint contributes to better service.  

Best practices in mapping the customer journey 
Survey your customers

– Ask the customers directly about their experiences with your company and how they feel doing business with you to get a clear idea of their journey.    

Take inputs from customer service reps

– Agents are always at the forefront of conversational customer experiences with a fair bit of idea of the most common questions asked so their inputs can be used in mapping the customer journey.

Create a buyer persona

– Create a journey map of each customer and try to understand how each of them is driven by different parameters such as demographics, geography, and psychographics.    
3. Adopt Proactive Approach with Conversational Customer Service
A proactive approach to support is always a great strategy as it shows you're willing to reach out to customers rather than wait for them to come to you with their problems.
When you plan to offer conversational customer support, the right move always is to be proactive to start the conversations and try to assess the customer's pain points. 
This method will help you not only anticipate but also resolve the problems in the preliminary stage itself. It puts less pressure on the support team and keeps them free for more energizing conversations.   

Tips to adopt a proactive approach   
Offer faster assistance with live chat

– Businesses that want to make every customer interaction an opportunity to build a rewarding relationship often use live chat and provide quick responses. 

Provide real-time help with co-browsing

– Customers might leave your website if they don't quickly get what they want and you can avoid it by providing a

co-browsing

feature to them using their web browser.   

Ensure visual engagement

– The use of video chat for customer service can make conversations interactive and personalized therefore greatly boosting their experiences with your business.   
4. Automate Your Support with Chatbots
Quick and seamless conversations are always at the center of great customer experiences. 
This is why 68% of consumers like interacting with chatbots because of the quick answers they get.  
Automating the support with bots can help reduce wait time and ensure prompt responses to queries. It will bring great value even in situations where human touch was once important.  
In fact, AI-powered chatbots are intelligent and can do smart routing by directing chats to the right team. This often ensures great value with conversational service automation.
By using bots to propel your support, you're always able to drive conversations, boost engagement levels and ultimately ensure amazing conversational customer experiences.  

Best practices in conversational service automation  with chatbots 
Create a contextual knowledge base

– Make bots a key element of your support strategy to deliver customers with the right information, articles, or other support materials easily through a contextual knowledge base. 

Do attribute mapping

– Leverage

chatbot benefits

in gathering context or information from other integrated sources such as CRM and enhance the value of conversational relationship platform.    
5. Build More Customer Self-service Options
Customers may not always be keen to engage with service agents as sometimes they feel more comfortable doing things on their own. They occasionally like finding information about a business all by themselves.  
For such situations, you need to build more self-service options by using conversational customer engagement software. Doing this will ensure that the flow of conversations is never stopped for anyone seeking information about your products or services.  
When there are more self-service options, it ensures fewer questions for your service team that can then dedicate the time to handling questions that are complex and not solvable by bots. 
Tips to build more self-service options 
FAQs

– You need to prepare a list of the most commonly asked questions and then prepare answers for them so that customers find it easy to resolve their queries and have a seamless experience.

Support articles

– Customers may have a variety of questions and then often look for step-by-step guidance on these all, so make sure you have support articles dedicated for each process/system to ensure value to conversations. 

Videos

– Visual communication plays a key role in driving user engagement and having interactive and information-rich videos of your products can always help customers get quick answers to their problems.    
6. Use the Right Mix of Bots and Human Support 
Chatbots have transformed the way customer service is delivered. They're 24×7 and can provide quick responses as and when needed. 
Plus, they are smart and may do sentiment analysis to decide the emotions from messages as well. And if need be, bots can quickly route the chat to the right agents and ensure the flow of interactions is maintained. 
However, there will always be complex conversations and unique chatbot use cases where human support is needed more as bots are not 100% accurate and can't be relied upon for complex matters. 
So, you need to have a blended approach where both bots and humans are part of the conversational customer service strategy to ensure fast resolutions and great experiences.  

Tips to combine the bots and humans together for support 
Chatbot integration with live chat

– Integrating AI bots into live chat can help you deliver hybrid support where the routine queries are automated and complex questions are handed to live chat agents. This will help you adopt conversational AI for customer service and offer value with interactions. 

Have an escalation process

–

Customer service chatbots

can easily answer repetitive questions but might fail to handle complex matters, so you need to have an escalation process with bots handing over queries to the agents to ensure a seamless experience for customers.  
7. Leverage Chatbot Sentiment Analysis Feature 
Chatbots are quite advanced today and can adapt to new AI features with ease. They can recognize user intent, decode the mood of users, and also drive the flow of conversations based on customer emotions. 
All this becomes possible due to the chatbot sentiment analysis feature which makes bots even more powerful in terms of understanding the emotion in the customer messages.
Your business too can benefit from this feature to know if customers are having a good experience with your chatbots and based on that, can add value to conversations.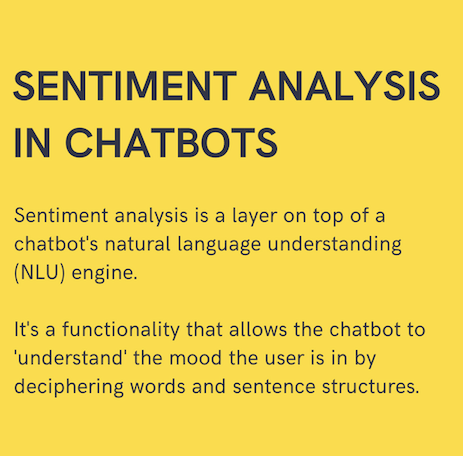 How will chatbot sentiment analysis help in conversational support?  
Conversations based on customer's intent

– Chatbots that are powered with the sentiment analysis feature can efficiently recognize customer intent, quickly understand the mood, and then guide the chats in the right direction. 

Insights from social media posts

– The use of sentiment analysis-driven bots can help your business successfully analyze any piece of text or voice such as posts, comments, status updates for understanding the mood of customers and then framing the response accordingly. 

Filter non-value customers

– Your business can drive the value of conversational support by filtering non-value customers based on the texts or responses delivered by them and artificial intelligence (AI) can help do that easily.   
8. Track Customer Conversation KPIs 
Keeping a track of key interaction-related KPIs can help you understand the effectiveness of your conversational support strategy and ensure value to the sales funnel as well.  
There will always be useful data to measure and get a better insight into your customer support strategy. 
Once you're aware of the success or lack of it, you can easily tweak your support strategy and ensure value to customers at every step of the way. 
Some common customer conversation KPIs
Response Time

– Measure the average response time to understand how your customer service team is performing in the delivery of conversational support.  

Average conversation length

– Track how much time an average interaction takes between your service team and customers so that you can understand whether customers have to wait for support.   

Customer satisfaction

– Take steps to know whether the customer was happy with the conversational support provided by the team and whether you need a feedback mechanism to achieve that goal easily.  
9. Personalize Conversations Using Customer Data
Customers love personalized experiences. To deliver that, you need to know them inside out, like their preferences, search history, etc. 
This is where customer data can help, particularly the ones related to demographic, geographic, and psychographics.
You can trust conversational AI chatbots and conversational customer engagement software to collect customer data across touchpoints and then use the same for delivering personalized experiences. 
A business can also benefit from conversational customer engagement software to redefine the way personalized support is provided. 
And when a touch of personalization is added to customer support, you always have the right tools to disposal to offer a great level of conversational support. 
Conversational Customer Engagement Examples From Across Industries 
A growing number of industry verticals now realize the value of either ditching the traditional way of support or complementing it with conversational support. Doing this has many benefits as customers no longer need to wait for getting support nor do they need to get support on the channel of someone else's choice. 
Here are examples of how different industries are using conversational support in the best way – 
Conversational Service Automation in Healthcare   
The use of conversational support is accelerating in the healthcare sector with more doctors now relying on chatbots to remotely treat patients and offer consultation. 
Conversational AI in Financial Services
Money management has become quick and efficient as financial firms now realize the value of using automation to bolster conversational support and offer sound advice. 
Conversational Engagement in the Service Industry 
Hotels and restaurants find chatbots a great tool for delivering conversational services, managing customer orders and meeting their lofty new-age expectations.  
Conversational Customer Service in the E-commerce Sector
More online stores now use automation and leverage chatbots to offer customers a unique kind of experience such as personalized product recommendations and a smooth check-out process. 
Make Your Customer Service More Conversational with REVE Chat 
With REVE Chat, you can realize the goal of offering conversational customer service and building a long-term relationship with your valued customers. 
We have great conversational engagement software and tools that can enable businesses to change the way conversational support is offered. You can trust our expertise with conversational AI services to redefine support rather than just resolving a series of issues. 
You can rely on our AI chatbots and live chat software tool to use context and conversations in order to redefine the way support is offered to customers. These tools will not only ensure great support for customers but will also help agents offer more personalized support at scale.
With our live chat customer service tool, it would be easy for you to deliver personalized support at scale alongside balancing AI automation and human touch.
These tools will let you provide seamless contextual support by reducing customer effort and ensuring increased customer satisfaction.
Similarly, you can benefit from our customer service chatbot and conversational engagement software to transform the support and provide value to customers with AI.
By automating functions and processes across marketing, sales, and support funnel, you would always find it easy to provide the best of experience and conversational support to customers. 
Deliver Great Customer Experiences with Conversational Support  
Conversational support is the future of customer experience. And brands that are able to engage users with enriching conversations will always find it easy to provide great experiences at every step of the way.
So, you should focus on automating the support and adding more self-service options with chatbot marketing from REVE Chat to ensure value to customers.  
Similarly, you need to think of an omnichannel outreach by combining customer journey mapping and AI bots to meet customers where they want. This is how you enhance the value of conversational customer experience and ensure enriching interactions.
All this can lay a foundation of great conversational customer service resulting in loyal customers for life.