Microsoft is hoping to reawaken the dead…( Yeah, you heard it right!)
And Facebook is working to make the virtual world a reality for us…( seriously?)
And both these giants are pinning hopes on a technology whose 'impact on humankind is going to be greater than even fire or electricity. ( according to Google CEO Sundar Pichai).  
Yes, we're talking about artificial intelligence or AI — arguably the 'most transformative technology' the humans have ever developed. 
So incredibly powerful are AI trends that they can amaze, captivate, and even intimate you in equal measures, depending on where you stand and how you view its potential or quirks. 
And don't feel intimidated when you have every reason to feel excited, given how AI-powered technologies drive more than 70% of the devices that we use in our everyday life. 
And if you run a business, you can rely on our AI chatbots to ensure great customer service and better conversions. 
And if you're keeping an eye on the latest artificial intelligence trends 2023, you must be aware of how much AI  is now central to the way we live. 
Plus, Covid-19 has also taught us how enterprises that ignored emerging trends in artificial intelligence found it hard to survive the changing landscapes in the market. So, you don't make that mistake.   
Top 10 Latest AI Trends in 2023 
Artificial intelligence is quite a revolutionary technology with a great degree of dynamism attached to it. Plus, it's advancing at a great pace by the addition of different disruptive technologies in its cognitive capabilities. Nobody can deny that AI is definitely going to get bigger in the future with new capabilities, and all this can redefine the business landscape in a big way. 
Your business needs to be aware of the trends driving AI innovation if it wants to stay ready for the challenges of the new age.
Current trends in AI will obviously make your chatbot a success. We offer more chat features that add great value to your business.   
And yes, let's discuss each of the trends in detail; 
1. Conversational AI Systems to Become More Advanced 
According to Gartner, 70% of workers now interact regularly with conversational platforms. 
This number is set to rise further in 2023 as experts predict more usage of conversation systems across industry verticals. 
However, we also know how current versions of chatbots are yet to become as efficient as needed to answer beyond simple queries requiring a set pattern. 
But bots have the potential to perform more advanced tasks easily, especially the ones powered by the latest artificial intelligence trends. 
In fact, the use of conversation AI in the various steps of chatbot development can make bots more efficient and prepare them to handle complex queries with ease, and also with a personal touch.   
Although many organizations now plan to leverage conversational AI assistants across their processes, they still need to rely on the constantly evolving latest trends in AI to ensure desired results. 
Read our blog The Essential Guide to Conversational AI to learn more about conversational AI.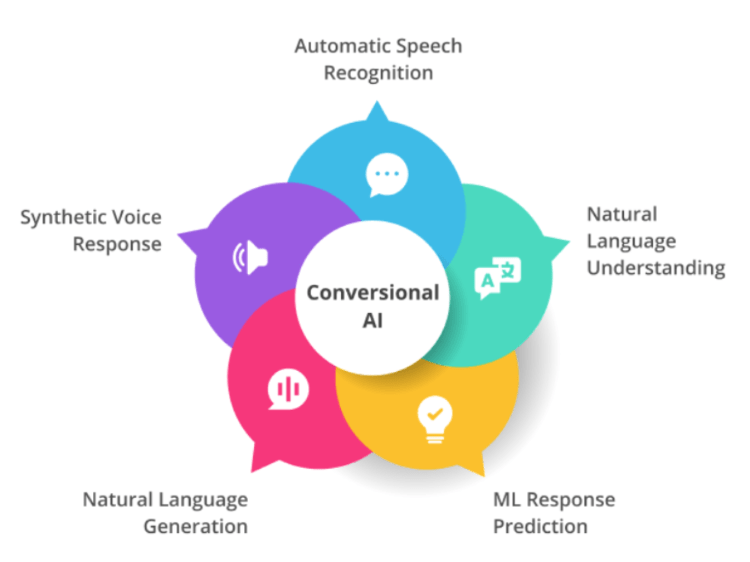 Top Trends for Conversational AI  
Integrations

– Traditional chatbot applications mostly provide a simple conversational exchange but organizations can look to include integrations within conversational AI platforms to achieve a far greater level of personalization within interactions.  

A no-code approach

– Businesses can now be able to lessen the workload on IT teams as a non-code approach to conversational AI can help any department manage projects themselves in the language and complexity of choice.   

Personalization

– Conversational AI systems can combine the best of the application of Natural Language Processing (NLP), Machine Learning, and sentiment analysis to easily understand the meaning and intent of user queries and ensure personalized responses in a quick time.  
2. Predictive Analytics to Deliver Superior Accuracy with AI 
When it comes to forecasting future trends, we know how most businesses often rely on predictive analytics — which uses statistical algorithms in combination with internal and external data.   
This helps them in many areas such as optimizing inventory, improving delivery times, reducing operation costs, and ultimately increasing sales and revenues. 
However, predictive analytics does not always yield the kind of accuracy needed, mostly in cases when historical data fails to predict the course of culture.  
All this however can change this year and we can certainly expect more enterprises to think of pairing predictive analytics with artificial intelligence trends in 2023. Doing this will help them achieve more accurate and timely forecasting. 
After all, implementing AI could easily decrease operational costs as reported by 44% of executives across industry verticals.    
More importantly, pairing predictive analytics models with AI can be key in improving accuracy level as then you will have up-to-the-minute data for every resource and system.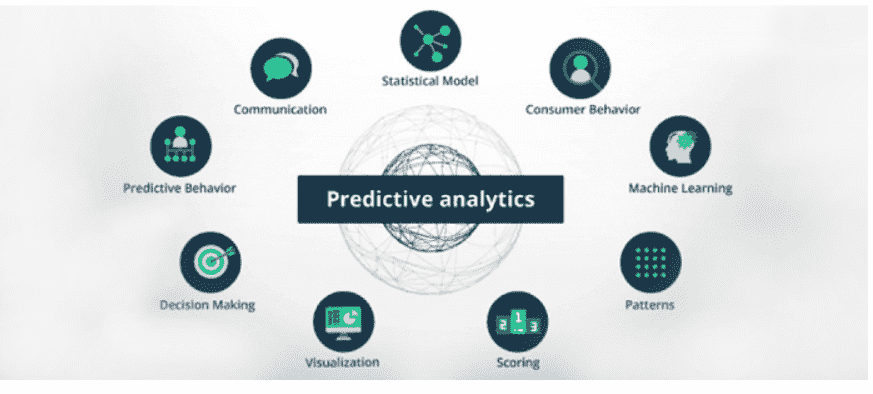 How to Enhance Predictive Analytics with AI?
Your business can

sync real-time data with AI to optimize various processes

and operations, record patterns, and get timely insight into what is needed to be done to ensure smooth functioning. 

The power of analytics and

AI can help you prepare for unforeseen challenges

, get future insights into how to prepare for the future, and then optimize the delivery schedule.  
3. Connected Devices to Turn More Advanced with AI + IoT (AIoT) 
In 2023, the world is going to have more connected devices than ever before. 
And this connection would not be possible without the Internet of Things ( IoT) and artificial intelligence (AI). 
Both may be separate concepts but they can well be combined together to transform virtually everything in the way we live, including the way we do business. 
In fact, IT experts see how they both together can open the window to more innovation, productivity, and competitive advantages. 
To understand it more clearly, you need to know how AI needs data whereas the bulk amount of IoT data might go futile if not leveraged with AI. This is why  "AIoT" (Artificial Intelligence of Things) is needed. 
In fact, the IDC study found that business leaders had their expectations not only met but exceeded through the use of AI in IoT projects. 
The best thing, AIoT can have a significant positive impact across processes and systems for every industry, be it employee productivity, innovation, or operative costs.  
Current AI and IoT trends in 2023
Insights of data from IoT solution

–  Data collection with connected devices is set to grow further and the coming together of Big Data, AI and IoT can help create more opportunities for getting insights into everyday life data.  

AI to further help IoT devices in the decision-making process

– The use of various artificial intelligence technologies such as visual inspection, face and voice recognition, conversational AI, and biometric verification could further accelerate the decision-making of connected devices be it smart homes, smart cars, smart offices, etc.   

 
4. Fewer Cases of Security Breach with AI in Cybersecurity
Cybercriminals are smarter than you think. They will always find ways through a security system no matter how advanced you make it.
This however does not mean you feel worried and expect more cases of security breaches in 2023. 
So, what should industries exactly do to stay on top of security threats?  
Well, they need to aim for the adoption of AI cybersecurity as only it can help allay any fears in regard to security breaches. 
The focus should also be to leverage more of current trends in artificial intelligence as well as machine learning-based platforms to make it more challenging for attackers.  
To achieve that goal, industries first need to understand the emerging AI-powered cybersecurity trends so that they can plan their security better.
Read 6 Ways AI Can Transform Your Customer Experience (CX) to know what else you can do to ensure a great time for customers.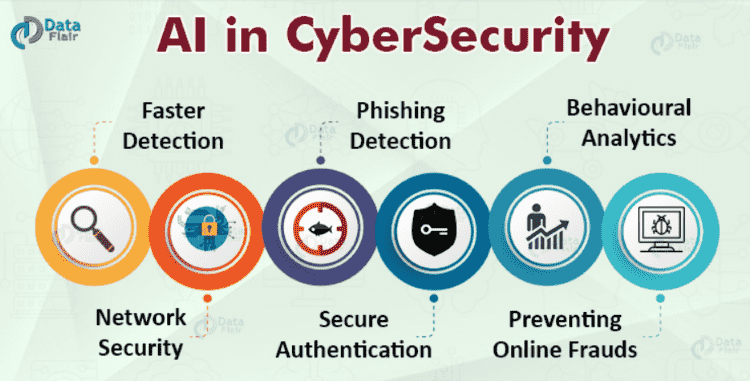 Source
AI-driven Cybersecurity Trends to Watch Out for in 2023
The use of AI can help organizations greatly reduce the amount of manual effort needed to implement identity and access management systems by introducing

smart automation into security systems.

Using AI can help businesses monitor and analyze user activities, identify anomalous behavior and also

enhance security across the customer authentication experience

.

Due to advances in AI-powered blockchain, newer systems could be implemented to analyze data chains in bulk to ensure speed and efficiency in the security processes. 

 
5. Quantum Computing with AI to Bring Quick insights from Large Data  
Are you prepared to upgrade to the new-age computational opportunities and challenges?
You indeed are if keep an eye on the latest development in quantum AI and machine learning trends 2023. After all, quantum computing is a new kind of computing with the capability to do mathematical calculations beyond the reach of even our most advanced supercomputers. 
And when the need of processing huge amounts of complex databases arises, experts always think of bringing together quantum computing and AI (Artificial Intelligence). After all, quantum computing will fetch results not possible with classical computers. 
It's a pinnacle in machine learning trends and when the power of AI is added to it, it becomes easier to get insights into large amounts of data.  
Latest Machine Learning Trends for Quantum Computing  
Quantum computers with AI will manage a huge amount of data,

uncover patterns, and spot anomalies very quickly

. This will help solve different kinds of business problems easily to make better decisions.  

More companies will look to

change real-world problems into quantum language

and then process it to solve complex problems very quickly. 

Companies in the heartcare and financial sector can

create better models with quantum technology

to get gain more in-depth insights and enhance operational efficiency in a big way.  

 
6. RPA + AI = Intelligent Automation 
How to make the most of intelligent automation?
Well, the easiest way is by staying aware of the current AI trends in 2023 and then implementing the best that suits your business. 
You also need to think of combining artificial intelligence (AI) and robotic process automation (RPA) to leverage intelligent automation and also unlock massive new possibilities for enterprises everywhere.
With RPA technology now using advanced AI skills in the form of machine learning, NLP, and image recognition, this will make robots more powerful in terms of handling cognitive processes of various dimensions.  
RPA can serve as a vital cog in the delivery system for companies that look to accelerate their integration of AI into key activities and decisions. This is how robots can help automate decision-making processes and do complex analyses to simplify everyday operations. 
To make the most of intelligent automation, you need to be aware of the current AI trends in 2023 and then implement the best that suits your business.  
AI-powered chatbots can bring more benefits to your business. To know them all, read our blog on 10 Awesome Chatbot Benefits for Your Business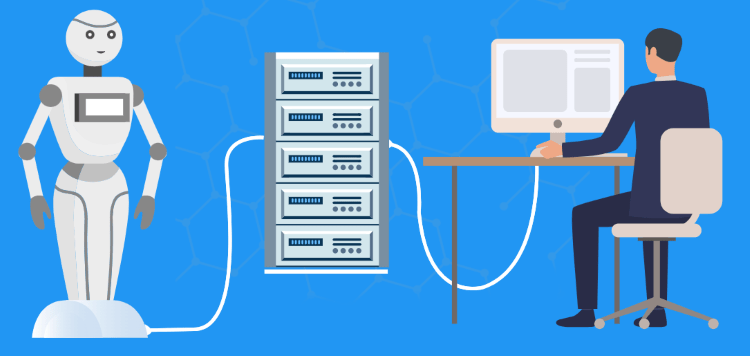 Latest AI Trends 2023 with RPA  
Increased productivity –

More organizations may look to use RPA to create bots for automating applications and processes, therefore achieving an increased level of decision-making and great result with forecasting. 

Improved accuracy

– Apart from using RAP to automate processes, many companies will also look to leverage Optical Character Recognition technology ( OCR) to quicken data processing and enable automation of data extraction from many sources. 

 
7. Responsible AI to Gain More Traction 
With great potential comes greater risks. 
In 2023, artificial intelligence trends will evolve more and this can be both, either a challenge or an opportunity, depending on how you use it.    
Whether to use this potential for the good of society or serve its own selfish purpose, is something that falls under the purview of responsible AI.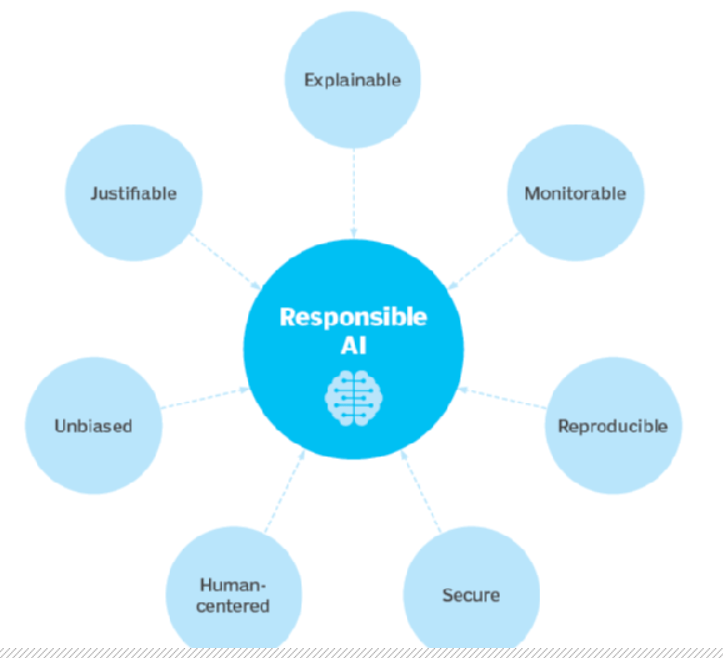 So, in the backdrop of immensely growing AI trends and technology, enterprises need to ask these questions to themselves – 
Are you using AI to make bias-ware decisions?

Are you violating anyone's privacy when using AI?

Are you ready to use AI ethically in order to make technology responsible?

Are you using data that is prepared for future regulation? 
Whatever your response, there is always some merit to joining those 20% of companies that have an ethical framework in place with the use of AI. 
And the most important part is, you're never late to start making plans to improve the governance of AI-powered processes and systems.   
8. AI in Healthcare to Accelerate Contactless Patient Care   
Covid has changed the way we look up at healthcare. It has forced us to look for contactless and digital treatments. 
Among many other things, it also taught how treatments might not look the same in the coming years, starting from 2023 itself.
Well, the 'treatments of the future appear more of a reality than science fiction as robotics and AI are continuously enabling enhanced medical decision-making powered by machine learning. 
To go a step further, AI and ML tools are already being used in healthcare to get insights into human health, recommend preventive steps to people and help doctors remotely track the health of their patients. 
With AI, the world is set to witness a transformation in how healthcare is delivered with a visible improvement in productivity and efficiency of care delivery. 
And with the potential to transform patient outcomes, Artificial Intelligence (AI) is going to stay at the forefront of the emerging revolution in healthcare. 
To get more clarity, read our blog on 14 Real Life Chatbot Examples to Implement your Bot Strategy.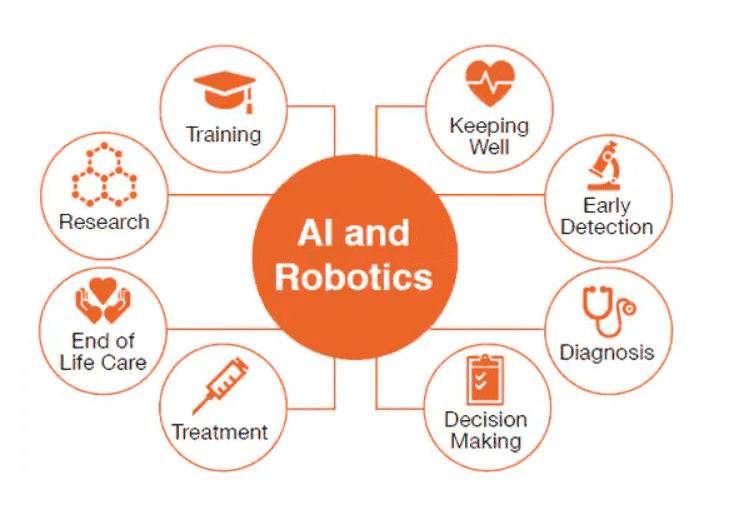 Recent AI Trends in 2023 for Healthcare 
The future is

robot-assisted surgeries

as more robot-powered devices with varying AI capabilities will hit the market this year to enable a smooth doctor-machine collaboration like never before. 

AI will transform the way

patients monitor their health from home through wearables

and wi-fi enabled personal devices which can reduce hospital visits.

Chatbots will incorporate more machine learning future trends to prove a great tool

in assisting healthcare professionals to diagnose patients and deal with the entire process in a smooth manner.    

 
9. More Secure and Quicker Financial Services with AI  
When it comes to our hard-earned money, we like to trust only experts, whether in person or technology. 
And artificial intelligence is something that has won the trust of many and it will hopefully add more admirers to its kitty. 
After all, financial institutions have already adopted automation to some of their routine processes and now their focus is on adding AI into the mix to unlock new possibilities. 
The use of recent trends in artificial intelligence will help build robust digital capabilities and therefore help deliver a great customer experience.  
AI will be used for more specialized automation tasks — surely more than RPA-driven ones. So, more financial firms will look to leverage the potential of artificial intelligence technology to do a variety of tasks such as offering financial advice, helping customers with money management, etc.
In addition, the use of AI trends will help every financial firm offer tailored products and services to customers together with cutting down internal process deficiencies along the way. 
Companies will also use the combination of machine learning, NLP, and AI to boost their operations and change the contours of customer interactions.   
Read our blog on Chatbots for Financial Services: Benefits, Examples, and Trends and understand how AI-powered bots are transforming the delivery of financial services.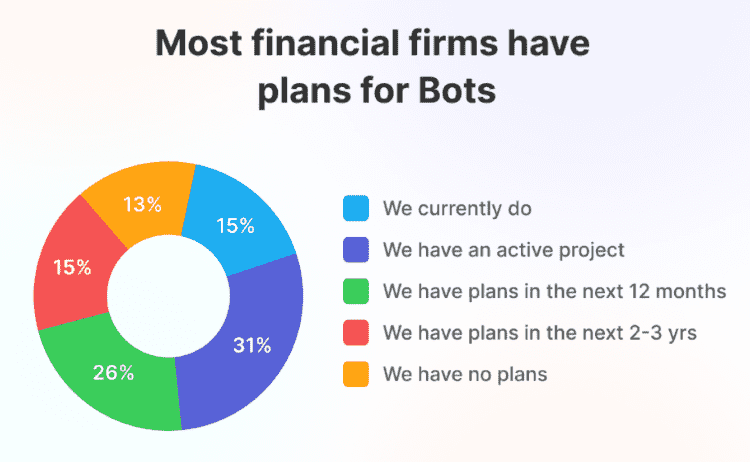 Source
AI Trends in Financial Services 
Financial players look to

accelerate the use of AI and analytics

— and also build their own machine learning (ML) models — to analyze tons of customer data, and handle large amounts of unstructured documents easily. 

More banks will

use AI and RPA to eliminate human errors

in different processes which, in turn, can minimize security issues and ensure value to customers.   
10. Natural Language Processing (NLP) to Minimize Language Barriers 
Natural Language Processing (NLP) is one of the exciting fields of AI which has been a driving force behind many technologies like translators, voice assistants, etc. 
So, in 2023, more companies will see the utility of NLP in helping humans speak with machines that comprehend their language.  
The NLP technology is evolving and can now better understand the context nuances, and ambiguities of human language.  
For that reason, more companies plan to use NLP to draw out insights from large amounts of data and automate tasks like question answering.  
To know more about similar AI trends, read our post on Top 12 Chatbots Trends and Statistics to Follow in 2023 
AI Trends for NLP
Monitoring social media using NLP is going to get more traction

as brands will be able to detect negative comments, identify areas for improvement and gain real-time analysis of customer insights.  

Developing NLP models might soon be a low-code affair with little to no knowledge of AI and machine learning and you can expect

more no-code tools to enter the NLP area

and ease the entire natural language processing for everyone.  

 
Recent Conversational AI Trends 2023 
Conversational AI is set to grow more as the world fosters digital advancement and businesses plan to enhance customer communication. 
Since it enables human-like interactions, you can expect more organizations to leverage conversational chatbots to deliver the best of both worlds – personalized engagements and support at scale. 
We, at REVE Chat, help businesses leverage the power of conversational AI to understand users better and take more effective action with fewer steps.   
If you use our conversational AI chatbot, it will change every aspect of when, where, and how to engage with people. 
For more help, read our post on 8 Proven Ways to Use Chatbots for Conversational Marketing.  
Key Components of REVE Chat's Conversational AI Chatbots 
Machine Learning (ML)

– Machine learning trends and capabilities will be a key aspect of our bots comprising a set of algorithms and data sets to better respond to the user by analyzing human agent responses. 

Natural Language Processing (NLP)

– NLP will also be a vital feature of the chatbots to impart the ability to "read" or parse human language text to easily understand natural sentence structures. 

Integrations

– Integrations are a vital part of our chatbot structure to ensure more autonomous actions for businesses. They enable the systems to execute end-to-end actions via APIs and other operations tools.  
Stay at the Forefront of Tech Innovation with the Latest Artificial Intelligence Trends
AI technologies are evolving at a rapid rate and your business must always strive to keep pace with them. Using the power of artificial intelligence can ensure you stay relevant in the market on the back of improved customer communication. 
With REVE Chat, implement the virtues of artificial intelligence chatbot systems and help your business maintain modern trends. 
Use our chatbot platform to change the way you approach customer service, marketing, or conversions. Let our adoption of the latest AI trends in 2023 and tools add great conversation depth to your bots and make them incredibly powerful in the true sense.