Interactions with customers are always at the center of a successful marketing strategy.  
And if your business can engage buyers effectively either on the website or in the app, it will easily achieve the sales goals on any scale.   
This is why chatbots are now a top channel of communication between customers and businesses.
Having an AI bot is a wise approach as 53% of consumers are more likely to shop with a business they can message. 
The use of AI-enabled bots can help you automate repetitive tasks and market the business in a big way.  
Chatbots for marketing is becoming an incredibly powerful marketing tool for businesses to improve customer engagement and qualify leads with dynamic conversational capabilities.  
What is Chatbot Marketing?
Chatbot marketing is an innovative approach of employing computer programs to automate interactions with prospects and drive revenue. It's used to qualify and engage with leads round the clock regardless of whether or not the marketing & sales team are available online. 
The purpose of bot marketing is to answer support questions and start conversations with website visitors as and when needed. It can help businesses promote their products or services with targeted messaging to boost customer engagement and increase brand visibility.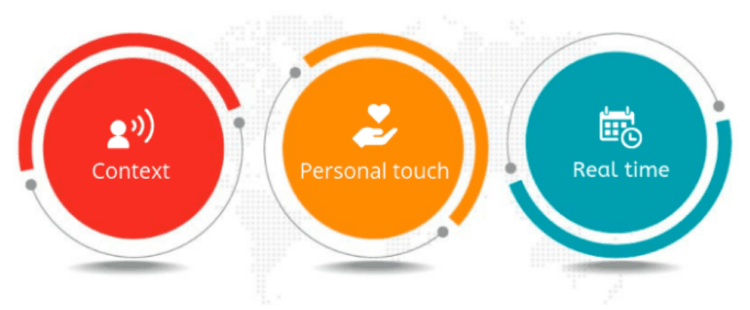 Businesses implementing the chatbot strategy for digital marketing should know its three key components –  
Understand the context of every conversation to make it effective.

Personalize every conversation to make customers feel connected to your business.

Leverage the concept of chatbot marketing by engaging with customers in real-time either with a human or a bot. 
Key Benefits of Conversational Marketing with Chatbots
A well-devised chatbot marketing campaign is extremely helpful in engaging prospects browsing through your website or social media and converting them to marketing qualified leads (MQLs) or sales qualified leads (SQLs) at scale. And when conversational bots are leveraged, you can achieve all your digital marketing targets without increasing your headcount.
There are many chatbot business benefits you can think of when you plan artificial intelligence for marketing. 
Increase lead generation

– Your business can rely on a

lead generation chatbot

to promptly answer sales queries and filter prospects by asking questions when the sales team is busy or not available.  

Boost customer engagement

– The use of an AI bot allows you to communicate with a bigger targeted audience and enhance engagement on a consistent basis.

Save time and cost

–  Bots are a one-time investment and can be available 24×7, allowing you the freedom to engage customers with real-time responses and easily scale your marketing conversations with minimum resources.

Provide faster responses

– Deploying a bot can help you deliver prompt responses to users, resolve queries faster and ensure a positive user experience which all eventually improves your brand credibility.

Collect data for analysis

– A

chatbot template for marketing

can help collect data from customers and gain crucial insights into the needs and preferences of your targeted audience, therefore ensuring better communication results with your marketing. 
8 Proven Ways to Use Chatbots for Conversational Marketing   
Chatbots can help automate marketing communication and ensure instant and timely responses to customers. By making conversational AI chatbots a part of marketing initiatives, your business can also push customers seamlessly through the sales funnel and drive conversions. 
There are many ways to fit marketing bots into your customer outreach strategy and gain value for your business. 
Let's look at each of the ways in detail;     
#1. Automate part of the marketing process 
Marketing takes effort as there are so many different things to do to get the message across to customers. 
Most of the time, businesses find it hard to put together the work and resources needed to make their marketing successful.
Conversational bots can help a lot on that front – they make marketing easier and more streamlined by automating some of the processes, particularly those at the early stages.  
You can count on chatbots to handle initial communication and collect any necessary details from the customers.

You can

deploy marketing bots to communicate with customers 24×7

on your website or in-app and gather contact details for sales calls. 

AI bots can be trained with common FAQs to

easily answer common customer service questions

and guide users through sales issues.
#2. Boost the volume of marketing conversations
Marketing is all about conversations. 
Brands that handle customer communication well always achieve a greater level of success with digital marketing strategies compared to others. 
Since chatbots can automate a big part of the marketing process, you will have more bandwidth to handle a higher volume of conversations and close more sales calls.  
Naturally, conversational bots will help you reach out to more customers, start more conversations and achieve a better engagement. 
So, your business should benefit from chatbot features to bolster the marketing strategy and ensure value to customers. 
Tips to use marketing chatbots to increase conversations
The strategic use of chatbots can help you

market your products to new geographies

, therefore, bringing more chances of customer communication. 

You can adopt personalization in the way you communicate with customers and

take a data-driven approach to reach out to new users

for engagement purposes. 
#3. Auto qualify your leads 
Most businesses don't rely on sales reps alone anymore to qualify leads. 
They now deploy chatbots to automate lead qualification processes and get a decent number of leads.  
AI bots are proving a great tool to auto qualify leads because they can ask relevant prequalifying questions to visitors. 
What's more, chatbots for lead generation allow customers to quickly make choices by simply selecting the option most relevant to them. 
They make it more engaging for customers to submit their contact information instead of using the traditional method of filling out forms.

How does bot marketing add value to the lead generation process? 
Drastically reduces the sales cycle and improves the entire process.

Saves the agents' time and lets them focus on important teams and filter out junk leads.

Ensures lead generation in real-time so customers do not have to wait for days. 
#4. Nurture the Captured Leads  
Conversational bots not only qualify the high intent leads but also help nurture the captured leads, providing you with greater possibilities to generate new sales. 
The information your bots gather with lead generation — regarding your customers' needs, behaviors, and preferences — can be used to know them better and help them convert.
Once the marketing bot filters out the sales prospects, it can schedule a meeting or transfer the high intent leads to the sales team in real-time for instant closure.
This shows how bots-powered conversational customer experience not only generates prospects but also ensures leads. 
Benefits of nurturing leads with marketing bot 
Increase sales conversions and business revenue significantly

Boost customer satisfaction with real-time assistance 

Improve brand image and credibility with timely answers to customer queries
#5. Schedule meetings
Booking meetings with customers is a vital part of the marketing process and brands that are good at it often get more leads than others.   
However, managing appointments is really a time-consuming task, and doing it manually may mean your resources can get busy with no time for other complex issues. 
To avoid that scenario, you should turn to automation as chatbots are a great tool for saving time with meetings. 
Using chatbot marketing makes it quite easy to schedule, modify and cancel meetings, all without involving any human help which can easily help with the sales.
More importantly, bot enabled with your calendar schedule and meeting preferences can help in sending you the invite as well. 

Why should you schedule meetings with a marketing bot?
You can save time by looking up everyone's schedules automatically.

It will be possible to get meeting schedules in an instant.

Bots can allow participants to vote on the best time for a meeting.    
#6. Personalize the user experience
71% of customers prefer personalized ads.
When your business adopts personalization, it ensures customized experiences for users.   
With bot marketing, it becomes incredibly easy to not only personalize the experiences but also to ensure relevant offers and discounts to customers. 
The good thing, all you need to do is to use the data from users and then leverage it to customize the experience. 
You can use information such as customer name, gender, location, previous browsing history, and past purchases to personalize the experience. 
So, you should never bother about chatbot price else it might not be possible to personalize the experience. 
How to use chatbots for marketing to personalize the user experience?
Program your bot to

initiate conversations with website visitors

so that you get details to customize their experience with your brand.

Use chatbot surveys to

understand what customers expect of your business

and then try to bridge the gap between what you presently offer and what you should do now.  
#7. Offer order tracking & shipment details 
After booking an order, the last thing customers want is to wait. 
And their frustration level further grows when they are unable to get any updates, notifications, or status regarding the order.  
This kind of situation can easily be avoided if you are ready to automate the entire process of order tracking of products. 
In fact, businesses in logistics are adopting using AI-powered bots to increase efficiency across the entire logistics value chain.
You can also use conversational chatbots to improve customer engagement examples in a big way. 
How do marketing chatbots help with the order tracking strategy?
Customers can avoid the long offline queue and t

rack their order in real-time by using the messenger

and simply by asking the chatbot, "Can you share the shipment status now?"

Chatbots for marketing can help customers book the place for shipment

, time, and tracking map online just by providing all the information regarding items to transport.  
#8. Widen your brand reach 
Artificial intelligence is a great technology to widen the reach of your business without investing anything substantial in terms of infrastructure.   
AI-driven chatbots on social media messaging platforms can enable your business to reach out to a bigger audience quickly and easily. 
You can use those bots to reach a new customer base for your brand and tap into new demographics without much investment. 
More so, chatbot marketing can also help with lead generation in new markets which can ensure growth for your business.  
Best practices in using bots to widen your brand reach
Bots can be integrated across multiple messaging applications, thus making you

be more readily available to help your customers

. It opens new opportunities for you to increase sales. 

With chatbots, you can

grab your audience's attention and learn from the interaction

, allowing it to send relevant information regarding your products and services. 

The use of chatbots can make your business also able to

upsell and cross-sell in a personalized, conversational, and engaging way

. 
Chatbot digital marketing examples 
"Be where your customers are" is more than just a basic principle of digital marketing. It is the reason that compels businesses to take attempts and meet their customers. With AI bots, brands across industries are finding it easy to achieve the marketing goals and sales revenue significantly.
There are various ways businesses use chatbots for a successful digital marketing strategy.
1. ECommerce –
H&M
A growing number of eCommerce businesses now use chatbots to create a better experience for customers and drive their marketing to new levels. 
H&M, the well-known global fashion brand has developed an interactive bot with the purpose to guide users through the online store areas in a way that aligns with their purchase desires. The conversational bots help mobile customers navigate their search through outfit possibilities and get customized results quickly.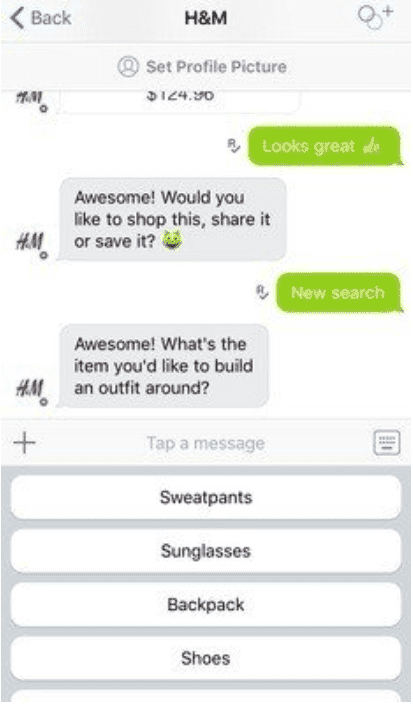 The company's consistent uptick in sales revenue and its announcement to launch an eCommerce presence in Canada and South Korea along with 11 new H&M online markets, clearly signifies positive results for its chatbot implementation. 
2. Airlines –
KLM
Improving customer loyalty and influencing their preferences is a priority for airlines. A Twitter study found that the faster an airline answered a passenger, the more that passenger was willing to pay for their next flight. 
KLM Royal Dutch Airlines handles more than 16,000 cases a week. So they built the BB chatbot to provide a personal, timely, and accurate answer. With BB, KLM is taking the next step in its social media strategy, offering personal service through technology, supported by human agents when needed.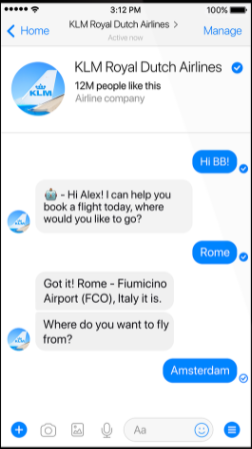 The BlueBot (BB) helps customers to book customers in a conversational manner. It is supported by 250 human service colleagues, who are at hand if BB can't help with a customer's query. The impact of the bot was that it answered more than 60,000 questions, received around 100,000 mentions per week, and 15,000 conversations per week.
3. Hospitality –
Marriott Hotel
Personalized services in the hospitality industry are extremely essential. With chatbots, you can provide customized assistance to your customers.
Marriott Hotel introduced ChatBotler, available to guests through text messages. The bot helps the guests to request basic hotel services, essentially acting as an in-phone concierge. Thus, there is no need for a middleman as it enables requests to be met quickly and efficiently.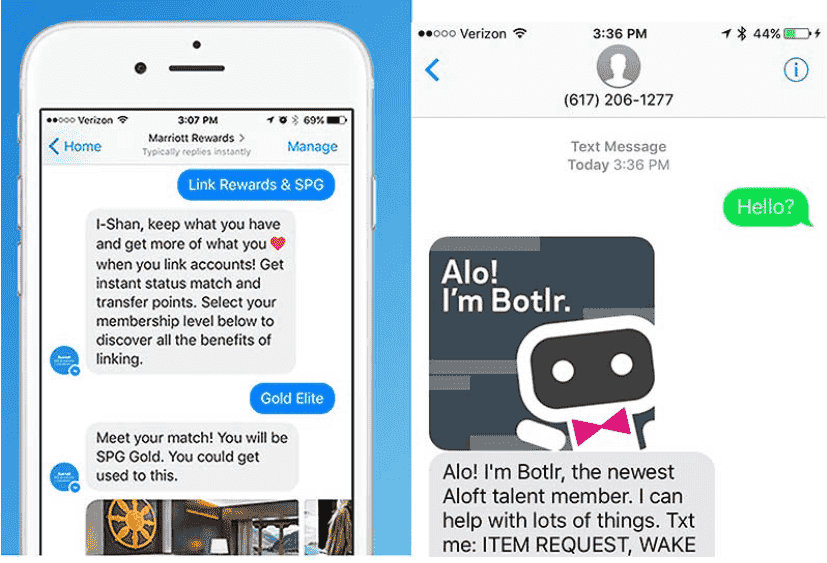 Apart from that, Marriott rewards members can interact with chatbots on Facebook Messenger to research and book travel at more than 4,700 hotels. 
4. HR – FirstJob – Mya Chatbot
FirstJob, an online-based recruiting firm created a chatbot Mya, in order to manage large candidate pools, giving the recruiters more time to focus on interviews and closing offers. 
Mya asks prescreen questions to the candidates, responds to FAQs, delivers application progress updates, gives tips & guidance to candidates; notifies candidates when a position has been filled, administers assessments and challenges.
Mya automates up to 75% of the qualifying and engagement process. It improves the recruiter efficiency by 38% and increases candidate engagement by over 150%.
In the food and beverage industry, chatbots are being used by top restaurants, grocery brands, etc to increase brand awareness and engage with more customers by providing exciting services with fun. 
Whole Foods' Facebook Messenger Bot is just as exciting, connecting with users by providing recipes, products, and cooking inspiration. It offers filters and options for different types of food, including international cuisines with each message. Whole Foods makes it easy for users to narrow in on the kind of recipe they're looking for.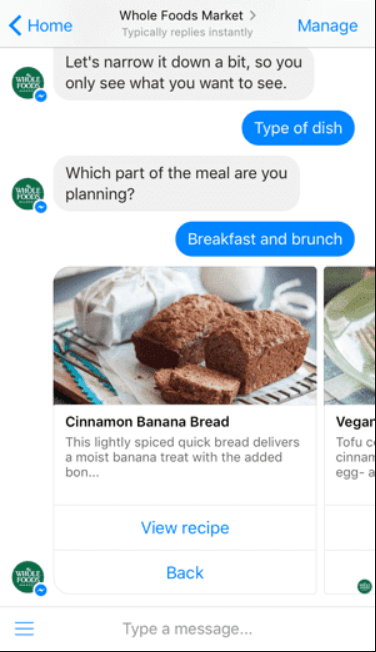 Whole Foods' chatbot drives traffic to their site from a platform where users spend 50 minutes a day (on average). Additionally, with 60 million emojis are used on Facebook per day, Whole Foods' bot replicates a typical (human-to-human) messenger conversation by allowing users to shortcut their way to specific recipes using emojis.
Apart from these examples, various other industries too use chatbots for leads and sales. You can easily find how top carmakers rely on bots for lead generation automotive or health sector firms use bots to diagnose patients easily. 
Improve Your Customer Interactions with Chatbots for Digital Marketing  
Chatbots definitely have a huge impact across the business spectrum whether sales, service, or marketing. In particular, the use of AI bots is giving a big boost to marketing strategies and helping businesses personalize the messages and get loyal customers. 
Even when the marketing objectives are different for businesses such as lead generation or customer engagement, bots can still help in all scenarios by redefining the way customer communication happens, So, you just need to define a clear objective as it helps to build successful chatbots to scale your conversational marketing strategy.