A customer acquisition strategy is a tool that helps brands acquire new customers and increase their brand awareness. It's important because it has a significant impact on the growth of your business. 
If your company has been in business for more than a year, you know that growth is an important part of any healthy brand. If your business is small, growth can be vital to its survival. 
One of the best things about implementing a customer acquisition strategy is that it gives you more exposure as a brand. You can start reaching out to potential customers who were previously unaware of you or your products and services.
In addition, it doesn't matter how great your business is if you can't serve your customers. When you have more customers, you'll have more sales and more money in the bank. It's simple. An effective customer acquisition strategy is the best way to get new customers and keep your existing ones happy.
In this article, we will highlight customer acquisition strategy, process, and examples. 
What is Customer Acquisition Strategy?
Customer acquisition strategy is a formula that you can use to achieve your e-commerce goals. It's not a magic bullet, but it will give you the tools to understand how to get more customers for your e-commerce business.
For new businesses or even those that have been around for a few years and are looking to build a sustainable business. There is no doubt that finding ways to acquire new customers quickly and cheaply is the key to survival. To do that, you need an effective customer acquisition strategy eCommerce.
A good customer acquisition strategy is constantly evolving. It's based on data that can help you better understand your customers and potential customers, from their age and gender to how they like to spend their money.
Customer acquisition is a critical part of your customer acquisition strategy. Its intention is to drive customers to your website, from there, you can use inbound marketing to close the sale.
Four key factors of Customer Acquisition Strategy (CAS) can give your business a competitive edge in the market.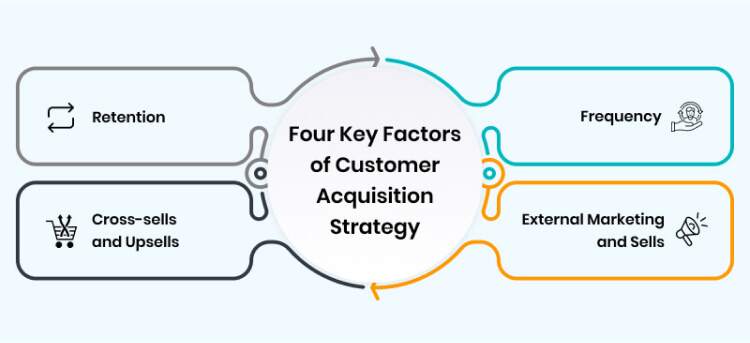 Retention 

Cross-sells and Upsells 

Frequency 

External Marketing and Sales
1. Retention – Retaining existing customers is a critical part of any CAS. This can be done by ensuring that you are meeting your customers' needs. Providing excellent service will not only ensure repeat purchases but will also encourage recommendations and referrals.
2. Cross-sells and Upsells – Customers who have made more than one purchase from your store are more likely to spend more on their next visit than those who have only made a single purchase. 
You can encourage cross-selling by offering products that complement the initial purchase; or up-selling by offering higher-end or luxury versions of the product purchased.
3. Frequency – You should aim to make your store as accessible as possible for your customers and increase the frequency with which they visit it. 
This can be done by providing high-quality content that is interesting, relevant, and valuable to them, as well as direct communication with your customers to inform them about new products or services.
4. External marketing and sales – External marketing comprises all forms of marketing outside of your store – including public relations, social media, and targeted campaigns. By carrying out these activities, you will gain visibility and recognition in your market and ensure maximum impact on customers' perception of how your brand stands out from the rest.
8 Best Customer Acquisition Strategies 
The customer acquisition strategy is the vehicle by which your business acquires new customers and grows. At any stage of your company, you should have a clear understanding of how you are bringing in new customers and growing your business.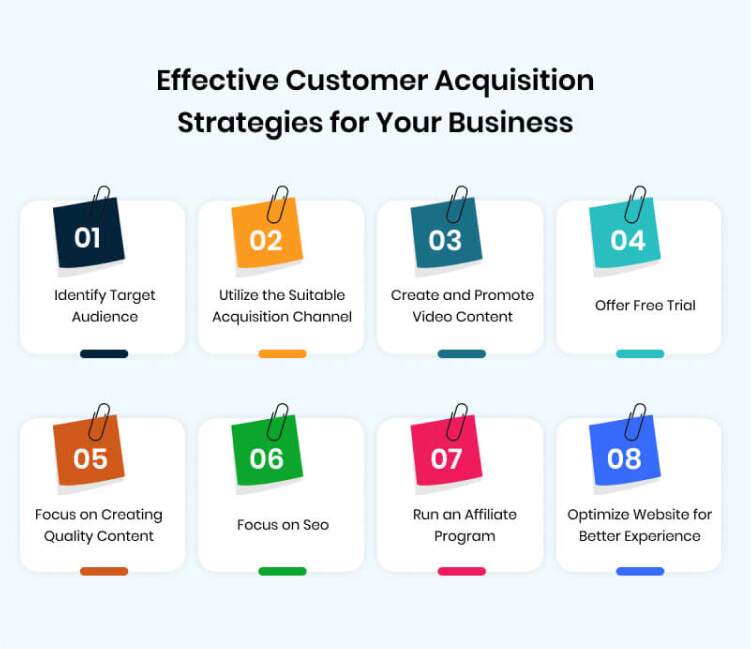 There are many key factors for developing a customer acquisition strategy for your business. Let's take a look at the 9 best customer acquisition strategies (CAS). 
1. Identify Target Audience
Figure out who are your customers. Make a list of their characteristics and get to know what they like and dislike about your brand. Find out what needs your customers have and how can you fulfill them. This information is crucial as it will help you create not only a great product but also a great company culture. 
We have to make sure that we have the right target audience before we start figuring out what acquisition channels to utilize.
Identifying who you are targeting in your marketing and sales efforts will be more effective and can lead to better gains in growth in your business.

To figure out who you're trying to sell to, first decide what you're selling and try to picture your ideal customer or client. 
2. Utilize the Suitable Acquisition Channel
There are multiple channels out there that you can tap into, but some are more suitable for your business than others. The correct key to a suitable acquisition channel is understanding. You need to perceive what your options are, how they relate to each other, and which ones will give you the absolute best outcomes.
Online is a fantastic way to acquire customers at an economical price. If you are searching for an inexpensive, easy manner to acquire new customers, the internet is a fantastic place to start.

Online can be a lot more than simply a place to promote your business products and services. It's also an excellent option for promoting brand awareness, as well as building up a household name.
3. Create and Promote Video Content
When it comes to lead generation and customer acquisition, video content has been proven to deliver results. For example, a survey by Brightcove found that 74% of B2B marketers are using video as a content marketing tactic. And as you can see from the example below, we've had great success with our own campaigns.
Video content is one of the most popular things people share and watch today. According to a study by Cisco, by 2017, people will be consuming over 80% of their content through video.

In today's digital marketing world, creating and promoting video content is one of the most important ways to reach your target audience.

Using video content is not only a solid B2C but also among very effective B2B marketing strategies a business can employ. 
4. Offer Free Trial 
Attracting new customers is not an easy job. It is always useful to have multiple options in order to acquire new customers and convert them into loyal customers. 
A free trial offer

(just like this

)is a great way to compel your potential customers to experience your product. 

It helps them know more about your product, and also acts as a way to generate leads for your brand. Even if they don't become a customer after their trial period, they will remember your brand because they've experienced it before. 

It's always good to let them use the product first before asking them to purchase it. After all, that is what a free trial is all about.
5. Focus on Creating Quality Content
We all love to share content on social media, but how do we really know if it's helping our business? Or that what we're sharing is working or not?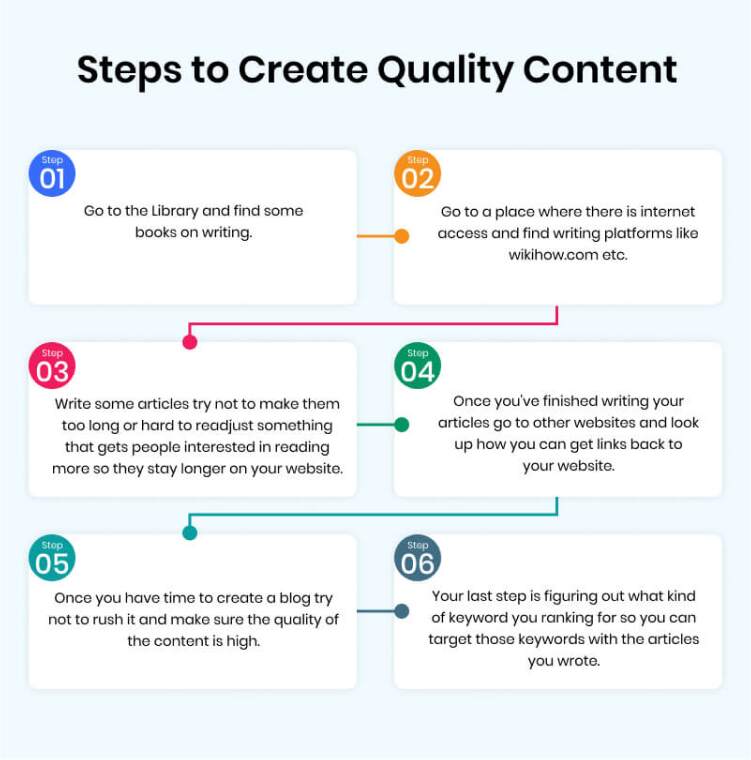 Creating an online presence for your business can be a very difficult task, especially if you don't know what you're doing. When it comes to creating quality content for your website I want to show you how it's done. This can be done by just following these simple steps:
Go to the Library and find some books on writing.

Go to a place where there is internet access and find writing platforms like wikihow.com etc.

Write some articles try not to make them too long or hard to readjust something that gets people interested in reading more so they stay longer on your website.

Once you've finished writing your articles go to other websites and look up how you can get links back to your website.

Once you have time to create a blog try not to rush it and make sure the quality of the content is high.

Your last step is figuring out what kind of keyword you ranking for so you can target those keywords with the articles you wrote.
6. Focus on SEO
SEO stands for search engine optimization. SEO involves creating and distributing content that helps your site show up at the top of search engine results like Google, Bing, and Yahoo.
Businesses need to focus on SEO to make sure they are creating a good customer acquisition strategy.
These days, people go online and search for products they would like to buy. There are hundreds of sites that offer the same products but consumers usually choose the ones that show first in their search results.
How SEO can help you? 
It helps you get more targeted visitors so you know that they are there looking for what you have to offer.

It can help you in getting your website to the 1 st page of the search engine results. 
7. Run an Affiliate Program
The affiliate program is one of the traditional methods for online marketing, helping companies attract new business by placing banners, buttons, and links on their websites. This way businesses can gain new customers, while users can make money by promoting products and making sales.
There is no product, service, or even a blog post for which no one would need marketing, but if you're new in the game of creating a profitable business and aren't having much success in attracting quality customers, you definitely will need to find some other channels.

Once you decide to move forward with setting up an affiliate program for your website, blog, or any other product or service, you will be immediately given the opportunity to increase your sales, while at the same time building a strong customer base.
8. Optimize Website for Better Experience
No matter what business you're in, your website needs to be optimized. You may think that it's working just fine, but if you want to improve your business, then you need to put in the effort to improve your website. When people are looking around your site, they can tell if you've taken the time to optimize. 
Here are some of the benefits of optimizing your site:
It is way easier for people to find what they are looking for on your site.

Optimized content is way easier for both the search engines and people to read through.

You will have a better time using social media services like Facebook, Twitter, and Google+.

Your bounce rate will go down, meaning more people will stick around and check out more than just one page on your site.

No more confusion from duplicated content.
How Does a Smart Customer Acquisition Process Help Grow Faster?
The smart customer acquisition process plays a key role in the sustainable and long-term success of any e-commerce business, starting with the right acquisition strategy, through to effective use of resources and tools, and ending with clear KPIs (Key Performance Indicators) that allow you to monitor the results of your work.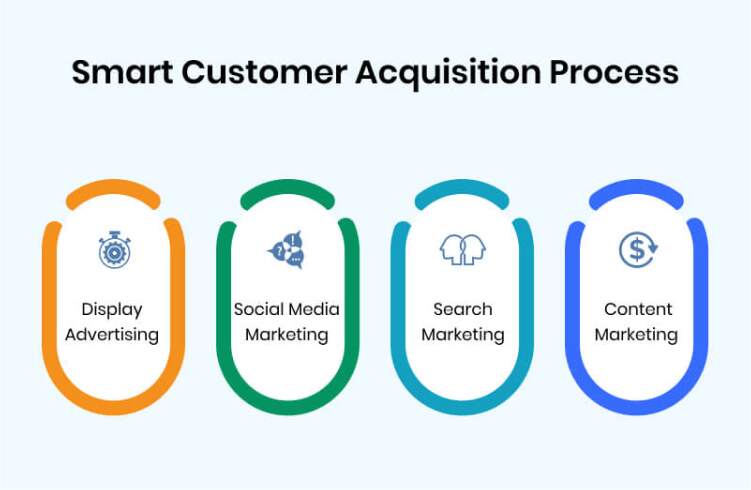 A smart customer acquisition process gives you confidence in choosing the right channels and investing according to your particular business model.
1. Display Advertising 
Display advertising helps your brand grow by reaching the people most likely to purchase a product or service based on their online behavior. It's no surprise that display has become the preferred brand-building investment across all industries. 
You have to advertise your products and services on the internet because it is one of the easiest ways to reach new customers.
2. Social Media Marketing
Social Media Marketing is the new sensation in marketing. Everyone owns a smartphone and people are using it to surf the internet and search for things that they want, need, or any information. 
The Internet has changed the way businesses operate, and it should be considered in your marketing plan. The internet has changed the way companies do business. It should be considered as a part of your marketing plan.
Social media marketing

is one of the best ways to connect directly with your customers and prospects. It's an amazing tool that allows you to focus on creating content and engaging with your ideal customers.

If you are really keen on using the power of social media for your business or for your organization, there are several things that you should be doing to ensure success.
3. Search Marketing
Search marketing is one of the best customer acquisition strategies for startups. It is crucial in order to build up a customer base. The more customers you have the easier it will be to grow with your startup. 
It is evident that customers from search engines are willing to invest more in your niche. If you do not make an active step in reaching out to these people, they might never reach your products or services. 

Potential customers are not only the people who type directly into the search bar but also those who use "related searches" and see what kind of products and services are good
4. Content Marketing
Content marketing involves using online outlets such as blogs and social media platforms to give potential customers insight into your business and your products. This can be supplemented by offering subscriber-only discounts, competitions, and other incentives to make sure that you keep those visitors coming back for more.
As the digital era is growing, more companies and so many small businesses are increasing their content marketing activities to reach their potential customer faster. 

Content marketing

is your next customer acquisition process. It's an innovative and effective method of making sure that you reach the right people with the right messages to persuade them that your brand is one that they need to know about.
How to Enhance Your Customer Acquisition Strategy?
Any company that desires to succeed in today's business world has a customer acquisition strategy. However, the actual tactics used tend to vary from industry to industry.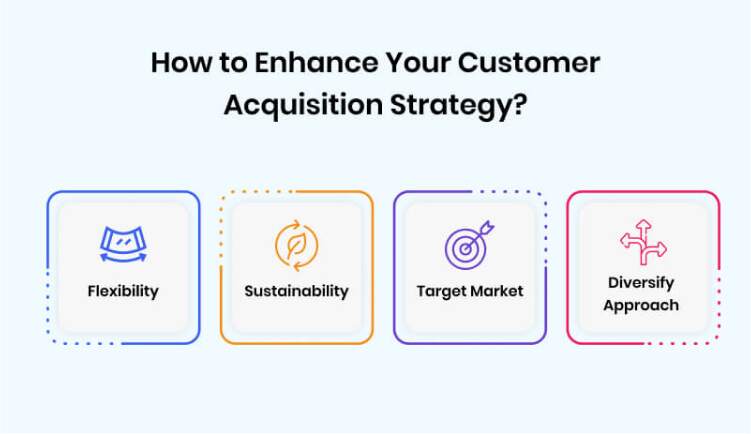 For example, product or service providers can utilize free trials and price promotions while service businesses often rely on building personal relationships with potential clients. 
Regardless, acquiring new customers involves a combination of creativity, ingenuity, strategy, and hard work; some things are just not as easy as they seem. 
Let's take a look at some of the effective ways to enhance customer acquisition strategy. 
1. Flexibility 
There is no doubt that customers are the lifeblood of your business and it's critical to have a strategy to acquire them. While there are many strategies for customer acquisition (SEO, Display, Social, SEM) one of the most overlooked and effective is flexibility. 
The flexibility to change your marketing message and trick or treat various channels. You should plan on using a number of channels, but you don't know which ones will give you the best return. 
You want to reach as many prospects as possible without burning cash. If you are stuck on one channel and it's not working you are wasting time, energy, and money.
The basic framework is this:
Figure out what you want to do with your marketing

Create a marketing message that gets people's attention

Create an ad that delivers your message

Run an ad on a channel that delivers the best ROI

Monitor and focus on the most successful channels
2. Sustainability 
When businesses get started, the focus is often narrowed to revenue and marketing. While successfully acquiring new customers is important, it's equally crucial to consider sustainability when doing so. The expansion of most businesses relies on the acquisition of new customers through marketing.
3. Target Market 
Social media has flooded the market with individuals and companies fighting to gain more market share. But why is it important to target a specific market of new customers?
The main focus of any company should be on how to reach its desired demographic as quickly as possible. I will use myself as an example. I am a student at university and I prefer to shop with small businesses in my local community. 
This demographic is a huge target market that has not been targeted by many small companies or startups.
When searching for your target market you must ask yourself who are you trying to reach? Literally think about it.
4. Diversify approach 
Once you've brainstormed a solid list of customer acquisition strategy examples, the next step is to decide which ones will work for your business. Generally, you'll need to mix and match different types of customer acquisition strategies in order to break through the noise and stand out from the crowd.
How an AI chatbot can help acquire more customers?
Chatbots are the new technological frontier in customer service and they are already starting to be used by companies to meet more consumer demand.
Similar to how companies have used multiple channels (email, social media, and telephone) to communicate with their customers, chatbots give companies another way to interact with their consumers.
What makes REVE Chat so exciting is that it helps companies talk directly with their customers. This chatbot can quickly help acquire new customers, resolve issues and upsell higher-margin items. With these added features, REVE Chat can create more lifetime value for e-commerce stores and brands. Sign Up now and enjoy a 14-days free trial.