"Companies need to prove their worth… if they wish to win customer loyalty"
How to get clients for your new business or how to win customers is one common challenge for every business, small or large.
Winning customers can be like a game. If so, how do you win? There are many possible ways and strategies to be implemented. With the right planning and decisions, winning can be a reality.
The game plan of how to win customers
Customers play a crucial role in any business. They hold the power to make a company prosper or fall. The secret to happy customers is the superior customer service that your company offers.
After customers, the employees are the biggest asset for your company. If your employees are happy it pays off impressing customers and retaining them. This attitude improves your brand image. It can also break the sales and retention of customers.
Source: klenty.com
Who is your ideal customer?
An ideal customer is the one who gets their exact needs met by the products or services you are offering. To know your ideal customer, you are supposed to define your product or service from the customer's point of view.
Tips to find out your ideal customer:
Determine your product or service from the customer's point of view

Define the ideal customer for what you sell

Determine the specific benefits your customer is seeking in buying your product

Determine the location of your exact customer
What is your Unique Selling Proposition (USP)?
If you are into a highly competitive market or even entering a new market, it is crucial to define how you are going to differentiate yourself among your competitors. Defining your unique selling proposition (USP) means identifying how your customers will perceive your brand.
In order to create your USP, you need to look into below key criteria:
What value do I deliver to my customers?

Why customers would buy from you and not from your competitors?
How will you communicate your positioning to customers?
Effective brand communication employs creativity as well as strategies to build powerful perceptions that attract your target audience and grow your business. To win customers, it is important to have a clearly defined brand positioning strategy.
With a well-defined brand positioning, you can develop meaningful stories that engage your target customers and reflect who you are, how you are different and why you matter.

Having a strong brand acts as a powerful tool that drives engagement with the services you offer and gives you a competitive edge.
12 strategies to win customers for your business
The below strategies and tips are the best answer about how to get clients for new business. Implementing the strategies help your business to build trust with clients and prove winning in business. Let us discuss some of the customer oriented marketing strategies to win customers for your business.
1.Target your customers with the right product
As a brand, you want to convey your messaging to your target customers.
Well, this may sound a bit tricky but it's actually not. In order to target your customers with the right product or service, you need to follow the below guidelines.
Identify your target customers: You need to have a good idea about your target market to build a profile of potential customers. An ideal customer profile will help you analyze what they want and how you can lure them. Always aim to offer something unique or better value for money than your competitors.
Identify customer pain points: The next step is to identify your customer pain points. It is very important to know or how your products or services are going to help them or solve their issues. Knowing the pain points help you to improve the loopholes and communicate with them in their preferred way.
Determine the right channel & messaging: The final step is to connect with your customers through the right channel and message. Guiding customers over their preferred channels of communication channels: voice, video, email, chat, and SMS to bridge the gap between customers.
2. Personalize your messaging
Personalization is one of the biggest marketing trends. Infosys research backs up this desire for better personalization, revealing that 31% of surveyed consumers say they wish their shopping experience was far more personalized than it currently is.
Post sales, the other customer profiles that can be targeted are who can provide repeat sales, those who can share positive reviews and individuals who can spread your message via social media.
Here are a few questions for you to consider for paving way for prospects:
What factors influence buyers' purchase decisions?

Is your product or service satisfying the right need?

What's stopping them from using your product to fulfill their needs? Are these barriers real or perceived?
Understanding the answers to the above questions is essential for optimizing messaging. Learning where customers are coming from, which sources provide the highest rate of conversion and where you are losing customers will help you to make adjustments to your marketing mix strategy that will improve your company's graph.
3. Be where your customers are
The companies that follow a strong omnichannel strategy retains an average of 89% of customers compared with 33% for those with weak omnichannel strategies.
Omni channel strategy digs into understand your customer lifecycle and engage with them across their buying journey across all touchpoints.
Your customers may reach out to you across various channels such as website, social media, messaging apps, mobile, call center, online forums, physical stores, etc.

A core part of how to win customers include:
Identifying the channels where your customers are present.

Creating an engagement started those touch points

Delivering a consistent engagement throughout the customer journey
Oasis's Instagram account is an epic example of social engagement point of view. It created a gallery of user-generated Instagram content, essentially encouraging customers to model the clothes they have bought.
4. Deliver personalized experience with live engagement
How do you gain customer trust and confidence? By helping your customers.
And how can you do it? One of the better ways is with the help of live engagement tools.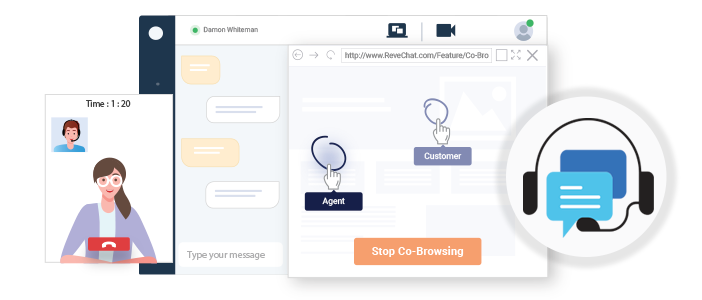 You can guide your customers in their buying journey by personalizing the communication using live customer engagement . With the help of the tools, you can improve customer satisfaction with instant personalized service.
Co-browsing solution helps during complex transactions such form fill up, product demos, customer on-boarding. With just one click, agents can view the customer's screen and guide them to complete the necessary action or complex queries.
With engagement tools such as video chat and voice chat, businesses can have personalized interactions with customers and offer a tailored solution. Such personalized conversations build trust with clients and are one of the strategies to win customers
5. Help them/engage with them during their entire buying journey
"In business, it's about customers. It's about relationships."
For any brand to be successful, it must deliver a compelling experience at every touchpoint with the customer. This is one thing we all know and agree. Engaging and guiding customers during their buying journey are the foundation by which any brand can become successful.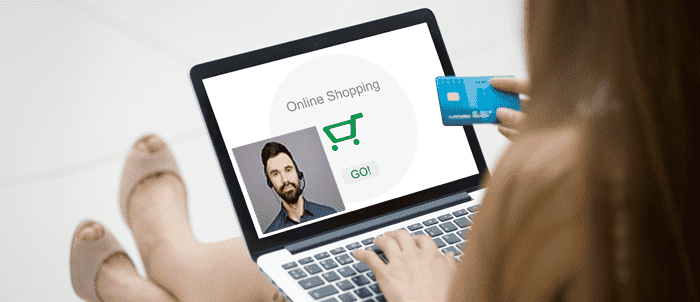 It is very important to deliver a great experience when a customer first hears about your brand, as these customers will turn to be your brand advocates. It means that at every stage of the customer journey needs to be seamlessly integrated, from the consumer perspective, into an ongoing relationship.
6.  Build trust with clients
Building strong relationships with existing clients can set you up for repeat business. There is no better marketing strategy than focusing in trust building with customers. And even if clients don't return to you, they may recommend you to friends and colleagues.
Follow these five steps to build trust with your clients:
Focus to maintain exceptional communication 

-Timely, efficient communication should be a priority of any business.
Deliver personalized service to your clients

– Personalizing the services as the customer wants makes them happy and satisfied. Thus become your loyal customers.
Make clients a part of your business vision

– Convey your customers about your business objectives and ask them to share their opinions. This will make them feel valued and part of your business.

Meet and exceed your customer's expectations

– One of the best ways to help build trust with clients is to develop a reputation as an independent professional who delivers exceptional results.
7. Automate your conversations
Glance reports say 67% of customers hang up the phone in frustration when they cannot reach a customer service representative. 
How chatbots help to win customers:
24×7 support –

Chatbots helps businesses to engage with customers 24×7 when the chat representatives are not available to handle the conversations.
Less number of help desk support tickets –

 Chatbots answer all the basic queries and reduce the number of help desk tickets raised by customers.

Humanized support for complex queries –

When chatbots do not understand the question asked by the customer, the chat is transferred to the right support agent.
But there is one caveat: you should be careful about not overusing chatbots and compromising on the quality of support. The right balance of bots along with human support is probably the best way to manage your customer conversations.
REVE Chat is a popular platform for getting the right tools for automating your conversations. Start free trial of your customer engagement tools and take the solid step towards automating customer communication. 
Example – KLM Royal Dutch Airlines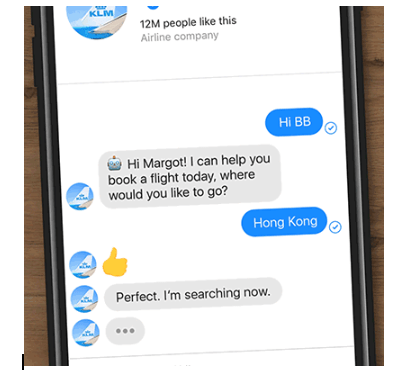 Source – KLM-BB
KLM launched a chatbot via Facebook Messenger called "BB" ( BlueBot). The primary function of BB is to help passengers book tickets and keep them up to date on flight status, gate changes, and similar data-driven functions.
The company built the chatbot to assist its customer support team, which handles more than 16,000 customer interactions weekly, as covered on the MarTech Today blog. In just 6 months of, BB sent nearly two million messages to more than 500,000 customers.
8. Maintain consistent brand experience
"The goal as a company is to have customer service that is not just the best, but legendary."
CustomerThink finds out three main areas where brands must be consistent to drive customer loyalty:
Customer Experience (CX)

– Providing a consistent customer experience fosters trust and confidence in your brand.

Brand value –

Your brand commitment should not be only it words. It should be backed with the right actions.

Brand identity

– Use the visual brand components that make your brand recognizable and help you stand out from the competition.
Brand consistency is your brand recognition. Businesses must strive to be recognizable by their target audience. It helps to build a strong association between your core messages and values and the visual elements of your brand and also sets your brand apart from the competition.
Benefits of consistent brand experience are:
Differentiating your brand

– Brand consistency is a key factor in brand differentiation. , Consistency is the difference between earning a customer's business or losing them to the competition.

Induce positive emotions

– When you tie brand consistency to positive emotions your customers will start to relate those positive emotions with your brand.

Build trust and loyalty

– Brand consistency leads to confidence among customers that they will have a certain experience when they engage with your brand.

Shaping your brand concept

– When you have brand consistency, shaping the perception of your brand in the minds of customers is more easily achieved by right messages.
9. Address customer queries faster
As per smallbiztrends, 82% of customers expect an immediate response on sales, support or marketing questions. Slow response time and not being able to solve an issue online was reported by 19 and 14 percent of the consumers respectively.
The new customer expectation – real time response. Your customers have immediate needs and you should provide them immediate help.
In order to address your customers queries in real time and provide the instant response, you need to deploy live chat software. It helps in quickly and effectively communicating with your customers so you can deliver what they want.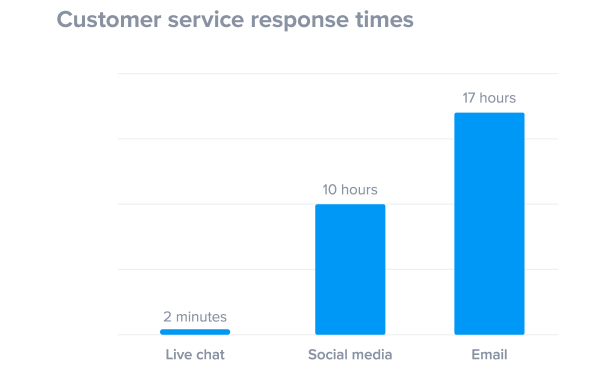 Why response time is important:
Live chat allows handling multiple chats simultaneously, which reduces the queue time of the customers.

Faster response time is a key

metric to improve customer service

Slow response time reduces customer satisfaction

Deploying live chat to your business will streamline your marketing, sales, and customer service teams meet and exceed customer expectations.
10. Know your customer expectations
Gather information about as many of your customers as possible. Find out what your customers are looking for, what they are buying, and the frequency of their purchases. When trying to understand their needs, it may be useful to know details such as their lifestyle, occupation, and interests.
If you want to provide good customer service, you should know the needs of the customer and how to fulfill those needs. It is important for you to know how your customers expect you to meet their needs.
The expected level of service varies from marketplace to marketplace, industry to industry and, to some extent, from the group of customers. Research your market and then your target with the right message to find out what your customers expect of your business.
11. Create customer loyalty
Customer loyalty is very important irrespective of the size of the business. Repeat customers spend up to 67% more than new customers. Also, it is 10 times more expensive to gain new customers than it is to retain existing customers.
Consider implementing the following strategies to keep up customer loyalty
Provide extra perks (discounts & offers) for your most loyal customers

Consider different payment plans as customer incentive ideas for the existing ones

Deliver a superior customer service

Balance your service with human and chatbot

Create a community and make your customers the part of your brand

If you're in the SaaS business, for example, it is essential to provide your customers with an exceptional user experience, right from the get-go, as an exceptional UX is linked to customer retention and growth.
13. Act on customer feedback
Customer feedback has become one of the primary drivers of long-term growth of any business. The key to successful customer feedback is to collect and act on it. Acting on customer feedback improves the customer experience and thus business performance.
The right time to ask the customer for feedback at the end of chat conversation, during the product tour, after transaction checkout, and after a demo is over. But after the feedback is collected it is equally important to act on it.
Tips to act on customers feedback:
Analyze customer feedback and segment it into categories

Transfer the feedback to the right teams to improve it

Reach out your customer's post survey
How to win clients from your competitors
Turning your competitor's customer into your own is a game every business like to win. In order to do it effectively, you need to capture their attention and then prove you're a worthwhile investment.
Identifying the customer's segment where you can create more value relative to competitors makes you win the business.

Simply lowering your pricing to match your competitors can be an effective way to lure new customers but what actually you are selling will have an impact on how effective this strategy will be for your business.

Learning about the problems that customers have been facing along with offering an effective solution that wins customers.

Consider the market sectors of your business & constantly look to innovate and fill the gaps with new goods and services. Not only offering unique products, but something that you know is missing from the market helps you in how to win customers from competitors.  
Conclusion
In the digital landscape, brands and customers can connect through various channels. The important task for brands is to ensure that customer engagement should always be meaningful, and efficient. This is one easy way how to get clients for new business and keep winning in business.
If you're able to engage customers successfully, you may have won them over. Sign up to get the right engagement tools and win customers for life. 
Customers have many choices, but they will choose your brand if you keep their touches at heart. With the right messaging, focus on strategies to win customers.