High-quality engagement is a critical aspect when a visitor lands on your website. Delivering superior customer experience is an important component of your customer engagement strategy. Highly engaged customers buy more, promote more, and demonstrate more loyalty.
Usually, customers look for instant help, and businesses that want to deliver exceptional experiences to drive revenue and build loyalty need to know how to add live chat to the website. 
More than 41% of customers expect live chat on your website as it reduces friction and is one of the best ways to communicate with consumers. Integrating live chat on the website helps businesses to communicate the core brand messaging with their customers that convinces them to make a final purchase. 
Adding live chat to the website helps to guide customers through the sales funnel with increased velocity while creating a positive brand experience. It is how your consumers can have a relationship with your brand.
Key benefits of adding live chat to the website 
Big companies to small businesses rely on investing in live chat software to provide better service to their customers and improve response time. So, it's no surprise that more and more consumers now expect to see live chat offered on every website.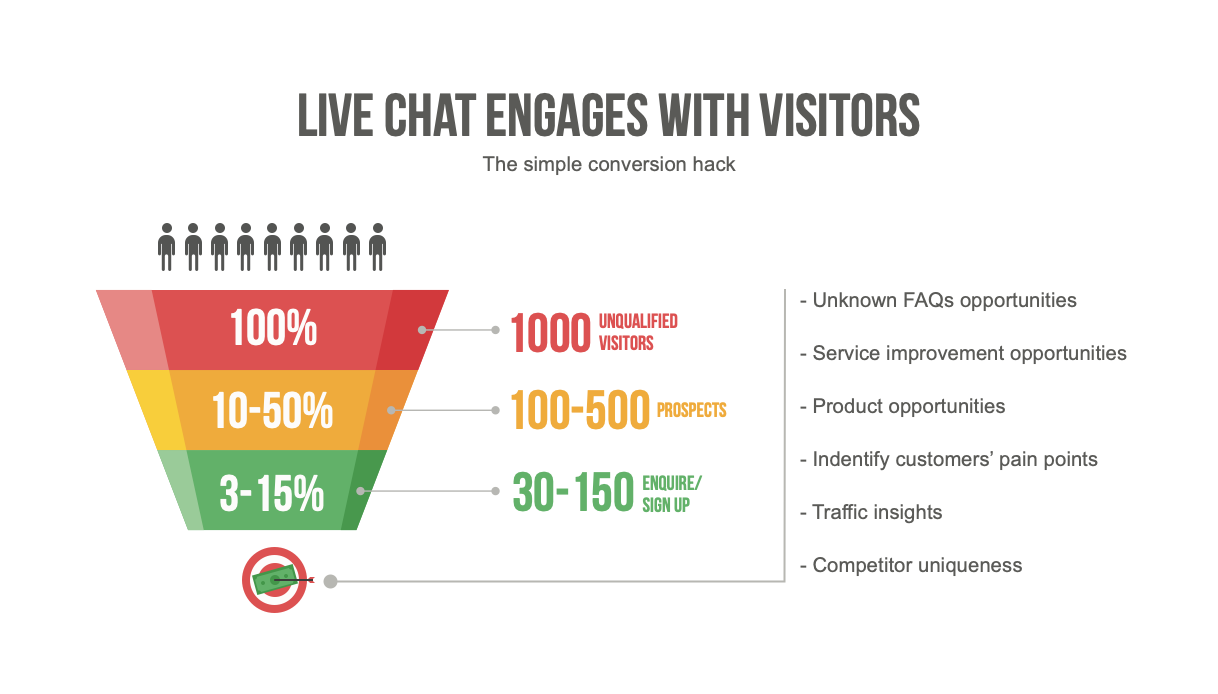 There are more significant benefits of adding live chat to the website other than providing quick customer support. They are the following:
Deliver real time support
Faster resolution is one of the key elements of delivering an excellent customer experience. When businesses add live chat to their website they can engage with customers and provide proactive support that customers look for. 
Boost sales conversions
Companies that used live chat witnessed a 20% increase in conversions on average. While browsing the site, prospects have queries about your products or services. Adding a chat widget to the website allows agents to respond to them immediately and help customers to make faster decisions that increase conversion.
Build customer loyalty
When you add live chat to the website, it powers your agents to turn every interaction with customers into an excellent experience by delivering instant responses to sales or support queries. It works as a great factor for increasing customer loyalty. 
Reduce cart abandonment
One of the key reasons why customers abandon their cart is not getting real time support. By integrating chat into the website you can provide customers their preferred channel to connect with you instantly for sales assistance and reduce cart abandonment.
How to add live chat to website (step by step process) 
63% of customers are more likely to return to a website that offers live chat which is why it is critical for businesses to integrate chat into the website. Knowing how to add live chat to the website and placing it right is even more crucial.
Once you choose the best live chat tool, based on your business requirements, you need to follow the below-mentioned steps in order to add live chat to your website.
Let us discuss the process of integrating live chat to website comprehensively.
1. Create an account 
The first step is to create an account. Creating a REVE Chat account is very simple and easy. You need to fill up the respective fields for a successful signup.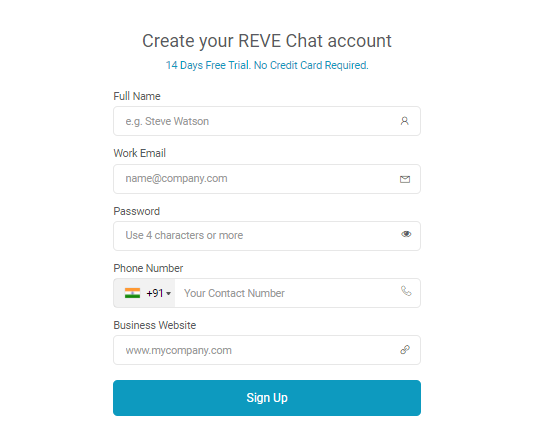 Once you create a REVE Chat account successfully, you can easily move to integrate live chat to your website. 
Note: Strategically place the live chat button as it starts a conversation. Your customers should know where to go when they are stuck on any page and need assistance. All of your products, services, and solutions pages should feature a live chat button in a consistent location. 
2. Integrate live chat code
Adding live chat to the website is not a complex process. It just needs to follow the step-wise process for successful integration. You can identify the web pages where you need to install the REVE Chat snippet code. 
There are two ways to integrate a chat into a website with a simple HTML code snippet. You can:
Integrate live chat manually

Install with the help of plugins
How to integrate live chat manually?
Adding live chat to the website manually includes a few steps to follow. It requires minimal technical knowledge and is simple.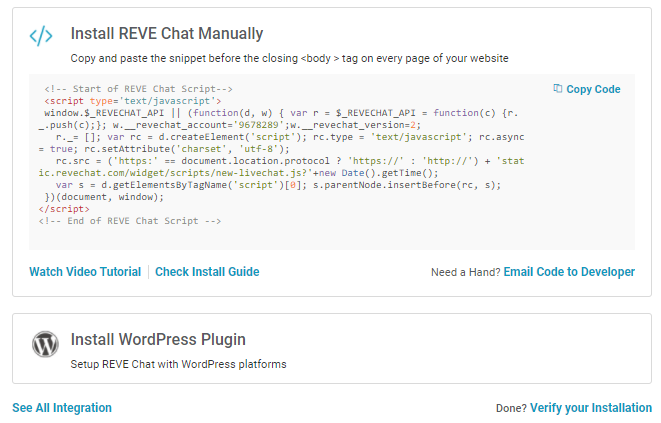 Here are the steps to add live chat on your website:
Go to the Integration menu on your dashboard

Copy the live chat snippet code

Paste it inside the website's body tags

Identify the web pages where you need to install the REVE Chat snippet code. 
Once done, you have to check the website to see if the REVE Chat widget is visible. In case it is not visible, it means there is some issue and you need to contact [email protected].
Integrating live chat to the website successfully allows your visitors to reach out to you in real time and start conversations.
Note: Once you paste the snippet code, you need to verify if the installation was successful or not. At times, due to technical reasons, the installation might fail. In that case, you need to repeat the procedure and test again.
How to integrate live chat with the help of plugins?
If you choose to integrate live chat with the help of plugins the process is simple. You can also add live chat on your website and start engaging with your customers and visitors in real time.
Here are a few examples of plugins.
Content Management System (CMS) –  CMS plugins  like

WordPress

, Joomla help to add a live chat button to the website

eCommerce –  The eCommerce plugins like Woocommerce,

Shopify

can quickly integrate the chat button to your business site.
3. Setup your chat triggers
Live chat triggers are automated messages your visitors see while they are browsing your website. Setting up chat triggers help businesses to track visitors, their activities, and also send them personalized chat invitations. 
They prove to be immensely beneficial for any business in sending the right messages to the prospects and engaging them proactively.
Key benefits of setting chat triggers:  
Proactively engage with your visitor at scale without losing a personal touch / without any agent intervention. 

Triggers are effective in identifying the visitors based on their journey or on-side journey on your website.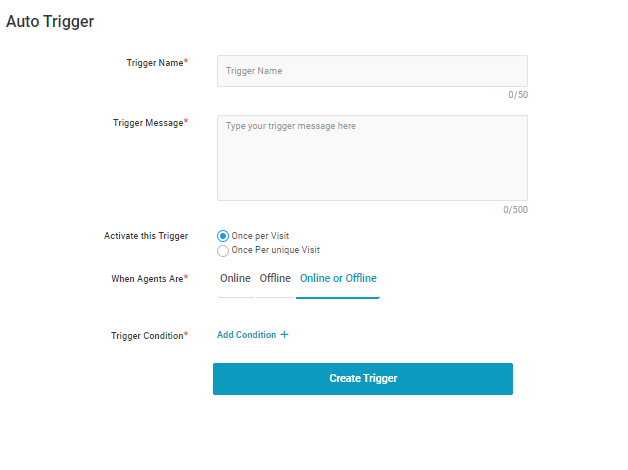 How to add proactive chat triggers?
You can add triggers with a suitable title and personalized message. You can enable or disable the status as per requirement. But it is very important to choose the right proactive chat trigger.
4. Add your team member to live chat 
One of the most important parts of the adding live chat support process is adding team members (sales, support reps) should not be overlooked. When you install live chat to your website successfully, it will automatically assign chats to the respective teams.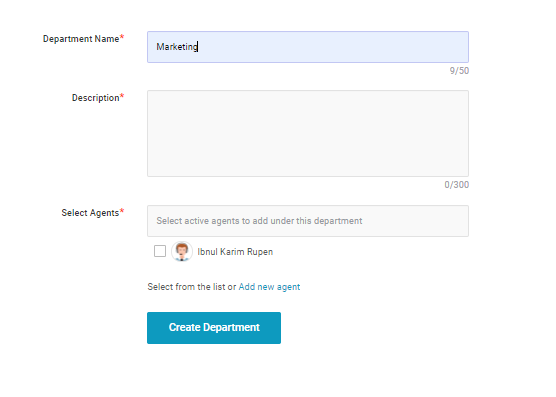 Adding team members to live chat helps to handle customer conversations effortlessly by routing them to the right team in real time and delivering a better experience. 
Choosing REVE Chat's live chat tool allows all the incoming live chat messages to be automatically assigned to your team members.
5. Setup chatbot 
Setting up a chatbot helps your support team to concentrate on complex tasks while automating the repetitive tasks with a bot saves time and increases productivity. They streamline interactions between the user and services, enhancing customer experience. How to add a chatbot to the Wix website here. 
Businesses are deploying chatbots to convert users to customers, drive sales, and improve the overall consumer experience. There are chatbots use cases across all industries and business functions such as customer service, sales, marketing, and automating the internal processes. 
Benefits of deploying chatbots along with live chat:
The key advantages of how businesses can implement those chatbots benefits to improve their customer experience.
Deliver 24×7 support

– Bots engage customers promptly round the clock when your support team is not available.

Reduce support tickets

– You can provide instant responses to the common customer queries and reduce the number of tickets raised.

Simplify orders & bookings

– Businesses can leverage chatbots to automate bookings of orders and appointments directly from the website or Facebook page. 

Product recommendation

– Chatbots can engage customers with personalized messaging all their journey by recommending them for making quick decisions.

Better lead nurturing

– Bots can nurture qualified leads based on their journey. For e.g, an e-commerce business can nurture by suggesting combo offers, or discount coupons to boost sales conversions.

Easy scalability

– You can easily scale support with chatbots by investing extra on resources or infrastructure and provide the same quality support.
6. Customization
Customizing your live chat button is very important as it impacts your website branding with clear messaging, which boosts the overall customer experience. The important aspects of your live chat widget you can customize are as follows:
The appearance of the chat widget.
The customized welcome message. 
The language options of the chat widget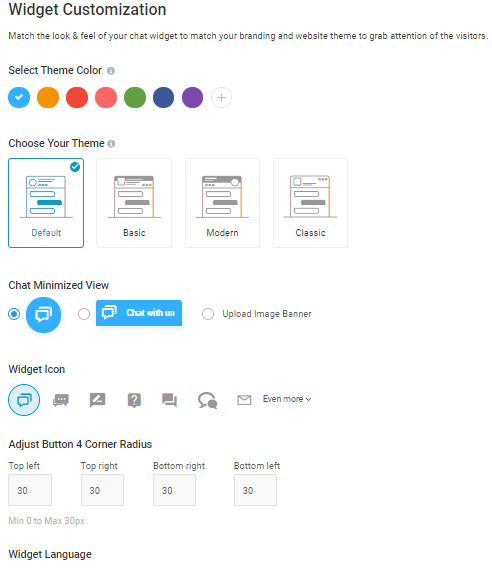 While customizing the chat widget, businesses need to watch out that it matches the look and feel of your brand. It should be able to collect basic customer details prior to starting the conversation and obtain their feedback at the end of every live chat session.
Live chat widget customization also enables key features like co-browsing, video chat, co-browsing by code that can help businesses to collaborate with customers in real time and provide effective solutions in the first contact through personalized conversations.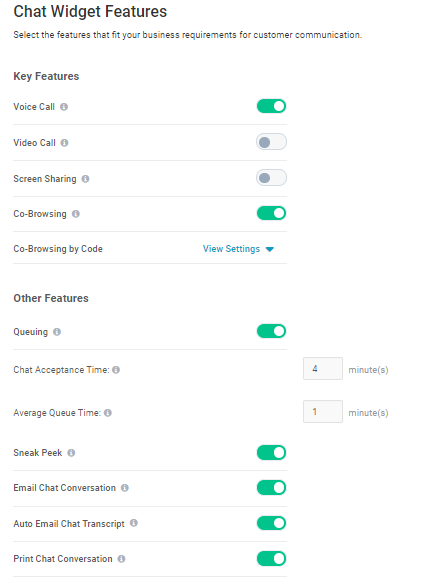 Here is how visual engagement helps in increasing the response time.
Reduce customer touchpoints – Using live tools helps to identify the core issue and solve it in the first attempt, thus reducing the number of touchpoints.
Personalized solutions – Real time face-to-face chat encourages personalized conversations and delivers effective solutions to complex issues.
Improve first response time (FRT) – Gaining first-hand knowledge of the issue helps in delivering the right solution faster. 
There are also other features like pre-chat forms, post-chat surveys, and after office hours that can be enabled based on business requirements and criteria. You can configure pre-chat forms for both scenarios when agents are online and offline.
Post chat surveys are the best way to measure if you have successfully implemented your live chat customer service program. It is a vital metric that you shouldn't skip out on because it measures customers' satisfaction, which is most important for any business. 
Add live chat to WordPress with ready plugins 
No matter what platform you are using, you can easily add live chat to your website. REVE Chat's live chat integrates seamlessly with a variety of third-party platforms.
Suppose you are a Shopify store owner looking for adding chat support to power up your team to deliver real time assistance. Or if you have a Wix- or WordPress website, the below tutorials on how to add live chat to website or WordPress will guide you:
Conclusion 
Live chat is no longer a new thing in online business. It is also a major competitive advantage you can put to use quickly. Yet, there are many businesses that are ignorant of how to add live chat to website and use it as a great customer communication channel.
The above-mentioned steps comprehensively show how live chat support can be added to the website and how businesses can reap maximum benefits and get a higher return on investment (RoI).