Wix is an online building tool that allows you to create your own website in less than a minute. You can choose from a number of professionally designed templates for your website and it offers an easy drag-and-drop tool so you don't have to know how to code or spend money on web designers.
This is a completely new way of shopping online, and we think that the Wix chatbot is going to change the way we buy products online.
Like all Wix features, a chatbot is mobile-ready and uses artificial intelligence technology to learn from your visitors. It will even understand their language and provide answers in their native tongue.
In this article, I'll provide you with a complete guide about the Wix chatbot. 
What is Wix Chatbot?
Integrating a chatbot with Wix is a convenient and easy way to manage your Wix website. The Wix chatbot is powered by artificial intelligence (AI)  and machine learning technology (ML). Furthermore, it gets smarter and learns to understand customers better as they interact with it. 
The chatbot adds another layer of intelligence to your Wix e-commerce website. It will be able to answer customers' questions about products and services: for example, "Is this red dress on sale? When will you deliver it? How many similar dresses do you have in stock?" etc.
The chatbot offers customers the option to directly buy – just like in the real world, where the store cashier would scan the item from your cart, and then charge your card.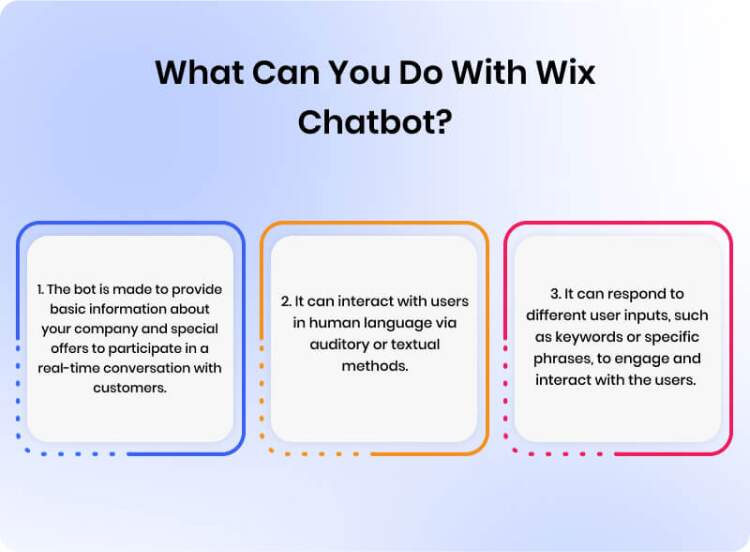 The bot is made to fit any business needs – from providing basic information about your company and special offers to participating in a

real-time conversation with customers

.

It can interact with users in human language via auditory or textual methods. 

It can respond to different user inputs, such as keywords or specific phrases, in order to engage and interact with the users.
Why Do You Need a Chatbot for Wix?
Time is our most precious resource and nothing is worse than wasting it. Chatbots can save clients time by automating repetitive tasks.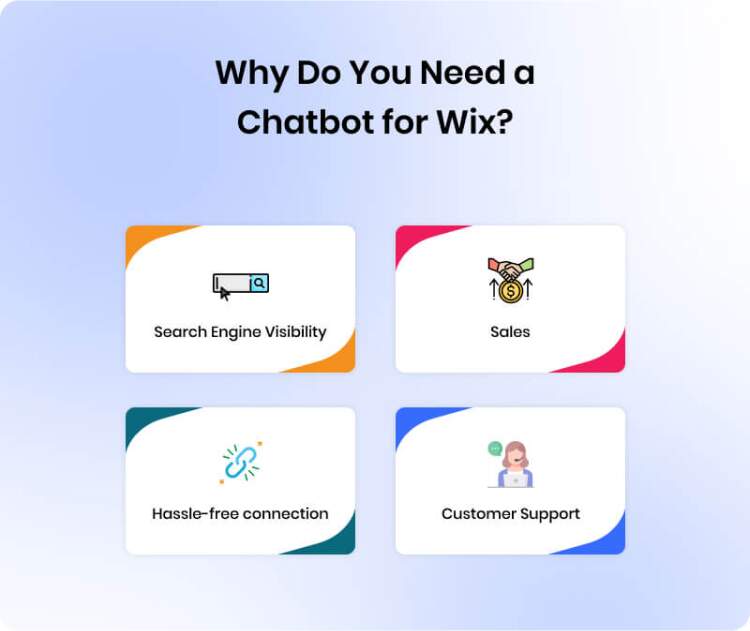 For example, when they want to add new products to their e-shop they should not be in constant contact with our support team every time they need to add a new variant of the same product. 
With chatbots, Wix admins can do everything themselves.
Benefits of a chatbot for a Wix website:
Search Engine Visibility: Chatbots for websites are Search Engine friendly and, therefore, it is extremely easy for your customers to get the most out of chatbots. This feature helps customers locate your business on the web and increases your website's visibility.
Sales: since people are utilizing this technology more and more, your website's conversion rate is sure to increase as compared to today. You get to communicate with your customers directly and, therefore, increase your sales rapidly.
Hassle-free connection: you will discover that you no longer need to worry about shoppers forgetting about your brand or new shoppers failing to locate your store. Chatbots help you reach new shoppers and connect with them instantly.
Customer Support: in this digital world, it is important that you provide customers with all they need without ever having to leave their homes. Chatbot for websites helps you do just that by providing them with support services at all times of the day. 
What Makes REVE Chat Best Fits for Wix?
A chatbot provides an alternative solution for getting answers to your questions, making it simple for users to have human-like conversations with machines through text-based interactions.
There are several reasons why REVE Chat is the best fit for the Wix website:
It will make your website smarter and more human. You can change the design of the chatbot and make it as appealing attractive as it is possible;

It will provide sales support via

live chat

and get rid of standard email support. Email communication is still not perfect, however, with help of live chat you will be able to solve even the most complicated task quickly. How to

integrate live chat with Wix here

. 

Find the right time for visitors' activity on your website and engage them in the right manner. A chatbot can recognize a person who came to your site earlier but did not get what he wanted. A

chatbot

is a great assistant that helps to turn visitors into buyers;

Increase conversion rates, and increase sales by offering a convenient way to buy online. With live assistance, you can easily sell goods, book a hotel room or an airline ticket, make reservations, and recharge your phone number.

Create

personalized customer service

that will provide your customers with accurate information and solve their problems much faster.
Key Features of REVE Chat
The Chatbot industry is experiencing a new wave of innovations that will improve the overall user experience. In order to create smarter interactions, AI technologies are being used to analyze users' feedback.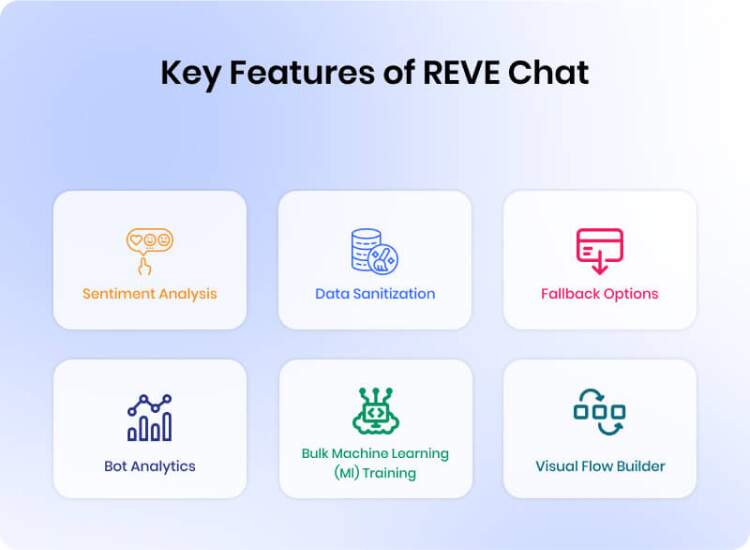 REVE Chat uses the latest NLP technology to deliver the highest quality of conversation and response, therefore enabling businesses to deliver the best digital experiences.
Let's take a look at the key features. 
1. Sentiment Analysis
Talk to the robots and they will talk back to you in an emotional tone — that's one of the promised features of REVE Chat. 
It is powered by natural language processing (NLP) and machine learning (ML), which enables the bot to predict what users are trying to say. 
Users can ask it questions or issue statements and the AI responds back with an emotional score measuring how excited, sad, angry, or neutral the statement is. It then translates those scores into text-based responses.
2. Data Sanitization
Data sanitization is a necessary process that aims at ensuring that the unstructured data given to the chatbot is free from any error and thus the chatbot can deliver accurate responses.
The data sanitization process includes cleansing and enrichment of the unstructured data into a structured one.
The process of data sanitization will vary according to the requirements of your chatbot. For example, data sanitization in a healthcare chatbot would require you to ensure that the date format of the date given is recognized by your chatbot whereas a chatbot would require you to ensure that the date given is correct.
3. Fallback Options
Fallback options open up a whole new world of possibilities for user interaction with the bot. Chatbots with fallback options allow users to provide their input in different forms such as text, voice, or multiple choice.
Fallback Options are best suited for situations where the bot needs non-standardized information. To provide fallback options, you have to have an understanding of NLP and its application in chatbots.
A Three-Step Process To Include Fallback Options In Your Chatbot.
First, you will have to identify the cases where an error should occur. This can be done by using trigger words, list questions, and survey questions.

Second, you have to write down outputs that should occur when the trigger is identified but not responded to.

Last but not least is writing the code that will be in charge of selecting the fallback options based on the user's response in your bot.
4. Bot Analytics
Bot analytics helps you to understand your bot and measure its performance. Provide context to your bot's conversations, handovers, the NPS rating, and, action taken by the customer. Use real-time data to help you improve your customer experience and boost engagement.
In addition, a bot analytics tool helps you understand your bot's performance with the help of metrics and in-depth reports. 
It lets you know the average response time, errors, and any other bottlenecks that could hamper customer engagement with the chatbot.
5. Bulk Machine Learning (Ml) Training
Import all the general FAQs and answers to train your chatbot to deliver faster and more effective answers that improve the overall accuracy. 
Use natural language processing (NLP) in order to learn the right intonation and words to respond appropriately to any customer that triggers the bot. 
The chatbot delivers the answer in milliseconds reducing call time and allowing human agents to focus on more complicated issues or customers.
6. Visual Flow Builder
Chatbots have made a huge impact in the conversation of customer service, sales, marketing, and appointment booking. Businesses are adopting chatbots to address their core business objectives. 
This effective feature makes it easy for businesses to communicate with their customers in a more natural and frictionless way.
How to Add a Chatbot to Wix Website?
Chatbots are the new virtual assistants that bring the convenience and ease of artificial intelligence technology to your website or mobile app.
However, installing a chatbot in Wix is not hard as you are thinking. You can install the chatbot in Wix by yourself. 
Here, I am going to tell you the 7 simple steps to install the chatbot on your Wix website. Let's get started. 
Step1: To install the chatbot first log in to your Wix account and select the ''My Sites'' option. Now you have to select the site you want to install the chatbot. And, click the ''Edit Site''. 
Step 2: Now it's time to navigate the left side panel and click on the + Icon, after clicking the icon now select the ''Embed'' option that will show you the ''Custom Embeds'' option. Afterward, select the ''Embedded a Widget'' option under it. 
Step 3: Create a REVE Chat account for a demo chatbot.
Step 4: Now create a bot that you want to integrate with Wix.
Step 5: Now create your welcome messages and embed your texts, buttons, images, etc. 
Step 6: Copy the code.
Step 7: Add the code in the code area. 
Step 8: Adjust the iframe area positions and enable it to show on all pages. 
Step 9: All done. You can see the preview before publishing the website. Great. You have successfully installed the REVE Chat on the Wix platform. 
Summary 
If you are one of those people who has a Wix website but doesn't have a Wix chatbot – you know that it's quite important to have one.
When it comes to the online space, you need to be everywhere and anywhere that your audience goes. The internet is vast, and people are going to look for your business in as many places as possible from what I can see.
REVE Chat provides a convenient, easy-to-use interface to interact with an application. It is easier and faster than humans. That's the reason REVE Chat is useful when we want to solve simple queries which we do frequently in our daily routine. Sign Up now and enjoy 14 days of a free trial.