In today's hyper-competitive business environment, leaders are working hard to find and free up capital to drive growth. Looking at all the investments they make in the name of loyalty and customer satisfaction is often overlooked.
The traditional ways followed to increase customer loyalty were costing more and delivering significantly less. In order to maximize loyalty value, business leaders are starting to rethink what loyalty means and how to maximize the value of today's most loyal customers.
Investments in loyalty are booming. More than 90% of companies currently have some form of customer engagement or loyalty program.
Without a course correction, investments in loyalty will eventually be diluting margins, draining profitability, driving less-than-expected growth, and decreasing customer value along the way.
What is Customer Loyalty and Why Building Brand Loyalty is Important?
Simply put, customer loyalty refers to the commitment towards the brand to interact or purchase on an ongoing basis. If you provide great value in your products or services and a consistent customer experience at every touchpoint in the customer journey, then customers will retain your business by being loyal. 
The meaning of "increasing customer loyalty" refers to the relationship satisfied customers have with the business establishments they frequent. It can also extend to occasional repeat customers – for example, a customer who always visits a particular ice cream shop when he visits his mother every month.
Since it's 5x easier to retain a customer than acquire a new one, if you focus on existing customers, they'll continue buying from you and will spend more over their lifetime with your company. Hence, value your loyal customers.
Importance of building brand loyalty 
Keeping customers coming back for more is critical to business success. And it's why short-term profit grabs don't work. Loyal customers are just better for business: they help you grow and keep profits high.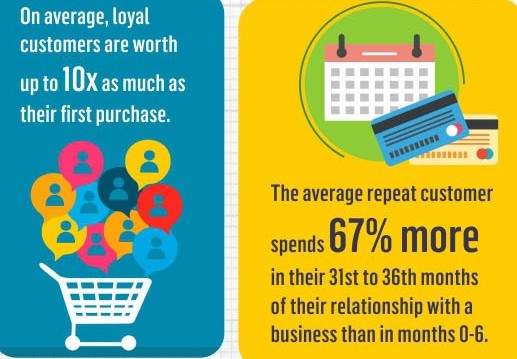 A well-executed brand loyalty marketing program can help in the following ways to retain existing customers, attract new customers, reduce turnover, and drive profits.
Drive sales conversions

– Returning customers spend close to 70% more money on products and services when compared to first-time customers. Once a customer likes and trusts the quality of your brand, they're more likely to purchase in higher quantities.

Higher customer retention

– When customers become loyal, they stick to a brand for a lifetime. Whatever their reason may be, loyal customers are more likely to drive repeat business, making retention of loyal customers key.

Brand ambassadors –

Loyal customers keep coming back to themselves, they will spread brand awareness through word-of-mouth marketing. Happy customers are likely to tell friends and family about your business and your products.

Boost repeat business

– The loyal customers are most likely to keep coming back to purchase from your business. They may have a favorite product or service they are inclined to because of favorable experiences in the past. 
Stages of customer loyalty
Customer loyalty is the driving force for customer retention. Therefore, all marketers are trying to crack the code of fostering on brand attributes that lead to an increase in customer loyalty. After all, it costs five times less to retain a customer than it does to acquire a new one.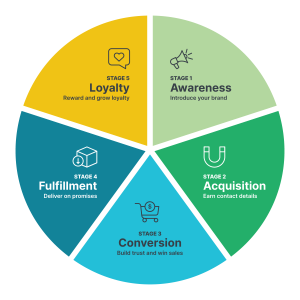 However, it does not mean that customer loyalty is easy to gain. Quite the opposite, in fact! You need to be consistently paying attention to your customers to ensure they are supported and satisfied at all stages of customer loyalty:
In the awareness stage, the main objective is new people aware of your brand and product.
The next is the acquisition stage when you convince potential customers to subscribe to your brand and get access to their email, phone number, and/or social media. In order to get this access, you need to provide them with value—an exclusive discount or highly engaging content they are looking for to sign up.
Then follows the conversion stage, when you nurture your subscribers by educating them about your product value until they decide to buy.  The stage usually includes extra incentives to get customers past the initial hesitation of deciding to make a purchase—like discounts, free shipping, and early access.
After purchasing the product, the fulfillment stage comprises getting your products or services to the customer's doorstep.
Finally, the loyalty stage is how you engage with customers who have made at least one purchase in order to drive more purchases and create brand loyalty.
10 Practical Strategies to Increase Customer Loyalty
Repeat buyers are your most valuable customers. Though they may not be big purchasers, it is likely that over time, the revenue from them will top revenue from big one-time buyers.
There are many other benefits to having loyal customers — free advertising by word-of-mouth, and positive online reviews—so here's a list of ways to help you build your loyal customer base.
Let us discuss the key strategies on how to increase customer loyalty in retail or restaurants via different programs.
Customer Loyalty Tip #1: Deliver above and beyond customer expectation
One of the important attributes to increase key things for building customer loyalty is to prioritize their expectations.
66% of customers expect companies to understand their unique needs and expectations.
Just satisfying customer expectations is not important, you need to be able to 'Wow' your customers so that even a single bad experience would not make them move to a competitor of yours. The only reason why a customer would jump ship is when their brand fails to meet their customer expectations.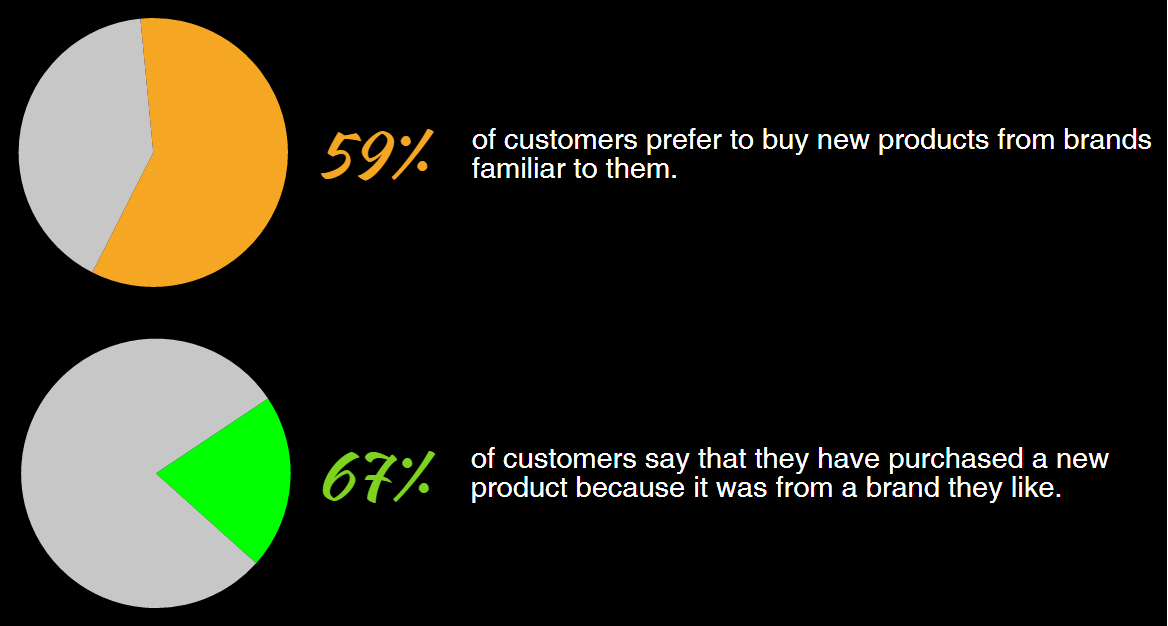 Companies like Amazon are known for their customer service as much as for the quality and choice of products they make available to the average customer. 
Successful brands know how to imbibe the culture of keeping the customer first from the initial stages of the customer cycle, else, it is impossible to be extraordinary and meet all your customer expectations.
Here is how to increase customer loyalty in retail by meeting & exceeding your customer expectations.
Promptly respond to customers

– Use live chat to instantly address your customer concerns. Getting answers at the exact moment boosts their satisfaction and increases customer loyalty

Surprise your customers

– Do the unexpected. Send a birthday card, a Christmas gift Coupons for the next buying experience also help. Doing so makes customers feel important and appreciated and helps in building customer loyalty.

Personalize your offerings

– Understand your customer wants and align services accordingly. Building a connection with your customers is the only way to exceed your customer expectations.

Follow up with your customers

– After a purchase or resolving a support ticket, let customers know by sending a simple message or email. 
Customer Loyalty Tip #2:
Support your customers on their preferred channels
Giving your customers a way to connect with you through their preferred channels is a great way of how to build customer loyalty. 
A strong customer engagement strategy is key for increasing brand loyalty. Customers expect brands to anticipate their needs, hoping to be constantly engaged and supported on their preferred channels. 
By planning a strategy backed with the latest digital channels, businesses can engage customers across their favorite channels in real-time.
Know ways to increase customer loyalty by deploying digital tools.
Live chat

– Using a

live chat

platform allows agents to turn every interaction with customers into an excellent experience by delivering instant responses to sales or support queries and building customer loyalty. 

Visual tools

– Live tools like

co-browsing

and video chat help to collaborate with customers to identify the issue and resolve it faster. Better streamlined support impacts satisfaction and helps in building customer loyalty.

Chatbot

– Deploying

chatbots

allows you to engage customers 24×7 by answering their simple queries when your support team is busy or unavailable. Automating support conversations helps to deliver a consistent customer experience.
Customer Loyalty Tip #3:
Maintain consistent customer experience (CX)
Customers expect a similar set of communication across all channels—whether they are using phone, email, chat, and social media. 
Hence, focus on creating workflows that work intelligently so that there are no gaps for a customer visiting your website, while making the payment and when getting after-sales service either.
Build a workflow chart to see if customers get what they are expecting and at no point, they are struggling at any of the customer journey touchpoints. 
Consistent customer service communication impacts customer loyalty in the following ways:
Faster support

– Effective communication with customers helps to learn the customer problem accurately and enables you to deliver faster support.

Reduce touchpoints

– With effective communication, the number of interactions required to resolve an issue can be drastically reduced.

Increase conversions

– Helping customers in real-time helps to close sales faster and increase sales conversions.
Monitoring the communication methods the customer is using helps to get the same kind of customer experience. 
Note – Just because a customer sent an email doesn't mean that their request is any less important than someone who called. Treat each of them with the right amount of respect and professionalism. 
Customer Loyalty Tip #4:
Reward your loyal customers
There would be nobody who does not like to be appreciated and rewarded. We all come across awards & rewards for achievements so why should loyalty stay behind?
Rewarding loyal customers should be a core part of loyalty programs as it is one of the key brand attributes that lead to an increase in customer loyalty.
If your customer interacts and makes purchases frequently or generates new customers for your business, they should definitely get a token of appreciation for it.
Some ideas on how to increase customer loyalty by following different programs:
Create early access programs for premium customers

Invite customers to special events to spread positive goodwill

Celebrate your customers by featuring as them for a week/month

Give unadvertised discounts to surprise customers
Customer Loyalty Tip #5:
Value customer feedback
Customer satisfaction and loyalty is a crucial factor that determines a company's financial performance. It is directly linked to many benefits, such as increased market share, lower costs, or higher revenue.
The best way to find out if you meet their expectations is to get their feedback and implement them.
Top performing companies understand an important role that customer feedback plays in business. They consistently listen to the voice of their clients. 
Collecting and valuing customer feedback is a great way to increase customer loyalty. 
By asking your clients for feedback you

communicate that their opinion is important to you

. You

involve them in shaping your business

so they feel more attached to your company. 

Listening to your customers' voices helps you

create stronger relationships

. it is the best way to gain valuable brand ambassadors who will spread positive word-of-mouth for you. 

Customers always appreciate when you ask them if they are satisfied with your service

. It shows you actually value their opinion and that you are here for them, not the other way around. 
They feel that your primary business goal is to solve their problems and fulfill their needs, not to get their money. It puts a customer in the central position of your company and this is the right way to run a business.
Customer Loyalty Tip #6:
Ask for reviews
Asking for reviews is one of today's most powerful customer retention strategies and a great way to build customer loyalty. 
That's because customer reviews can do wonders in terms of increasing loyal customers.
As a matter of fact, what other people have to say about your business carries more weight than what you have to say about your business, even if they are complete strangers. In fact, 84% of consumers trust online reviews as much as personal recommendations.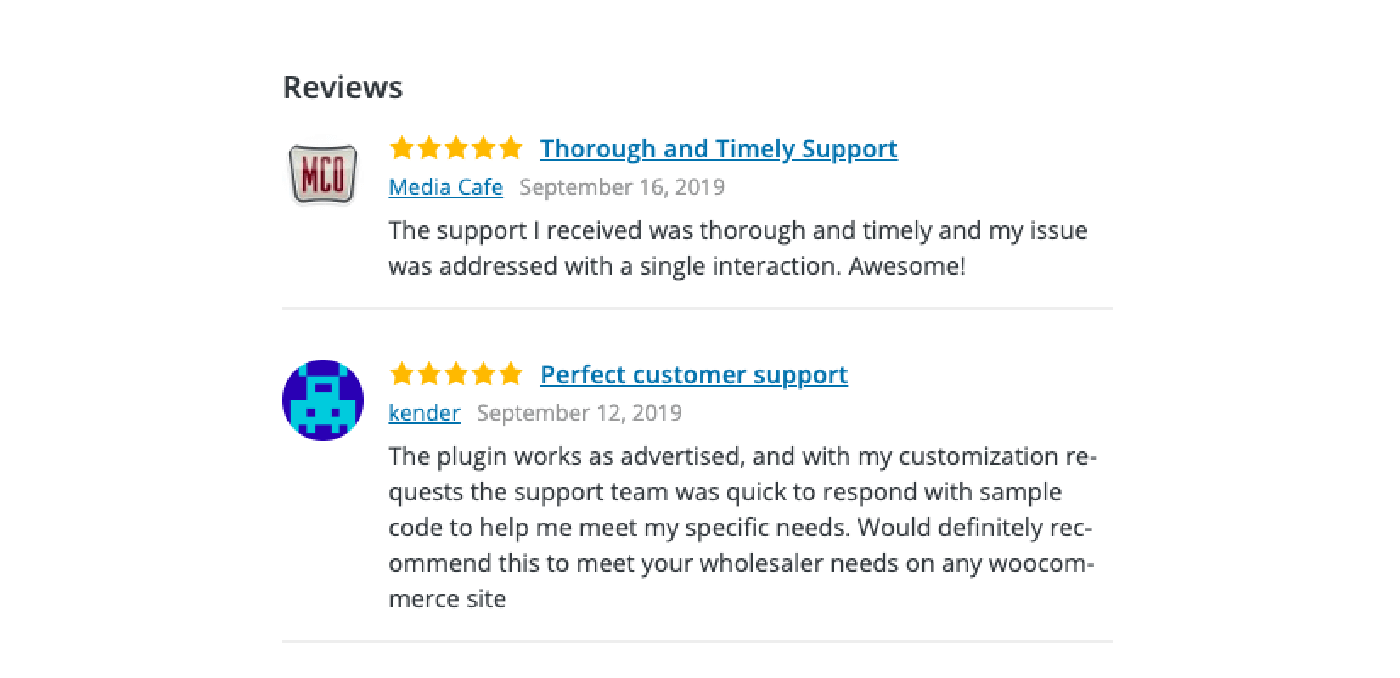 Here is how to increase customer loyalty by asking for reviews.
Collecting reviews is one of the best ways to help shoppers turn into long-term customers. 

It also brings the opportunity to turn your happy customers into brand advocates. 

You can request Google or social media reviews via email and also can offer some kind of incentive for submitting reviews.
Best Practice: Whether good or bad, always respond to the review shared by your customers. It actually shows your concern towards them and what they are saying about you. These reviews can turn into valuable feedback that can improve your business.
Customer Loyalty Tip #7:
Maintain human touch 
Businesses are adopting the new digital ways to enhance customer communication but one-on-one interactions are still much appreciated. It is the best way to increase customer loyalty.
79% of consumers say that interacting with a human is an important part of their experience. While digital technologies are still valued, having an option of human support is a great comfort to customers. 
Although email, chatbots, and other new communication technology offer increased convenience, customers still believe talking to a representative is the way to get the best and most efficient service. 
When those agents are well-trained, knowledgeable, and empathetic, they have the power to turn every interaction into a positive, relevant experience that creates an emotional connection to the company.
Best practices for building customer loyalty with human support
Understand customer pain points

– Human agents can understand customer problems better with the help of visual tools and offer personalized customer service solutions. 

Hybrid support approach

– Businesses can balance automated support and live support in a way to provides customers the best of both worlds. The simple queries are to be answered by the bot and the complex ones by the human agents. 
Customer Loyalty Tip #8:
Set up your customer loyalty program 
The beauty behind customer loyalty programs is that any type of business can implement this incentive process to keep their customers coming back. 
Building a customer loyalty program can help you in the following ways.
Drive daily engagement.

Acquire new customers or reactivate lost customers.

Reward customers based on their spending.

Increase overall customer satisfaction.
Customer loyalty programs can help you understand what really matters to your customers and connect with them through personal moments like holidays, birthdays, anniversaries with your brand, and other key moments in order to reduce the risk of customer churn.
Whether it's SaaS, Airlines, or Ecommerce – irrespective of the industry some form of reward that's presented to the loyal customers will not only make them feel appreciated, but also help to retain customers for a long time with your business.
Customer Loyalty Tip #9: Focus equally on your social engagement
Did you know that 8 out of 10 millennials are expecting brands to engage with them on social media? 
Social media has become the go-to method for customers to communicate directly with a brand 
Hence, for businesses, it is imperative to have a social media strategy in place to meet customer expectations in order to provide them with the positive experience they are looking for in your brand.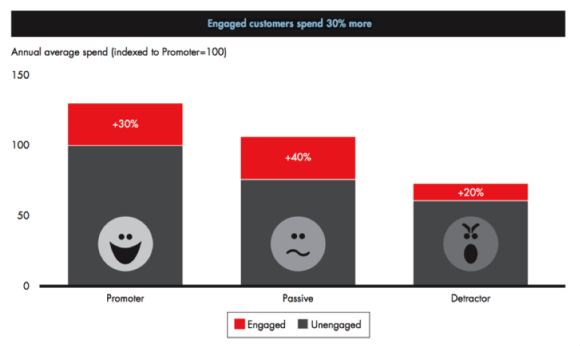 Customers who engage with companies via social media channels like Facebook, Instagram, Twitter, spend 30% more. Also, social media engagement is one of the driving forces among passive uninterested customers.
Follow the best practices to build and increase customer loyalty
Develop a strategy to engage with your customers on social media

Understand that 

customers are expecting you to engage with them on social media

Engaged customers spend 30% more than those that do not engage.

Engaging with customers on social media will increase customer loyalty towards the brand.
Customer Loyalty Tip #10: Build impeccable products & services 
The best offense considered in the game for customer loyalty is to have the best product on the market. Value doesn't need an introduction, it speaks for itself. 
If your website or application is conveying your core brand messaging rightly and helping customers to resolve their issues faster, it will attract them and keep them coming back.
You can learn more about improving loyal customers by going through Viber's case study.
When you have a strong product, here are the main benefits you witness:
Better customer recognition

–  Having a strong product works to build customer recognition. 

Increased customer loyalty

– Customers are attracted to brands with great products.

More repeat purchases

– When products are overall appealing, the repeat purchase rate rises.
How to Increase Customer Loyalty in Retail
If you want to build loyal customers for your retail business, there are a few strategies that can increase brand awareness and improve your ROI. To maximize ROI, your current customers offer the most potential.
You have already developed the relationship—one of the biggest and most expensive marketing hurdles. To drive customers back to your store, you need to nurture them. 
If you want to build loyal customers for retail business, you need to put together a comprehensive plan that focuses on the customer experience.
Referral Codes: A healthy referral program has two goals: One is to reward your customers for their loyalty to your brand and the other is to encourage new business.
Email Coupons & Promotions: Digital coupons have become common now that most people carry a smartphone. Whether offered in an app or as an email coupon, promotions encourage people to spend more.
Loyalty Programs: Customer loyalty programs have a significant impact on customer experience. They also influence how people engage with your company.
Personalized Content: Whether you're sending email coupons or using targeted ads, personalized content is especially effective at increasing customer loyalty.
Social Media Influencers: Social media is a proliferate form of communication—its use spans virtually all living generations that have the ability to access the internet. Retail businesses can use social media influencers to build loyalty.
How to Increase Customer Loyalty in Restaurant
Having repeat customers is necessary to running a successful restaurant. But what are you doing to keep your guests coming back and spending more at your restaurant? 
Acquiring new customers is up to five times more expensive than retaining the ones you have, and the COVID-19 pandemic has made diners even more discerning about where they spend their time and money. This means treating your guests like gold is a smart, inexpensive way to increase your sales.
Here are tips that can help you to get started boosting customer loyalty today: 
Make Service your top Priority:

Make sure employees understand their top priority of treating patrons as welcomed guests. It will lead to plenty of repeat customers as well as word-of-mouth referrals.

Educate your Staff on your Food: Servers should be familiar with the ingredients and preparation methods for all dishes. That way they will be able to help guests in ordering the right food.
Maintain your Appearances: While it may not be possible to keep your restaurant looking as spotless as it did on the day it opened, it's still important to prioritize cleaning.  
Be Consistent: Building a recognizable brand requires repetition and consistency. Customers want to feel confident that they will enjoy the same food quality and service with every visit.
Listen to your Customers: Customers like to feel that their opinion is valued. One of the easiest ways to gather feedback is through social media. Just be careful how you engage your customers online.
Investing to increase customer loyalty always pays off
Customers don't buy products or services. They buy good feelings and quick solutions to problems. Hence, increase customer loyalty by exceeding customers' expectations, create good feelings, and solve problems expeditiously. The ripple effects of this mindset extend beyond satisfaction and retention. It distinguishes your brand, builds repeat business, and improves employee morale.