Building a chatbot no longer requires the knowledge of advanced coding skills. There are platforms that help build conversational bots without writing a line of code. 
Building a chatbot for website can help your business engage visitors and deliver value to customers by instantly addressing their queries in real time. 
64% of businesses believe that chatbots will allow them to provide a more personalized customer support experience. 
Chatbots are important because website is the main source to showcase the brand, generate leads and deliver online support.  
To understand how chatbots can mitigate customer frustrations like long wait times and improve the user experience, we need to understand how to make chatbot for websites. 
Before we go deeper into the steps of creating bots, it's important to first learn about what is a chatbot and its importance.
Why to create a chatbot for website?
Bots are proficient in resolving common queries while reducing the need for human interaction. Integrating chatbots on your website can boost operational efficiency and bring cost savings while offering convenience to customers.
80% of marketers are using chatbot in some way or another. It is for this reason brands are investing in chatbot strategy for improving the customer experience.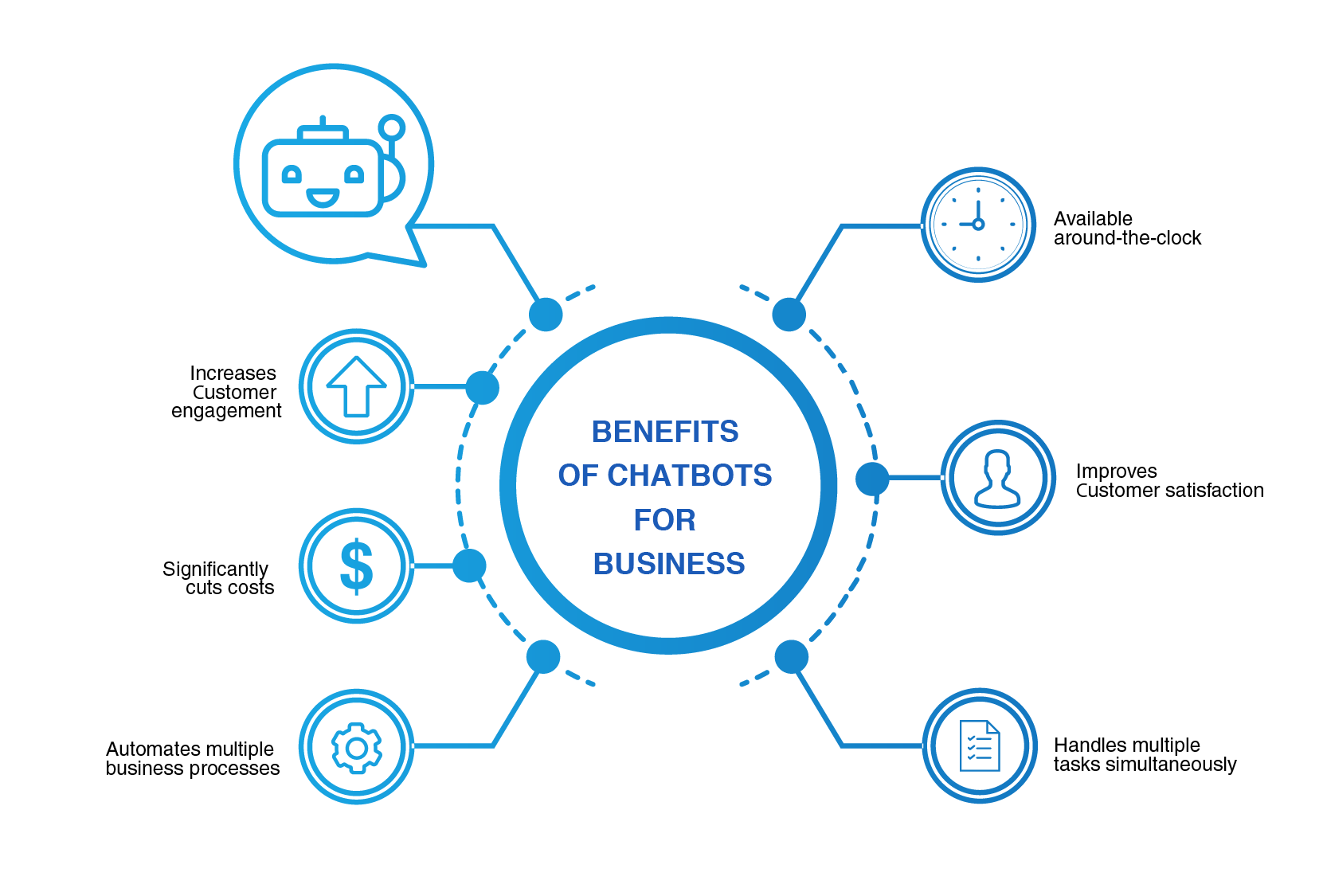 The key benefits of a website chatbot are as follows:
Acquire more leads

– Adding a chatbot to your website allows qualifying website visitors.

Chatbots for lead generation

help in lead collection by booking appointments, demos, placing orders etc. 

Reduce customer support requests

– Automating your FAQs with a

customer service chatbot

helps to provide instant answers and therefore reduce the number of support tickets raised by customers.

Provide 24×7 assistance

– By creating a chatbot for website, you can handle common queries in the first contact itself and address their sales and support queries promptly. 

Achieve higher customer satisfaction

– Making a chatbot for your website helps you to provide a better customer experience, which increases the lifetime value (LTV) of the customers. 

Bring down overhead costs –

Businesses can

reduce customer service costs upto 30%

with conversational AI. Chatbots on websites can handle thousands of conversations which speeds up the response times.
7 Essential steps to create chatbot for your website 
You can build a chatbot for your website in two ways – either from scratch or by using templates. When you build a bot from scratch, there are certain steps to be followed for making the website chatbot successful. 
1.Outline your business functions
2.Give your website chatbot a personality
3.Build the conversational flow for your bot
4.Train your chatbot with FAQs
5.Consider different scenarios for your bot
6.Understand the key website chatbot KPIs
7.Track the performance of your bot
Let us discuss the seven steps on how to make a chatbot for website and increase brand presence.
1. Outline your business functions 
Good bots can always work in harmony with specific business requirements. So, before you build a chatbot for your website, it is vital to outline your goals and define specific objectives. 
You need to identify the business functions that need to be automated and the tasks you want your bot to do.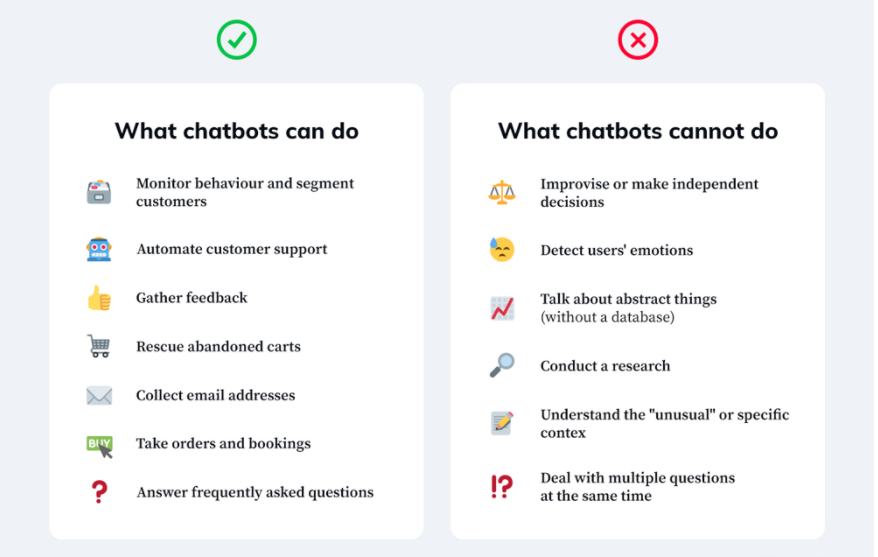 Before building a bot, you first need to know what AI chatbots are capable of doing and what they can't do. You also need to know the type of problems you want solutions for.   
Generally, businesses build chatbots for websites for different purposes. They could be:
Drive sales or collect leads by booking appointments, demos, sign-ups etc. 

Enhance online presence by engaging customers 24×7 when the support team is busy.

Automate customer support with FAQs and deliver hybrid support as bot will handle simple queries and transfer the complex ones to the live agents

Collect customer feedback to understand their satisfaction level and improve customer experience.
Defining the business goals provides clarity in building a robust chatbot that aligns with your customer needs.
2. Give your website chatbot a personality  
Conversational chatbots for websites are a great additional channel of interaction between your customer and your brand. Hence, it becomes very important that the customer experience must be consistent with the other elements of your brand's style.
Customizing the bot's personality and tone of voice is vital while building a chatbot strategy for two reasons: first, because it creates a deeper understanding of the end objective, and second, also helps you understand how the bot will communicate through a choice of language, tone, and style.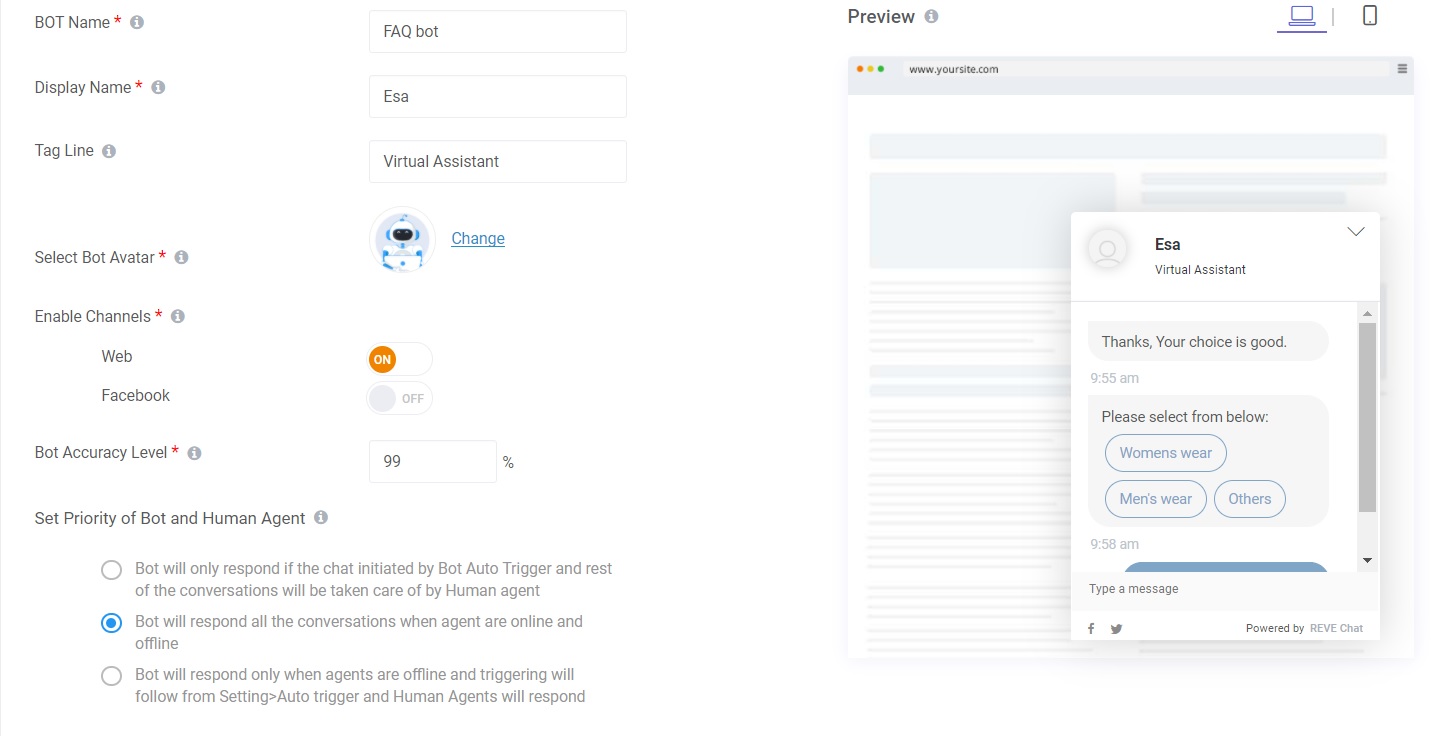 By giving your website chatbot a personality, you make the bot more authentic for users to believe in and also add a humanized touch to make user interaction friendly. Customizing the bot can help in two main areas:
Branding

– You can set the core messaging of your brand into the bot persona to

engage customers in a personalized manner

. Give a unique name to deliver a humanized experience like Eva or Zoe. The name displayed makes customers feel that they are interacting with the human agents.
Messaging

– You can configure welcome greetings to start a great flow of conversations and guide visitors about the product and services. For the conversational bots, the tone you apply should

resonate with your brand's communication style and the expectations of your target audience.
Note: Furthermore, you can set a designation for the bot to be displayed to the visitors, choose an avatar, and set the priority for bots & the human agent for seamless communication.
3. Build the conversational flow for your bot
It is the most important part while building your chatbot. Building the conversational flow is an exercise to help you organize your content and start thinking about the best ways to word the bot's answers. 
The dialog flow goes into all the detail required to implement the bot with the help of nodes and actions.
Node

– It is a specific scenario or a part that you want to execute the overall bot flow. It could be anything – a welcome greeting or a product overview. These messages are set according to the bot flow. 

Actions

– Actions are defined as interactions that chatbots can make with visitors. With actions, you can add different elements as described below to drive your conversations forward in a pre-defined manner.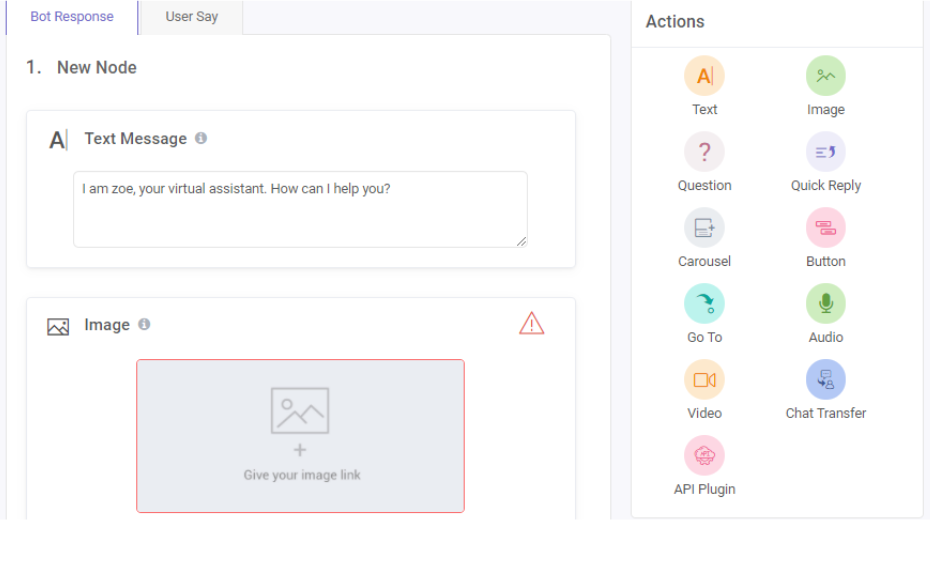 You have to add new nodes with the help of different actions to build the bot flow. For example, add the required actions such as the text message, image, carousel, video chat option depending upon your business requirements.
The chatbot for your website is supposed to be AI-based or rule-based and depending on your chatbot strategy, its conversation flow should be elaborated carefully. 
Key tips to build the bot flow
You should have proper onboarding to introduce the bot's functionality at the starting of the conversation. It's important to minimize user effort and build unambiguous bot messages.

Every message your chatbot sends should be carefully thought through. Avoid gender-specific pronouns and open-ended questions. To build a more natural conversation flow, diversify your bot's replies as much as possible.

For building a dialog tree, make sure the chatbot's logic covers every part of the user request so that the user won't get stacked at some point.
Note: If you think that you may miss something, simply leave the fallback loop to contact a human agent to avoid a dead end.
4. Train your chatbot with FAQs
Training is an important stage while creating a user friendly chatbot design AI chatbot for any website. You can train the bot with comprehensive FAQs depending upon your business needs. It helps in delivering relevant answers to your web visitors. 
Creating FAQs helps your bot to learn about your business. It trains the bot to identify the user intent and have effective communication with the users.
Training your chatbot is a process that is relatively simple, but incredibly repetitive.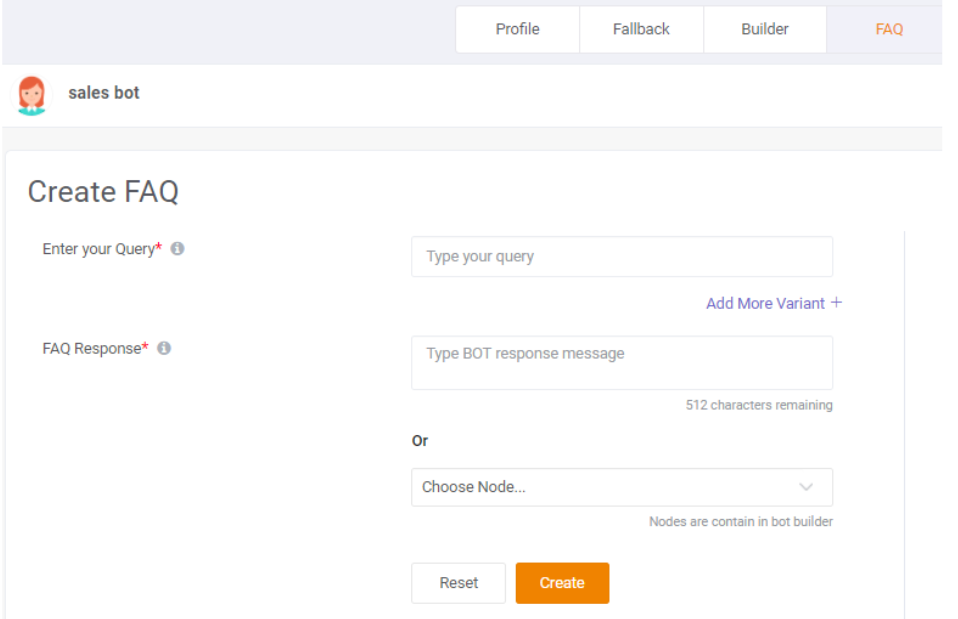 Depending on how smart you want your bot to be — basic level, responding to FAQs, and canned inquiries versus high-level, understanding human language by being fed sample interactions to strengthen its natural language capabilities – will determine how much training your bot needs.
If you only want your bot to answer questions you auto-populate on your site, then it won't have to learn as much as it would if you want it to respond to user inquiries akin to a human agent. 

Alternatively, if your end goal is to use the chatbot only as a guide to redirect your users to a human customer service agent, then your chatbot needs less training than an intelligent bot would. 

If you want your bot to work by detecting the user intent, you can then stop it from relying on a specific input and enable it to identify the meaning the message is trying to convey so that it can offer a relevant, tailored response.

Your chatbot can identify the important words in a sentence and assign them a relative value of positive, neutral, objective, or negative, to understanding the entire tenor of the conversation.
5. Consider different scenarios for your bot   
There is no bot that is 100% perfect. There are instances when an AI chatbot may not be that effective for the scenarios and customers look for alternate contact options like chat support at some point. 
Hence, it is important at what point you want human handover to happen. It will create a balance between bot and the live agents which can reduce cart abandonment rate.
The other way to do the same is by defining fallback scenarios. Fallback scenarios are a very important part of building a chatbot and should be well defined. They identify the break-up points in the conversation and define an alternate solution that the bot can offer to the users. 
Here is how you can configure the fallback options.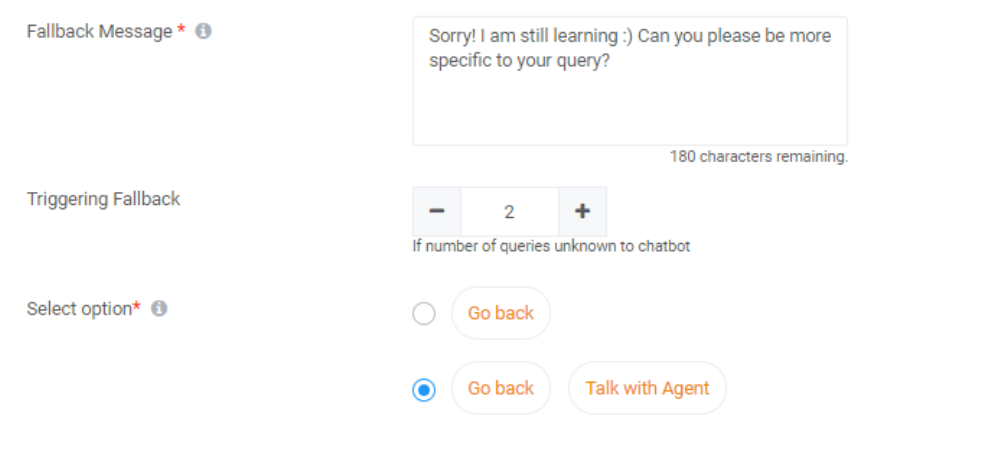 You can define at what particular stage your customers can get a chance to connect with the human agent in the following ways.
You can set a custom fallback message when the bot is unable to understand the user requests. 

Setting the triggering fallback helps you to define the number of queries unknown to the bot for triggering the fallback option.

Choose fallback options for the bot. When the bot is unable to figure out the user intent, the system will prompt a fallback message or connect with a human agent according to the selected options.
6. Understand the key website chatbot KPIs
While building a chatbot for the website, it is important to understand the key chatbot metrics and KPIs. They help to know how your bots are performing to achieve your goals. 
In order to make your chatbot a successful one, it's important to define your KPIs and measure them. Based on your business objectives, you can identify how you will be measuring your chatbot analytics. 
Here are a couple of common chatbots KPIs that you can measure are:
For lead generation: No of new leads/ demos/ bookings

For customer support: No of queries resolved by bot, response time

For website engagement: New conversations by bot
Once you identify your KPIs then you can set to measure them weekly or monthly in order to understand the bot performance and where you may need to fine-tune the bot flow to improve your KPI. It also helps –
To access the effectiveness of your chatbot but gaining insights on how your customers perceive your bot service.

With the help of the chatbot metrics, you can understand how far your customers are satisfied after interacting with the bot.
7. Track the performance of your bot 
Testing the bot is the final step yet the most crucial one. To evaluate how efficient is adding a chatbot for website, you need to track the performance of your bot. Once the bot flows is defined, you can test to check if it is meeting the use case correctly or not. 
After the bot is deployed and has started interacting with users, it's important to understand how much the bot is able to replicate the human agents based on key aspects:
Identify how frequent the bot conversations are happening.

At what point customers are leaving the conversations.

Was there any human handover due to the bot's inability to answer the query?
Regardless, chatbot tracking is a vital step to include to find flaws & improve on your bot's language capabilities and success rates. You can administer a post-interaction survey, guide your users to a human reps, or have the bot send automated questions when the user leaves the conversation. 
It's a win-win for everyone!
How to add chatbot on your website
Creating a chatbot for a website is an easy process with REVE Chat's ready to use chatbot platform. It helps to build customized bots with zero coding based on your business needs. You can deploy bots in a short time frame, train the bots and measure their performance.
Once you successfully create chatbot by REVE Chat's bot builder, you need to copy and paste the short snippet code to your web pages.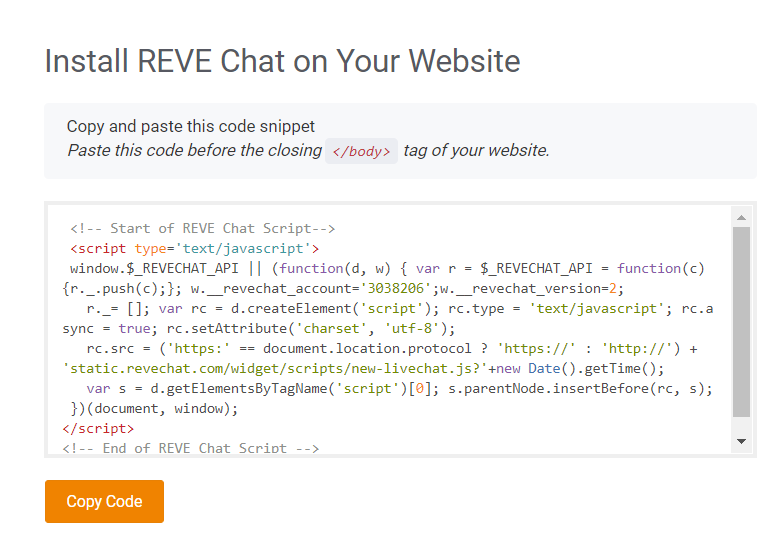 You can follow the stepwise instructions to install a live chat widget onto your website. 
Sign up to the REVE Chat dashboard. It will take you to "Install REVE Chat on your website."

You get two options to install REVE Chat's live chat – Install REVE Chat Code Manually and Email the Code to the IT Administrator

For installing REVE Chat code manually, you can paste the snippet code before the closing </body> tag on your website page.

That's it! Now you can interact with customers via bot. 
Note: In case you do not have access to install on your website, you can email the REVE Chat code with instructions to your website or IT administrator. 
Chatbots for websites: Key use cases
Website chatbots are being leveraged across different aspects of the business. Bots have greatly transformed customer communication and other functions for industries of various sizes.
Here are some main categories of chatbot use cases to enhance business productivity.
Answer FAQs
You can automate the common queries with AI chatbots. Bots can engage customers by delivering real time responses 24×7. It boosts customer satisfaction and reduces the number of support tickets. 
Increased conversion rates 
Utilizing an FAQ bot can not only up your customer satisfaction levels, but also up your number of customers due to increased conversion rates. 
Offer sales assistance
You can deploy sales bot to deliver instant answers to sales related queries and pre-qualify leads with the help of preset questionnaires when your sales team is busy or not available. 
Increased Customer Engagement
Chatbots can help your customers start a conversation anytime and resolve their queries quickly, thereby increasing engagement levels exponentially. 
Effective marketing strategies
AI-powered chatbots can be part of your marketing initiatives and help push your customers seamlessly through your sales funnel. Bots can be integrated with social media for gathering data. 
Collect contact information
Businesses can deploy best chatbots to collect basic customer information like email or contact number to create customer profiles. They can also learn what customers ask for, their product preferences and more. 
Create support tickets 
Website chatbots are always active to handle customer queries even when the support team is not available. If the bot is unable to understand the customer query, it will create a ticket. The ticket is then handed over to the right agent.
Add great value to business communication with chatbots for website
Chabots are gradually becoming an integral part of business communication. They have the potential to be the main channel of customer engagement in future. Depending upon your business requirements, you can rely on ready templates or build a chatbot from scratch and improve your business communication manifold. 
You can either choose a custom solution or use a readymade platform that provides chatbots and live chat as a complete solution. No matter what way you choose, AI chatbots will always be easy to build and help redefine customer communication if used strategically.