Artificial intelligence (AI) has dramatically changed the landscape of business communication with customers. 80% of businesses will be using chatbots in some way or another. 
The default questions many businesses ask are whether or not they can benefit from deploying a chatbot or will the return on investment (ROI) will be worthwhile?
By understanding what is a chatbot and how it works, more and more businesses are deploying bots to convert users to customers, drive sales, and improve the overall consumer experience. 
You can find chatbots use cases and examples across all industries and business functions such as customer service, sales, marketing, or even automating internal processes.
Here are the key use cases of how customers are getting the most out of business chatbots.
Source: Drift
Starting from streamlining the business processes to enhancing customer engagement, and increasing productivity, the following applications of a conversational chatbot will prove to leverage AI-enabled bots worthy of your business.
10 Best Chatbots Use Cases and Examples 
Chatbots are being used across different aspects of business and have had many proven records of success. We have outlined some of the key areas of chatbot use cases that have a significant impact on improving business productivity.
Let us comprehensively discuss how the application of chatbots has transformed alleys across different business functions and industries of sizes.
#1. Chatbot Use Cases in Customer Service
Customer service is one of the vital business functions where chatbots have a great impact. As customers are always looking to get quick solutions and personalized help that will boost their experience, chatbots are a valuable asset. 
67% of consumers worldwide used a chatbot for customer support
Chatbots for customer service can help businesses to engage clients by answering FAQs and delivering context to conversations. Businesses can save customer support costs by speeding up response times and improving first response time which boosts user experience. 
The chatbot use cases in customer support are:
Automate your website support
Deploying chatbots on your website boosts operational efficiency and offers convenience to customers. Bots not only streamline customer experiences at every stage in the service process but are also aids to the support agents.
Bots are proficient in resolving common queries while reducing the need for human interaction. 68% of customers say that they enjoy getting an instant response and answers to simple questions from a chatbot.
What kind of support queries generally do website visitors ask?
They want to know more about specific products or services 

Learn about technical support assistance

Many show interest in billing and pricing information

They also enquire about orders and shipping
When implemented as a part of customer support, bots can automate the whole process of serving customers, when the support reps are busy or unavailable. The 24×7 availability increases the resolution rate that reduces customer churn rate. 
Conversational bots are widely used by banks to deliver instant customer service. HDFC Bank's EVA chatbot is available 24 x 7 to help with banking queries. It helps to get the answers you are looking for without the hassle of waiting on a call or at a branch.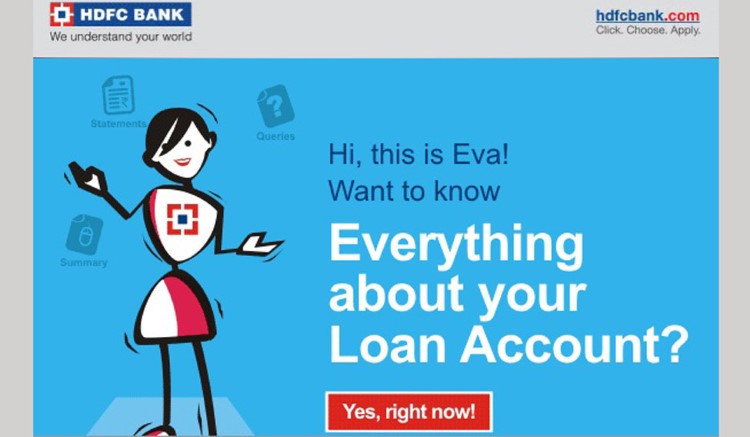 The EVA bot has been configured to handle queries on more than 7,500 FAQs, along with information on the bank's products and services. With an accuracy level of over 85% and uptime of 99.9%, EVA is boosting customer experience using various conversational interfaces.
Support customers inside the mobile app
Chatbots are increasingly being implemented in mobile apps, bringing more value to your company and users. It offers on-the-go support to the users without the need to resort to other channels. 
Key ways conversational AI impacts in-app support
Increases user engagement by addressing queries right inside the app

Provide real-time answers to simples queries and offers immediate customer service

Enable brands to send timely notifications and keep customers updated 

Personalize interactions to create a better user experience 
Digit is a savings app. It has focused on its thought through its user experience heavily. The main interactions are done through a chatbot with a conversational AI.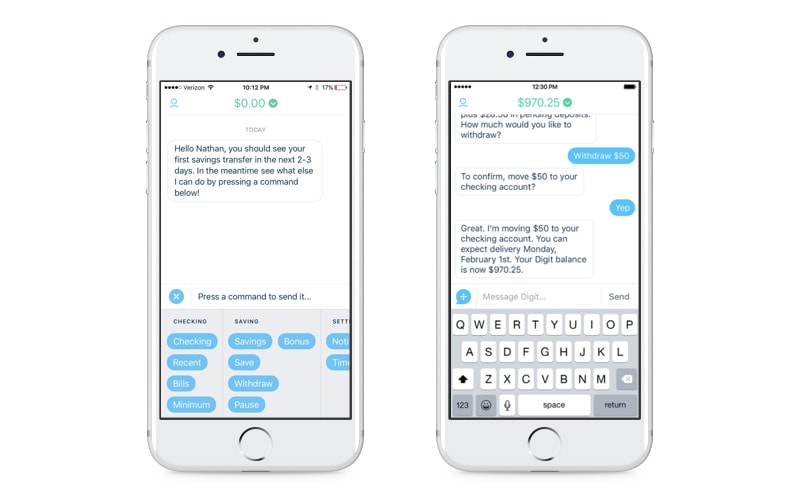 The chatbot gives you suggestions for answers and even questions to ask. You can also message Digit commands by texting the number for checking your balance updates.
Handle internal helpdesk support
AI chatbots help in accelerating internal workforce productivity. Bots are self-learning software systems that analyze human language. They can help your IT help desk to boost team productivity and drive efficiency.
Key ways  to use AI bot for your enterprise IT helpdesk:
Understanding enterprise language:

AI bots should be trained to understand language specific to your enterprise. They should use an Enterprise Language Model (ELM), which resembles an IT service handbook or knowledge base specific to your enterprise.

Interactions with users:

With a robust ELM, bots can operate as AI assistants. They can be trained to completely resolve service requests, or simply do some pre-processing to help a human agent resolve the ticket. 

Meet user requests:

Many IT helpdesk tickets involve extracting multiple complex entities from the ticket and calling RPA (robotic process automation) to do backend functions.
A good AI chatbot for website example of handling service requests involving an FAQ knowledge base: "I need to exchange my phone". The AI-powered chatbot would extract the intent keywords "exchange phone" and provide the relevant support link from the enterprise's knowledge base.
Chatbots help to collect customer feedback 
Customer feedback is a great source to understand customer wants and align your products and services to match their expectations. It improves your overall business growth.  
But how to ask customers for feedback? 
Chatbots are a great way to acquire customer feedback. By following the chatbot best practices, you can generate a high level of engagement that encourages customers in completing surveys, thus creating a win-win situation for both companies and clients.
Here's what the Feedback Bot offers that makes it special:
Chatbots are a great way to acquire customer feedback.  you can generate a high level of engagement, which encourages customers in completing surveys, thus creating a win-win situation for both companies and customers. 
The key data point for actionable feedback is to acquire discrete data via open-ended questions. You can also scale from 0 to 10, and you need both quantitative and qualitative data to make the right decisions. The feedback bot can be deployed where your customers are, be it on your website or mobile app.
Bots help in order confirmation & tracking shipping
After placing an order, it is obvious that customers want to stay updated about the shipping information. Traditionally, email was the way to get the shipping number, then to go to the company's website and enter the number in the delivery service section.
Chatbot for customer service is the best way to combat the traditional process and deliver an excellent brand experience. Customers can stay updated easily just by entering the shipping id.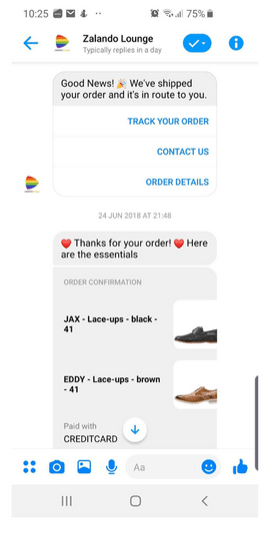 Zalando, a popular European fashion brand, uses chatbot technology to provide instant order tracking for its customers right after they have made a purchase. With exceptions, the involvement of the customer support team and handles conversations for more complex problems.
Chatbots handle refunds & exchange requests efficiently
One of the most common support FAQs reported by customers is for refunds and exchanges. Businesses should have sound refund & exchange policies to address such queries. Chatbots can handle common queries by reducing support tickets and increasing team productivity.
Pro tip: You can make the option to 'get a free refund or exchange' visible right on the chat window.
REVE Chat offers a range of feature-rich customer support tools including live chat and chatbots that can help transform your customer support. Sign up to get the best support software for your business and enhance customer experience with your brand.  
#2. Chatbot Use Cases for Sales
Chatbots help businesses in asking contextually relevant questions, qualify leads, and book sales meetings, at scale. Bots convert 4x higher than traditional lead generation tools because people prefer conversations. So, engage with your visitors 24×7, to interact, and generate more leads.
The key use cases of sales bots are as follows 
Automate sales & lead generation
Lead generation chatbots can create exceptional conversational experiences for website visitors and qualify them at scale. The leads are then directed to the right sales rep for closing sales immediately or booking an appointment. 
How do chatbots help in lead generation?
Segment your audience:

Bots enable you to identify the product interests, likes, and dislikes of visitors & customers, and segment them based on their responses.

Qualify leads:

Bots use the sales questionnaire to convert your website, visitors, into potential prospects and send them to the right sales representative for further follow-up. 

Hybrid chatbot:

Most businesses do not automate chat. The best way is to correctly balance the bot support for simple queries and human support for complex issues.
Vainu, a data analytics service, asks questions visitors with their VainuBot. Visitors can quickly make choices by simply selecting the option most relevant to them. At the end of the conversation, the bot asks for their email address to book a demo or send a report. It saw more leads generated compared to a simple lead generation form. 
Better lead nurturing
74% of companies consider lead nurturing to be their top priority. 
Businesses that try to contact potential customers within an hour of receiving queries are nearly 7 times as likely to have meaningful conversations. If you want your qualified leads to end up making a sale, you need to nurture them based on their journey. Apparently, nurtured leads make 47% larger purchases than those who buy immediately. 
For e-commerce businesses, chatbots can nurture leads by engaging customers in different ways:
Giving personalized product recommendations

Suggesting the best combo offers 

Offer discount coupons to improve sales 
Chatbot eases appointment bookings
Chatbots that are advanced and meet the latest artificial intelligence trends can enable automated appointment booking to help customers book instantly from your website or Facebook page. They are also being used across industries like hospitality, health care, and personal services. Bots can be connected to the calendar to offer appointment slots to your visitors so they can book meetings 24×7 without human assistance.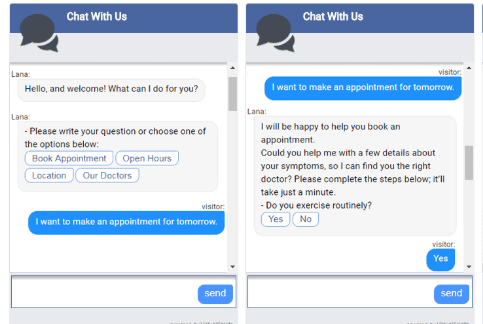 Key features of an appointment bot are as follows:
It allows visitors to self-schedule

You can collect additional information

Send calendar invitations    

Inform the account executives about new meeting requests

                   
Bots help to place online orders
1 in 5 consumers would consider purchasing goods and services from a chatbot. Be it food, electronics or apparel chatbots are prompt in handling online orders. 
Chatbots for e-commerce brands are specially designed to:
Assist customers during their purchase journey and help them with quick decision-making. 

Chatbots offer product recommendations based on previous purchases to deliver personalized service.

Provide real-time customer support to all the FAQs.
H&M, the renowned clothing brand built a chatbot that asks users questions about their style and offers photo options for users to choose from. The collected information is used by the bot to create a fashion profile of an individual user to make clothing suggestions and help in direct purchases.
#3. Chatbot Use Cases for Marketing
The messenger marketing ecosystem has changed for many businesses using chatbots, but the goal remains the same for all i.e. instant and convenient service. 80% of businesses are expected to have some sort of chatbot automation.
The below marketing use cases have proved to businesses with meaningful conversations and generate revenue.  
Better customer engagement 
Customers prefer prompt actions delivered by chatbots fueled with artificial intelligence for better customer engagement.  Chatbots can engage with your customers with immediate responses and increase customer satisfaction, which makes them happy to retain your brand. 
How do AI bots improve customer engagement?
Chatbots are best for customers who expect an instant response, typically less than 30 seconds.

A chatbot template for marketing will be active 24×7 to engage customers to handle information-based questions and reduce support tickets.

Chatbots are easily scalable during busy hours to engage customers and deliver a better customer experience.
Emirates Vacations is one of the best chatbot examples of how they deployed chatbots for boosting customer engagement.
Considering the average CTR for display ads is low with.35%, Emirates Vacations built a chatbot within its display ads. The company targets different visuals and bot sequences based on the page someone's browsing. The engagement rates rose 87% since deployment.
News bots
Browsing multiple portals for news updates is really time-consuming. With chatbots, you save time by getting curated news and headlines right inside your messenger.
Many popular news portals and television networks introduced chatbot services. Chatbots inform people about breaking news and recommend top stories to read. CNN was one of the first news businesses to build a bot on the Facebook Messenger platform.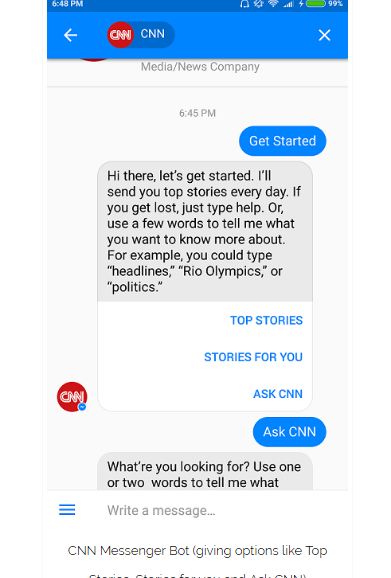 By using the CNN bot, you can choose to read the top stories' topic. When you choose the stories you like, the bot gets smarter about your preferences and what you want to read.
Offer product recommendations 
Amazon is a prime example of a brand that implements product recommendations and does it so well that it generates 35% of its revenue through its recommendation engine.
If you want your customers to proceed to the final stage of the sales funnel, it is vital to clarify their queries, understand their preferences, guide them and recommend them the best option accordingly in their buying journey. 
How do bots give product suggestions?
With chatbots, you can track your customer journey to their interests, preferences, and needs. Based on those elements you can recommend products or services they are looking for.
E-commerce, fashion, and the beauty industry are where product recommendations are much needed.
Chatbot technology has given a new makeover to the beauty industry. Bloom Avenue's Olivia, Facebook Messenger chatbot is the best example. Olivia is a user-facing chatbot that asks a series of skin-related questions, and then recommends the right skincare products for each user.
#4. Chatbot Use Cases for Social Media
Isn't it vital we believe to engage with customers where they are? 
With an increase in messenger platforms for business, one of the most important channels is social. As per a Business Insider report, "Consumers choose the main four social networks – Facebook, Twitter, Instagram, and LinkedIn".
Chatbots significantly boost user engagement on these popular social websites and communicate with customers through live chat platforms like Facebook Messenger. Bots are taking over social media marketing as they allow consumers to engage with them in terms of customer service, and transactional engagements.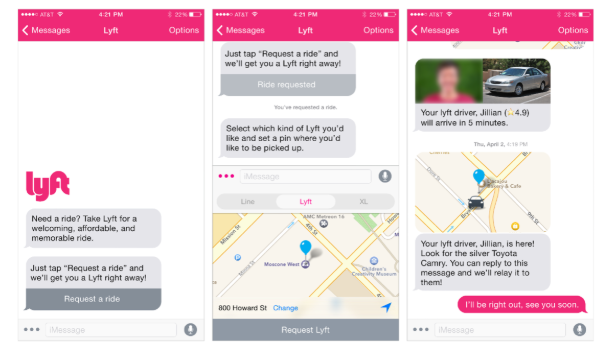 Lyft accepts ride requests via chat on Facebook Messenger and Slack. The chatbot helps you to know the current location of your driver and shows you a picture of the license plate and car model. 
#5. Conversational AI for Messaging Apps
The global chatbot market is expected to reach $1.23 billion by 2025 with a compounding annual growth rate of 24.3%. 
Conversational commerce is preferred over traditional ways. With the ever-increasing popularity of messaging, chatbots are now the center of business messaging. This concept encourages buyers to be more ready and willing than ever to shop online with bots. 
The report says consumers prefer using the main four messaging apps — Facebook Messenger, WhatsApp, WeChat, and Viber.
Source: Business Insider
Here is how messaging platforms with chatbot capabilities can help businesses.
Customers prefer brands offering bot support.

47%

of users are open to purchasing items through a bot. 

Chatbots can engage customers by answering their simple queries when the support team is busy or not available. 
Book my show, the leading online booking app, has integrated WhatsApp for Businesses to send ticket confirmations as WhatsApp messages by default. The users who book tickets on BookMyShow will be notified through a WhatsApp message along with the confirmation text or an M-ticket (mobile ticket) QR Code. 
#6. Chatbot Usage for Human Resources
Like every superhero has some special power for the workforce of the future, and that power could be chatbots – What do you think?
Human Capital Trends report found that only 17% of global HR executives are ready to manage a workforce with people, robots, and AI working side by side. 
Recruitment is an important part of HR activity. With chatbots, tasks can be handled seamlessly. Mya, the AI recruiting assistant for example manages large candidate pools, giving FirstJob recruiters and hiring managers more time to focus on interviews and closing offers.
How does Mya do that?
Mya can chat with many candidates simultaneously via SMS, Facebook, Skype, email, or chat

It asks to prescreen questions, responds to FAQs, delivers application progress updates, gives tips and guidance, sends alerts to the candidates, and administers assessments & challenges

It provides vital information for recruiters and managers, ranking candidates on factors like experience, recent activity, engagement, and other metrics.
#7. Usage of Chatbots for Personal Services
Fitness apps can be helpful for individuals who don't mind the extra engagement with the app itself. But not all the applications have the headspace to stay engaged with apps and consistently put in personal fitness information, diets, or design workout plans.
Chatbots can be used to streamline your personal services such as fitness, diet, health, or day-to-day activities. Every fitness goal requires a different set of workout plans and a nutrition diet to be followed.
FitBot is the way trainers communicate with clients, both onsite and remote coaching. As per research, the participants who used the chatbot were 26% more likely to meet or exceed personal fitness goals compared to participants that didn't use the technology.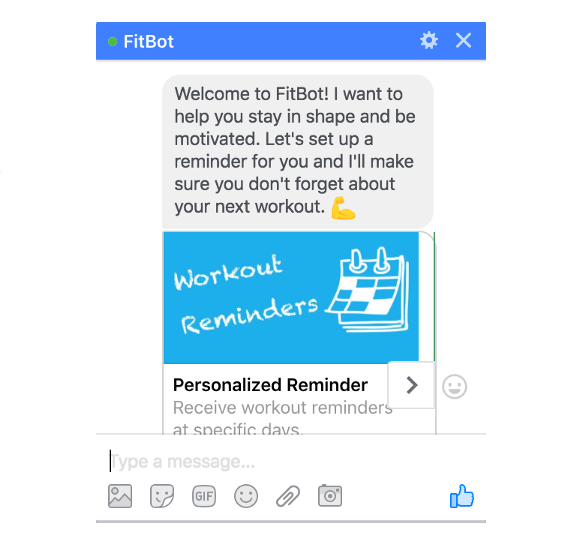 Here is how the fitness chatbot helped customers.
The chatbot helped the participants to stay consistent with their workout routine and also use the bot for a variety of other physical activities.

A chatbot can help to replicate an accountability partner who sends out engaging push notifications on specific days like a personal fitness trainer.

Bots can also provide personalized workout and diet recommendations based on the data entered by users like their height, weight, fitness goals, etc.
#8. Voice-based Chatbots
As per Accenture research, "Digital consumers prefer messaging platforms that have voice and text-based interfaces".
while the conversational AI vs. chatbot debate has been going on for a long, we should not forget how conversational bots could use artificial intelligence (AI) to assist users over both text and voice. Voice chatbots are all about facilitating your users with a seamless experience with your business. They are one of the important conversational banking trends adopted by many banks.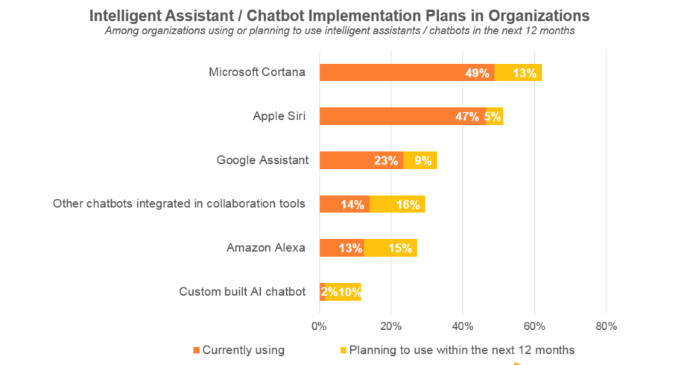 Here are the key reasons why voice bots are being popular.
Voice bots engage customers with automated, intelligence-based communication.

You can provide reliable data insights to your customers with voice-enabled chatbots.

They offer personalized solutions to customer requests.
#9. Chatbots Improve User Retention
Chatbots are one of the best tools to improve user retention by managing customer service issues in a timely, efficient manner and upselling & cross-selling relevant products and services. 34% of customers returned to the business within 30 days after iterating with the bot.
Customers prefer brands that respond to customers' queries immediately around the clock. Implementing chatbot technology can be one of the best customer retention strategies and significantly and also increase customer lifetime value (CLTV).
#10. Chabot Use Cases Across Different Industries 
AI bots come with different abilities from different chatbot platforms and fulfill different purposes in each industry. Different types of chatbots can be used for different businesses, from those that deal with simple requests, to those that handle advanced queries. 
Here are some use cases for different industries and examples of how they have been deployed.
Chatbots Use Cases: What the Future Holds?
Chatbots augment customer experience without replacing it. Bots have been used widely across different business functions like customer service, sales, and marketing. With REVE Chat, start a free trial of advanced customer support software and put start delivering great experiences to customers. 
With bots becoming smarter, there will be new avenues where we can see more chatbot use cases for making the customer communication process seamless in startups as well as enterprises.
However, it is assumed that the use cases of chatbots will grow even more than it will:
Be as efficient as human support by using predictive and sentiment analysis.

Be able to provide solutions to complex queries without escalating for human assistance.