Are you ready to revolutionize the way you interact with your customers? In the digital world, instant communication is key, and nothing does it better than live chat! We've scoured the market to bring you the ultimate solution – the best live chat software that will take your customer support, sales, and engagement to soaring heights. 
But that's not all! In this thrilling journey, we'll delve deep into the inner workings of live chat, unlocking the secrets behind its unprecedented success and revealing how live chat works. Are you ready to embark on a captivating ride as we explore the cutting-edge features, the seamless integration, and the magic behind real-time connection? Your customers are waiting – let's chat about the future of your success! 
Here are some interesting stats by Forrester research:
73% of customers

say that valuing their time is the most important thing your business can do to provide them with good customer service.

51% of customers

are more likely to stay or buy again from your business if you offer live chat support.
But the dilemma occurs when it comes to choosing the most suitable one for your business, with a plethora of live chat vendors available.
How We Reviewed the Best Live Chat Software Solutions?
There are certain factors that must be taken into consideration for evaluating the live chat support solutions. Every live chat platform is created with certain objectives that distinguish them. They have both pros and cons, hence it is crucial that you outline your top priorities and requirements.
Are you having trouble choosing the right one? 
Here is a closer look at the methodology that we used to review the popular tools. It will explain the features in detail below, so you can weigh them according to your personal needs.
Let us discuss those assessment criteria in detail. 
Features
The depth of the product features is one of the most important aspects that a potential customer looks into. Customers look for the features keeping different use cases in mind. It could be for online lead generation, delivering real-time support, or engaging with them to improve their experience. You need to narrow down your options based on what your website needs the most. Hence, the feature comparison is the most critical step to identifying the best live chat software for you.
Customer support
Customer support is an important assessment criterion, especially for business decision-making. Many times businesses need custom solutions or face technical issues. When it comes to selecting the best live chat tool, businesses prefer to pay higher pricing if the vendor offers quality customer support.  
Usability
Design is a vital aspect when it comes to choosing the best live chat solution. Having an intuitive UI//UX helps your team to adopt the product faster. At times having a complicated interface can be a negative factor that impacts the chat-handling skills of your support reps.
Pricing
Pricing is also an important aspect just like features and usability. There are many freemium solutions and affordable paid plans available. However, if you are a small business or an enterprise, you have to choose the tool from a value perspective that meets your business needs. 
Security
Every SaaS product should have certain security policies like PCI/DSS, GDPR, or HIPAA compliance. Without some of these security measures, your product may not be an ideal choice for certain industries.
Best Live Chat Software: 15 Top Solutions Compared
In order to ease the task of getting the best live chat software, we have prepared a list of the popular live chat applications reviewed that can help you to choose the best online chat software based on your business requirements.
So, let's get started with a detailed review and comparison of the best live chat software.
REVE Chat stands tall as the unrivaled champion among the best live chat software solutions. Seamlessly blending cutting-edge technology with unmatched user-friendliness, it redefines the way businesses engage with their customers. It offers real-time communication that fosters immediate assistance. 
With its intelligent chat routing, proactive triggers, and in-depth analytics, businesses can truly understand their customers' needs and provide personalized support at the perfect moment. No matter the industry or size of your enterprise, REVE Chat empowers you to create exceptional customer experiences that leave a lasting impact.
Check our live chat software pricing. 
REVE Chat helps businesses to engage with customers across their whole journey. You can seamlessly engage your customers over their preferred channels such as website, and social media, to deliver an omnichannel messaging experience. 
REVE Chat is trusted across the globe by enterprises like Telenor, Southeast Bank, Samsonite, Al-Tijari, and many more.
Key Features
Voice & video chat – Personalize customer conversations on the website or mobile app by starting a visual engagement with the video chat platform.
Co-browsing

– Collaborate with your customers in real-time to guide them through the problem and offer faster solutions.

Chatbots –

 Automate support FAQs with

chatbots

to deliver real-time support 24×7 and convert website visitors into qualified leads.

Omni channel messaging –

Engage your customers over their preferred channels like social media, phone, and website, and deliver a great messaging experience.

Advanced customization –

Customize your website messaging, look & feel of the live chat widget to match your branding.
Pros
Complete customer engagement solution with video chat, co-browsing & live chat

Integrated chatbot builder to manage automated and live conversations in one platform

Omnichannel messaging

Both SaaS and on-premise options are available

Mobile SDK for live chat and video chat

Prompt customer service with 24×7 live chat support

Affordable plans for all types of businesses with per-agent pricing

Ticketing System
Cons
No support for WhatsApp

Need stronger trigger options for outbound messaging 
Pricing 
REVE Chat offers three pricing plans with 14 days of a free trial. 
Standard: $13.5 per agent if billed annually

Advanced: $22.5 per agent

Enterprise: $45 per agent
REVE Chat also offers Chatbot builder as an add-on with any of the plans with additional pricing of $50 per month. 
You can also request a customized solution based on your business requirements by sending a request at [email protected]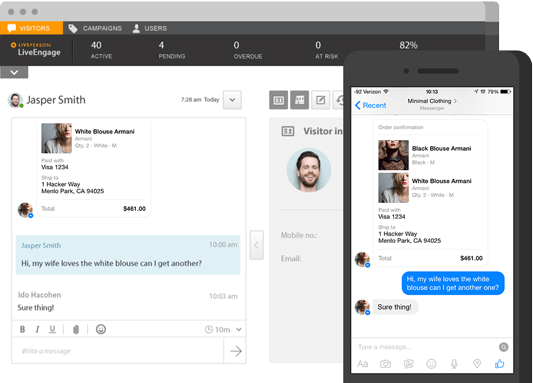 LivePerson is a conversation cloud platform that provides AI-powered messaging and chatbots to help companies to drive the marketing, sales, and customer experience. It helps businesses to discover and understand what customers actually want in real time with an intent manager. The tool leverages live chat & messaging data to process language efficiently and enable brands to scale, manage, and optimize all consumer conversations.  
Key Features
LivePerson aims to help businesses create meaningful and relevant connections with their customers. Their investment in real-time metrics, analytics, and a top-notch hosted platform makes this vision possible at scale. The LiveEngage is a popular messaging platform that allows businesses to talk with their website visitors on websites, mobile, as well as social networks real time.
Pros
The

best live chat software

offers one of the most comprehensive omnichannel messaging platforms 

Integrates with contact center IVR, allows deflection of customers from voice to chat

Integrated live chat platform with AI-powered chatbots

The ability to manage high-volume messages on popular platforms  such as social media
Cons
Do not have online pricing, LivePerson is one of the most expensive platforms. Not a preferred choice for SMBs

Limited reporting with the inability to create custom reports and dashboards

Abysmal customer service is difficult to communicate with human agents. 

No separate view to manage active chats
Pricing 
LivePerson pricing plans include the Standard plan at $40/user/month, Premier at $90/user/month and the Enterprise plan is by quote. They do not have a free trial version. LiveEngage offers two monthly subscriptions Standard – $40/user/month, Premier – $90/user/month, and Enterprise – a quote-based plan that is available for 12-month contract terms.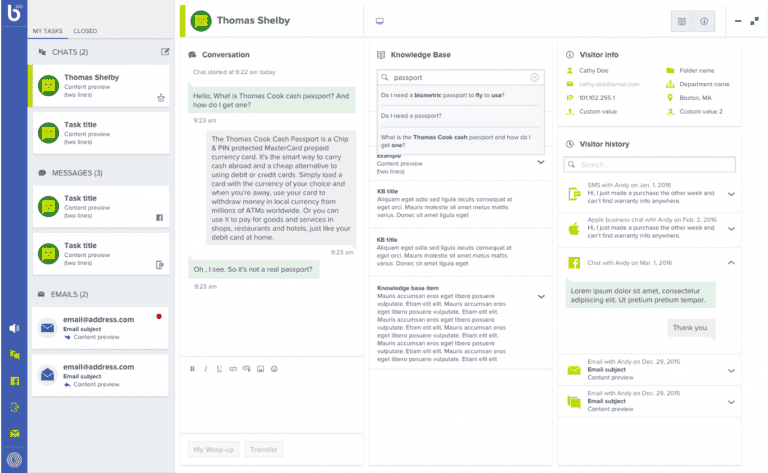 Bold360 is one of the best live chat apps delivering personalized interactions. Leveraging the power of AI, Bold360 helps to enhance every engagement no matter where it occurs, allowing companies to deliver consistent customer experiences seamlessly across both AI and agent-based interactions.
Key Features
The Bold360 is one of the best live chat platforms that provides email, messaging, and social channels needed to engage and support consumers across self-service and agent-assisted interactions. It empowers agents with the full context of interactions and quick access to support tools like remote access, file transfer, and co-browsing for a unified experience.  
Pros
Omnichannel live chat platform to manage multiple channels from one dashboard

Effective use of customer data and segmentation to give agents more insights and take actions at scale

Offers conversational chatbots with NLP support.
Cons
No online pricing. Not ideal for small and medium businesses where pricing is a concern.

The implementation process is tedious and takes a long time 

The UI/UX lacks the modern feel and is just not as smooth or visually appealing as other platforms

Limited native integrations. If you need an box solution that works with your other applications, Bold360 may not fit
Pricing
Bold360's pricing package is completely quote-based depending on your business needs. They offer 3 plans: Starter, Plus, and AI.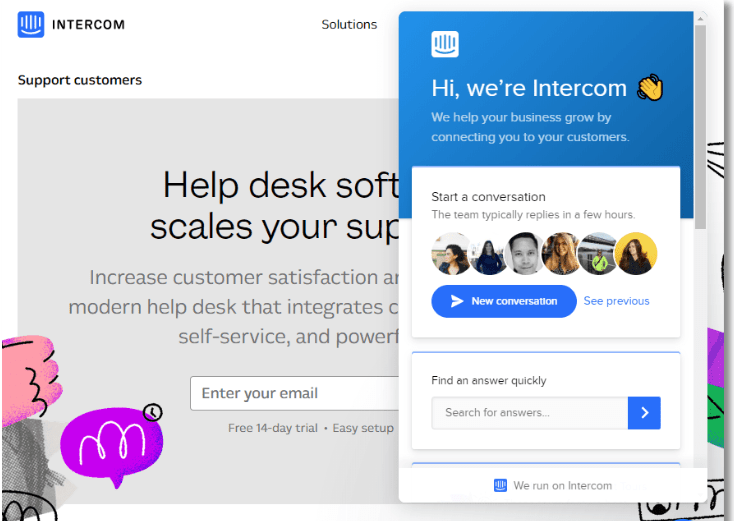 Intercom is branded as the conversational relationship platform that helps to build customer relationships via messaging and live chat across their journey. It allows delivering top-notch support at scale with the help of business messenger and conversational support funnel.
Key Features
Intercom provides better conversational support with proactive chat, self-service options, and human support. With conversation routing and a collaborative inbox, the user can send inquiries to the right support agents and ensure collaboration. With data-backed customer profiles, the agents can access customer information to personalize communication. 
Pros
Offers complete conversational marketing suite for outbound messaging

Support for email as a fallback channel is great to have ongoing conversations

250+ out-of-the-box integrations and APIs for custom integrations

Ideally suitable for SaaS businesses

Provides in-app product tours to onboard new customer
Cons
No online pricing. Not ideal for small and medium businesses where pricing is a concern.

The implementation process is tedious and takes a long time 

The UI/UX lacks the modern feel and is just not as smooth or visually appealing as other platforms

Limited native integrations. If you need an box solution that works with your other applications, Bold360 may not fit
Pricing 
Intercom offers conversational solutions for marketing, customer engagement, and support at $499 per month for most businesses. It offers two plans with basic chat and messaging for small businesses – the Growth plan starts from $39 per month and Grow starts from $99 per month.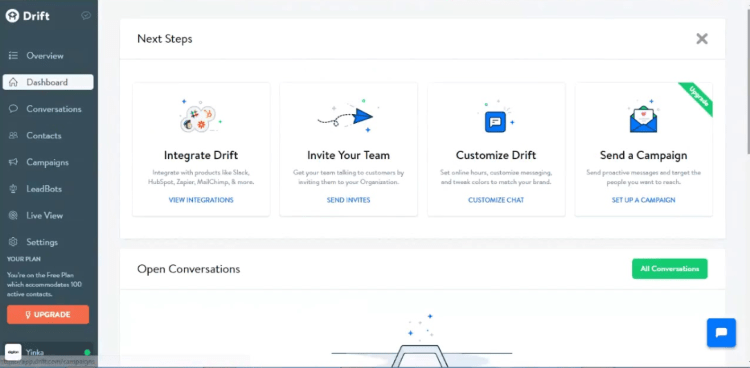 Drift is a conversational marketing tool that helps to generate leads and provide online support. They believe in conversational marketing, which empowers consumers to interact in real-time with your brand. 
Key Features
Drift offers important features like video chat to have real-time direct conversations to increase sales conversions. It allows businesses to automate their buying experience with the help of chatbots. The Drift revenue acceleration allows businesses to engage customers across the entire customer lifecycle to drive revenue faster.
Pros
Modern and intuitive UI

Setup playbooks to build sales bots that allow you to automate funnel conversations and boost your conversion rate

Ability to segment customers and target them with account-based marketing (ABM)
Cons
One of the best free live chat tools however it does not offer real-time engagement tools such as video & voice chat, co-browsing

Complicated setup for paid plans

Expensive pricing beyond the free plan. Not suitable for small and medium-sized businesses

Broken mobile apps.
Pricing
You can get started with the Drift revenue acceleration platform with Free, Premium, and Enterprise plans. You need to chat with the sales team about the pricing for the Premium and Enterprise plans. The pricing is actually pretty custom depending on how your team plans to use Drift.
Need a reliable and one of the best live chat apps for your business? Comm100 is a leading provider of customer service communication solutions, assisting businesses of all sizes to better assist and interact with their clients. It helps businesses build stronger customer relationships and achieve greater business performance. The Comm100 platform helps to make your brand more reliable, and communication much more flexible.
Key Features
The key feature that Comm100 offers is an omnichannel customer experience platform for real-time interactions through the website, mobile, and messaging. It enables organizations to engage customers in real-time via text, audio, video chat, co-browsing, file transfer, and scale, and productivity with bots. 
Pros
The best live chat solution also offers live chat and chatbots under one platform

Support for video chat

Overall a good platform for multi-channel messaging
Cons
The reporting lacks advanced features 

Their user interface looks outdated and lacks intuitiveness

On-premise implementation is tedious and difficult in managing

Lack of quality customer service with no support on weekends.
Pricing 
Comm100 offers its business edition for free up to three agent licenses. Their live chat pricing starts at $29/agent per month for the Team plan, $49/agent per month for the Business, and Quote-based for the Enterprise plan.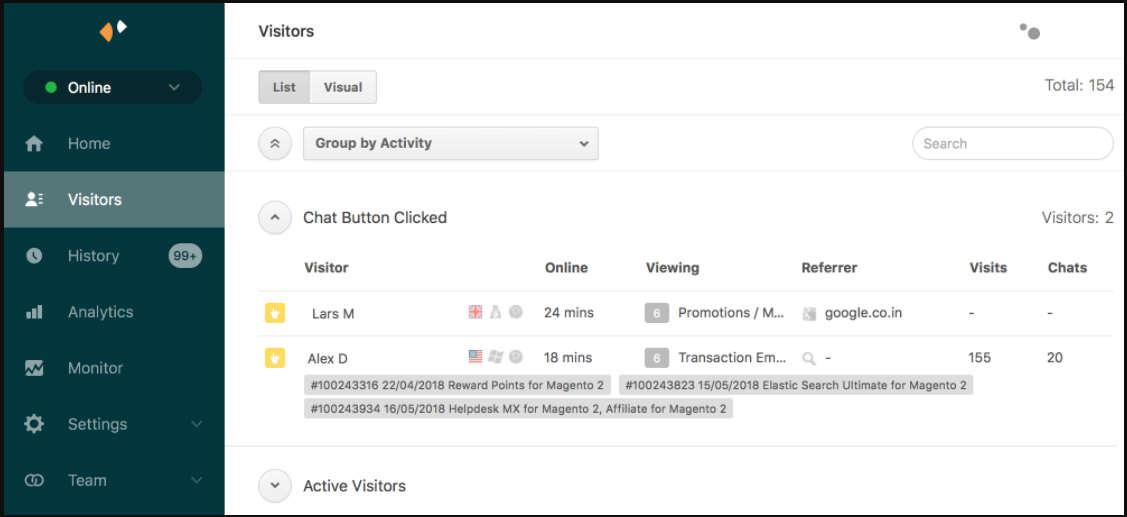 Zendesk Chat is a cloud-based live chat solution that helps small to large-sized organizations. It allows proactive engagement by reaching out to customers before they even ask questions. You can chat with the customers over websites, mobile apps, messaging apps like Facebook messenger to build the best customer experience that customers actually prefer.
Key Features
The key features of Zendesk chat include issue resolution, multiple chat sessions, skill-based routing, and analytics. It also offers a proactive message feature that allows agents to target online visitors and send automated chat invitations based on geographic location, purchase history, or referral page. The chat rating features to collect feedback and measure agent productivity. 
Pros
Real time view of visitors

It can be used at several websites simultaneously in multiple chat windows with different settings

The best live chat solution can be easily integrated with other Zendesk products in one centralized platform

It allows creating macros, so agents can also create mother and parent tickets in Zendesk
Cons
No support for video and voice chat

Outdated interface and chat widget design

Advanced widget customization is only available to the Elite plan. 

The free plan has very limited features and is not much useful

Advanced reporting is limited. Do not offer scheduled reporting features.
Pricing 
Zendesk chat offers four pricing plans with a free trial period. The Lite plan is a forever free plan and the other paid monthly plans per agent start at $14 for Team, $29 for the Professional, and $59 for the Enterprise respectively. 
LiveChat is a popular messaging application that can be integrated into your website to address sales and support queries instantly. The LiveChat Android & iOS apps help to engage with your customers wherever you are. Its desktop apps for Windows and Mac offer a rich interface that helps to take customer service to the next level.
Key Features
The key features of this popular website live chat include different chat tools like canned responses, chat tags, customer engagement with targeted messages, chat routing, transcripts. Apart from customization features, it also offers strong reporting and analytics capabilities. LiveChat offers top-notch security to customers with crest card asking, visitor banning, encrypted messaging.
Pros
One of the simplest and easy to use interface

Strong analytics capabilities for staff prediction. Able to send automated reports and chat summary through email

Dedicated app marketplace with almost any integration you can think of. They can also do custom integrations if needed
Cons
Though a great live chat tool, but it lacks real time engagement features such as video chat and co-browsing

No built-in chatbot builder. need to purchase another product.

Mobile apps have very limited functionality. Agents may not get full features to work the same way as the web version
Pricing
LiveChat offers four pricing plans. It offers a 14-day trial offer for the Team subscription. The plans include the Starter plan at $19 per month, Team plan at $39 per month, Business plan at $50 per month, and for the Enterprise plan you need to contact the sales team.
Olark is one of the best live chat apps for engaging with website visitors and customers in real-time. It is the ultimate tool for sales & support teams to boost your sales, help solve issues, and understand your customers. Give your customers the answers they need immediately and gain powerful insights about what they want for relationships that last.
Key Features
Olark includes great features like chat transfers, visitor monitoring, and chat notifications. While they've got the live chat part covered, the solution still lacks chatbots to help with lead generation and automation. 
Pros
The user interface is extremely easy to learn and to use. 

Advanced chat widget customization options. 

Affordable pricing

Create automated messages that pop up depending on the different web pages the visitor lands on.
Cons
Good live chat platform but not suitable if you need multi-channel messaging or real time customer engagement

No mobile apps. No chat SDK

Limited functionality, no spell check, routing, etc.

Reporting is limited, unable to segment data by specific time periods
Pricing 
Olark offers both a 2-week free trial and a free plan. They only offer one pricing package with discounts given depending on the billing cycle. Their free plan comes with one free agent license capped at 20 chats per month. Their full pricing plans include $17/agent per month.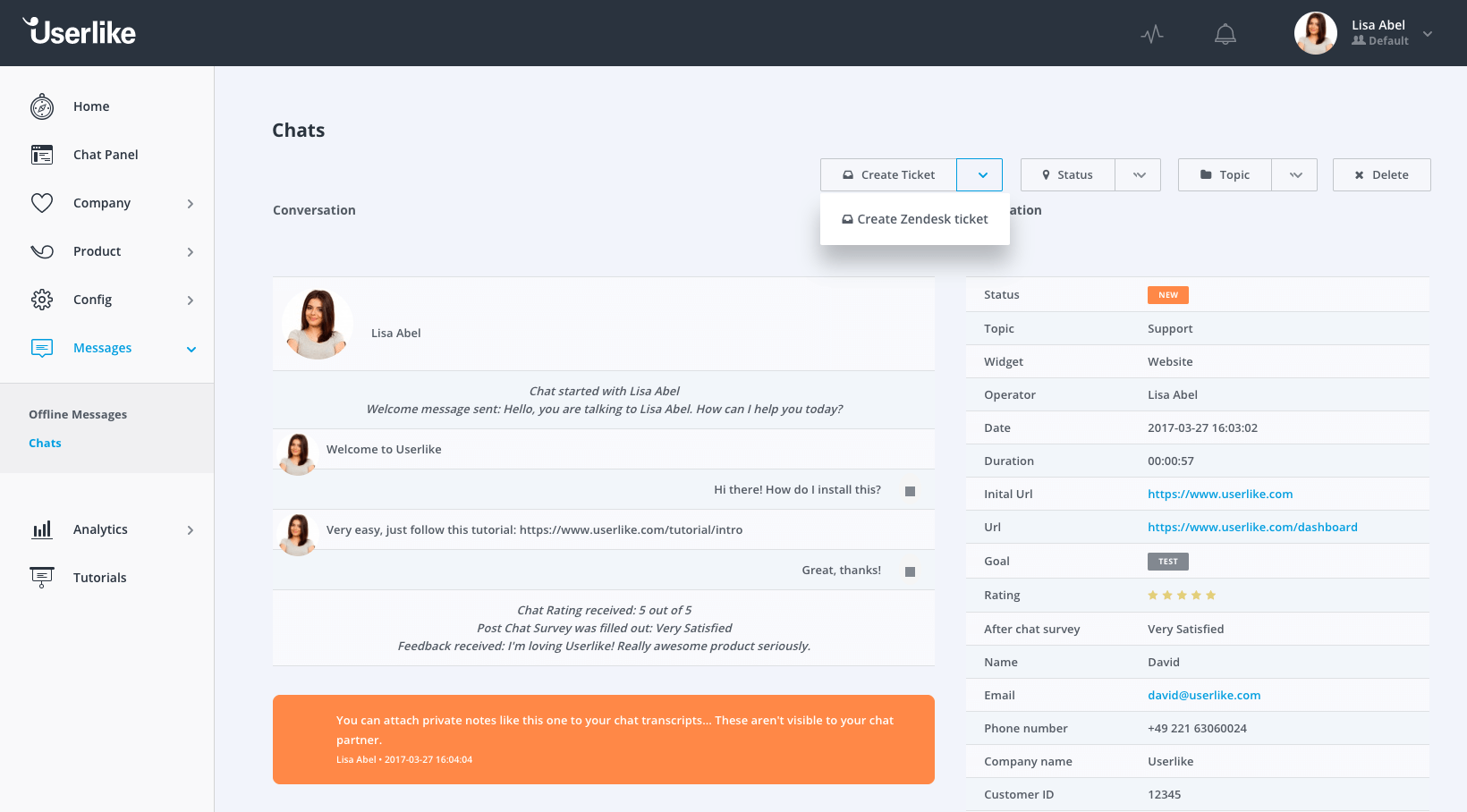 Userlike is one of those live chat software that lets you chat with your customers through multiple channels, be it Website, Facebook Messenger, WhatsApp, Telegram, or SMS. It helps sales reps to create personalized conversations and allows contacts to provide feedback on service and features. 
Key Features
Userlike helps in acquiring leads, increasing conversions, and solving customer issues instantly by leveraging features like all-inclusive button integration, in-context forwards, custom design, operator skills, sticky chat, smart customer profiles, pre and post-chat survey, and CRM integrations.
Pros
Support for all messaging channels including Facebook Messenger, SMS, and WhatsApp

Comes with chatbots to automate the customer support

Automatically enriches customer profiles
Cons
Clunky user interface. Not intuitive

No mobile apps to chat with Android & iOS users on the go

No digital customer engagement tools like co-browsing and video chat

Full customization, white labeling, and skill-based routing only available on higher-tier plans

Chat SDK is not available for in-app messaging
Pricing 
Userlike offers four packages. The pricing plans start at $29 per month for the team plan, $99 per month for the Corporate plan, $299 per month for the Business plan, and for the Flex plan, you have to request a demo.
SnapEngage is one of the best live chat apps that help businesses to transform customer engagement throughout the customer lifecycle, positively impact KPIs, and drive measurable business outcomes. By implementing SnapEngage, you can consistently experience increased sales conversions, CSAT/NPS, and reduced cost-per-interaction. 
Key Features
SnapEngage full-featured, secure live chat solution for sales and support teams offers robust CRM & help desk integrations. It is HIPAA & PCI compliant and includes advanced analytics to prove return on investment (RoI). The website chat and bots solutions help to increase conversion rates and improve customer satisfaction.
Pros
Easy to set up with native CRM integrations

Offers enterprise-grade features such as single sign-on (SSO) and audit logs

A great option for healthcare-related businesses due to HIPAA compliance

Advanced chat widget customization as per your business needs
Cons
Outdated dashboard design

Lack of engagement features such as co-browsing & video chat

No file-sharing options for visitors. 

Not designed specifically to generate sales. More oriented towards a support chat tool

Chat routing has limited options
Pricing
SnapEngage offers the best plans for your business. Their Essentials plan starts at $16 user/per month, Professional starts at $26 user/per month and for the Enterprise plan, you have to contact the sales team.
Freshchat is a live chat solution platform that helps you engage with customers over chat through various channels like websites, mobile apps, or even social pages. It helps businesses and their teams focus on a continuous and context-driven messaging experience. It also helps to understand the customer you are conversing with the help of events timeline, social profiles, and auto-upload the captured leads to your CRM.
Key Features
Freshchat offers a variety of important features like campaigns, sales bot, integrated self-service, intelligent message routing, canned responses, customizable branding, and supportive integrations expectations are met and delivers faster responses.
Cons
Every plan has limited monthly unique visitors. 

Does not offer video & voice chat

Some of the premium features get expensive such as clearbit integration, co-browsing, and API access

Lack of timely customer support
Pricing 
Freshchat offers four messaging plans for all businesses. The Sprout plan is for free. The Blossom plan starts at $15/agent/month, Garden sat $29/agent/month, Estate starts at $45/agent/month, and the Forest plan is at $69/agent/month. It also offers add-ons like Whatsapp business, acquisition & engagement, and Freddy self-service.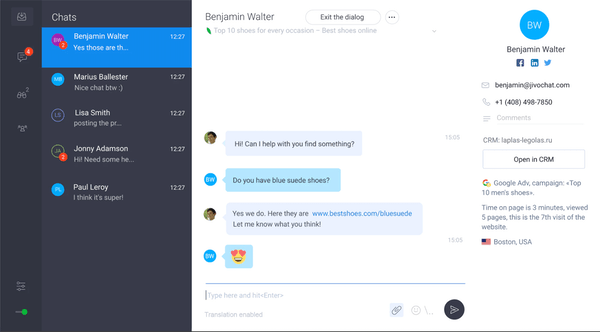 Jivochat is a popular and very easy-to-install website customer service chat software. It is one of the best business communication tools for e-commerce companies. It offers live chat, emails, calls, and Facebook messaging in one omnichannel app. It offers business the to build a 360 degrees customer support system and to connect message funnels, configure, and customize freely.
Key Features
The most distinctive feature that differentiates JivoChat from other chat tools is VoIP functionality. The key features of Jivochat customer chat software are proactive responses and reports about agents' performance. 
Pros
Great free plan.

Support multiple channels such as Facebook Messenger and Telegram

One of the few live chat tools which offer VoIP calling

Simple and intuitive user interface
Cons
They don't offer video chat and co-browsing

Do not offer the on-premise option 

No chatbot builder. If your business needs any automation, you need to purchase and integrate with other tools

Could have more chat widget customizations options

Poor customer service
Pricing 
JivoChat offers unlimited chats and websites on every plan, including the free version.
The tool offers its basic features for the first five agents completely free. The Professional Pricing starts at $13 per month per agent, which gives you access to all of JivoChat's features. You can try it free for 14 days.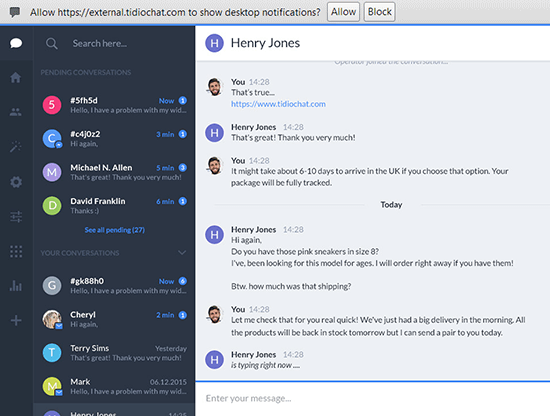 Tidio is one of the best free live chat software for small online businesses. It streamlines website live chat, Facebook Messenger, and email in a single platform to address all the customer issues instantly. You can use chatbots to provide 24/7 customer service and automate the lead generation process.
Key Features
Tidio's customer support chat software allows for real time customer communication via a customizable website chat widget. The live typing preview and canned responses help to deliver faster responses and boost customer satisfaction. Tidio also offers chatbot templates to provide answers to common queries and collect visitors' emails. 
Pros
User friendly and easy to understand UI

Affordable pricing. Suitable for small and medium businesses

Basic chatbot builder works well
Cons
Lack of customer engagement tools such as co-browsing and video chat

Do not offer API

Lack of post-chat survey to measure customer satisfaction
Pricing 
Tidio offers a forever-free version for 3 live chat operators. The pricing for the Communicator and Chatbots plans with additional features starts at $18 per month (with a 7-day free trial). There are custom plans available to match your business needs offering great value for money.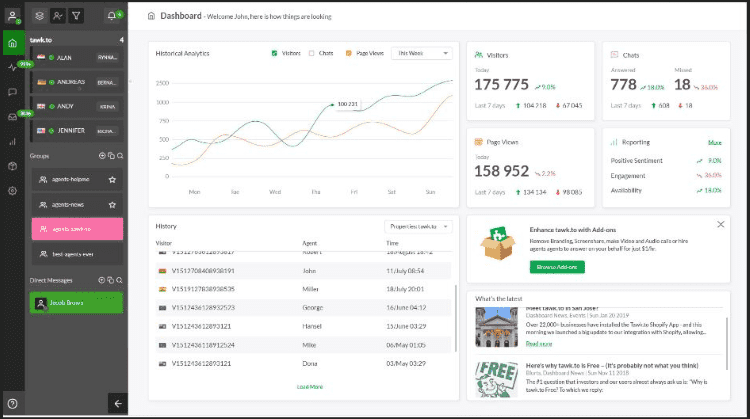 Tawk.to is an agent-centric website live chat app for communicating with visitors. It helps businesses to monitor and chat with the visitors on your website, respond to support tickets, and create a help center to empower customers to help themselves.
Key Features
The free live chat software for websites includes triggered auto messages, canned responses, and message sneak peek. Live visitor tracking is also available, which helps to see who's browsing your website and reach out to them whenever you want. Help desk features such as tags, departments, or visitor info will help you all chats organized and easy to manage. 
Pros
Simple and very quick to set up and implement

No limitations on the number of agent seats or chat history

Tag and assign conversations to the right agents to respond at the right time
Cons
The dashboard needs a continuous refresh

Late notifications 

Even though the free plan is great but paid subscriptions are expensive

Limited features, not suitable for mid-size companies or enterprises
Pricing 
Tawk is a completely free live chat software. All features and agent seats are available with no limitations on them.
Conclusion – Best Live Chat Software Review & Comparison
The quest for the best live chat software has brought us to the remarkable world of real-time connections, where businesses thrive and customers delight. As we've unraveled the magic behind how live chat works, we've witnessed its transformative power in revolutionizing customer support and driving unparalleled growth. 
Embrace the future of customer engagement with the best live chat apps, and watch as your business soars to new heights. With its seamless integration and intuitive features, you'll be equipped to deliver immediate assistance, personalized solutions, and memorable interactions that leave your competitors in awe.
So, why wait? Let the power of live chat fuel your success, and embark on a journey where your customers' needs are met with precision, and your business stands as a beacon of excellence.