More and more businesses are adopting digital transformation to modernize customer communication and improve internal processes. Artificial Intelligence (AI) is playing a crucial role in 2021 as it is being adopted across small businesses to enterprises. 89% of enterprises have planned to adopt or have already adopted a digital-first business strategy. 
With the increasing popularity of messaging and social media platforms, chatbots are now the center of business messaging. By 2021, over 80% of businesses are expected to have some sort of chatbots implemented. 
There are many important advantages of implementing chatbots. The key is how businesses can implement those chatbots benefits to improve customer experience.
What are the benefits and advantages of using chatbots for customers?
AI Chatbots are virtual assistants that can engage customers 24×7 as well as improve customer experience. Chatbots are easily scalable to manage customer requests with instant responses and boost customer satisfaction. 
The main advantages of chatbots for customers are as follows:
24*7 support

– You can not rely on support agents for 24×7 support. Anytime response is important even after business hours when the team is not available. Chatbots can manage such customer queries with automated responses.

Instant answers

– Customers simply do not like to wait for assistance — any wait time can lead to frustration and potential churn. Chatbots are a smarter way to ensure that customers receive the instant response that they demand.

Order without human help

– Businesses can leverage chatbots to automate bookings of orders and appointments so that customers can instantly book from the website or Facebook page.

47% of consumers

would buy items from a chatbot.
Chatbots for businesses: Benefits & advantages 
According to the Aspect Consumer Experience Index, 61% of consumers feel that having chatbots in customer service is the way of the future and 70% of millennials report positive experiences with chatbots. 
The main chatbot benefits for business include reducing the costs of your live chat support agents at the same time winning your customers.
Here is a list of 10 ways of how a chatbot impact business growth.
Let us discuss the chatbot benefits for business and how it impacts growth.
1. Better lead generation and nurturing
Most of the businesses operate in an omnichannel model. They sell across the website, Facebook, and other channels. AI chatbots create an effortless way for customers to communicate with your business via existing messaging platforms such as Facebook Messenger, which recently passed 1.3 billion users.
By deploying chatbots, you can engage your customers with personalized messaging throughout their journey by guiding and recommending them in making quick decisions.
Chatbots use a preset questionnaire to persuade the visitors for lead generation, which is prepared by sales experts. Bots ensure the flow is in the right direction to get higher conversion rates.
How do chatbots benefits help in increasing business revenue?
Better lead qualification

– Bots qualify leads by asking relevant questions and direct them to the sales team for immediate sales conversion or schedule an appointment if the team is busy/unavailable. 

Better lead nurturing – The qualified leads are nurtured thereafter based on their customer journey. For e.g. in the e-commerce business, chatbot engages the customers by giving personalized recommendations, combo offers, or discount coupons to improve online sales conversions.
Famous e-commerce brands like H&M, eBay shopbot, are now selling many products using chatbots. Customers can easily purchase and prepay for any product in three easy steps.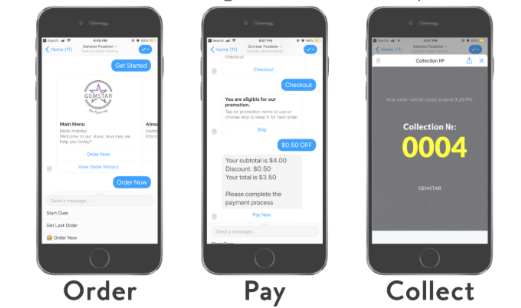 Reducing the queue time significantly for QSR (quick-service restaurant) businesses. A simplified order process has led to an average increase in order quantity by 23% along with a 30% increase in sales across our chatbots.
Amtrak built a chatbot named JULIE to assist travelers to book their travel by mentioning the date and destination of travel. The bot answered approximately 5,000,000 queries in a year. Amtrak witnesses a 25% of a significant increase in bookings and 30% more revenue with the bot JULIE. It has produced an R0I for Amtrak of 800%.
2. Deliver 24×7 automated customer support 
Nobody likes to wait and so do customers. 62% of companies view customer experience delivered by a brand as a competitive differentiator. Bots can engage with the customers 24×7 by promptly responding to their common queries.
Having good customer service available round the clock has a positive impact on your customer satisfaction and reduce customer churn. 
What else can chatbots do?
Chatbots can

direct customers to answers that will genuinely help them

, which leads to support ticket deflection and increased customer satisfaction.

You can

train your bot for customer chats by adding general FAQs and answers.

Bots will learn the questions asked by the customers to answer similar queries in the future. 
Hipmunk's "Hello chatbot" is a good example of using the advantages of digital technologies to engage with customers at a closer level.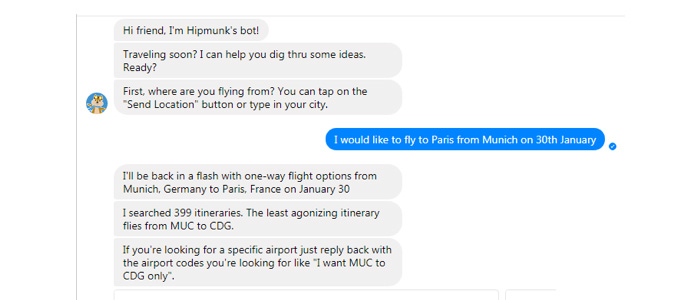 The chatbot uses very friendly language and convinces users to book flights and deals with its high level of engagement. It can answer vague questions and delivers a valuable experience to customers.
3. Save customer service costs
Reports say every year there are 265 billion customer requests. Businesses spent nearly $1.3 trillion to service these requests. Chatbots can help you save up to 30%.
A chatbot implementation plan is an investment, which helps businesses to optimize customer service costs. Investing in chatbots saves extra costs of adding more agents. Hiring more number of support agents means additional costs and time. The costs may be in terms of 
Salaries

Training

Infrastructure
These expenses cannot be overlooked as it is never a cheap affair. It becomes expensive if your business revenue is not high or sales targets are not met and it would create havoc in the business. Chatbots help to overcome all these costs.
There are many chatbots benefits of how businesses can optimize their costs without compromising their customer service quality. With AI, they can;
Scale their chat support during busy hours to deliver quality support and boost client satisfaction
Automate routine business processes and allows the support team to concentrate on complex conversations.
Enable new customer service models which increases brand face value and credibility.
Chatbots can be scaled during the peak time of business without any extra costs. Thus, chatbot benefits your business drastically to bring down the expenses and bring about a rise in revenue and customer satisfaction.
Besides, enabling a brand experience that is simpler and more seamless for customers, bots also reduce a significant amount of cost and resources for your company. It is important for businesses to harness the benefits of deploying chatbots to improve efficiency and customer experience.
4. Increased customer engagement
Needless to say, how vital it is to keep your customers engaged with your brand. Bain & Company research says, "Businesses that successfully engage with their customers were able to increase the customer spend by 20% to 40%." 
Chatbots take customer engagement to a new level.
Customers look for personalization

– Chatbots analyze the customer responses and provide related data instantly. Based on the customer details and history chatbot can engage customers by using the name during the conversation.

Chatbots provide real-time response –

Chatbots is the fastest response channel to communicate with your customers. This pace can lead to time and cost savings for both businesses and customers. 

Improve the user experience

– Chatbots are your ultimate brand representatives. They have real-time interactions with your customers. When you add chatbots to your communication channels it provides greater options for your customers to engage with you.

Enhance customer satisfaction

–  Chatbots deliver immediate one-on-one responses to your customers – exactly what customers demand. With this problem-solving approach and effective guidance, you make your customers happy and satisfied.
5. Bots save an ample amount of time
Time is money in business.  Here is how chatbots help to make the most of yours.
Chatbots empower your business and save time by providing the first level support that filters a customer request before it is directed to the team. Studies estimate that chatbots will help businesses save more than $8 billion per year by 2022. 
AI enabled chatbots to benefit your business to improve the efficacy and productivity by providing quick answers and solutions to customers for simple queries. Thus, bots significantly reduce operational costs, manpower, and time.
How do chatbot benefits businesses in saving time?
Bots automate information-based queries so that agents can spend more time on crucial issues that need human support.

Chatbots are available 24*7 to deliver instant responses even when the human support not around.

Bots make it easy for customers to make a purchase or book an appointment without waiting for human assistance.
Take the example of JPMorgan Chase & Co who launched COIN, a bot capable of analyzing complex legal contracts faster and more efficiently than human lawyers. The COIN bot completed a task in seconds, in which JPMorgan staff spent over 36 million hours a year.
6. Easy scalability of support
Businesses that offer support with live agents might not know when they need to add more agents or not. Also hiring more agents means infrastructure costs, training costs, and loss of time. In such a scenario, chatbots can be the best way to handle conversations.
Unlike live support agents who can handle 2 to 3 conversations, chatbots can simultaneously manage thousands of conversations. No matter what time it is or how many customers are reaching you, every chat will be answered immediately.
Bots can be easily scalable to handle a large volume of chats without affecting the business costs.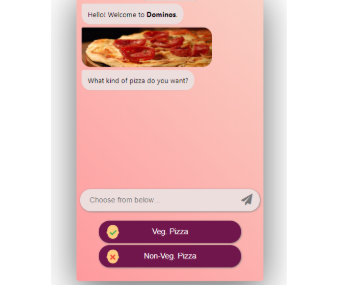 Let's say you run a restaurant, and you have quite famous for your food of which most of your revenues come from delivery. When the demand rises, the customer orders go high but small your small staff is not able to handle it. Chatbots can solve the problem in the best way.
Implementing a chatbot overcomes this problem. It ensures that not a single order is missed and your customers are happy. Big brands like Taco Bell and Dominos are using chatbots to arrange delivery of parcels.
7. Better team productivity 
Chatbots are integral to the shift from human to automated customer services for every business. By 2021, 85% of customer interactions will be handled without a human agent. Bots will not replace human agents completely instead they will allow delivering primary support that filters customer requests before it is directed to the support agents.
You can automate your sales and customer service tasks and improve your team productivity.  For common queries, customers may contact for order status, return policy, and delivery time frequently. 
Here are some major team productivity metrics chatbots can improve.
Average resolution time

– Chatbots engage customers by answering their queries in real time and drastically improve response time. 

First response time

– Chatbots respond instantly to the general FAQs in the first interaction and help businesses to save customer service costs.

Number to requests accepted

– Chatbots can scale easily when the conversations increase without missing any chats.

Number of issues resolved –

With chatbots, basic customer queries can be answered and the number of support tickets will be reduced.
8. 
Chatbot + Live chat = Complete hybrid customer experience
The amalgamation of chatbot and live chat can enable your support agents to deliver a hybrid experience. How?
Businesses using AI enabled chatbots as the primary channel helps to deliver 24×7 real time support. The bot promptly answers to the information-based queries and boost customer satisfaction. But there might be instances when the bot is not able to identify the user intent in the request and make a human handover. 
The complex queries that require comprehensive discussion can be handled by the live chat agents without leaving the customers unanswered. The smooth transition between chatbot to live chat provides real-time response to the customers, giving them the best hybrid experience.
9. Higher customer satisfaction 
Generally, businesses tend to provide reactive customer support like phone and email. It means when customers report their problem, only then they respond without initiating communication from their side.
In competitive businesses especially with a remarkable percentage of millennials as customers, now the brands can't afford the luxury to act passive anymore.
As businesses are limited with manpower to initiate a communication with all their customers periodically. With the help of chatbots, you can start proactive chat through personalized messages at scale, product recommendation that boosts customer satisfaction and retention.
Chatbots also make your customers feel that you care for them by having proactive conversations and this improves your brand perception in the long run. They become your loyal customers and stay associated with your brand for a long time.
In the travel and hospitality industry where travelers speak multiple languages, a multilingual bot can be programmed to communicate in the language of the traveler and deliver 100% customer satisfaction.
10. Cut down on human errors 
It's a universal fact that human errors are inevitable. Manual work has a risk of errors that can eventually create big problems. Mistakes might happen while collecting customer information or sharing product pricing information. 
Chatbots are the best way to deliver error-free service and avoid complications. As chatbots are programmed with all the information there is no chance of errors. Accuracy is guaranteed with chatbots.
What are the disadvantages of chatbots for businesses?
Though there are major advantages, there are some areas that need to be taken care of so that they can be nullified.  It is very important that chatbot should be well optimized to deliver a better user experience. Wherein chatbots benefit your business in many ways, there are certain disadvantages of chatbots.
Not conversational

– Bots can not match with human intelligence. They need to learn from the responses so that they can use it in future conversations.

Requires development –

If your business has some complex requirements it is difficult to build chatbots using the visual bot builder. You have to develop a custom bot that can meet your business needs.

Inability to understand

– Chatbots function as they are built. They have limited intelligence. You need to feed bots with adequate information to function accordingly.
Chatbot for businesses is the future
There are more chatbot benefits and advantages than disadvantages. Chatbots are being used across businesses for customer service, sales, marketing and engagement. It is essential to understand and identify the areas and start deploying chatbots now.