Chatbots are gradually transforming the way businesses connect with customers. The surge in on-demand messaging is also the reason why consumers' way of interacting with brands has changed. 
35% of consumers want more companies to use chatbots. That's why more businesses today look to integrate chatbots into their processes to offer superior customer service. 
Using chatbots has numerous benefits and how a business uses them to enhance the customer's experience will always be the key factor. 
In fact, more businesses leveraging them to improve their communication strategy and deliver a better experience to customers. Your business can thus automate customer communication and thrive in the competitive space. 
Before devising a strategy to leverage chatbot benefits for your business, it's important to understand how customers benefit from your bot.  
Chatbots benefits for customers 
Chatbots are virtual assistants that can engage customers round the clock and improve their experience. They are easily scalable to manage customer requests with instant responses and boost customer satisfaction.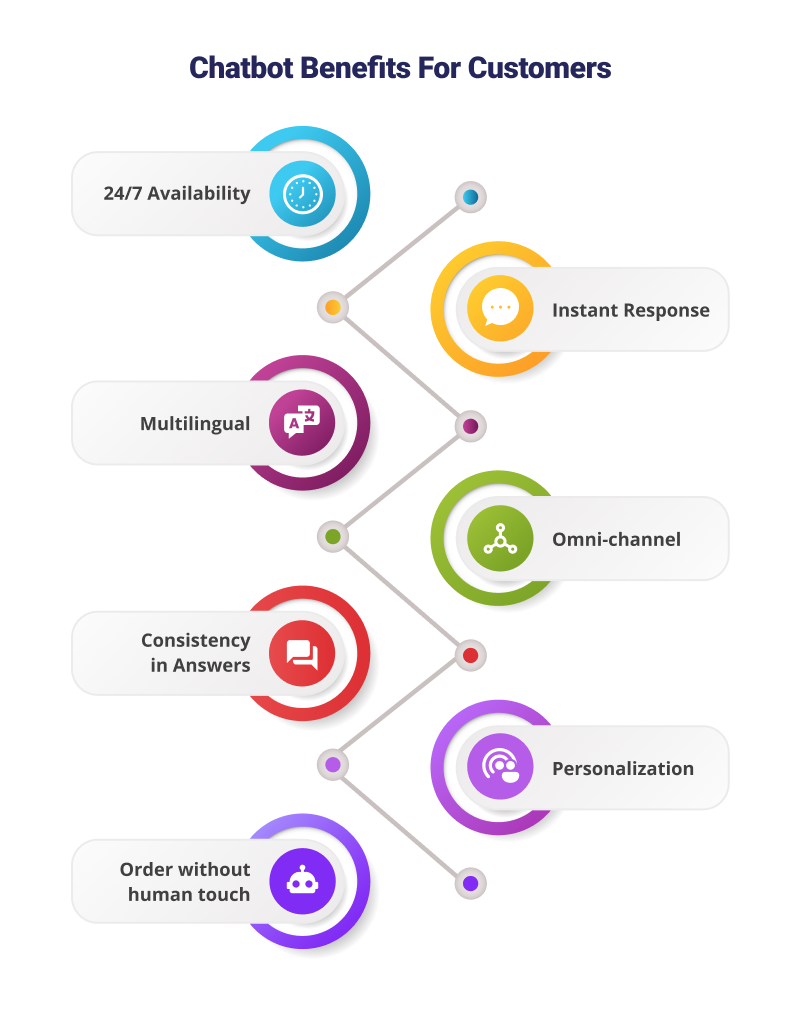 The main advantages of chatbots for customers are as follow: 
24/7 Availability

– Chatbots are available all the time to solve customers' queries. Customers are no longer required to wait for the next available operator when chatbots are part of the communication strategy. 

Instant Response – A business can deploy chatbots to handle the queries of thousands of customers instantly and simultaneously and improve the average response time. 
Multilingual

– Chatbots can be programmed to answer queries in the language of customers. Your business can use multilingual bots to reach new markets and expand the reach. 

Omni-channel

– Due to the omni-channel messaging support feature of chatbots, customers can communicate with businesses through various channels and platforms such as websites, Facebook, etc., and receive improved service and experience.  

Consistency in Answers

– Chatbots can maintain a great level of consistency in answers and this ensures value to customer conversation. When answers are consistent, this always improves customer experience with a brand.    

Personalization

– Customers can get interactive and one-on-one conversations with chatbots. They can also expect bots to maintain a natural and casual tone to give a personal feel. 

Order without human help

– Chatbots give customers the opportunity to book orders or do transactions without needing any human help. Automation in buying can improve customer experience. 
Chatbots benefits for businesses 
Chatbots are incredibly helpful in assisting businesses to forge good customer relationships. They can prove an excellent tool to build strong connections by engaging, and interacting with, users coming to your website. Your business can integrate chatbots to not only achieve marketing goals but also drive sales and improve customer service. 
Here is a list of 10 ways of how a chatbot can impact business growth.
Let us discuss the chatbot benefits in detail. 
1. Increase Your Customer Engagement
Chatbots can help businesses take customer engagement to the next level. They are able to make the engagement more interactive as they drive interactions based on the user input.   
The use of chatbots can help avoid irrelevant and necessary information, so customers can stay longer on your website and maintain the conversation. With consistent answers and quick response time, bots will always have customers engaged with your brand.  
Here are some tips you can follow to create effective customer engagement:
Personalization

– Chatbots can analyze customer responses and provide related data instantly. Based on the customer details and history, a chatbot can use the name during conversations and engage customers. 

Real-time response –

Chatbots is the fastest response channel to communicate with your customers. This pace can lead to time and cost savings for both businesses and customers. 

One-on-one responses –

 Chatbots deliver immediate one-on-one responses to your customers – exactly what is expected of them. With this problem-solving approach and effective guidance, you make your customers happy and satisfied. 
2. Improve Lead Generation   
Your business can deploy chatbots for lead generation to engage customers with personalized messaging throughout their journey. This helps in guiding and recommending customers in making quick decisions.
Chatbots can use a preset questionnaire to persuade the visitors for lead generation and ensure the flow is in the right direction to get higher conversion rates.  
Better lead qualification

– Bots qualify leads by asking relevant questions and direct them to the sales team for immediate sales conversion or schedule an appointment if the team is busy/unavailable. 

Better lead nurturing

– The qualified leads are nurtured thereafter based on their customer journey. For e.g. in an e-commerce business, a chatbot engages the customers by giving personalized recommendations, combo offers, or discount coupons to improve sales conversions.
Famous e-commerce brands like H&M, eBay shopbot, are now selling many products using chatbots. Customers can easily purchase and prepay for any product in three easy steps.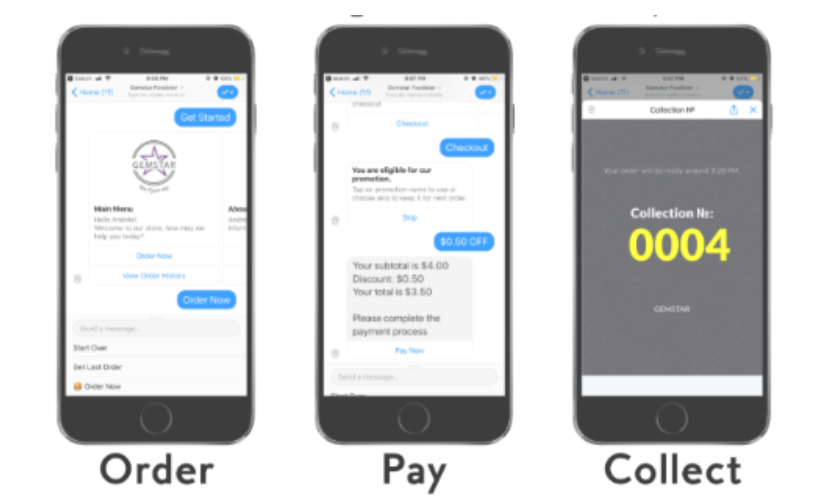 These brands are reducing the queue time significantly for QSR (quick-service restaurants) and the use of a simplified order process has led to a considerable increase in order quantity and sales. 
3. Reduce Customer Service Costs
Implementing chatbots is an investment that helps businesses optimize customer service costs. Investing in chatbots saves extra costs of adding more agents as hiring more support agents means additional costs and time. 
Chatbots can help save customer costs on different levels: 
Salaries

Training

Infrastructure
There are many advantages to chatbots: advantages of how businesses can optimize their costs without compromising their customer service quality. Customer service with AI can help in many ways;
Scale their chat support during busy hours

Automate routine business processes

Enable new customer service models
Chatbots can be scaled during the peak time of business without any extra costs. Thus, they benefit your business drastically to bring down the expenses and enable a rise in revenue and customer satisfaction.
Besides, by ensuring a brand experience that is simpler and more seamless for customers, bots also reduce a significant amount of cost and resources for your company. It is important for businesses to harness the benefits of deploying chatbots to improve efficiency and customer experience. 
4. Monitor Consumer Data to Gain Insights
Chatbots are a great tool to track purchasing patterns and analyze consumer behaviors by monitoring user data. Based on the data, companies find it easy to market the products differently and expand their reach. 
Similarly, chatbots are an excellent tool to communicate with customers as they can help brands collect feedback through simple questions and allow your business the opportunity to improve products or optimize the website.   
Create customer profiles

– Your company can use chatbots to collect customer information like name, contact details, etc. to create a customer profile. 

Send push notifications

– Chatbots can prove helpful in keeping existing customers engaged through push notifications.  

Suggest relevant content

– The use of chatbots means brands can provide customers with product details and also suggest relevant content.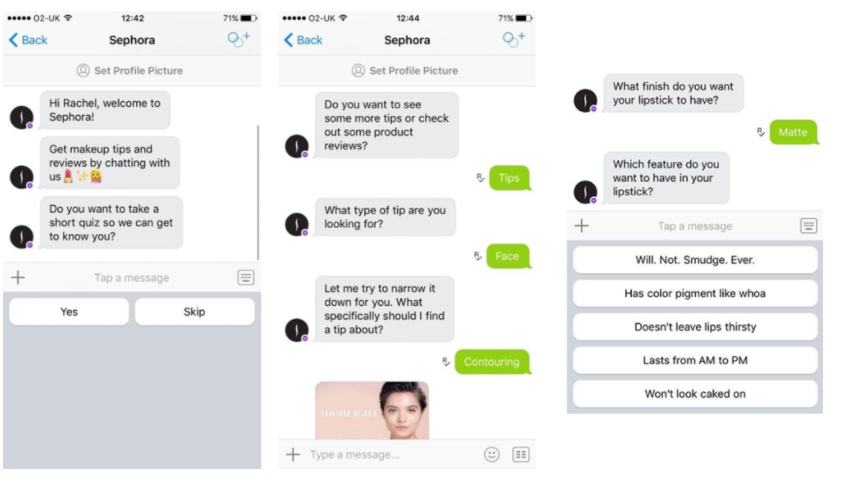 Sephora is a cosmetic brand that has implemented a chatbot in partnership with Kik messaging application. It gives customers an opportunity to use the chatbot to ask for makeup recommendations or request product reviews and get relevant products or videos.  
5. Devise a Conversational Marketing Strategy 
Conversational marketing leverages the power of real-time conversations to help move buyers through the sales funnel. It lets your business create authentic experiences and build relationships with customers. 
When brands use chatbots for marketing, they can engage with people through targeted messaging and smart chatbots, therefore, driving the conversion rate. Devising a conversational marketing strategy has many benefits:  
Engage more leads –

Your business will engage with more leads and achieve more opportunities when it gives visitors the opportunity to start conversations on the website rather than forcing them to fill the forms. 

Respond to customers individually

–  When chatbots are used, brands find it easy to respond to customer questions individually and avoid the usual fixed lead funnel crammed with marketing activities.

Improve customer experience

– The purpose of conversational marketing is to cut back on frustrating experiences that customers encounter with the customer support line or IVR system.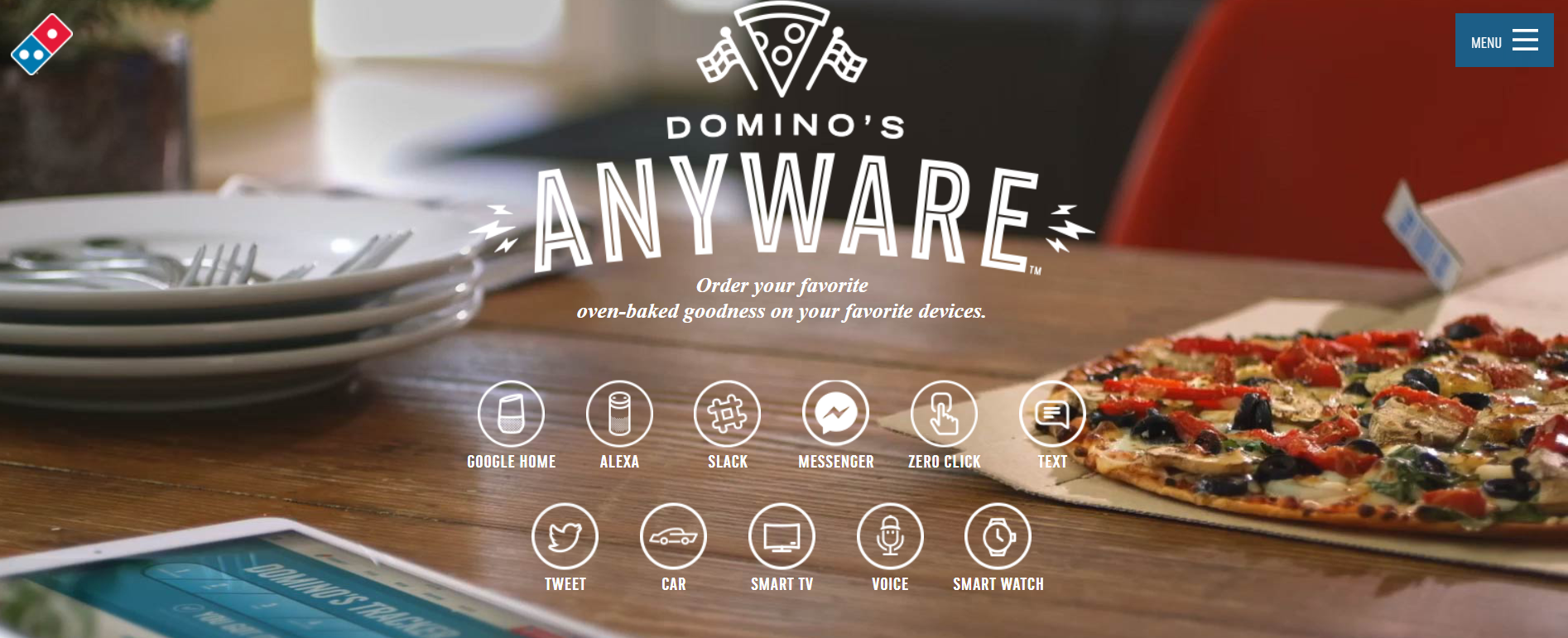 Domino's AnyWare takes the concept of conversational marketing to the next level by allowing customers a chance to order their favorite items through a number of available menu options.   
6. Balance Automation with Human Touch
Combining AI technology and a human touch can help brands deliver seamless customer support. Your business can leverage the integration of chatbot and live chat software to allow customers to self-serve and solve common issues, and connect with a human agent when needed. 
Businesses using AI-enabled chatbots as the primary channel helps to deliver real-time support. The bot promptly answers queries and boosts customer satisfaction. But there might be instances when the bot is not able to identify the user intent in the request and make a human handover. 
Businesses can benefit in different ways when they understand the difference between chatbot vs live chat and integrate them together: 
Live chat agents can handle complex queries

that require comprehensive discussion without leaving the customers unanswered. 

The smooth transition between chatbot to live chat provides

real-time response to the customers

, giving them the best hybrid experience.

The integration of live chat and chatbot together can help brands

engage with customers intelligently

and all day, every day. 

American Well, a telemedicine company, is a good example of how websites can use chatbots and live chat intelligently to determine user intent quickly and enhance customer experience. 
7. Meet Customer Expectations  
Customers prefer smooth interactions and expect quick responses to complaints or queries. Since chatbots are increasingly getting smart, brands can use them to meet customer expectations by enabling friendly interactions.   
When chatbots are used, customers can engage with brands any time without having to wait for human agents and this ensures customer retention and helps boost the brand. 
Here are some ways chatbots can help meet customer expectations:
Proactive interactions

– Brands can benefit from chatbots to proactively interact with the customers and deliver them quick responses. This ensures higher open rates than email. 

Personalized experience

– Chatbots have great utility when it comes to delivering a personal experience to the customers across multiple touchpoints and this impacts sales and conversion rates.  

Effective targeting

– Using chatbots for sending visual content and giving information in regard to product information, offers, discounts, etc can ensure effective targeting and boost customer engagement.   
8. Achieve Scalability of Support
Having an option to scale the support is the first thing any customer-centric business can ask for. When a business is able to achieve scalability of support, it means it is ready for the times when a hike in traffic becomes inevitable, like the festive seasons or peak hours. 
In the event of managing your conversations during peak hours, you can encounter challenges such as adding more support experts, providing training, etc. Adding chatbots provides the scalability to handle conversations in real-time. 
With chatbots for customer service, you can

improve your business productivity

without any extra costs and resources.  

Chatbots are able to

simultaneously manage thousands of conversations

. No matter what time it is or how many customers are reaching you, every chat will be answered immediately. 

Bots can be easily scalable to

handle a large volume of chats

without affecting the business costs.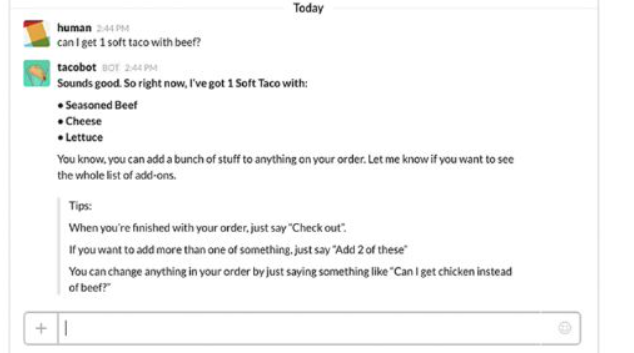 A lot of restaurant businesses deploy chatbots to effectively handle the situation when the demand rises, the customer orders go high but a small staff is not able to handle it. Big brands like Taco Bell and Dominos are using chatbots to arrange the delivery of parcels.
9. Streamline Onboarding Customers 
Customers love being guided and pampered. No matter how many tutorials or content guides you provide, they will still show some reluctance to find the information on their own. After all, customers prefer brands that show them the way.  
This is where chatbots can prove handy as your business can use them to educate customers and ease the onboarding process. The use of chatbots for onboarding and educating customers can benefit your business in many ways:
Chatbots can ask questions and collect answers

and based on that can show the route to whatever customer is looking for. 

The use of chatbots can help

brands route customers to the best place

to find the information they search to make informed decisions. 

Chatbot implementation can help understand what a customer has or hasn't found in order and this information can be used to

smartly push customers along the conversion funnel

.

It's possible to

personalize the questions a chatbot asks

and then create a better user experience during the purchase journey.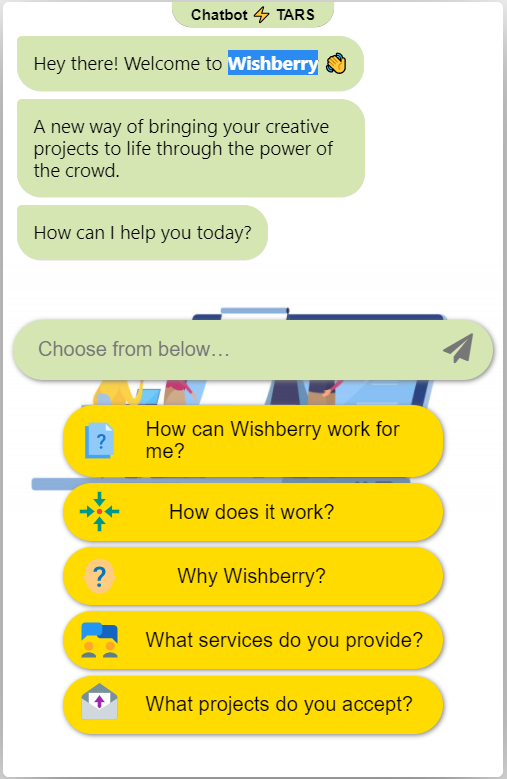 The example of Wishberry, a popular crowdfunding platform for creative artists, shows how chatbots can help get your onboarding exercise right. 
10. Make the Customer Journey Smoother 
Losing prospects halfway through a sales funnel is a never ideal situation and no business would like that to happen. There are many reasons that could stop customers from purchase, whether the cumbersome check-out process or hidden costs.  
Chatbots can prove effective in helping brands reduce customer churn and make the customer journey smoother. 
Businesses can chatbots to improve the buying process on many levels:   
You can

offer additional information on products, services, or shipping

which can remove doubts and make the customer journey smoother. 

Use interactive content such as video to

provide more insights and build trust with prospects

and customers.  

Chatbots are always a great help in providing discount codes and offers so that

customers can find value in the marketing funnel

.      
Leverage chatbot benefits and prepare your business for future
Chatbots have transformed the landscape of customer communication. They are being used across industry verticals to add a new dimension to customer service, sales, marketing, and engagement. By leveraging chatbot advantages, brands can be better off in terms of lead generation, customer insights, onboarding, and customer support scalability.  
For businesses, it is essential to first identify the areas of concern and then start deploying chatbots to achieve the desired goals. With so many chatbot benefits for businesses, it would be a mistake if your business bucked the trend and did not integrate a bot.