Facebook Messenger
Facebook is an important page when it comes to communicating with customers. Facebook Messenger offers a powerful platform to create meaningful connections with your customers and drive business results. Having all Facebook conversations in one place helps to assign, track and assign ownership without affecting the customer experience. 
By implementing an omnichannel approach, brands can unify the customer data across the website, Facebook, mobile and messaging apps in one place and leverage it to increase sales conversions and improve customer support. With advanced reporting, businesses can also measure the team metrics to get deeper insights into their agent performance.
Engage with your visitors in real time through Facebook Messenger with REVE Chat. Your support team can promptly receive and reply to the Facebook messages from the REVE Chat dashboard itself. 
Key benefits of the integration
By integrating your Facebook account with REVE Chat across posts and messenger, it helps to boost your customer engagement by:
With Facebook integration, you can assign Facebook comments and messages to the right team members to monitor their progress. It improves engagement and makes customers feel valued.
You can track your conversations across Facebook comments and messenger under one platform. Do not miss any of your conversations and face the risk of losing your customers.
The integration allows measuring your team performance and customer KPIs with advanced reporting. Gain better insights on how the conversations are managed by your team.
Note: Whether through a bot, or human support, or a combination of both, your business can use messaging to scale communications with customers in the right way based on your business goals and strategy.
Here is a video tutorial that explains how to integrate your FaceBook business page with REVE Chat.
How to integrate live chat into your Facebook Messenger?
Follow the stepwise instruction for successful integration of FB page with REVE Chat.
1. Go to the Integrations menu on your dashboard. Select the Social Media Channels option and then select the Facebook option.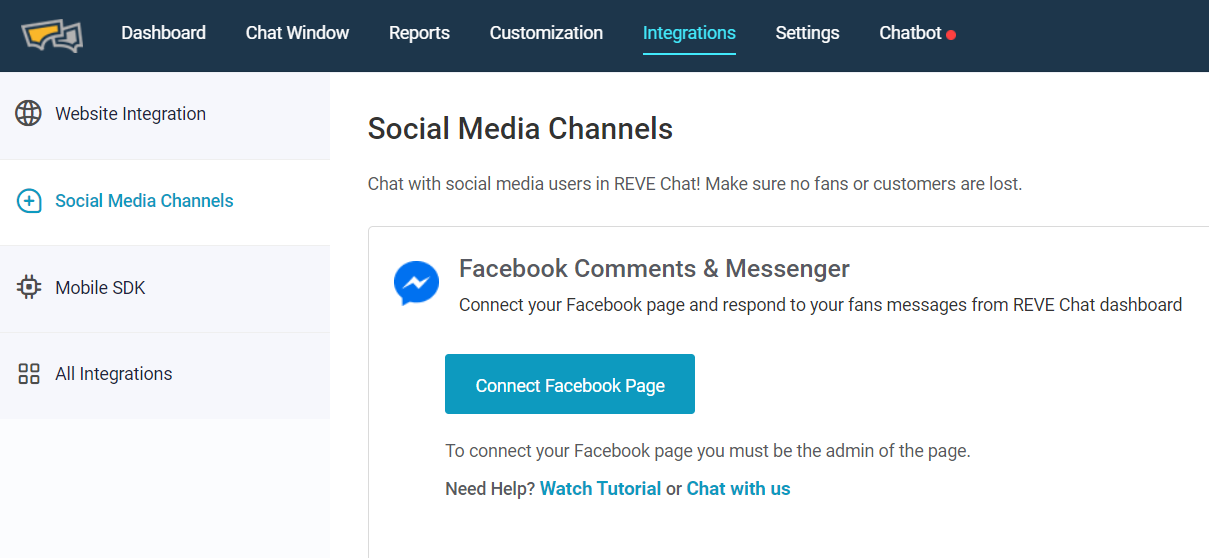 2. When you click on "Connect your Facebook page", you will be redirected to your Facebook account. Log in by using the registered email or phone number.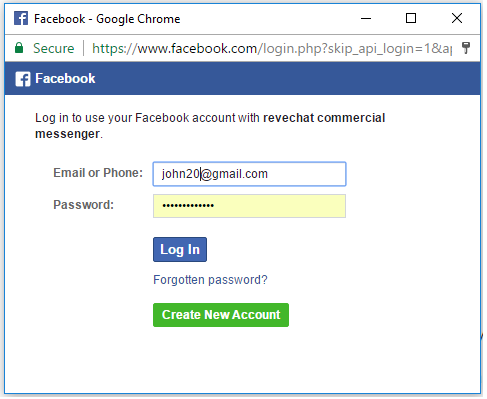 3. Once you connect successfully, you will get two ways to manage your Facebook messages and comments. They are as follows:
(I) Managing Direct Messages
(II) Managing Comments Separately
You can enable the checkbox based on your business needs. You can choose either Messenger, Comments, or both of them.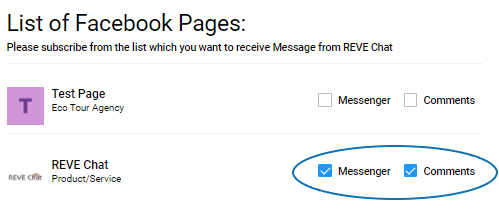 Let us discuss how to integrate both ways in detail.

I. Managing Direct Messages
When you enable the Messenger check box, you can check the direct messages from the REVE Chat dashboard and respond to them. Responding timely to the messages boost engagement and shows that you as a brand value your customers.
II. Managing Comments Separately
In case you enable the Comment check box, your team can get a real time view of the comments left by the customers. Replying to the comments instantly will help you to understand what your customer needs and assist them accordingly.
Enabling the checkbox depends on your business requirements. Whether you need to manage the direct messages, comments, both. Enabling them allows managing your Facebook comments and messages by the right team and enhances customer engagement.
Note: You can remove REVE Chat from that page anytime just by clicking on the 'Cancel Subscription' button.

Here are some key benefits for both businesses and customers with Facebook integration:
Offer better customer experience (CX): Direct messaging gets customers quick answers that make the customer experience more satisfying.
Give your business a competitive edge: You stand out when your customer responses are top-notch. Competitors with lackluster performance will fall behind.
Provide one-stop shop for purchases: Customers can place orders and you can accept payment right from your Facebook Page, which is great for impulse buys.
Deliver better information: Customers can engage with Messenger to get product information when they need it.