Today's customer's attention span is shorter than ever as their temper. So, whenever any issue arises related to any product or service – companies need to act fast to resolve their issue. As per Forrester report, "Companies are trying to focus on visual engagement with their customers with the help of co-browsing, screen sharing, and video chat." With the help of these channels, you can effectively guide customers even while helping them to fix their problems in real-time engagement.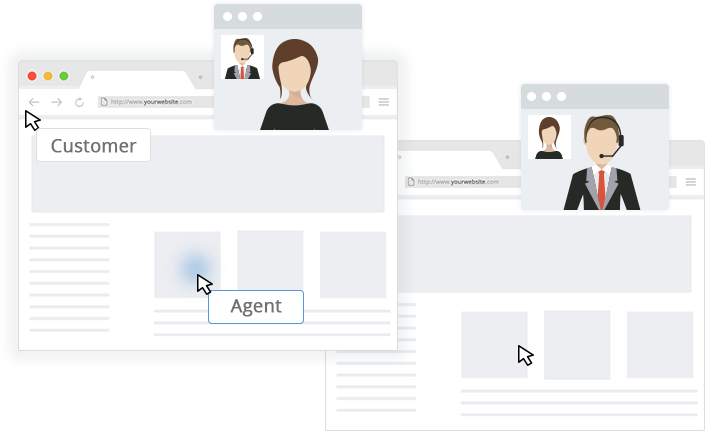 What is Co-browsing?
Co-browsing is a technology which allows a form of joint navigation which makes it possible for the company and the customer to access the same web pages at the same time. It is useful for many purposes especially in support, product selection, sales etc.
Let's take an example, the agent can use co-browsing to help the customer to fill out forms, to complete the buying process etc. If a customer wants then he/she can even and over the control of the site to the agent so that agent can easily take cover the whole process remotely.
Co-browsing vs Screen Sharing
Co-browsing technology allows agents and customers to communicate on the same page. Agents can only see those pages which are enabled by users or customers. On the other hand, screen sharing is the way in which both parties i.e. agent and customers are allowed to share their screens with each other.
Learn different ways by which co-browsing helps in providing more powerful customer engagement
Co-browsing is the way in which both parties can easily perform live chat while viewing the screen and this whole process successfully meet the customer's expectations and also improve the engagement.
With co-browsing, you can engage with your visitors on a website or you can also engage your customer's inside your web app or help desk to provide real-time assistance.The whole engagement process becomes much easier when the agent is freely able to point, scroll and click on the user screen.
Reduce your shopping cart abandonment
When customers browse any website, he or she finds many items that appeal to them and also force them to buy according to their needs. Still because of some reasons customer abandon their purchase. In that scenario, co-browsing helps to reduce shopping cart abandonment in many ways,
When a sales agent co-browse with customers, it will automatically create a sense of live collaboration. It reduces the chances that customer will conduct additional research related to particular product or service.
During the session, agents can also see the whole checkout process and guide the customer through order completion. This will help to reduce the chances of abandonment.
Co-browsing provide real-time sales assistance to their customers
During co-browsing session both customer and agent are available on the same page in real-time. An agent can remotely handle and the customer can watch. With the help of co-browsing, real-time assistance can be done in many ways like fill in forms, purchase any online item, help to change account settings etc.
Increase customer loyalty and satisfaction
It would be a plus point if your customers can become easily satisfied and loyal to your brand especially when their issues get resolved first time whether online or offline. Companies can easily meet their customer's expectations and increase satisfaction by using screen sharing, chatbots, co-browsing. The way problem is resolved by agent, will build trust and loyalty in customers towards your business.
Co-browsing doesn't require any installation or any download
Co-browsing is extremely useful for real-time aid which requires no installation or downloads. It saves time and a very straightforward method to resolve customer problems.
An agent can send the co-browse request and once it is accepted by customers, agents can see what kind of issues customers are facing and then agents can easily resolve them.
Provide remote technical support anywhere anytime
With the help of co-browsing, remote technical support becomes much easier. It allows agents to resolve problems directly on a customer's computer and make the whole communication much easier.
All your real-time engagement needs in one tool
As a business, it gets difficult to manage multiple tools for multiple purposes. Whether you need to use live chat for website support or a video communication tool for demos or a co-browsing software like team viewer for any remote assistance, it gets tricky to keep track and manage all of them.
Having all your real-time communication needs in one tool helps to streamline your customer communication and make your team work more efficiently for customers. This can be very helpful if you have larger number of customers to support.
Protecting private information
Co-browsing is an effective way to provide customer support. Customers can easily constraint the agent to access other tabs which contain some sensitive information. For example, while entering your credit or debit card details customer definitely don't want to share them with the agent. So, agent assures a client that the fields are masked so he cannot see his credit card details. With this customer feels confident about providing sensitive details.
According to the Pew Research study, "Many internet users are making continuous efforts to stay protected online." Hence, it is important to choose the right co-browsing solution for your business.
Conclusion
Co-browsing technology is safe and easy to use. The best part is customers can easily retain the control of the co-browsing session and terminate it whenever they want. It is a great way to help your customers and find a solution for them in a much faster way. Once their problem is solved, they will love your product more. You will definitely see steady improvement in all the major parameters in your business.