Every consumer wants a highly personalized experience when shopping and that 'customer experience' (CX) has become the differentiating factor for many successful business models. CX is the new marketing battlefront.
73% of consumers say a good experience is key in influencing their brand loyalty. Hence, brands need to understand customer data to deliver the right personalization at scale.
However, as the customer life cycle spans across different touchpoints and stages, it gets difficult to analyze their behavior. Having a customer engagement platform helps in unifying all communication channels to provide valuable information to the team for managing conversations in a personalized approach.
Let us go deeper to know more about what consists customer engagement software platform and the various types of customer engagement tools based on their use cases.
What is a customer engagement? 
Customer engagement platform is a software that helps businesses to acquire, engage and serve customers across all communication channels under one solution. Having all conversations in one inbox helps to understand the customer journey, get better insights to help agents make better decisions.
With the right customer engagement software in place, you can build long-lasting customer relationships that can increase customer lifetime value (CLTV), sales conversions, as well as retention.
The core elements of a customer engagement are:
Key use cases of customer engagement 
A good customer engagement should provide capabilities to streamline your communication with your clients and deliver them an unforgettable experience.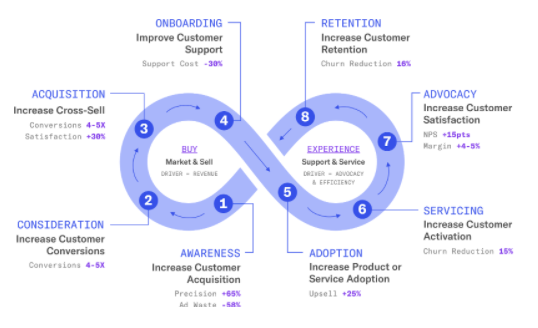 However, the important use cases of customer engagements are discussed below.
Real time customer engagement 
Engaging customers at the right moment when they are looking for it with the help of advanced digital engagement tools like live chat, co-browsing, video chat deliver a better conversational experience.
Scale customer service 
An effective customer engagement helps to scale customer service as per the requirement to deliver an excellent customer service experience.
Automate lead generation
Leveraging AI chatbots helps businesses to automate lead qualification by asking preset questionnaires to the website visitors, which increases sales funnel velocity. 
Increase website conversion
Website is the main source of customer engagement and lead generation for businesses. Implementing appealing web design and engagement ideas helps in constructively engaging users at multiple touchpoints to increase website engagement. 
Key benefits of customer engagement (with Examples)
Usually, businesses focus on engaging users at the beginning of their journey with different ways like welcome emails, onboarding messages but lack a long-term solid customer engagement strategy. User engagement spans the entire lifecycle and should at a balanced pace to drive users deeper into the product. 
Your approach to how conversations go with the right information can make the difference between customer retention and customer churn. We have outlined the main categories to engage clients and examples of the best platforms.
Let us dive in.
#1. Live customer engagement
Live customer engagement is all about delivering personalized one-on-one conversation with the customers in real time with the help of advanced tools like co-browsing, screen sharing, video & voice chat. 
The visual engagement tools have the ability to identify the issues faced by your target audience in their journey. Getting the context and comprehensive elaboration of the issue helps to deliver personalized solutions that provide a positive customer experience and cultivate loyalty. 
Best platforms of live customer engagement:
#2. Chatbot engagement
AI Chatbots are a smarter way to ensure that customers receive the instant response that they demand. Deploying bots can help businesses to engage customers 24×7 by instantly responding to their common queries. Bots are easily scalable to manage customer requests with instant responses during peak hours or when the support team is not available.
Businesses can leverage chatbots to qualify leads by asking relevant questions and direct them to the sales team for immediate sales conversion. Bots can automate bookings of orders and schedule appointments so that customers can instantly book from the website or Facebook page.
Best chatbot platforms for customer engagement:
#3. Email engagement platforms 
The main focus of email engagement should be providing real value to the users whether it is being used for onboarding or weekly newsletter. Emails sent in the right manner act as an extension of your brand. 
The right email marketing tool should allow you to segment your emails for more personalized engagement. It should also focus on the deliverability of emails by monitoring and combating email throttling issues.
Top preferred email marketing tools:
#4. Help desk tools
Choosing the right help desk software helps a customer support team to organize, analyze, prioritize, and respond to customer queries and requests effectively.
The main benefit of deploying the right tool helps to route the customer conversations to the right agent or department and provide effective customer service solutions.
Best help desk tools for better customer engagement:
#5. Customer feedback tools
Customer-centric companies are more profitable than those not focused on the customer. It proves that putting customers at the core is the big step towards business success. Collecting customer feedback is important. And equally important is how you collect customer feedback.
Knowing how to choose the right tools for your business, however, is tricky obtaining feedback is attributed to the fact that customer feedback tools are very diverse in purpose like surveys, online review, visual feedback, etc.
Top preferred tools for customer feedback:
#6. In-app user engagement software
In-app communication is the most contextual way to reach users. Hence the communication should make users feel like an extension of your product. For effective in-app messaging, the best way to educate users is by minimum onboarding steps and focus on user goals.
If your product has a broader audience, you need to choose a customer service tool that allows scalability and allows you to create a database of FAQs for in-app outreach.
Best examples of in-app customer engagements:
 #7. Customer analytics tools
Analytics tools are vital as it empowers your support teams to understand how customers interact with the brand. The tools provide valuable insights into what customers want. Using the data allows businesses to understand customer action and modify their marketing strategy to deliver better results.
Choosing the right analytics tools will help to capture crucial data about customer behavior. By using such data points, companies can better their customers and hence, provide better value.
Top analytics tools for customer engagement:
#8. Social media tools
Social media is one of the most cost-effective online marketing strategies that allow businesses to enhance their visibility and brand awareness. You can witness greater social media impact with some important tools in your arsenal.
Good social media tools help you find more content to share. Use them to schedule posts at the perfect time, and measure the effectiveness of your campaigns. They provide actionable insights for you to improve your social presence.
Most preferred for social media customer engagement:
Conclusion
Now that it is evident that a customer engagement is very important towards delivering a better customer experience (CX). If you are looking forward to increasing revenue efficiency and delivering a superior customer experience, a good customer engagement can do it for your business. 
Start with identifying your core business requirements and choose the right consumer engagement platform that can empower your support team to deliver better service and increase customer satisfaction.