Customers have lots of options these days and they won't mind switching to your competitor if value is not provided to them.
With e-commerce space growing at a breakneck speed, the biggest challenge is always to retain the trust and loyalty of customers.  
And if customer service is not at the center of your e-commerce business strategy, there will always be a big gap between what customers expect and what you deliver. 
80% of businesses believe they provide great customer service but only one-tenth of customers agree. 
E-commerce businesses thus need to ramp up their customer support game to exceed the expectations of customers and make them stick.  
They are also expected to deliver the highest quality experience or risk losing customers to competitors forever. 
To do that, they should first build a robust e-commerce customer service strategy.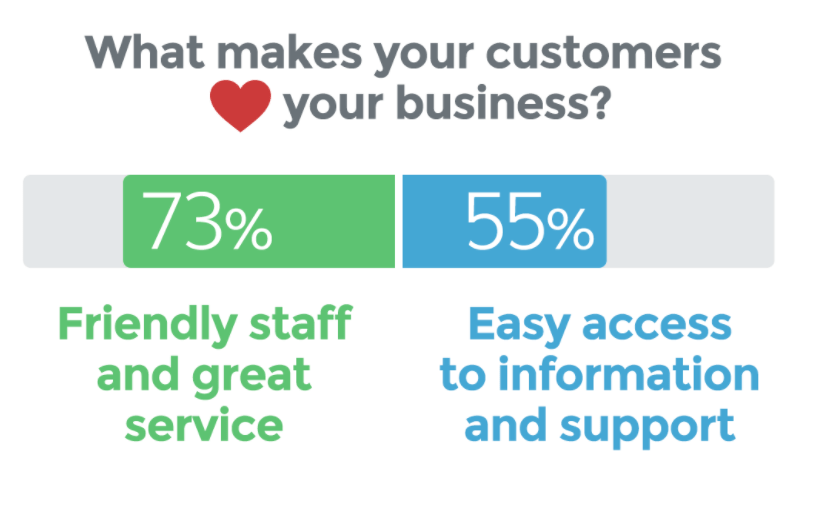 What is E-commerce Customer Service?
E-commerce customer service is the framework to assist shoppers via online platforms and throughout their life cycle journey. 
It's all about helping customers with everything, right from making online purchase decisions to offering solutions to their problems — all while providing a seamless customer experience across platforms and channels. 
Online customer service is not only important but also a prerequisite for success in the e-commerce world. 
By delivering great customer support, your e-commerce business will always find it easy to meet the sky-high expectations of customers and win their trust. `
What is the Importance of Customer Service in eCommerce? 
According to Microsoft and its "State of Global Customer Service" report, 54% of consumers had already higher expectations for the level of customer service provided than they did earlier. Hence, delivering top-notch customer service has no substitute.
The key importance of customer service in eCommerce are as follows:
Increase sales conversions: 83% of online shoppers need assistance to complete an order. Being able to provide real time support with live chat or by deploying a eCommerce bot can help customers to make faster sales decisions.
Improve customer retention: Attracting a new customer costs 7 times more than the cost of retaining an existing customer. By offering prompt customer service, you can resolve customer queries in real time and increase customer retention.
Cultivate customer loyalty: A well-executed customer service strategy can help in the following ways to retain existing customers, attract new customers, reduce turnover, increase customer loyalty, and drive profits.
9 Best Practices to Build Your E-commerce Customer Service 
The importance of customer service in eCommerce is to meet customers' expectations and give them a WOW experience. Delivering best e-commerce customer service with your e-commerce business can do wonders to make your brand stand out from the competition. 
Let us discuss the e-commerce customer support ideas that you should implement. 
Let's dive into each of the best practices to build your eCommerce customer service: 
1. Develop an Omnichannel Strategy
Customers expect your presence across their preferred channels such as website, social media, email, phone, etc. So, having one or two communication channels is not enough. Rather, you need to be wherever your customers are.  
So what you should be doing? One way is to take an omnichannel approach.
Omnichannel strategy unifies all the customer touchpoints across the customer lifecycle under one platform, to engage them across their buying journey and deliver a consistent experience. 73% of customers use multiple channels during their shopping journey.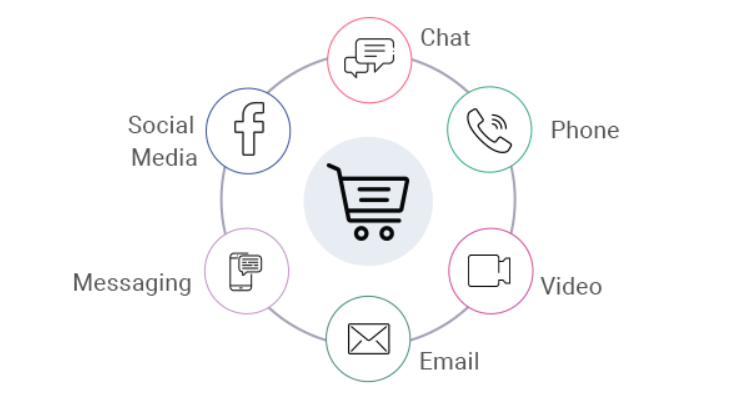 In order to build an omnichannel customer support strategy, you should focus on three core elements to make the customer experience as frictionless as possible.
Identify the touchpoints preferred by your customers 

Understand your customer journey and create a strategy to engage them across those touchpoints

Deliver a consistent experience throughout their customer journey
The legacy of omnichannel is to harness the power of digital channels to streamline and optimize the shopping experience of customers and their relationships with brands. With the right channel strategies, you can set your brand up for longevity and stability in this changing environment. 
2. Deliver Real-Time Support With Live Chat
Some tools help commerce businesses grow faster. Live chat, chatbot, and co-browsing are a few to name. Especially live chat and chatbots can play a vital role in providing outstanding customer service.
Econsultancy reports say, 79% of customers prefer live chat because of the immediacy it offers compared to other channels. With live chat, you can save costs by reducing the response time of customer interaction and therefore increase sales and conversion rate.
And great eCommerce customer service experience can be achieved by using live chat software and live engagement tools that boost customer satisfaction rates.
Having a live chat can increase customer satisfaction by reducing the average response time. When you are able to deliver answers to customers' questions and concerns instantly they are less likely to leave your website without purchasing. 
The key differentiators of live chat when compared to other channels are:
Live chat is real time

– Live chat helps to connect with customers in real time. Identifying the complexity of the problem helps to resolve it in the first contact.

Live chat is multitasking

– Live chat improves efficiency by allowing agents to handle multiple conversations simultaneously. It also provides multiple options for chat distribution and utilization. 

Messaging is the most preferred channel

– Customers are more comfortable communicating via messaging to support.
3. Provide Self service-based Ecommerce Support
More than half of your customers prefer to solve their problems by themselves rather than contacting your support. 
They prefer to scout the web or use any other self-help option rather than talk to a service agent. 
Great customer service is about anticipating problems and solving them before they escalate i.e. proactive customer support.
Being proactive in support is one of the best ways to improve 24×7 customer service experience. It reduces support interactions and builds customer trust that improves retention. It allows you to reach out to your customers and make their entire journey a beautiful experience. 
How to provide self-service-based eCommerce service?
Chatbots

– You can use AI bots to hold real-time conversations with customers and provide 24×7 support even when you or your team members aren't available.  

FAQs – You can use a chatbot template for eCommerce carousel or add detailed FAQ pages that cover information on topics such as billing & payments, shipping, returns, and refunds information policy.   
Knowledge base

– You can create a knowledge base that contains information about your company, products/services, or anything that customers may be interested in.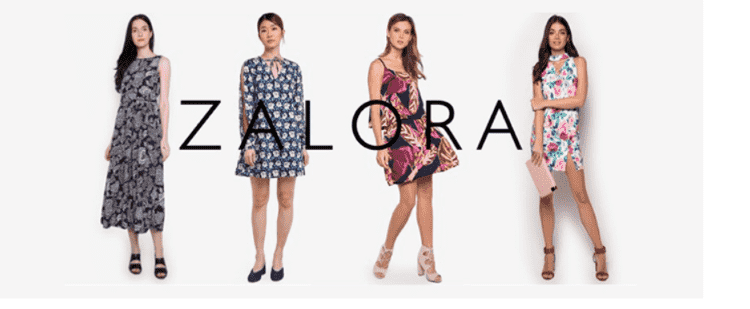 Zalora, the leading e-commerce store that offers a frictionless customer experience to its customers. It offers a comprehensive FAQ page along with free and express shipping options, 30 days free returns, a variety of payment methods, including cash on delivery, and unparalleled customer service. 
4. Offer In-app Support for Mobile Users
E-commerce statistics show that 79% of smartphone users have made a purchase online using their mobile devices in the last six months. And almost 40% of all e-commerce purchases during the holiday season are made on a smartphone.
One thing is very clear – If you are running an e-commerce website, you absolutely must cater to mobile users and consider mobile shopping. If you are not doing this, it means you are ignoring your potential customers.
Offering support options for customers inside your business apps is very crucial. 80% of shoppers used a mobile phone inside of a physical store to either look up product reviews, compare prices or find alternative store locations.
A chatbot can prove very helpful in offering in-app support to mobile users. It can elevate the value of support whether you use a chatbot for WooCommerce or Shopify or any other e-commerce platform. 
5. Maintain Consistent Customer Service
The importance of customer service is huge when you run an e-commerce business or when you're part of the eCommerce industry.
When a customer had a pleasant experience interacting with your business the first time it's obvious that they would expect the same level of service in the coming interactions as well. 
Customers expect consistency of customer service on every communication channel so that they do not get confused about the outcome of the conversation. Also, customer service has to be of the highest standard during critical and urgent times, such as a sale.
Consistent customer service is important because:
It helps reduce the average response time

It helps gain high first contact resolution (FCR) rate

It helps get deeper insights about the customer profiles & journey
How to measure e-commerce success?
KPIs

– Identify the right e-commerce key performance indicators (KPIs) and then tracking/measuring their corresponding metrics.

Analytics

– Ensure that you have an analytics system in place to measure all of these metrics as accurately as possible. 

Standards

– Set the right standards for your e-commerce KPIs to measure success.  
6. Act on Customer Feedback
The best advertisement is done by satisfied customers.
You must be wondering how?
Because satisfied customers recommend your product and advocate your brand with positive feedback and good word of mouth. Customer feedback is one of the core elements of business growth. Feedbacks give a transparent view about how well your business is performing. 
Customer feedback is important to business in the following ways:
Measure customer satisfaction

Improve products and services

Deliver a better customer experience

Improve customer retention

Enhance your customer communication
When can you ask customers for feedback?
The right time to ask feedback is immediately after a customer service conversation, product demo, or while. As you are already in a conversation with the customer so it gives a natural feeling to ask for feedback. 
How to analyze customer feedback by different strategies?
Categorize the feedback comments

under delivery speed, after-sales services, customer service approach, etc.  

Nature of the feedback can be

negative and positive comments. Positive comments are effective in building customer loyalty whereas negative comments highlight the areas you need to improve.

Amalgamate the results and plan your next move

as to how you are intending to respond to each of the issues raised. 
Then comes measuring customer satisfaction.
CSAT, CES, and NPS are the metrics to simplify the process of collecting customer insights and measure customer satisfaction. These metrics help to measure overall customer satisfaction, in the specific area of your business, product, or offer. 
7. Track the Entire Customer Journey
"Focusing on customers makes a company more resilient." Jeff Bezos, CEO @ Amazon
Well, your prime focus should always be on the customer who reaches out to you when they encounter any issue. You should put all your possible effort to help the customer in order to improve your e-commerce customer service.
When the efforts are put in the right proportion, the customer support team becomes part of the customer journey. And when you involve your support team in different ways to assist customers at every stage of buying journey, the overall e-commerce service strategy is strengthened. When your customer service level is elevated it increases the sales conversation rate.  
How to track the entire customer journey?
Map out your buyer touchpoints

– You first need to identify your buyer's touchpoints in order to create a

customer journey touchpoint

and ensure that the customers are satisfied at each step of the way.     

Identify your customer pain points

– It's important to identify pain points in the customer journey and figure out areas that need improvement.

Fix Roadblocks

– Once the pain points are identified, the next step is to find ways to bring the relevant changes to the product or process and make customers happy. 

 
8. Make the Right Use of Automation
Implementing automation is a great way to boost the efficiency of specific facets of your e-commerce business. 
Every business should follow the right way of using automation. Properly balancing it helps to deliver excellent e-commerce customer service. 
Different ways to leverage automation to your e-commerce business
Email notifications

– Every online business requires an email marketing strategy for lead generation and to gain new customers. By regular email notifications, you can maintain brand awareness and spread promotions.

Customer reviews

– A review or a testimonial of a previous buyer convinces the customer to buy. You can automate the collection of customer feedback with tools like MailChimp.

Inventory management

– Inventory management is one of the most tedious aspects of an e-commerce business. Integrate your e-commerce platform with Quickbooks accounting software to automate certain tasks.

Invoicing – Manual invoicing is really frustrating. You can create automated invoices by payment gateways such as PayPal. 
9. Work on Customer Retention Strategy 
Customer retention is one of the key challenges of an e-commerce business. Brands that have a strategy for customer-journey management increase their return on marketing investment by 53%. 
Customer retention is the result of customer service and experience. If you create a good experience, that is consistent and predictable, then you can easily improve customer retention.
In order to grow your business, you need to focus on the entire customer lifecycle i.e nurturing, engaging, and retaining. 
Here are a couple of ways to retain your customers
Incentivize/rewards –

Rewarding elite customers encourages them to stay associated with your brand for a longer time.

Loyalty programs

–

Bond Loyalty Report

shows that 66% of customers change the amount they spend to maximize points. Implement a loyalty program for re-engaging your loyal customers. 

Community development

– Customers love to part of a brand community. Building communities benefit customers to create a positive feeling and improve brand image. 
For example – Sephora's Beauty Insider rewards program is known globally. The program has thousands of loyal members who contribute the bulk of annual sales via rewards for each purchase based on a traditional point system.   
Read this post if you may like to know more about customer retention strategies. 
Improve Your E-commerce Customer Service to Grow Your Business   
The quality of your customer service significantly impacts the success of your e-commerce business. So, it's crucial to have a strategy to ensure customers have a positive buying experience with your brand. 
Customer service has a direct relationship with the overall customer experience. With well-tailored e-commerce customer service best practices, you can continue to improve the experience you provide to your customers and earn a good brand reputation.