With the advent of digital technologies and the evolution of e-commerce, the concept of shopping has evolved a lot in terms of consumer buying patterns to customer expectations. Customer support has also evolved from the reactive channels to omni channel support to deliver a better consistent e-commerce customer service experience.
Modern retail is expected to witness a substantial rise from 19% to 24% in the next three years, driven majorly by omni-channel retailing.
As technology continues to change, so do business practices and marketing strategy. When it comes to customer service these days, e-commerce businesses are expected to deliver the highest quality experience or risk losing customers to competitors forever.
So, how should you build your e-commerce customer service strategy?
What is e-commerce customer service?
E-commerce customer service or e-commerce customer support is all about providing an excellent experience to your online store or e-commerce business especially during the holiday season. 
All the e-commerce or retail business, whether small or large, need to invest in delivering great holiday customer service across the channels their customers prefer via live chat, call center, or social channels.
14 best practices to build your e-commerce customer service 
The best e-commerce customer service is to meet customers expectations and give them a WOW experience. Delivering great customer service with your e-commerce business can do wonders to make your brand stand out amongst the competition. Let us discuss the e-commerce customer support ideas that you should implement.
1. Develop an omni channel strategy
For today's e-commerce businesses, having one or two communication channel is not enough. Customers expect your presence across their preferred channels such as website, social media, email, phone, etc. 
So what you should be doing? One way is to take an omni channel approach.
What is omni channel strategy?
Omni channel strategy unifies all the customer touch points across the customer lifecycle under one platform, to engage them across their buying journey and deliver a consistent experience. 73% of customers use multiple channels during their shopping journey.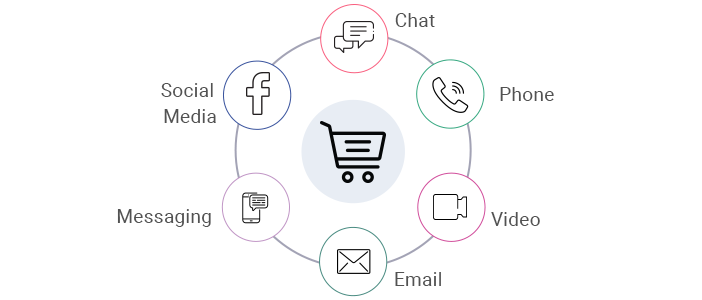 In order to build an omni channel customer support strategy, you should focus on three core elements to make the customer experience as frictionless as possible.
Identify the touchpoints preferred by your customers 

Understand your customer journey and create a strategy to engage them across those touchpoints

Deliver a consistent experience throughout their customer journey
The legacy of omni channel is to harness the power of digital channels to streamline and optimize the shopping experience of customers and their relationships with brands. With the right channel strategies, you can set your brand up for longevity and stability in this changing environment.
2. Provide proactive customer support
83% of customers need help to complete an online purchase. And 70% of sales depend on how they feel they have been treated by a brand. 
And it is but obvious fact that customers will stop coming back to your business if you deliver an unsatisfactory service. It mostly happens if a business focuses on reactive approach. However, great customer service is about anticipating problems and solving them before they escalate i.e. proactive customer support.
Proactive support is one of the best ways to improve your customer service experience. It reduces support interactions and builds customer trust that improves retention. It allows you to reach out to your customers and make their entire journey a beautiful experience. Online businesses need to follow certain strategies to make their service proactive.
Best practices to deliver a proactive e-commerce customer service:
Make your customers aware of the problems before they notice themselves. For e.g. delayed shipment, no stock for order fulfillment, late pickup, etc. Convey the problems to customers when you realize them before customers realize and escalate it online.
Never miss out to follow up with your customers. Set up an automated email asking a customer if they're happy with the product or email them later after purchase.
Monitor your social conversations because customers nowadays, jump to social media to voice their opinions about your brand service experience.
Identify the frequently reported issues by the customers that can be fixed easily to reduce the number of support calls and improve customer satisfaction.
3. Help your customers help themselves
More than half of your customers prefer to solve their problems by themselves rather than contacting your support.
They prefer to scout the web or use any other self-help option rather than talk to a service agent. Therefore, to deliver exceptional proactive service, you should provide your customers with the best self-help option possible.
Add detailed FAQ pages that cover information on topics such as:
Billing and payments

Answers to most common customer questions related price, shipping, guarantee, and delivery

The returns and refunds information policy

Easy to understand the terms and conditions of your business

Advice to troubleshoot the issues
The information and solutions mentioned in the page should help customers resolve their problems being in their comfort zone.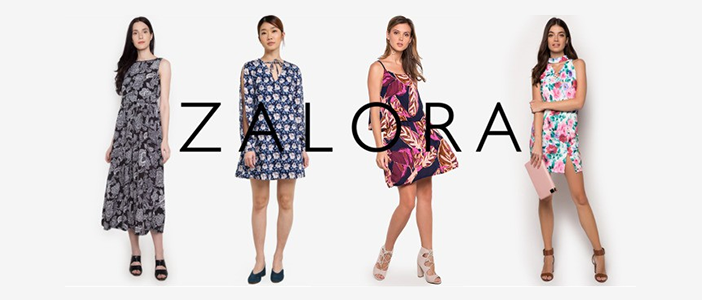 Zalora, the leading e-commerce store that offers frictionless customer experience to its customers. It offers a comprehensive FAQ page along with free and express shipping options, 30 days free returns, a variety of payment methods, including cash on delivery, and unparalleled customer service.
4. Provide real time assistance with live chat
Econsultancy reports say, 79% of customers say they prefer live chat because of the immediacy it offers compared to other channels. With live chat, you save business costs by reducing the response time of customer interaction and increase sales and conversion rate.
And great customer experience can be achieved by using live chat software and live engagement tools that boost customer satisfaction rate.
The key differentiators of live chat when compared to other channels are:
Live chat is real time –

Live chat helps to connect with customers in real time. Identifying the complexity of the problem helps to resolve it in the first contact.

Live chat is multitasking –

Live chat improves the efficiency by allowing agents to handle multiple conversations simultaneously. It also allows multiple options for chat distribution and utilization. 

Messaging is the most preferred channel –

Customers are more comfortable to communicate via messaging to support.
Having a live chat can increase customer satisfaction by reducing the average response time. When you are able to deliver answers customer's questions and concerns instantly they are less likely to leave your website without purchasing.
5. Build a great e-commerce customer support team
Customer support is less about the process but more about customers. It is more of human interaction that every great customer service demand. The customer service team is a mirror of your e-commerce business. So having a potential customer support team is vital for your business to acquire and retain customers.
If you want to deliver outstanding e-commerce customer service you need to build a strong customer support team by focusing on these three key areas:
Training

– If you manage to train your customer support team with your business guidelines successfully everyone will understand your business through and through. It helps to deal with all types of customers and deliver better customer service experience.
Tools

– Providing training on all your business tools will make teamwork easier. The support team should use the tools to deliver outstanding customer service and meet their performance KPI's.
System

– The e-commerce customer service team should have authentic knowledge about your business process. They must be able to deliver accurate information related to return & exchange policy, shipping details, refund, deals, and offers.
Having your support team well equipped with the above areas will empower your team and help your business flow in a structured manner.  
6. Act on customer feedback
The best advertisement is done by satisfied customers.
You must be wondering how?
Because satisfied customers recommend your product and advocate your brand with positive feedback and good word of mouth. Customer feedback is one of the core elements of business growth. Feedbacks give a transparent view about how well your business is performing. 
Customer feedback is important to business in the following ways
Measure customer satisfaction

Improve products and services

Deliver a better customer experience

Improve customer retention

Enhance your customer communication
When can you ask customers for feedback?
The right time to ask feedback is immediately after a customer service conversation, product demo or while. As you are already in a conversation with the customer so it gives a natural feeling to ask feedback. 
What will be the next step?
Analyze customer feedback by different strategies
Categorize the feedback comments

under delivery speed, after sales services, customer service approach, etc.  

Nature of the feedback can be

negative and positive comments. Positive comments are effective in building customer loyalty whereas negative comments highlight the areas you need to improve.

Amalgamate the results and plan your next move

as to how you are intending to respond to each of the issues raised. 
Then comes measuring customer satisfaction.
CSAT, CES, and NPS are the metrics to simplify the process of collecting customer insights and measure customer satisfaction. These metrics help to measure overall customer satisfaction, in the specific area of your business, product or offer.
7. Track entire customer journey
"Focusing on customers makes a company more resilient." Jeff Bezos, CEO @ Amazon
According to the above quote, your prime focus should be on the customer who reaches out to you when they encounter any issue. You should put all your possible effort to help the customer in order to improve your e-commerce customer service.
When the efforts are put in the right proportion, the customer support team becomes part of the customer journey. You can engage your customers across social channels, website, emailers, newsletters, etc. 
It has been observed that those customer base who are engaged spend 30% more, and seriously, you will not at all let go of the opportunities.
When you involve your support team in different ways to assist customers at every stage of buying journey, the overall e-commerce service strategy is strengthened. When your customer service level is elevated it increases the sales conversation rate.
8. Make the right use of automation
Implementing automation is a great way to boost the efficiency of specific facets of your e-commerce business. 
How can you use automation to increase your business efficiency?
Every business should follow the right way of using automation. Properly balancing it helps to deliver excellent e-commerce customer service.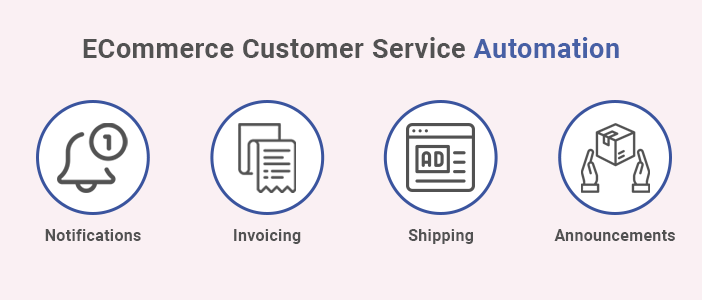 Different ways to leverage automation to your e-commerce business
Email notifications

– Every online business requires an email marketing strategy for lead generation and gain new customers. By regular email notifications, you can maintain brand awareness and spread promotions.
Customer reviews

– A review or a testimonial of a previous buyer convinces the customer to buy. You can automate the collection of customer feedback with tools like MailChimp.
Inventory management

– Inventory management is one of the most tedious aspects of an e-commerce business. Integrate your e-commerce platform with Quickbooks accounting software to automate certain tasks.
Invoicing

– Manual invoicing is really frustrating. You can create automated invoices by payment gateways such as PayPal.
9. Customer retention is the growth factor of your e-commerce customer service
Customer retention is one of the key challenges of an e-commerce business. Brands that have a strategy for customer-journey management increase their return on marketing investment by 53%.
Customer retention is the result of customer service and experience. If you create a good experience, that is consistent and predictable, then you can easily improve customer retention.
In order to grow your business, you need to focus on the entire customer lifecycle i.e nurturing, engaging and retaining. 
Here are a couple of ways to retain your customers
Incentivize/rewards

– Rewarding elite customers encourages them to stay associated with your brand for a longer time.

Loyalty programs

–

Bond Loyalty Report

shows that 66% of customers change the amount they spend to maximize points. Implement a loyalty program for re-engaging your loyal customers. 

Community developmen

t – Customers love to part of a brand community. Building communities benefit customers to create a positive feeling and improve brand image.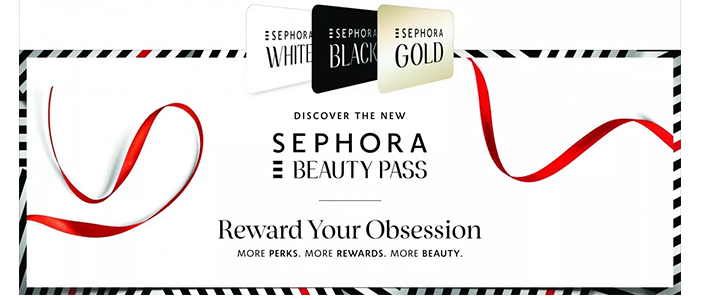 For example – Sephora's Beauty Insider rewards program is known globally. The program declared more than 17 million loyal members, and members contributed 80% of Sephora's annual sales. Customers earn rewards for each purchase based on a traditional point system.
How do you measure customer satisfaction?
You can find out the effectiveness of customer service by the popular metrics:
Customer Satisfaction Score (CSAT)

Customer Effort Score (CES)

Net Promoter Score (NPS)
You may like to read – customer retention strategies
10. Connect your e-commerce platform with other tools
Many e-commerce businesses start with a fully integrated e-commerce platform that includes a complete set of capabilities. Gradually, when the business grows, the built-in features prove to be too rudimentary, and it demands more task-specific solutions and integrates them.
The e-commerce platforms offer relatively easy ways to extend the platform and integrate software solutions to deliver better e-commerce customer service.
Customer service

– Customers forgo retail for e-commerce stores because of the customer service experience. Integrate help desk services with customer service tools to deliver superior service to customers.

Live chat

–

Live chat software

allows triggering proactive messages to guide customers and resolve their queries in real time.

Customer feedback

– According to

Deloitte and Touche

research, customer-centric companies are 60% more profitable than those not focused on the customer. Customer feedback tools are the foundation for business success. 
11. Provide support options inside your apps
E-commerce statistics show, 79% of smartphone users have made a purchase online using their mobile device in the last 6 months. And almost 40% of all e-commerce purchases during the holiday season are made on a smartphone.
One thing is very clear – If you are running an e-commerce website, you absolutely must cater to mobile users and consider mobile shopping. If you are not doing this, it means you are ignoring your potential customers.
Offering support options for customers inside your business apps is very crucial. 80% of shoppers used a mobile phone inside of a physical store to either look up product reviews, compare prices or find alternative store locations
12. Customer service is vital for brand reputation
Customer service can be a competitive advantage for your e-commerce store. 
Microsoft says,  96% of consumers say customer service is an important factor for the brand reputation. With the emergence of social media, frustrated online shoppers can immediately post their dissatisfaction for their followers to see and know.
Stakes are higher than ever. A single wrong move is enough to take your brand reputation graph down. If you are unable to meet and exceed your customer's expectations, you will have to deal with the customer's reaction over social media channels. 
For improving your brand's value, reputation, and public perception of your company – great customer service will help you stand out from your competition to achieve these goals.
You can't buy word of mouth publicity. Rather you can build it with authentic customer-first online shopping experiences.
13. Consistency in customer service
When a customer had a pleasant experience interacting with your business the first time it's obvious that they would expect the same level of service in the coming interactions as well. 
Customers expect consistency of customer service on every communication channel so that they do not get confused about the outcome of the conversation. Also, customer service has to be of the highest standard during critical and urgent times, such as a sale.
Why consistent customer service is important?
Reduces the average response time

Gain high first contact resolution (FCR) rate

Get deeper insights about the customer profiles & journey
Here is how you can measure e-commerce success
While measuring measure e-commerce success, you need to consider three parameters:
Identify the right e-commerce key performance indicators (KPIs) and then tracking/measuring their corresponding metrics.

Ensure that you have an

analytics system in place

to measure all of these metrics as accurately as possible.

Set the right standards for your e-commerce KPIs measure success.
14. Give your customers multiple contact options
If we look back, businesses were not prompt in offering support across multiple channels. With the changing time, customers expect multiple channels to contact a business. In order to meet the customer's expectations, businesses are adopting a variety of channels such as email, phone support, live chat, chatbot, and social media.
73% of consumers use multiple channels to shop says Harvard Business Review.
When you add more support channels to your business it positively impacts average customer satisfaction CSAT. You risk losing customers if they are not aware of the support channels you are offering them. So, it should be mentioned on the contact us page.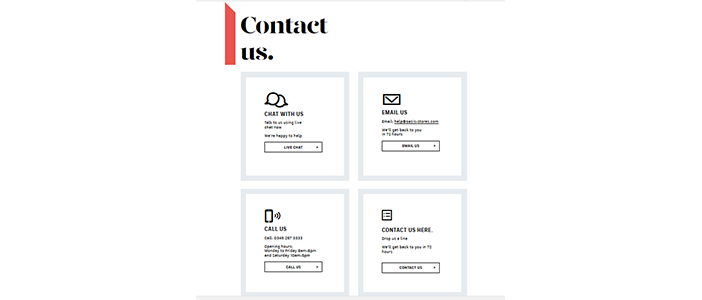 Take the contact us page of Oasis fashion store, for example, that offers the various support channels for customers to reach out for support.
Final thoughts on why improve your e-commerce customer service makes a big impact on your business?
The quality of your customer service significantly impacts the success of your e-commerce business. So, it's crucial to have a strategy to ensure customers have a positive buying experience with your brand. 
The main reasons how e-commerce customer service impacts your business are as follows:
Customer service has a direct relationship with overall customer experience.

It has a word of mouth effect, which is very important for e-commerce business.

It improves brand awareness, gets more traffic, and help to generate more sales.
With a well-tailored e-commerce customer service approach, you can continue to improve the experience you provide to your customers and earn a good brand reputation.