For most of us, the word "guerrilla" may evoke images of conflict and rebellion. 
And when used next to the word "marketing," it can create some confusion. As then, a lot of people might feel perplexed, scratch their heads, and ask, "What is that?"  
Well, guerrilla marketing examples are something you must have witnessed in your daily life but you could not understand them in the way marketers may have wanted. 
So, in simple terms, guerilla marketing is basically a very unconventional form of marketing that uses innovative ambush tactics for advertising and brand promotion.
It's not your routine or mundane marketing that kind of feels forced.
Rather, it's something exciting, something that grabs the attention immediately, and creates a memorable interaction between customers and your brand.
The best part, it uses the strategy of surprise, shock, and awe to interrupt the audience in a gentle way, drawing their attention to the brand.
In this post, we will discuss guerilla marketing in detail and also look at some great examples from across industry verticals.  
What are Guerilla Marketing Strategies?
Guerrilla marketing mainly focuses on several unconventional low-cost marketing techniques that grab instant consumer attention and provide maximum results.
Jay Conrad Levinson wrote a book named 'Guerrilla Advertising' from where the original term was coined. The concept is inspired by irregular warfare called Guerrilla Warfare. Armed civilians used to make smart strategies for winning the wars.
Guerrilla marketing is all about executing some unconventional and unique marketing activities in common busy places to generate a kind of buzz for the brand or product.
To be epic and highly visible, your guerrilla marketing strategies and campaigns don't need to be expensive! 
And don't forget, 27% of industry leaders in Germany use unconventional marketing to promote their brands. 
So, you first need to check out what is guerrilla marketing with examples so that you can understand the ways to awe and inspire the audience in the subtlest way possible. 
8 Awesome Guerilla Marketing Examples 
In marketing, guerilla tactics largely rely on the element of surprise. Naturally, brands big and small alike find guerilla marketing and its highly unconventional campaigns useful in reaching out to the target audience. In fact, guerrilla marketers have reported a reduction of up to 90% in their ad spend thanks to their approach.
There are many good online guerilla marketing examples but we focus mostly on offline ones that have gone on to become memorable in the true sense.  
Let's look at each of the customer-driven marketing strategies and examples in detail; 
Example 1: Duracell Lights Up the Area 
Duracell is an American company that manufactures batteries and smart power systems. They have added glowing flashlight posters in several illuminated areas to remind people about the power of Duracell. Their campaign always features among the best guerrilla marketing examples to emulate. 
Read our blog to know more about how Social Media Could Be Part of Your Overall Marketing Strategy.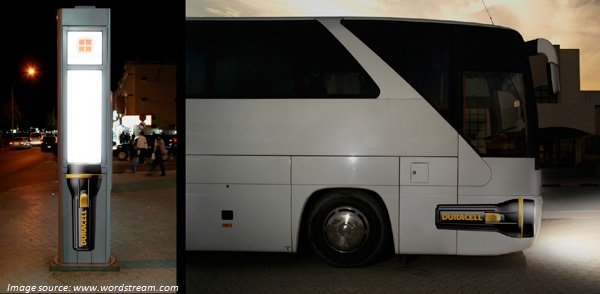 Example 2: Colgate Uses Wooden Sticks into Ice-creams 
It is a very famous toothbrush and toothpaste brand. They made toothbrush-shaped wooden sticks for inserting into ice cream bars to remind children as well as adults of the importance of regular brushing. So, you won't find more suitable guerrilla marketing examples when it comes to showcasing presumably the effectiveness of brushing with Colgate. 
Read our post on how Customer Service is the New Marketing.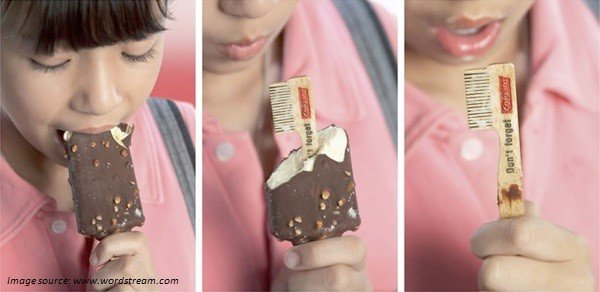 Example 3: Frontline Makes Use of Illusion 
Frontline is a brand that makes flea and tick prevention products for dogs. It's a company with its guerrilla marketing strategies bang on target.  They have covered the entire floor of a crowded place with that image. 
They knew that people will walk across the space and others who will see that place from stairs or that building's upper levels, have the illusion of dogs suffering from flies which are actually the people standing on that floor. It's a great way to grab attention. 
Read it here to know the Top 10 Examples of Customer Engagement Campaigns.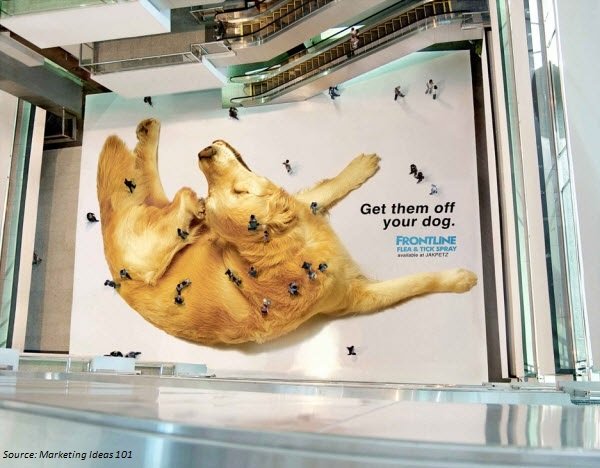 Example 4: McDonald Paints the Logo on the Road 
You always expect a brand like McDonald's to not only get its guerilla marketing strategies right but also show others the way. So, rightly, this popular American fast-food restaurant chain used a great way to grab the attention of people. It has pained its logo on the road which works as the zebra crossing. 
Click here on Chatbot Templates for Marketing if you want a bot to do marketing for your business.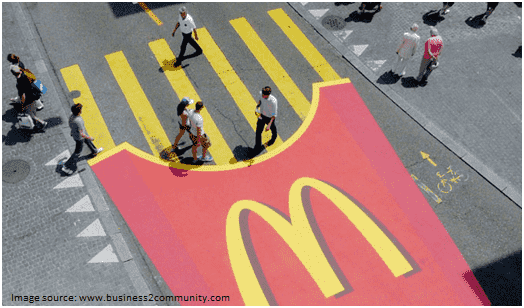 Example 5: Tyskie Beer Gets the Handle for Beer Mugs
It's a popular polish brand of beer. These people have painted beer mugs near the handle of glass doors. It has been positioned in such a way that you can't ignore it. The idea is to make the brand stick in the mind of customers and that too, without ever looking a forced attempt. This also shows how your idea could easily be among the best guerrilla marketing examples if you how to relate it to the audience's need.  
Read our post to know similar Customer Engagement Strategies for your business.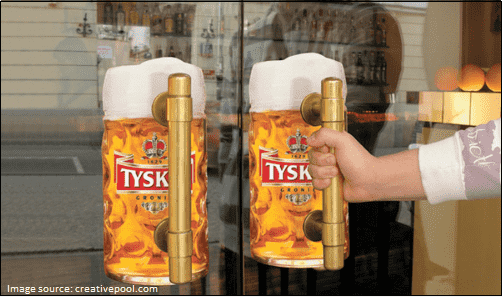 Example 6: Barbie Decorates the Bus Stand
Advertising at bus stops is a great way to attract the attention of people and Barbie has understood it really well. The American toy company, named Mattel became really famous by creating the fashion doll named Barbie. It decorated the whole bus stop in the Barbie theme to grab attention. So, Barbie is just the perfect case if you search for some amazing guerrilla warfare marketing examples for your business.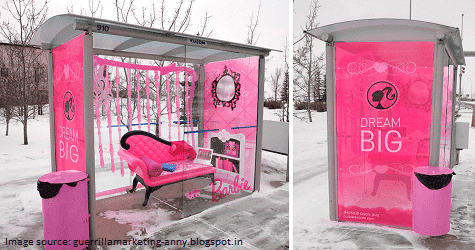 Example 7: National Geographic Gets it Guerrilla Marketing Strategies Right 
National Geographic does not really require an introduction. Perhaps we all know about it. We know how its team has been doing great work to put the brand into the mind of the target audience. The good thing, despite being a top brand, it continues to innovate. In fact, it has applied guerrilla marketing strategies in a very unique way. Here is the image.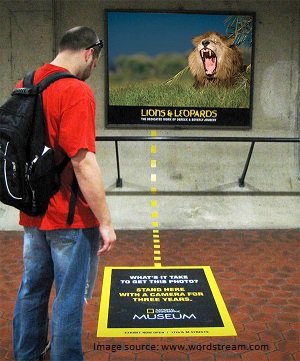 Example 8: Coca-Cola Shows How Guerrilla Marketing Examples Should Look Like
A few years back, Cola-Cola was launched with a new grip bottle, and the company needed to make people aware of the new change. Marcel Advertising Agency in France worked for its promotional activities. They have created 3-dimensional posters which were printed on Velcro.
They placed those on the walls of bus stops around Paris. The clothes used to get attached to the poster and people had to look at that advertisement. It is one of the best guerrilla marketing examples to have ever come out of the think-tank closet.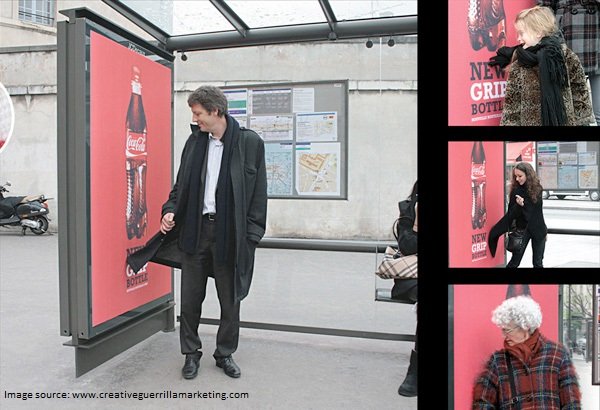 It's a great way to promote your brand with a very little investment and trust me the result will be huge. Road, stairs, doors, benches anything can be the masterpiece for your guerrilla marketing strategies and campaigns. 
Guerrilla Marketing Strategies to Outperform Your Competitors
You need the right strategies to get the most out of guerilla marketing. The campaigns you plan to launch must get the trigger, channel, and audience right. Once you're able to put together different elements of guerrilla marketing, it can surely offer the reward you crave.  
You can take inspiration from some of the proven guerrilla marketing strategies examples to outperform your competitors.  
Get the Location Right for You Campaign  
Location may not matter much with online guerrilla marketing examples but it's very important offline, so get it right to market your product and achieve success for your campaign. 
Use Visuals For Great Guerrilla Marketing Techniques Examples 
Focus more on using visual content, like images, graphics, shapes, etc. as they have a greater impact on consumers than texts and stick in the audience's mind for longer.  
Keep the Element of Mystery For Customers
Try not to divulge everything with the campaign as you need to ensure there are some elements of mystery and surprise for people to decode. 
Make People Crave Your Guerrilla Marketing Campaign Examples
You should be ready to offer additional incentives to people as the more you offer with your guerilla marketing campaigns, the more chances of success they will bring.  
Stay Innovative within the Industry Limit
It's always important to keep pace with the changing trends as it ensures you're either more off-beat than the norm or lag behind the competitors in terms of innovation.  
Always Stick to the Brand Identity
And lastly, always stick to the brand identity and never plan or carry out guerilla marketing strategies purely to stand out. 
Improve Your Guerrilla Marketing Tactics with REVE Chat
The success of your marketing campaigns largely depends on how well you execute the ideas and how great tools you have at your disposal. 
With REVE Chat, your business can think of using AI chatbots for marketing and drive the type of innovation you need. 
The bot will help you stay innovative, try our new ideas, and give customers something to feel surprised about. with a bot, you can leverage the power of artificial intelligence and machine learning to make your tactic one of the great guerrilla marketing examples in true sense. 
Similarly, your business can leverage the features of live chat software and reach the audience with the right message. 
Inspire and Convert Your Audience with Guerrilla Marketing Examples 
Guerrilla marketing strategies or tactics are always helpful in terms of giving brands an opportunity to think out of the box and expand their reach subtly. 
You can plan to combine it with chatbot marketing to tap into the new markets and garner attention. 
And if you're ready to innovate, your guerilla marketing examples strategies will always work fine and deliver the kind of results you expect.