The rapid proliferation of smart technologies has impacted every business, no matter its size. In all this event customer engagement has drastically changed due to digital transformation. Most businesses now interact with customers differently from they earlier. However, the changes have been for the better.
83% of companies that believe it's important to make customers happy also experience growing revenue.
Customers are demanding better experiences from organizations and companies must meet & exceed their demands to be successful. Customers expect responsiveness, consistency in messaging, and tone. The companies that focus on creating good examples of customer engagement campaigns in tune with how clients want to do business with them are the winners. 
Things to get ready before you start your customer engagement campaign 
For setting good examples of marketing campaigns, you should not miss out on the fundamental elements and examples of digital technology that determine the success of your campaign. So, before you plan for your customer engagement campaign, here are some tips to be followed to make the campaign engaging. 
Identify the objective
Having straightforward goals provides clear direction for team members and offers information for executives to review & support.
Select right channels
Choosing the right channels (social media, website, email) and the right digital customer engagement technology is very important to market your products or services to consumers. 
Prepare appealing content 
Make sure you have a solid content marketing plan that is up-to-date, innovative, and engaging for your prospects and customers, no matter when or how they intend to buy. By writing engaging content, you can attract new customers and retain your existing ones. 
Review on a regular basis
Measuring the effectiveness of brand engagement campaigns gives a clear picture of what works and what doesn't. Some key KPIs are Return on Investment (ROI), Conversion Rate, Customer Lifetime Value (CLTV)
10 Best Examples of Customer Engagement Campaigns 
Excellent examples of customer engagement campaigns can motivate other businesses to find new ways to delight customers by aligning their service to their interests.
We have compiled a list of the best customer engagement programs that will help you to stand out from the competition.
Let us discuss the above customer engagement programs in detail to gain a better understanding of their approach. 
1. Build an omnichannel customer engagement strategy
Today's customers expect consistent experiences across multiple channels ( such as websites, social media, phones, in-app, stores, etc.) as they use them to reach out to you for support or make a purchase.
9 out of 10 consumers want an omnichannel experience with seamless service between communication methods. Hence, businesses should build an omnichannel customer engagement strategy to deliver consistent service across all channels.
Customer engagement campaign: Oasis Fashion 
Oasis is a well-known fashion retail brand in the UK. They operate online and from physical stores around the world. But the most impressive part is how they integrated both platforms all together to provide a complete omnichannel customer experience.

Oasis integrated all the customer touchpoints to bring a more unified experience. The carousel on their website homepage shows off the hottest items being purchased in-store. They also create a  gallery of user-generated Instagram content encouraging customers to model the clothes they've bought.
Key takeaways:
Identify all the online and offline channels your customers hang out.

Be active across the channels to engage customers by deploying digital engagement tools like chatbots, live chat, and

visual engagement tools

.

Offer a smooth transition among channels and deliver a consistent omnichannel experience.
REVE Chat has a suite of customer engagement tools that you can use to provide seamless support across multiple channels. Sign up to get the best customer support software and add a new dimension to customer engagement. 
2. Use social media effectively to strengthen relationships
70% of customers who are assisted via social media will come back to a company being loyal in the future. 
Engaging customers on social media requires the right strategy, a deep understanding of your audience, and content output that aligns with this understanding. You need to monitor the social channels where your brand is being mentioned. It is also important to respond and engage as soon as possible. 
Example of customer engagement campaign: Jeni's Splendid Ice Cream 
Jeni's Splendid Ice Creams an American ice cream company has mastered the art of audience communication on social media.
The company interacts with its followers on a regular basis, and its average response time is excellent. Having regular conversations with your community is a great way to engage your customers through social media.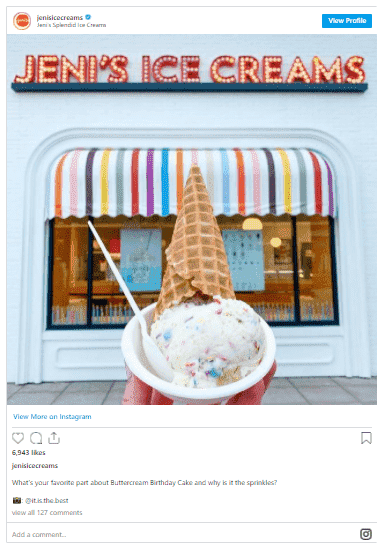 Every time a customer shares a positive social media post about your business, it means they were satisfied with your products or services. Take the user-generated content (UGC) and amplify their message by sharing it across your own channels.
Key takeaways:
You need to maintain the

average response time

while interacting with social customers.

Share positive social posts made by your customers to improve brand awareness. 

Follow customers on social media to build relationships. It's a lot like following a friend. 
3. Convert your website into a lead-generation channel 
47% of B2B buyers reported that the best way to find sales information for them was to go directly to a website.
Website is used as a primary source for engaging with customers as a lead generation by most of businesses. Having an appealing web design is the key to increasing inbound customer engagement and sales conversion. 
Customer engagement example: HDFC Bank
EVA (Electronic Virtual Assistant) is an AI-enabled banking chatbot built with the aim to leverage the latest technologies to help serve customers better. It uses Natural Language Processing (NLP) technology to understand the user queries and fetches the relevant information in zero waiting time.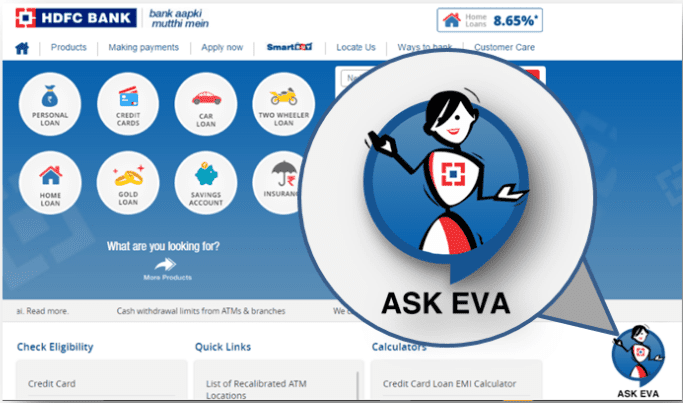 The EVA chatbot has addressed over 2.7 million customer queries, interacted with over 530,000 unique users, and held 1.2 million conversations with more than 85% accuracy. EVA can assimilate knowledge from thousands of sources and provide simple answers in less than 0.4 seconds. 
Key takeaways:
Implement live chat to engage website visitors in real-time when they land on your site and what they expect.

Banking chatbots can be designed around a core use case such as claims or loan applications.

You can personalize your bot profile by giving a name that matches your brand image. 
4. Support your customers with live engagement
A real-time collaboration platform that offers a complete suite of customer engagement can be leveraged to ensure a personalized service environment involving real-time content sharing, live discussions, and productive conversations.
The rich visual engagement provided by the tools like co-browsing and video chat increases customer satisfaction while reducing resolution time. 
Customer engagement example: 
Goldsmiths, the famous jewelry brand uses live chat with voice and video chat support for better customer communication.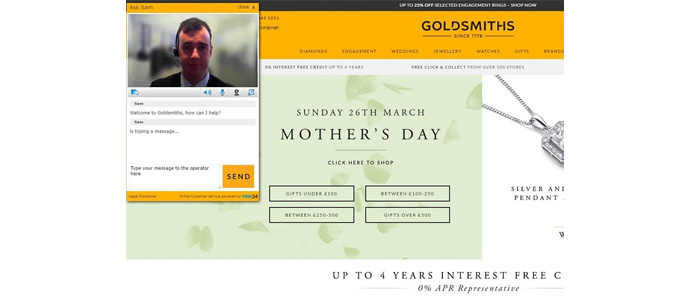 The jewelry retailer added this feature in order to mimic the personal service that it offers in its physical stores. It's a great way to fuse the physical & digital experience and deliver a consistent customer service experience.
Key takeaways:
Provide your premium customers the benefit of quick assistance by using live customer engagement.

Empower your agents to identify and give quick answers, sort out problems, and offer live guidance to navigate through a site or complex form fill-up process.

Use video chat to learn customer issues accurately and deliver faster solutions by reducing the number of touchpoints.
5. Collect customer feedback to enhance engagement
Asking customers for feedback is vital as it helps to know the customer's perception of your brand and makes them feel important. Besides, if you assure them that their thoughts are paid attention to, you can win them over and over again. For instance, make use of exit-intent popups to target those visitors who are about to leave your website.
Example of customer engagement campaign: EVO Entertainment Group
EVO, an entertainment brand in Texas comprised of cinemas, restaurants, bars, and entertainment centers wanted to capture feedback and respond in real-time to increase customer engagement and build relationships for their growing entertainment brand.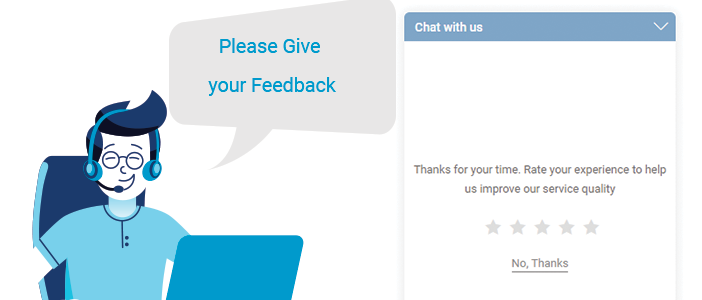 EVO uses out-of-the-box customer feedback and NPS features to effectively capture real-time customer feedback and respond personally ensuring a high rate of return.
By responding to customer feedback in real-time, they achieved a 95.4% response rate, 87% written feedback response rate, and a 63.7% return rate.
Key takeaways:
The best time to collect customer feedback is at the end of a customer conversation, after a product demo or a successful checkout.

Collecting regular feedback helps to work on the loopholes and improves business performance also creates a customer-centric business strategy. 

You can use different channels like live chat, in-app, or chatbots, to obtain instant feedback just after every conversation. It helps to understand the customer experience and satisfaction level. 

Real-time customer feedback helps to create effective marketing strategies based on customers' needs. It opens doors for better client engagement activities while influencing prospects.
6. Create a loyalty program 
Acquiring new clients is way more costly than retaining existing ones. That's why a well-planned loyalty program can be the way out. 61% of customers believe that surprise gifts and offers are the best way to engage customers.
Customer engagement campaign: Nike
An excellent customer engagement example comes from Nike. More like a progress motivator, the NikePlus Membership program uncovers plenty of benefits for its users: 
Special rewards for successful workouts

Customized playlists on Apple Music

Personalized promotions (like early access, and product discounts)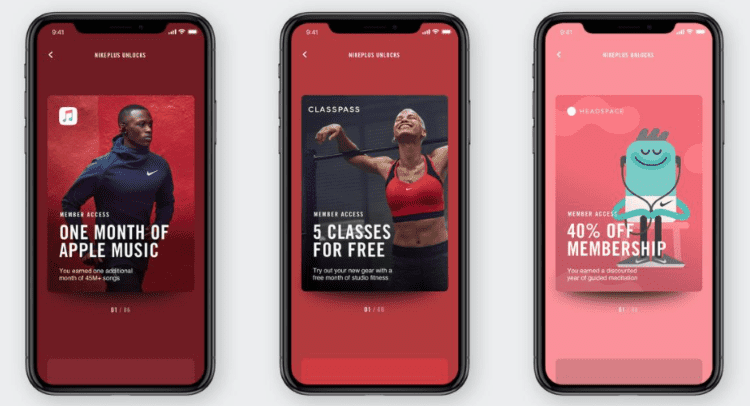 The Nike Run Club and the Nike Training Club apps reward users with badges and other rewards every time they reach a new milestone such as finishing their first 5k. It is a great example of how you can use progress to encourage engagement.
Key takeaways:
Encourage progress through your loyalty program and help users get closer to reaching their goals.

Align your product to help your members with their goals or challenges. It will encourage them to buy more from you.

By rewarding recurring engagement, you can increase customer loyalty and ensure continuous growth for your business. The idea behind an effective loyalty program is that the more loyal customers are, the more rewards they will get.
7. Engage your mobile users inside the app
Mobile app engagement is a great way to communicate with customers. It empowers brands to inform, engage, and sell to customers on a regular basis. With personalized in-app messages, you can build lasting engagement throughout the user journey.
Some common use cases of in-app messaging are:
Special promotions:

Provide coupons or discounts to customers.

New feature release:

 Inform new activities to users can do in your app, product updates.

Important announcements:

Share essential company news with users.

Successful onboarding:

 Helps new users to learn about how to use it after downloading it.
Example of customer engagement campaign: Harvest
Harvest, a time-tracking app for teams, displays a simple modal when users log into the mobile app. The tip positions the value first, so it's quick to skim, and then follows up with a "get started" CTA that takes the user right where they need to go.
Thus, Harvest used in-app messaging to train users with bite-sized tips and has set a good user engagement strategy example.
Key takeaways:
Keep your messaging unique and short.

Avoid clumsiness by using the right brand messaging.

You can create in-app messages to

engage special segments of users

, and in-app notifications add more value. An in-app user engagement strategy helps to create a stronger product experience. 
8.  Leverage chatbots to increase engagement 
By 2023, AI-powered chatbots are expected to reduce business costs by $8 billion. Companies are continually looking for ways to use AI to assure success in the increasingly competitive business world.
In fact, forward-looking businesses are using AI chatbots to personalize their B2C communications. with bots, they can easily know how to measure customer engagement and deploy them to cater to engaged customers as well. While there are many platforms where chatbots can be used, Facebook bots are the most common.
Customer engagement campaign: Red bull
Red bull is a leading energy drink in the world, selling approximately 7.5 billion cans annually. The well-known brand sought out to increase user engagement on social media while gathering customer insights for their products and marketing endeavors.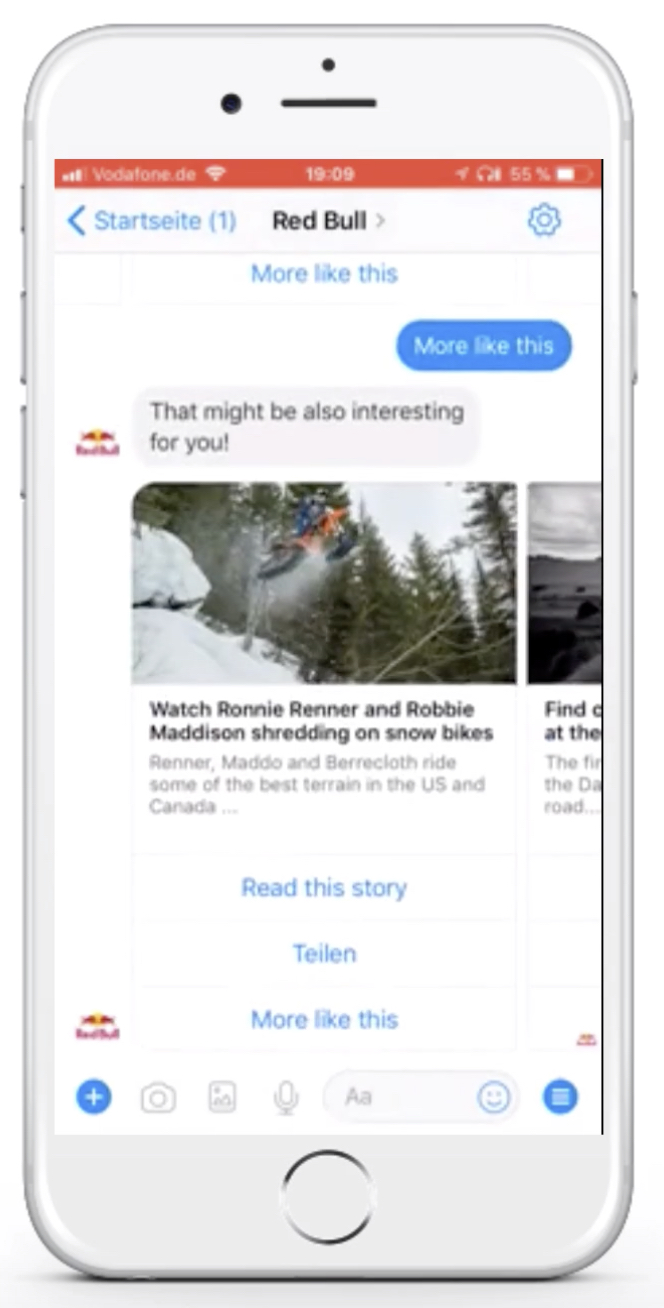 Red bull created a friendly Facebook Messenger bot that gathers customer insights and drives engagement by giving users access to exclusive content. With this chatbot, Red bull boosted user engagement, increased audience size, and captured broad customer insights.
Key takeaways:
Deploying a chatbot not only engages the users 24×7 but also collects customer information to deliver a personalized experience.

Scale your bot to engage all conversations during peak hours and improve customer satisfaction.

Bots capture customer data to create personalized experiences for your customers as well as to build better remarketing and lookalike audience lists for Facebook.
9. Create interactive resources for support engagement 
Businesses offering free trials, forums, and interactive videos provide an opportunity for the prospects to try your product or service in their context. Engage with customers through forums by allowing them to ask questions, post tips, and even answer each other's questions through community forums. Interactive videos can capture the customer's attention and help them better retain information.
Usually, people spend 44% longer watching interactive videos and are 3 times more likely to engage with the content.
Customer engagement example: Evy's Tree Facebook community
Women's fashion brand, Evy's Tree has created a very engaged brand community through the use of their rewards program.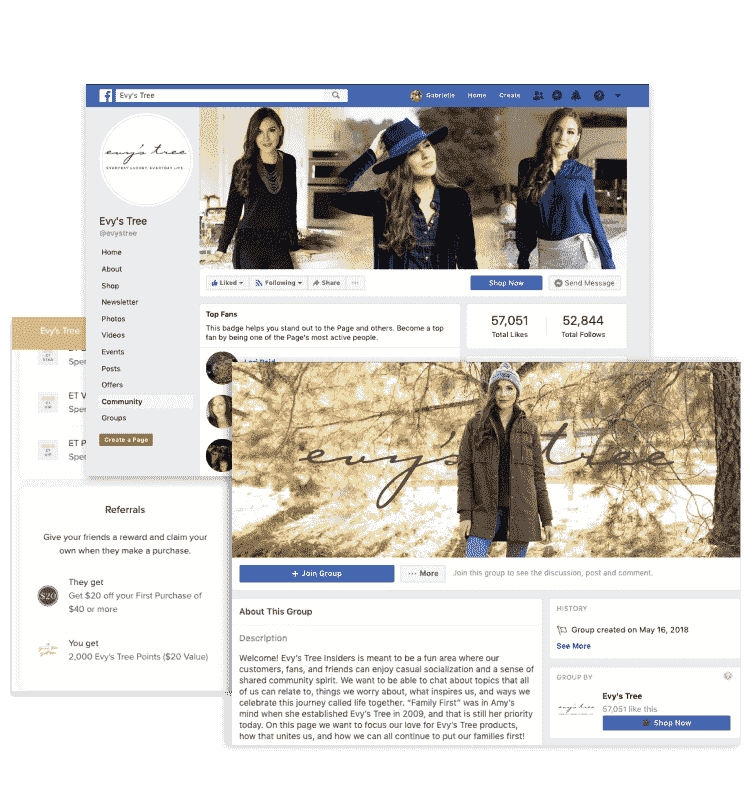 Evy's Tree leveraged the excitement created by these Facebook communities, along with their strong referral program to capture a rewards redemption rate of 65%. With over a 50% increase above industry standards, Evy's Tree has created a truly engaged loyal customer base.
Key takeaways:
An amalgamation of online brand communities and reward programs is the perfect cocktail.

Make sure you are meeting your customers where they already are.

Clearly identify the right success metrics for your business and use them as a reference point.
10. Drive engagement with email campaigns
According to Constant Contact, the average ROI for email marketing is $38 for every $1 spent. It means email is an important component of a marketing strategy, and its success relies largely on how well you structure your email campaigns.
Email marketing is a way most businesses rely on to retain and keep new customers, and as their primary method of acquiring new customers. 
Customer engagement campaign: InVision
Every week, the InVision team sends a roundup of their best blog content, their favorite design links from the week, and a new opportunity to win a free t-shirt. They also sometimes have fun survey questions where they crowdsource for their blog.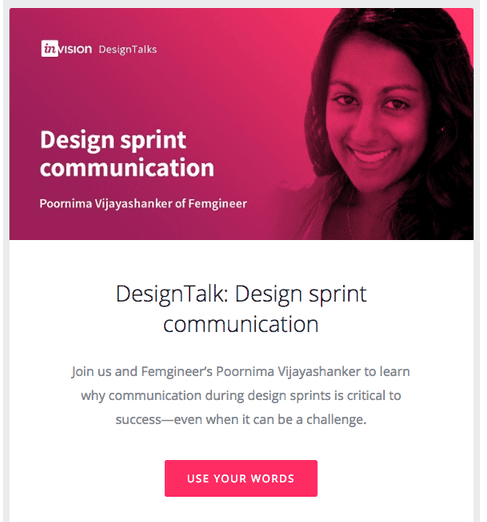 Not only is InVision's newsletter a great mix of content, but they have a perfect balance between images and text, making it really easy to read and mobile-friendly, which is especially important because its newsletters are so long. They use clever copies on the call-to-action (CTA) buttons.
Key takeaways:
Promote your blogs through emails for the high-value content you create for your website.

You can notify your customers about the new product release or updates.

Email marketing helps in sending regular brand communication through newsletters.
Keep engaging your customers with marketing campaigns
All the above examples of customer engagement campaigns are highly effective in engaging clients by using the right plan. The marketing campaigns were a blend of thorough research and effort from the brands. 
There are many different ways you can approach customer engagement programs and develop personalized campaigns for your customers. Sign up to get feature-rich engagement tools and give value to customers at every stage of their journey with your brand. 
Capturing customer data is critical to the success of any campaign, when you understand who your customers are, you are able to send the right message to the right client at the right time. 
You can go through the engagement campaigns and identify what fits your business to start increasing your customer engagement rates and build sustainable loyalty.