Businesses lose approximately $41 billion a year due to poor customer service. It proves that businesses can't afford the cost of bad customer service, irrespective of its size or nature. To ensure that customers retain with your business, it is imperative to introduce customer service training tips for your support team. 
With the right customer support training program, your team can focus more on delivering better customer experience and higher engagement rates. No matter how great your product is or how dedicated your staff is, one of the things that customers are most likely to remember is the direct interaction they have with your company. 
The quality of support your customer service team offers defines the customer success and experience. This is where good customer support training comes in.
Why is Customer Service Training Important?
Customer service training is vital as it effectively assists your customers throughout the journey. From pre-purchase, through their purchase and all the way to their post-purchase experience. Delivering great experience gives your businesses a competitive edge and a solid reason to invest in the right customer service training ideas.
Gartner says, "Customer service is a competitive advantage in a world where 89% of businesses compete through the level of customer experience they are able to deliver."
Here are the key benefits of following customer support training tips for your employees.
Increase customer retention

– Good service always pays back. When customers are happy with your service quality, they tend to retain your business for a longer time which in turn increases their lifetime value. 

Build Brand reputation

–  When the customers are impressed with the quality of customer service offered while interacting with your business, it creates a better brand rapport and increases your consumer base.

Positive word of mouth

– When customers are satisfied with your service they become loyal to your brand and advocate your brand by sharing their success stories with friends and family with good word of mouth.
Key areas of customer service training for employees
Good customer service training ideas eventually pay back to your business. When you train your employees in the right direction, by imparting the knowledge of using appropriate customer service training techniques, it is obvious that you increase customer satisfaction by using live chat for sales & lead generation.
Let us jump into the key areas where customer service training for employees is important.
1. Optimal product training ideas
Customer service training programs act as a long term investment for the growth strategy of your business. So, it is vital to introduce your core products and services as the main part of customer service training for employees. 
Generally, it is part of onboarding new customer service hires. Product training of employees ensures that they are ready to communicate your brand message with your new as well as loyal customers.
Here are some key benefits of having in depth product knowledge:
You can empower the customer service team to answer complex questions

with great ease and confidence.

Your customers have to trust your brand, product, and the person they interact with. Product training

helps to build that trust

.

With product knowledge you not

impress customers in the first interaction but make an everlasting impression

in this competitive time.
LUSH Cosmetics, a company renowned for its excellent customer service, values product knowledge as a way of creating empowered employees and delivering an exquisite consumer experience.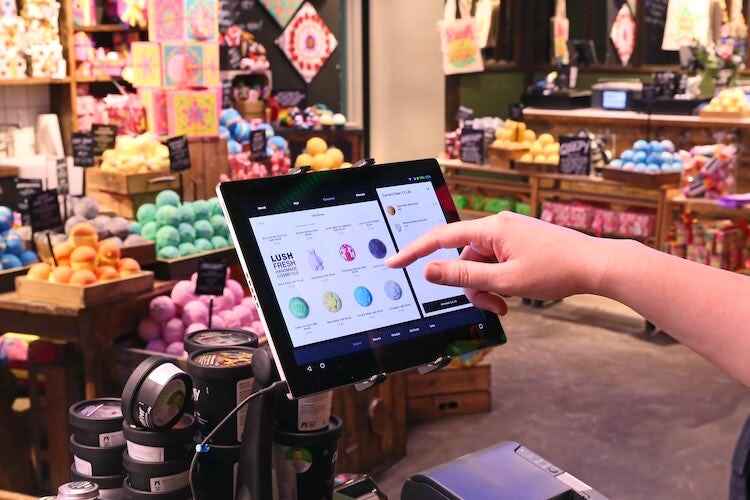 Source: marketingweek.com
LUSH cosmetics took product training seriously as their customer service training tips.
It organizes interactive training programs for new hires, where they learn about a range of products and their properties. 

It helps them to recommend products and provide customers exactly what they want. 
2. Focus on customer service etiquette training tips
It sounds simple enough to say that service must be given with a smile, yet how often does it really happen? It is very important to ensure that customer service employees have the right soft skills for handling customers' needs. 
But what soft skills should you be looking for in customer service reps? Some major areas of customer service etiquette training are discussed below:
Have clear communication
Ensure you convey to customers exactly what you mean. You don't want your customer to think he's getting 50% off when he's actually getting 50% more product. Use authentically positive language, stay cheerful no matter what, and never end a conversation without confirming the customer is satisfied.
Understand customer psychology
Customers expect to be valued, listened, cared about their problem, and want assurance that the same won't be repeated in the future. By understanding the psychology of customer service, you can have a big impact on satisfaction levels. This can allow your brand to better understand customers and provide a higher level of intuitive support.
Use positive scripts and phrases
Designing customer service scripts is basically formulating messages according to the different scenarios when employees have to address customers. Positive chat transcripts and phrases can help to deliver faster responses and consistent brand experience.
3. Outline your key metrics and KPIs of your business
It is vital to define customer service KPIs for your business and measure it regularly. The metrics are the performance measurement used by the support teams to monitor, analyze, and take necessary actions to enhance customer service success.
Here are some important KPIs and metrics to measure the efficacy of your customer service trainees:
Average Response Time (ART):

It refers to the amount of time your support team takes to respond to the customer request.

First Contact Resolution (FCR):

FCR measures the efficiency of your team to fix the issue on the first contact or touchpoint.

Customer Satisfaction Score (CSAT):

It measures customer satisfaction scores with your products, services, or interactions with your brand.

Number of touchpoints

– It measures the total number of returning interactions made by the customer to get the right solution for the same issue.
With the help of the above customer service metrics, you can improve the effectiveness of your customer support in the following ways:
You will be able to understand how well your team is performing in terms of handling customer requests. 

You can use the insights in better training ideas that can cover up the gray areas and improve the service quality.

Good service reduces the number of touchpoints and increases both team productivity as well as customer satisfaction level.
4. Enhance your customer interaction skills
If your staff has the necessary skill set, that's a good start. But they still need to relate to your customers. Here are some customer service training tips for employees for strengthening interaction with customers to be thorough and well-received:
Practice active listening
How attentively you listen has a great impact on the effectiveness of customer support. Active listening is a vital component of customer service training tips. It is about giving full attention throughout the conversation and keeping the entire focus on what customers say to understand what they expect and need.
Listening to customers from their perspective helps to identify their problem and resolve faster.

By developing your active listening skills your communications will offer your listeners greater clarity. When active listening is practiced rightly it provided three positive results
Be polite and Empathetic
Newvoicemedia says, "42% of consumers are put off by rude, unhelpful employees." It is quite common to have encountered an employee who never smiles and seems to care less about what happens. Such an attitude should be impermissible in your staff and must be thoroughly addressed in your customer service training sessions.
Customers may be of many kinds. Some may be irritating, some may be full of questions whereas others might just be chatty. You must have the skills of how to handle all of them and provide consistent service every time.
5. Involve top performers in your customer service training programs
As a customer support team lead, it is your responsibility to reward your top performers and motivate the other team members to perform well. By including your top performers in the training session you can boost their morale and give them a chance to share their experiences with others. 
The newly hired employees can gain ample knowledge and tips from these customer service training sessions, which would help them to implement practically. Also, it motivates the other customer service agents to perform better in order to be seen as knowledgeable.
Here are some elements that you need to consider:
Knowledge sharing

– If you have good performers with experience, knowledge, and defined principles, include them in the employee training programs to share their wisdom with the team.

Do it on a regular basis

– Organize training sessions on a regular basis so that your employees stay updated and motivated.
Monitor and improve – You have to monitor the team performance based on the training sessions and improve the areas that lack efficiency.
6. Allow your customers' channels to provide feedback
No matter how proactive you are, you'll never be able to deal with every customer issue. In order to determine customer success, you should create easily accessible ways for customers to give feedback.
Whether it's a phone survey at the end of a service call, an email survey sent directly creates a way for your customers to give feedback. It allows you to know what are the areas that need improvement. 
But finding out what customers think about your service is very important to deliver them the best customer experience strategy. Thus customer feedback acts as a catalyst to adjust your business to fit customer needs more accurately.
Customer feedback plays an important role in different business functions:
Improve the quality of products and services

Measure the customer satisfaction level

Enhance your customer communication standards

Deliver a better customer experience

Build customer loyalty and retain customers
Whatever steps you choose to take, remember feedback's importance to customer satisfaction.
7. Define internal processes as training ideas
Everyone has a different role and if we ask a technical question from a logistics person, he may not be able to answer it. So, it is very important to route the queries to the right team.
Your live chat employees should have adequate knowledge about the correct team to approach when a specific query comes. The customer service agents could use the department routing feature as one of the chat support tips by transferring to the right teams.
It helps in reducing the query resolution time and improving customer experience.
What will the process if the agent needs to be followed

How to escalate the issue to the right department inside your company

Define various levels of customer service
8. Use the right tools 
One of the practical customer service training ideas is using different tools is very important. You should include all the tools used by your business to strengthen customer support. While the agents may learn the product and services transparently, practical training on how to use the tools for customer conversations helps to a greater extent. 
Understanding the key features and the best practices develop a high level of comfort in your agents to perform their best.
Live engagement tools –

You can make your conversations interactive with visual engagement tools such as

co-browsing

and video chat. It helps to identify issues faster and deliver effective solutions by collaborating with the user in real time via direct personalized conversations.

Chatbot

– You can automate your customer support with

AI chatbots

and engage with customers 24×7 by answering their FAQs. Reduce the number of support requests and easily scale chats with bots without additional costs.

Help desk

– Businesses can adopt help desk solutions to boost their customer service. The key elements of these tools are automation, ticket management, and reporting & optimization.

Social media management

– Social media platforms help businesses to grow by boosting brand awareness and marketing of products/services. Monitor your customer's activities and promptly respond to their positive and negative posts.
9. Develop a comprehensive content hub
From the moment prospects stumble upon your website, and long after you sell your products, you need to be available. A customer service content repository is like a directory where all you can store all the important information about product, service, or any specific topics.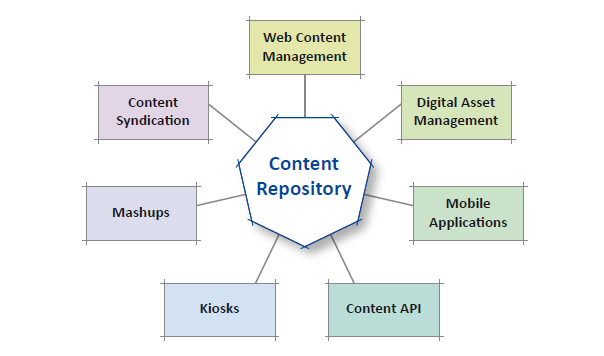 How does a centralized knowledge base act as a powerful customer service training tool?
Delivers proactive customer service –

A knowledge base is one of the only customer-facing support channels that is constantly available from any device. This means there's no need to put clients on hold – the answers are right at their fingertips.

Improves team productivity

– One of the significant hurdles to productivity in customer service is the time it takes for a support team to search for answers. In fact,

they spend 20% of their time

searching in their inbox and other platforms. By creating a centralized hub of knowledge for your employees, you'll significantly reduce the amount of time seeking answers. 

Leverages employee engagement and collaboration

– No matter, if you have a dedicated team of support employees, creating content shouldn't be a one-person job. It's essential to collaborate in order to create the best content that will internally serve their needs.
10. Consider every customer touchpoint
A bad customer service experience at any touchpoint in the customer lifecycle can ruin your relationship. You need to ensure that the right skills are demonstrated to your employees during the customer service training sessions. 
Note: Make sure that they are being demonstrated consistently. 
For that, you need to understand your target audience and identify the key touchpoints. When you pay attention to the touchpoints you have a full view of the customer experience. As a customer service manager, you have to train your customer support team to be active over the channels.
Final thoughts
It is now evident that good customer service is a must for your business. There is no way any business can compete with bad customer service. Hence, investing in customer service programs is just like investing directly in your business growth itself.