Being able to render excellent customer service creates brand loyalty and helps businesses to prosper in the long run. In order to achieve that understanding customer service psychology is imperative. A well tailored customer service strategy focuses on customer acquisition, retention and enhances the customer experience.
According to the Accenture report, 48% of customers expect specialized treatment for being a loyal customer. While it is important to understand the needs of the customer, it is also important to understand customer service psychology.  As said goodness goes a long way, focusing on delivering improved customer service acts as a catalyst to the success for any business. 
What is customer service psychology?
What actually makes or breaks a relationship is the psychology of customer service. And the moment when you understand the concept thoroughly is when you are able to boost customer satisfaction rates.
It is very important to understand what motivates customers to ensure successful customer service interaction. For example – A customer who reaches out to you with a complaint or problem, their motivation is probably to get the problem fixed. They expect an attentive ear who will acknowledge their right to feel bad about the problem.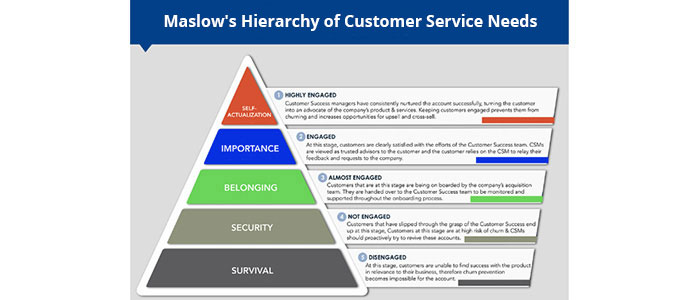 Customers expect to be valued, listened, cared about their problem and want assurance that the same won't be repeated in the future. Customer psychology can be analyzed and understood based on their behavior and emotions that will help you to serve them better.
The essence of customer service psychology
Great customer service is directly related to customer satisfaction. And you can never improve satisfaction unless your team has customer service smart goals to follow. Here are some reasons that will prove that the customer was and will always remain the king.
Customer loyalty

– Today's customers have multiple options. If they are not satisfied with your service they can risk you to your competitors. It's your service that customers will remember and be associated with your brand. It is the indicator of how likely they will repurchase your product in the future.

Brand advocacy – You get to know your customer's preferences, interests. Connecting with them with personal conversations strengthens your relationship. When you have satisfied customers, you get the best brand advocates as they share their success stories and experiences.
Growing new opportunities

– While listening to your customers closely you come to know what they actually want or expect from you. This can help to retain them with your business and develop new business opportunities.
To cut it short, customer service motivation is vital for the sound health of your business. Strategic planning and sincere efforts can help you to deliver top notch customer service.
Main elements to understand the psychology of customer service
One highly effective way to improve customer service is through the application of customer psychology. By understanding the psychology of customer service, you can have a big impact on satisfaction levels. This can allow your brand to better understand customers and provide a higher level of intuitive support.
Let us discuss the vital facets of customer service psychology.
1. Emotional intelligence is crucial in customer service
According to Psychology Today, emotional intelligence is the ability to identify and manage your own emotions and the emotions of others.  
Emotional intelligence focuses on the most important part of our human minds i.e. emotions. Emotions help us to develop and motivate to take action in different circumstances. But then how it is applied in customer service?
Let's find out.
Effective customer communication is one of the main elements of customer service. And without emotions, communication can't be meaningful between the agent and the customer. Emotions are essential to understand what actually your customer is feeling. 
So if you want to polish your communication strategy with customers you need to work on improving your emotional intelligence.
Five main components of emotional intelligence by Daniel Goleman
Self-awareness

-The ability to recognize and understand personal moods and emotions and drives, as well as their effect on others. The hallmarks of self-awareness are self-confidence, realistic self-assessment, and a self-deprecating sense of humor. 

Self-regulation

– It is the ability to control or redirect disruptive impulses and moods, and the propensity to suspend judgment and to think before acting. The hallmarks here are trustworthiness & integrity; comfort with ambiguity; and openness to change.

Internal motivation

– A passion to work for internal reasons that go beyond money and status.  And the hallmarks are strong drive to achieve, optimism even in the face of failure, and organizational commitment.

Empathy

– The ability to understand the emotional makeup of other people. A skill in treating people according to their emotional reactions. The hallmarks include expertise in building and retaining talent, cross-cultural sensitivity, and service to clients and customers. 

Social skills

– Proficiency in managing relationships and building networks, and an ability to find common ground and build rapport. The hallmarks of social skills include effectiveness in leading change, persuasiveness, and expertise building and leading teams.
2. Branding makes customers stay loyal 
Loyalty is a virtue. But it has to be earned to truly mean something. That's true in life in general, but it also goes for marketing. Customers won't just stay loyal to brands because they're there—you have to earn the loyalty of the people you sell to.
The customers who are brand loyal are simply loyal to your business. 
Brand loyalty is simply when customers become committed to one brand over its competition and make consistent repeat purchases over time. There are actually many reasons why a consumer can become loyal to one brand over its competition. 
Some common reasons that can be helpful to examine are:
Convenience

– Customers might be lazy to seek out your competitors as it is easier that way once they have chosen you first. 

Status

– Brands that provide tips on 'being yourself" make customers feel cool and they buy it. When brands provide such a pleasant experience, customers will stick around.

Trust

– When customers know your brand well and are convinced to depend on it, they are likely to be associated with you.

Reputation

– If a customer believes in what a brand stands for or they like the brand's attitude they're likely to want to buy from that brand. 

Excitement

– A brand that is inspiring or that continuously does interesting things to grab attention can engender loyalty from customers. 

Camaraderie

– When buying from a brand makes you feel like a part of something bigger than yourself, you're more likely to want to continue buying from them.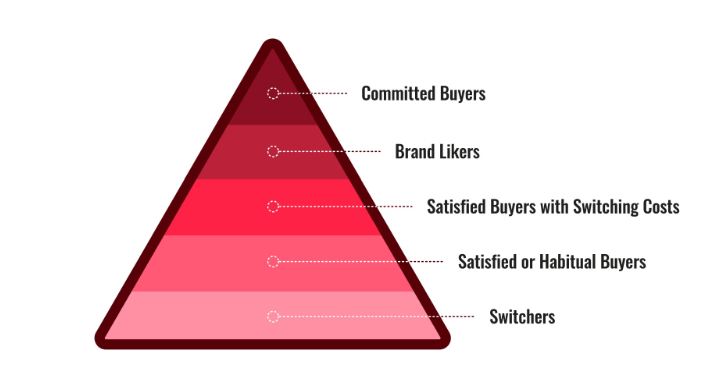 The more effective is the branding strategy of the business and execution, the more customers will be found in the upper echelons of the pyramid.
For example, Apple has a very strong loyal customer base and this is for several reasons. 
The company holds an effective brand strategy which allows it to have a passion for its products and customer experience.

They guarantee the high quality of every product they have to offer.

They continuously innovate in customer tech and they are willing to satisfy customer aspirations. 
Through customer's brand loyalty, Apple has reaped several benefits like increased rate of retention, increased referral rate, increased share of wallet as well as reduced marketing costs.
3. Proactive customer service reduces the frustration
Real time assistance is the top priority in customer service. Most of the customers leave frustrated if they fail to receive instant support. Live chat software bridges the gap and boosts customer satisfaction with proactive support.
InContact study drew an inference that customers are satisfied and positive with proactive customer service.
How live chat help businesses to understand customer service needs.
Live chat helps the agent to figure out that the customers are having some doubts or queries and asks for assistance before they make any support request with personalized triggers. 

You can also proactively engage with customers with visual engagement tools like video chat & voice chat and co-browsing solution, to make the conversation effective and offer faster solutions. 

You can automatically route your chats request to the right agent or department for an expert solution and reduce the wait time.
With live chat software, you gain valuable insights about customers' profiles and trigger the right message at the right time to deliver customers the best customer service experience.
4.  Deliver faster resolution with live tools
There are times customers encounter serious technical issues that are difficult to explain in chat. The real time identification of the issue helps to know the complexity of the issue. Faster and effective resolution becomes imperative in such scenarios. 
We can't ignore the fact that 34% of U.S. respondents listed the inability to connect with a live person for support and automated IVR annoys customers and has a negative impact on service experience. The live customer engagement tools ensure faster resolution in the first touchpoint.
Live engagement tools improve customer experience by following ways
Faster real time resolution – Live tools such as video chat and co-browsing help to identify the issue faster by collecting the information and provide faster solutions to customers. 
Reduces the number of touchpoints

– With live tools, the problem can be diagnosed appropriately in the first contact the issue by direct chatting and collaborating with the customer browser. Thus, reduces the multiple touchpoints made by the customer.

Personalized communication

– Face to face communication allows friendly personalized conversations that build trust and credibility in customers.

Better experience across the customer journey

– With the live tools, you guide your customers across entire their entire lifecycle starting from awareness, acquisition, engagement, and retention. It enables customers to make quick decisions that improve their satisfaction.

Improve satisfaction

– When customer's issues are resolved in the first interaction that too, faster, it raises customer satisfaction level.
5. Always active support with chatbots 
Customer support criteria are different for different businesses. For those who need to deliver a response in less than 30 seconds, chatbots are the best option. You can automate the customer service process to deliver real time support when your support team is not available. 
You can train bot with FAQs and business information to engage customers, thus reducing the number of support requests. The bots also collect customer information and prequalify the leads who are transferred to the sales team for further nurturing. 
How chatbots help to engage customers and boost customer satisfaction
Immediate response

–

No one likes to wait and so do customers. Chatbots manages to resolve customers' queries instantly with automated responses.

24×7 availability

– Bots are always active to engage customers 24×7 by providing personalized support outside of regular office hours.

Personalization

–  Bots offer customers a personalized experience, targeting them with the right messaging and helping them make better buying decisions.
Conversational bots are widely used in FinTech to deliver excellent customer service as chatbots can resolve a basic issue or query instantly. Chatbots deliver faster response, handle multiple requests simultaneously and they are easily scalable.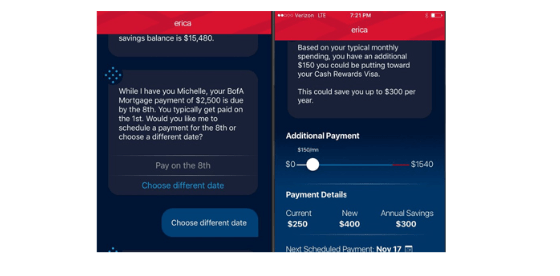 Bank of America introduced an AI-driven virtual financial assistant called Erica. The bot Erica efficiently handled the customer service queries in various ways such as:
Sending notifications to customers

Providing balance information

Sharing money-saving tips

Providing credit report updates

Facilitating bill payments 
Erica has surpassed 6,000,000 users and has serviced over 35,000,000 customer service requests.
6. Follow omni channel support strategy
How about streamlining all your customer conversations in one place?
Customers choose to engage with businesses across various channels, including the web, social media, email, mobile devices, kiosks, online chat, and by visiting physical locations (storefronts or service centers).
Creating consistency among every channel improves the customer experience as well as the brand image. 
With omni channel support, you can unify all your customer conversations in one place and helps in a better understanding of your customer journey. The valuable insights help in engaging them across their buying journey across all touchpoints.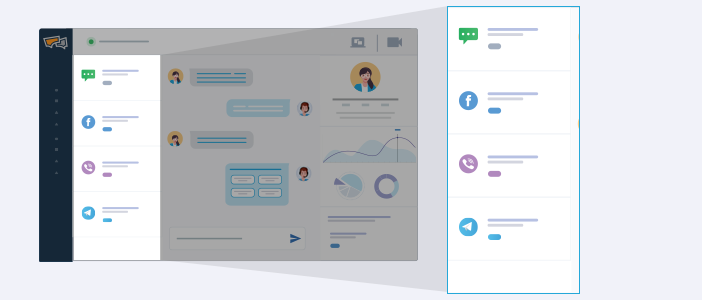 The businesses that follow omni channel strategy retain an average of 89% of customers compared with 33% for those with weak omnichannel strategies.
Why mapping the customer journey is important?
It allows you to understand your customer behavior throughout their journey

You can identify the areas where your customers may need your assistance

You can offer proactive actions across the behavior stages.

It enables to develop a process to deliver customer support via the right channel (live chat, live tools, chatbot).

You can acquire customer feedback and improve your support process to deliver excellent support.
7. Keep customer communication transparent
"Transparency is the new normal." – Forbes
There is a close connection between transparent business communication and customer retaining with your business. 
A Zdnet survey made on 1000 US customers on their transparency beliefs, expectations and desires it was found out that consumers' expectations of transparency grow daily. Almost nine out of 10 Americans believe transparency from businesses is more important than ever before.
Best practices:
Propel authentic information about your product or services to avoid future confusion among customers.

Try not to make fake commitments and set customer expectations that will break their trust and loyalty.

Know your brand offers and discounts prior to offering to customers to maintain brand efficiency.
8. Use positive language with the right vocabulary
Generally, customers switch brands because they are put off by untrained or rude support professionals. McKinsey – 70% of the customer's journey is dictated by how the customer feels they are being treated.  
So, it is very important to choose the right words before you speak to your customers. The customers can get a bad impression with certain words or phrases used by the customer support agents.
Always make your customers feel comfortable, valued, and appreciated. Be knowledgeable of and understand the relevant policy and procedures. Always listen to what they say without interrupting them in between. 
Protips:
Make the conversations one-on-one basis, that will give a special feeling to the customer.

Use the first name to address the customers while talking to them.

Identify the nature of the problem and understand customer needs.

Send personalized greetings to set a personal tone to your conversation.
Never waste time in general questions – jump directly to the right solution for the customer makes the process personal as well as efficient.
9. Practice prompt social listening to connect with your customers
Gartner study found that businesses that do not respond to social media messages face up to a 15% increase in customer churn.
Today, social media has become the most preferred platform by customers for instant assistance. Insights Guide says Facebook reported that more than 1 billion messages are sent from customers to businesses, ever year.
Social listening is monitoring the social conversations about your brand via brand mentions, specific keywords or phrases, and comments. By actively listening to the conversations, you can educate and build relationships with prospects as well as customers.
Key benefits of social listening
Responding promptly to the customer service needs on social media encourages customers to spend between 20% to 40% more with the company.

Active social listening reduces operational costs. Handling customer requests via social media channels are up to 12 times cheaper than by phone.

Gain a competitive advantage and make your business stand out of the box.
With social media listening, you understand customer service psychology that helps to boost customer satisfaction and reduce customer support costs.
Final thoughts
The bottom line is – "Never take your customers for granted". Rather you should not miss out on a single chance to make them feel special and offer gratitude for choosing your business. As we all know learning is an ongoing process – one of the most effective ways for businesses is to analyze and define customer service needs by putting in their shoes in different scenarios. Thus, you can establish a healthy relationship with your customers.