Business strategies have certainly evolved but the core element of achieving customer satisfaction will never change i.e. delivering great customer service. According to Microsoft, "54% of consumers say that they have higher customer service expectations than they earlier."
The secret to providing excellent support is to empower customer service teams and employees. Hence, for the empowerment of customer service success, you need to focus on two Ps. They are:
People

– People refer to the customer support team that interacts and engages with customers on behalf of your company.

Process

– Process refers to the understanding of work within the company, which is an ongoing mechanism.
Customer service widely differs industry-wise. In regards to that, the approach alters but what remains unchanged is not to miss out a single chance to delight your customers. Happy customers choose to retain your business and have a higher lifetime value (LTV).
You can read more about how other brands have delivered excellent customer service.
What is customer service empowerment?
Empowerment of customer service can be defined as authorizing your support representatives to make real time decisions in favor of the customer. It is critically important for organizations to empower agents to go the extra mile to deliver a great customer experience.
Businesses adopting employee empowerment strategies can engage customers better and boost their satisfaction. Higher satisfaction has an impact on customer retention rates and brand credibility.
Why empowering employees is the pillar for customer service?
Empowering employees means giving them the authority, right technology, systems, and freedom to go the extra mile to make customers happy. Empowering customer service teams requires thorough training of employees to identify and act on the opportunities to enhance the quality of support.
The key benefits of empowering your employees are as follows:
The employees have complete freedom and knowledge to handle customer's queries independently. They have the ownership to make customers happy.

As a team, they can perform together. Thus, deliver superior customer service and improve brand credibility.

Employees' feedback is directly aligned with the company objective. The company's mission and employee's opinions are linked that makes them valued.
Giving employees ownership for their own work will not only boost motivation but also increase service quality, team productivity, and quick decision-making.
10 key ways of empowering customer service personnel to deliver quality service
Team management needs a clear understanding of the thing that your success depends upon your employee's success.  When your team has the authority to make independent decisions, they make the best of every opportunity of making customers satisfied by exceeding their expectations.
Let us discuss 10 practical ways to empower your customer service employees for better outcomes.
1. Define employee engagement plan
To win in the marketplace you must first win in the workplace."  Doug Conant
An organization that encourages a well-defined employee engagement plan undoubtedly delivers superior customer service. As per CBI news, "44% of businesses think improved employee engagement would lead to retaining them better."
Employee engagement plan includes how well the employees are engaged, involved in the work process not because they are paid to be, but they are emotionally connected with the organization.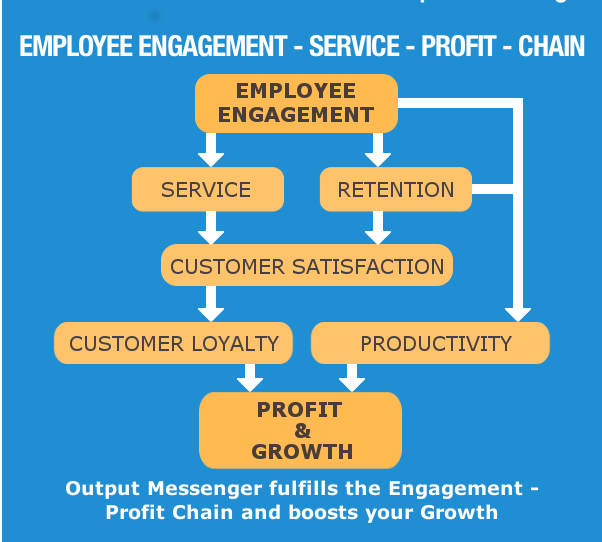 Studies on employee engagement conclude that the emotional convergence that develops between customers and employees leads in improving customer experience.
Here are some ways to encourage employee engagement.
Develop a pleasant work environment

–

You can build a work environment to make your employees feel comfortable and happy. It develops loyalty and encourages them to perform productively, which translates into delivering effective customer service.

Strengthen employee value

– Making your employees an integral part of the team and company gives them a sense of entitlement. Making their presence valuable brings a huge difference and major contribution to the company's success.

Allow work independently

– After creating a comfortable aura at work and improving the value of the employees, you need to allow them to work independently so that they can show their outstanding performance.

Avoid micromanagement

– Micromanagement has a negative connotation that restricts freedom and affects work ambiance. Do not control your employees and let them enjoy their work.
2. Define internal processes
"Almost all quality improvement comes via simplification of design, manufacturing, layout, processes, and procedures." Tom Peters
Having a defined process helps to structure your resources efficiently to have the accountability of your team or individual agent. It also provides customers the real value of using your solution. For that,  updated information should be circulated across sales, support, and marketing teams.
Let say, you anticipate that the customer may not understand your product well. So you can collaborate with your team to prepare informative tutorials or how-to videos shared on your website or email them.
How can defining the internal process can help to empower the customer service team?
Escalate the issue to the right team

– Not necessarily all the time the issues will be support-related. It might be shipping or billing issues, and escalating it to the right team helps in delivering faster solutions.

Typical response time

– You need to define a response time for fixing an issue or answering a query. For e.g set a response time of a minimum of 15 mins to 2 days maximum, depending upon the problem.

Resolving complaints

– It should be well defined across the teams that anyhow a complaint has to be closed within 'X days. 

Collect customer feedback

– Ask your customers to provide feedback about their experience after the service is delivered. 
Pro tip: Many businesses use internal communication tools to empower customer service
3. Empower customer support team with the right tools
One of the ways to empower customer service employees is by using the appropriate tools for delivering better service. Deploying the right customer service tools encourages customers to have better interaction with your brand.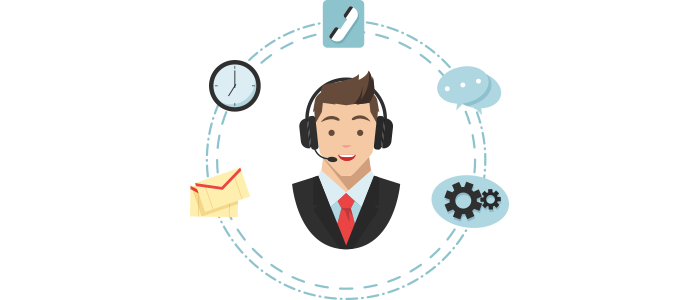 Here are some customer service tools that can fulfill customer communication objectives.
Email helpdesk

– Email is one of the oldest and most used tools by all companies to reach out to their customers. Suggested tool – Zendesk

Live chat

–

Live chat software

provides instant assistance to your visitors and customers across over website, mobile and messaging apps to deliver superior customer service. Suggested tool – REVE Chat 

Phone support

– Phone is the most preferred and quickest way to connect with your customers. Suggested tool – Aircall

Customer feedback

– Collecting customer feedback helps to know your customer's opinions about your product and services and improve the brand image. Suggested tool – Qualtrics
The above tools not only empower customer support but also improves team productivity.
4. Measure your employee performance
Productive employees are lifelines for every business. But how do you measure your employee performance levels? Every company should continually monitor and evaluate their employees. Here are some KPIs to gauge your employee's efficiency and performance.
First response time:

FCR is the time between the chat attempt made by the customer to when it was responded to by the support representative.

Chat surveys:

A chat survey can quickly measure employee performance and identify the issues. A positive response indicates your employee performance is meeting or exceeding expectations.

Average resolution time:

It refers to the average time taken to fix the issue or answer a query by the customer support agent after the conversation begins.

Total resolved conversations:

These are the conversations that are resolved successfully by the support executive from what was assigned.
From the above-mentioned metrics, you can get a complete overview of the employee performance and ensure that you have your hand on the pulse. Evaluating employee performance should be carried out on an ongoing basis and encompass all areas of their work ethic and individual achievements. 
Here are some best practices to follow:
Focus on employees' effort and praise it. It encourages them to be more productive.

Earn trust from employees by being there through thick and thin.

Celebrate important moments as a team, not yourself.

Give enough room for your employees to grow.
Following the above tips helps to empower the customer service team and foster loyalty tenacity in your employees.
5. Give ownership to your team
One of the best things you can do is give them the power to go the extra mile and make your customers happy with a budget that matches the end result you expect. After all, they will have the rights and authority that you will give them. You can empower your customer support team to make autonomous decisions.
The best example to empower customer service team –
Ritz Carlton Hotels 
The slogan that Ritz-Carlton Group believes is – "the key to making customer service visionary is team engagement."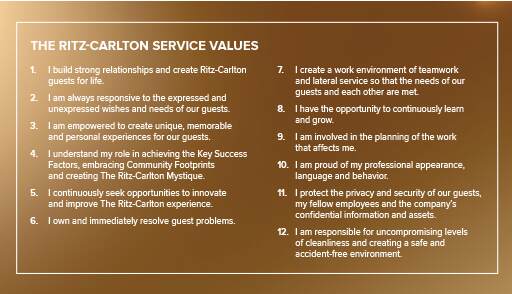 Ritz-Carlton's commitment to excellent customer service is so focused that all the employees have the authority to spend up to $2,000 per day to make their guests happy with their service. 
Key takeaways:
You can structure and incentivize your team so that your employees can work independently to resolve customer queries keeping themselves on their feet. 

Empower your customer service reps by measuring the feedback collected and total resolved queries that were assigned.
6. Engage with your customers in real time
Equipping your support team with live engagement tools is a great employee empowerment strategy. Visual engagement tools such as video & voice chat and co-browsing can be used to create emotional connections between customers and deliver a better experience to customers.
Allow your sales and support team to collaborate with your customers in real time and deliver an in-person experience with co-browsing software. You can assist your customers with video chat in order to reduce response time and boost customer satisfaction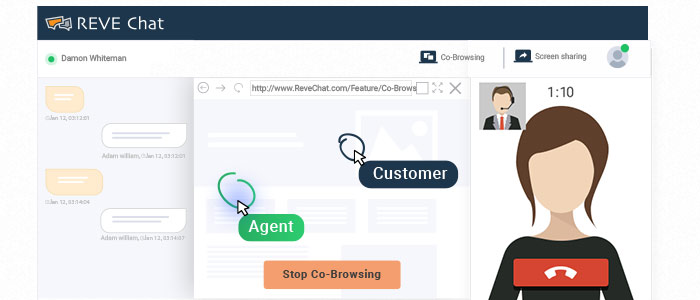 How empowering the customer service team with customer engagement help your business?
Educate and assist your customers with video chat and voice chat for product demos or virtual training/support.

Combine co-browsing with video chat to control your customer's browsers and proactively guide them in the right direction.

With video chat, guide your customers and offer solutions for quick decision-making by personalizing chat conversations. 

Co-browsing solution provides real time assistance for sales, customer service, product demos, and customer onboarding. It also helps your customers and visitors to your website to fill up a form successfully.
7. Train your customer support team regularly
Refining product understanding, training, and emotional intelligence is an important part of customer service. Providing better customer service training tips to your team will certainly help polish ways of customer interaction to deliver an excellent customer experience.
You can conduct company-wide training sessions and make it an ongoing process across all departments. The training programs must be compulsory and involve participation from top management to the employees. 
There are certain grounds that can be covered. They are as follows:
Adequate product knowledge

Time management skills

Employee communication skills

Patience and perseverance at the workplace

Interpersonal skills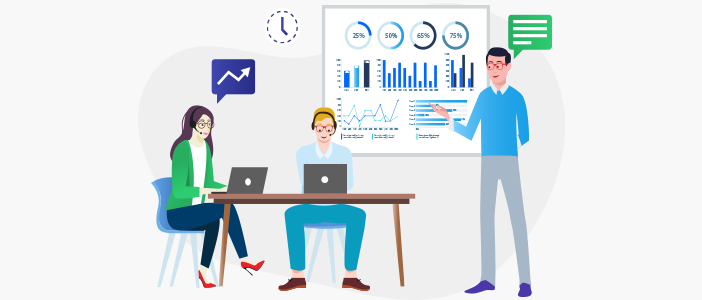 Empower your customer service team with thorough training about the work process. Building certain goals for the team and employees can empower customer service in a positive way. These goals motivate employees. You can declare surprises to make your team put their best efforts to reach the goals.
Special incentives or gift coupons for best-performing employee

An employee of the month declaration backed with a cash prize and appreciation letter
Such small things bring a big difference and certainly empower customer service.
8. Let seniors mentor the new customer support employees
Mentoring by seniors at the workplace is a great way for teams to onboard new employees seamlessly. 
But mentoring should not be restricted only to onboarding new employees. While strong mentoring programs provide better support for new hires, it also creates an open culture that encourages other teams and employees to contribute their ideas for improving the company's growth.
Mentoring by senior people in the workplace also encourages setting new goals. 93% of the workers surveyed said goal setting is important to their work performance, yet for some professionals, those discussions with managers never happen.
Key benefits of mentoring at the workplace
Increased knowledge transfer

Better job satisfaction

The motivation for professional development and accountability

Improved employee retention
Those businesses that welcome mentoring by seniors are benefited from the best training as it comprises experience and loyalty.
9. Focus on soft communication skills
Soft communication skills at the workplace are very important and a part of company culture. Soft skills can be utilized to make a routine support experience something that stays with a customer for a long time and helps drive loyalty and satisfaction. 
Communicating politely with superiors, colleagues, and team members helps you to develop better grounds for success. At times, communicating with customers includes challenging and complex conversations. Empowering your support team with the soft skills that help to deliver effective solutions
Delighting the customer with humble conversations builds the customer's confidence in your company.
Here are some key skills to empower customer service employees.
Ensure your customers remember you positively

– Avoid responding passively to customer concerns and ensure that your team knows all products and services inside out — including applications and trends.

Involve your customers in the solution process

– Personally involving your customers in the solution process gives them a sense of being valued and the feeling of being taken seriously. 

Try not to make your customer feel uneasy

–  Customers should feel positive in finding a solution to a similar problem themselves in the future and reaching out if support is needed.
10. Give your employees enough time
A new workplace certainly brings new things that an employee needs to adapt to. For understanding the new products, services, work culture you generally can give them enough time. 
Generally, this time includes:
To learn all the products or services in details

Enough time to experiment and get a better idea about the products

To manage for getting better their personal affairs

For understanding the work process
Giving time to the employee allows them to perform effectively that nurtures in growth and productivity of the company. Not always you can please your employees with other benefits but giving the benefit of time produces better results for sure.
Final thoughts on how to empower the customer service team
When you make superior customer service a mission of your company it is easier to empower your customer service teams to deliver great service and boost customer experience with every interaction. 
Providing the right customer service tools and maintaining transparency with the company goals and critical information gives employees ownership of their projects, as well as a voice. Ultimately, your employees will feel motivated to provide a delightful customer experience!