Live chat is the most preferred communication channel as it offers real time assistance for sales and customer support. However in order to get the most of your chats, you should follow live chat tips and best practices for online sales and customer support that can help you to implement the strategies in better way.
According to the survey cited, 73% of customers prefer live chat, compared to 61% preferring email and only 48% social media.
Live chat has the lowest wait time compared to other customer service channels.
Live chat allows multiple chat conversations by making it a cost-effective support channel.
Live chat routes the new incoming chats across right departments and right agents quick resolution.
Live chat allows to begin a proactive conversation with customers and help them in their journey.

Source: Superoffice
So why live chat is your biggest support channel? There are a few factors:
Real time

– Live chat is instant. It connects the customer with the agent in real time and resolves queries faster.

Productivity

– Live chat allows handling multiple chats simultaneously that saves time and improves productivity.

Best ROI – Live chat helps in driving more sales from your website, preventing sales funnel drop out and ultimately delivering a better ROI.
16 live chat tips for online sales and customer service

The above factors and stats show how much customers prefer to live chat in their buying journey. And all of us know that customers are at the center of every business. So, we are going to share some of the top live chat customer service tips for your business:
1. Reduce your response time
Econsultancy reports found out that 79% of customers say they prefer to live chat purely because of the instant response it offers as compared to other channels.
Why response time matters:
Faster response time is one of the most important

metrics to improve customer service

Live chat helps to boost your brand customer experience

The new customer service trends have influenced the customer expectations for quick responses

Slow response time reduces customer satisfaction
Live chat helps to respond to customers queries instantly. With live chat, an agent can handle 5 to 6 conversations at the same time. Thus, customers get an immediate response without waiting for a long time.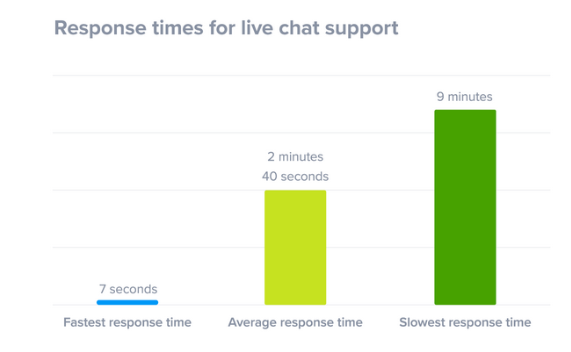 Tips:
Define your response time to measure customer satisfaction. It will help you to utilize your team member to meet the KPI.

Add chatbot to manage your common questions and visitors info collection.
2. Automate your live chat with bots
Innovation & Digital Transformation leader Oliver Laborde says "Chatbots are making their way into the landscape of customer relations with the opportunity and promise to offer a better customer experience.
Chatbot automation improves live chat customer satisfaction by handling basic queries round the clock. It works hand in hand with agents by collecting customer details before transferring the conversation to the right agent.
Chatbots automation boost customer experience by following ways:
24×7 support –

Chatbots helps businesses to engage with customers 24×7 when the chat representatives are not available to handle the conversations.
Less number of help desk support tickets

: Chatbots answers all the basic queries and reduces the number of help desk tickets raised by customers.

Humanized support for complex queries –

When chatbots do not understand the question asked by the customer, the chat is transferred to the right support agent.
Example – KLM Royal Dutch Airlines
KLM launched a chatbot via Facebook Messenger called "BB" ( BlueBot). The primary function of BB is to help passengers book tickets and keep them up to date on flight status, gate changes, and similar data-driven functions.
The company built the chatbot to assist its customer support team, which handles more than 16,000 customer interactions weekly, as covered on the MarTech Today blog. In just 6 months of, BB sent nearly two million messages to more than 500,000 customers. KLM recently expanded the reach of the chatbot by merging it up to Google Home, adding an audio/voice layer.
Source – KLM-BB
Tip:
Balance your support services with bots for basic customer queries and human support for complex issues, to deliver the best experience of both worlds.
3. Use live engagement tools
Live chat software fuels the speed of communication without letting the customer wait for a long time. By using live engagement tools such as co-browsing, video chat the chat conversations can be made interactive and deliver a better live chat customer experience to customers.
Customer Think says customer satisfaction ratings for live chat are often higher than all other support channels, likely because of the speed and conversational nature, with chat being the preferred support channel by millennials.
Co-browsing tool helps the customer service agents to interact with the customer's screen and guide the customers to resolve their issues in real time. You can combine live chat with co-browsing and video chat to make the conversation interactive and effective.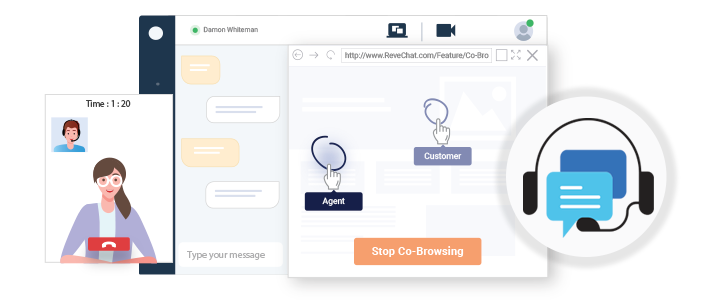 When you make chat conversations interactive, it boosts customer satisfaction rates and improves customer experience. It also delivers better customer satisfaction and virtual in person experience with customer engagement tools.
4. Help your team with chat scripts
As per Software Advice Research, 84% of surveyed customers felt their experience improves "more than slightly" when an agent was able to answer confidently.
Using well structured live chat scripts for customer service helps to handle different scenarios smoothly when agents have to address customers. By using right live chat scripts and phrases, you not only resolve your customer's queries but also deliver consistent customer experience.
Chat transcripts help in the following ways:
Faster response

– Preset scripts helps the support agents to answer customers faster and the close the chat successfully and increase customer satisfaction.

Proper tone of language

– Chat transcripts help the agents to follow the defined language to make sure that customers are satisfied as they advocate your brand with their experience with your brand.

Consistency in brand experience

– Transcripts help to deliver a consistent brand messaging experience during chats that results in a positive word of mouth which is a core part of shaping a brand.
5. Route your chats to right agents
When there is a new chat initiation by a website visitor or customer they become a new prospect. You can route the right conversation to the right team member automatically. Chat routing helps in reducing the chat wait time and improves the chances of sales conversion.
Chat routing also helps to identify the new chat conversations and auto-direct to the right department or team for quick assistance. Routing is based on three categories – time-based routing, broadcasting, and URL based routing.
Routing encourages cross-departmental communication by sending chats to the right departments or team. The concerned team holds the product or service expertise to handle the chat reducing the queue time.
6.  Measure your chat metrics
The live chat metrics help you monitor the effectiveness of your live chat performance and the areas you need to improve. With the continuous measurement of key performance indicators (KPIs), you can improve the live chat performance experience of your customers as well as the productivity of the team.
Some of the chat metrics that need to be measured are as follows:
First response time

– Measuring the first response time is key to maintaining a standard for customer satisfaction with your chat conversations.

Ifbyphone

research finds 59% of customers are more likely to buy when brands answer their queries in under a minute.
Total conversations

– Total chat conversations performance metrics show how many chat sessions you have had with your website visitors. A higher chat volume shows that you have good engagement with your website visitors.
Total visitors –

Tracking the total number of visitors is an important KPI to measure agent performance metrics. It is important to monitor from the total chats assigned, how many of them were solved and, more importantly, how many of them are still pending.
Visitors to chat ratio –

It refers to those visitors who not only visit your website but also start a chat conversation when they find your products matching their requirements.
7. Measure customer satisfaction after every chat conversation

Live chat is one of the most used channels for collecting customer feedback. It is best to ask customer feedback through rating customer service. Asking customer provide their feedback immediately after a demo or live chat session is the best practice to be followed.  
The time for asking customer feedback questions to your customers should be:
At the end of chat conversation

– When the chat conversation ends you can ask customers to rate their chat experience.

During the product tour

– While the customer is within the product you can ask them to provide their opinions related to the product.

After transaction checkout

– After a successful transaction checkout is a right time to ask the customer to provide their feedback.

After a demo is offered –

Once you give the product demo, ask your customer to provide product feedback.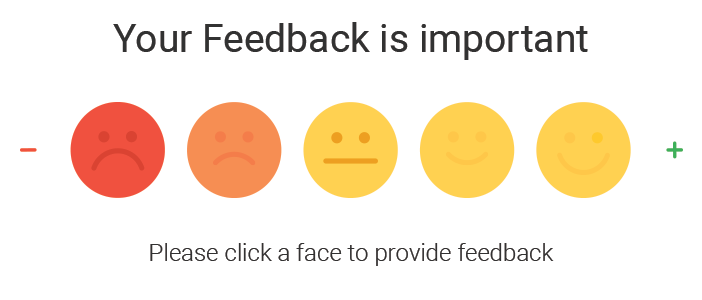 Measuring customer satisfaction comes down to collecting customer feedback via different methods (surveys, polls). You can receive customer feedback through email or during a live chat with rating view after the session.
Tip:
Once feedback is collected analyze it and send it to the concerned department to act on it. Filter the feedbacks according to priority and improve your products and services. 
8. Make use of automated triggers
In a day there are many visitors and customers to your website. Usually, the prospects keep dropping off after spending some time on a specific page of your website. To convert such visitors into customers you can start a chat with proactive chat messages.
Based on the customer journey you can trigger personalized messages at the right time. It will help the customer to get involved in a chat and you can guide and assist walkthrough the product. Automated triggers help customers in making quick decisions and more sales conversions.
For e.g, Send proactive trigger message to those prospects who spend more than 50 seconds on your pricing or product page. Connect with them to understand if they have any concerns and answer their questions to negotiate a discount.
9. Use canned responses
Canned responses are the preset responses for commonly asked questions by customers during chats. These responses are one of the best live chat tips that can be followed during customer service.
Canned responses can maximize the efficiency of your customer support team handle multiple chat sessions and balance the response time efficiently. It saves a lot of your agent's time and decreases any typo error. Most of the modern live chat solutions today provide canned replies.
You type reply once, save it and then reuse it during live chat sessions with a few keystrokes.
It is important to use canned responses smartly and wisely. The customer support team should be trained not to overuse of canned replies during a live chat conversation, else it may make your customers think they are talking to a robot rather than a real human.
10. Unify your chat support across social media
Social media presence is as important as having a website nowadays. Many of your customers hang around in social platforms like Facebook, Viber, Telegram. You should connect these messaging app with your live chat software to make your life easier.
Best live chat tips ever right!
Omni channel support gives a better customer experience. As your visitor can connect to you from any social platforms they are visiting, instead of traditional channels.
Additionally integrating social media for live chat increases the chance of customer engagement. Your customer can easily communicate with you from their favorite channels. Hence it helps you in getting more leads.
11. Personalize your chat conversations
Personalization is an evergreen trend that will never stop to show its magic.
The concept of personalization is adopted by all business as the prime focus of every business is customer acquisition. Live chat helps to personalize your chat conversations, greetings and visitors information that builds trust in customers.
Personalize your live chat sessions in the following ways:
Friendly greetings and messages

– There is no better way to start a conversation with a personalized greeting. A simple "hello, how may I help you today?" makes the customer comfortable to proceed the chat in a friendly way.

Address customers with name –

During the chat conversation, if you address the customer with the first name, it makes him feel like an individual and the conversation becomes more one on one kind.

Ask what brought them here

– You can add personalized questions such as what brought them to your website? will make the conversation personal and effective.

Close conversation thanking them

– Offer a good note of gratitude to your customers before closing the conversation. For eg – "Thank you so much for reaching us out. We will be happy to help you in the future."
12. Customize your live chat to match your brand
You can customize your live chat widget to match your website branding. You can use personalized greeting messages for your website visitors and customers. Greetings is a great way to start a conversation.
You can greet your website visitors based on their geographic location. For eg – configure a welcome message in French to greet visitors from France.
13. Use a positive tone
It is not always what you say but how you say it – which is important. One of the important live chat tips is to keep a positive tone while dealing with frustrated customers.
To handle a difficult situation use of positive language is something that can help you. Say for example – you have one of your items out of stock. Now you can answer your customers by following two ways. You decide afterward which is the positive language between two.
"I'm afraid we no longer have the product."

"We no longer have the product, but I would be happy to introduce you to a similar new product that might satisfy your needs."
14. Connect live chat with your other business tools
You want to have your CRM software integrated with the live chat solution. Daily your chat agents may chat with thousands of visitors and have access to their sales record.
CRM integration with live chat allows your agent to update these customers sales records. It makes your lead generation tasks easier.
Benefits of live chat integration with CRM
CRM live chat integration allows you to identify your customer needs

Resolve their issues and closes deal faster

Collection of real-time data for sales and revenue reports
15. Show empathy towards customers
Dealing with customer's mood is very important to deliver the best service he is looking for. Customers may not be happy with your product or service. They can blast their anger complaining you.
You need to patiently listen to their complete experience with your product, without interrupting them in between. Be attentive in listening to what they are saying and ask an apology and provide a solution to resolve the matter and make them feel important.
Some scripts that can be followed to handle angry customers.
"I am so sorry about what has happened. Let me try to find a solution to it."

"I'm so sorry about the inconvenience faced by you. Explain to me how it happened."

"I'm sorry you are facing the problem. Let's find a way out to pull you out of the see if there is anything we can do to help the situation."
You may like to read – Live chat etiquette for customer service success
16. Use live chat in a conversational way

Live chat conversations are effective because it is quick and easy consumable. Instead of writing a lengthy paragraph during the ongoing conversation that may include all solution steps, it is better to break it into simple sentences. For example:
"OK, I'll explain"
"To upgrade you first have to go to your dashboard."
This is a simple way you can engage your customers in a meaningful conversation rather than overloading them with too much information. Breaking up your thoughts in small bites helps you to redirect the conversation quickly when the customer can intervene when they find that you are talking about apples, while they meant pears.
Final thoughts: How to use live chat tips for sales & customer support

These are some of the scenarios we have covered here. But there are many more customer support and live chat tips that can be implemented based on your business use case. All those scenarios need to be treated delicately and with a strategy.
We hope you know the top live chat tips for effective customer service. Execute these best practices wisely and smartly to deliver the best memorable experience for your customers.