Whenever you hear the word-"Sales", what comes into your mind first? May be some stereotype words like desperate, chasing etc.
At your workplace, it does not matter whether you confront customers directly or not but sales must be a part of your job responsibilities. So, everyone should possess the skills for sales to convince others.
How to improve sales skills?
1. Be a good listener first
The stronger will be your listening skills, the better will be your sales conversation.
[Tweet ""The single most important key to success is to be a good listener." ― Kelly Wearstler"]
So, listen very carefully. Being an active listener, try to understand what people have to say and their objectives. Then only you will be able to answer properly and present your ideas in a better way.
 Tips:
Don't interrupt when the other person is speaking

Speak slowly and politely

Ask questions if something is not clear to you

Remember important points of the conversation and refer to them later if required
2. Understand the other person
To improve sales skills, understanding the needs or requirements of the other person is important. He has a set of expectations and your job will be to exceed those. So for this, you need to make your IQ (Intelligence Quotient) and EQ (Emotional Quotient) stronger. EQ refers to your ability of perceiving, controlling, evaluating and expressing emotions. IQ is related to your product knowledge. Improving on these two aspects will help you to sharpen your sales skills.
[Tweet "58%of buyers report that sales reps aren't able to effectively answer their questions."]
3. Regular follow-ups
This is one of the most crucial phase where your attitude can make the relationship with the other person strong or weak. If you have a business, you can call the customers to ask if they are getting benefited from your product or not. Regular follow-ups will help you to achieve your goal.
 Tips:
Send valuable information

Communicate with them regularly and efficiently

Ask for their guidance to serve in a better way

Let them tell you their preferred ways of communication
4. Storytelling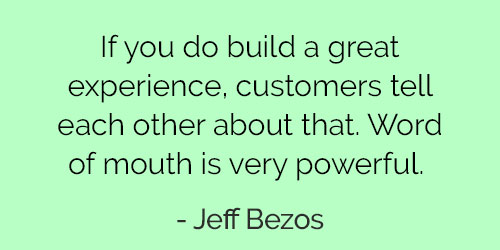 It's an important skill that everyone should learn. This is all about how you present an idea in front of others. For example, if you want to tell people about your company, you can present the organization as the hero, what the hero wants to achieve (objective or goal) and how the hero has grabbed the position that he is in today (about your company's struggle and challenges, product developments etc.)  
5. Deal with rejections tactfully
Always have the right attitude towards a 'NO' which will definitely help you to get more 'YES' in the future. Remember one thing: your idea has got rejected, not you. It will help you to improve those areas for which you got rejected.
 Tips:
Don't take rejection personally

Try to find out why the rejection happened

Start working harder on those aspects which require improvements

Take it as an opportunity to do better

Always have a positive attitude
6. Have concise and to the point communication
Everyone is very busy today and don't have the whole day to listen to you. So, one of the important sales skills will be to communicate precisely without wasting too much time. Customers value the way you present any idea. The best idea will be to present maximum three important points in a single conversation with the other person.
7. Build a relationship
The fastest way to connect with people: be caring. Also find out what they like, their hobbies and requirements. All of these will give you the context of initiating the conversation.
One point will be observing the person, the way he talks. If he speaks slowly, then you should also slow down your speech. Why? Because similarities always help to connect with each other.
Bonus tips:
Present your Unique Selling Proposition (USP) very clearly

Be comfortable to ask for a budget and investment

Provide clear directions regarding the next steps

Show subject matter expertise

Try to personalize the interactions

Keep eye contact with the person to show care, security and appreciation