The traditional way of customer service falls short when it comes to meeting the constantly evolving expectations of new-age customers. 
So, businesses that still adhere to the old methods must change the ways if they aim to deliver greater experiences to customers at every step of their journey.  
It is where AI enabled customer service chatbots make the foray into the support sphere as they not only impact the support but can also automate functions across sales, or marketing verticals as well. 
With 50% of consumers no longer caring whether they are dealing with humans or AI-enabled assistants, bots-driven automation can definitely fill the gap in the customer support hierarchy and ensure value.  
Using customer service bots, it becomes easy to provide better prompt assistance at various touchpoints of the customer journey, streamline the processes and boost the level of enhancing customer engagement. 
REVE Chat offers visual chatbot platform to build AI chatbots for customer service with zero coding. It offers ready made templates to build bots faster and deploy across the use case in few simple steps. Also, businesses can customize their bot flow as per their requirements.
What is a Customer Service Chatbot?
Customer service chatbots are designed specifically with an objective of serving purposes along the customer journey. The smart customer care bot can answer up to 70% of simple, FAQ-oriented customer questions or direct customers to find additional information or resources on your website. 
Such chatbots come with the added benefit of reducing the number of contact center queries received, which means customer service agents can spend more time handling complex customer issues instead of regurgitating information that could be easily automated or found in an FAQ.
12 Key Benefits of Chatbots in Customer Service
A growing number of businesses are now choosing AI chatbots as an integral part of their customer service to improve response time and save operational costs. Since bots can resolve simple questions quickly, your team will have spare time to tackle complex queries and contribute to enhancing the customer support experience.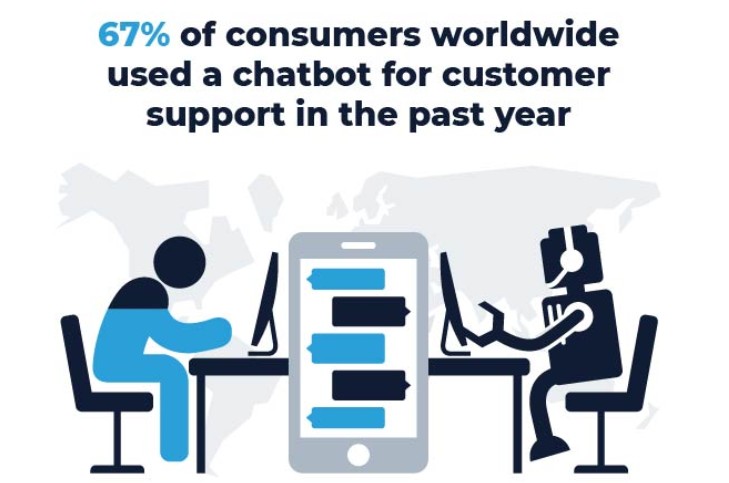 The use of AI for customer support chatbots can accelerate support in many ways at different levels. 
#2. Deliver a Better Experience 
#4. Ensure a Seamless Hybrid Support   
#6. Minimize Customer Support Costs
#7. Reduce the Number of Support Tickets
#8. Collect Real-time Feedback 
#9. Improve Productivity of Support Agents
#10. Automate Your Social Media Support
#11. Minimize IVR Frustrations
#12. Track Customer Satisfaction KPIs 
Let's look at each of the ways in detail; 
#1. Provide Instant Support
Long queue times often scare away the customers.  
With businesses losing 75% of customers due to waiting times, it would be safe to say that 'not getting instant responses is easily one of the greatest customer frustrations, and also a major cause of customer churn. 
Implementing a chatbot along with other communication channels can help you to deliver instant assistance to the FAQs requested by customers.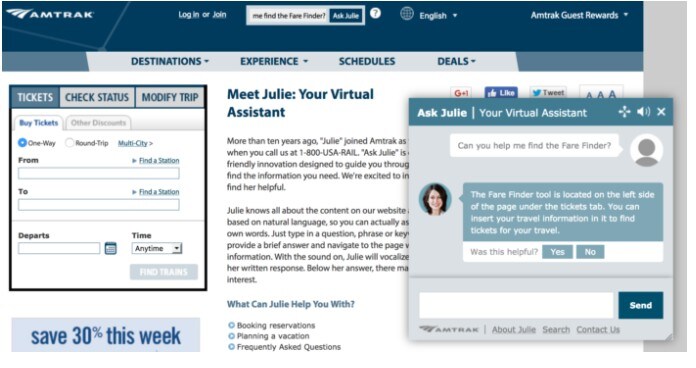 Amtrak's Julie is a good example of how to use a customer service chatbot to best effect. It promptly responds to the queries from a comprehensive knowledge base on travel information and policies from across the Amtrak system. 
The bot has answered approximately 5,000,000 support queries in a year. In fact, Amtrak witnesses 25% of a significant increase in bookings and 30% more revenue with the help of Julie. 
How a customer service chatbot is better for support? 
You can

train your customer support chatbots

to anticipate customer's needs and deliver relevant answers. 

Bots can be used as the first point of contact to reduce customer churn and

make human handover for complex issues

.

If your business receives repetitive queries, implementing chatbots can be a wise way to

provide instant support without making customers wait

.

Even when chatbots can't solve a problem immediately, they can at least

provide an instant response relevant to the customer's query

and create a good impression on your customer.  
#2. Deliver a Better Experience
Good quality conversational support is always one of the important aspects of customer experience.
When you use a customer service chatbots, you can address customer's requests in real-time, making them more inclined towards the brand.  
A  chatbot on the website or a messaging app is able to provide a certain level of support on a round-the-clock basis.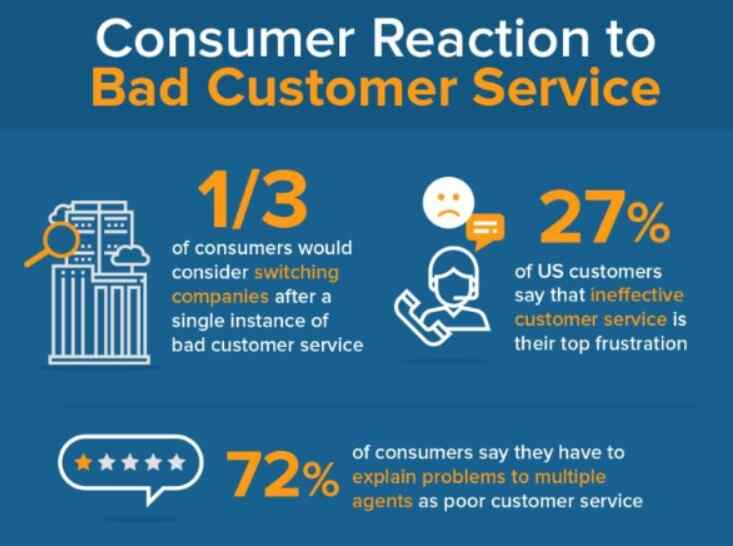 Tips to deliver a better CX with customer service bot
Identify the type and urgency of the issue. 

Send the ticket to the right department or agent. 

Push it to the top of the queue based on the level of urgency.

Help the customer schedule a chat/call during business hours to eliminate feelings of uncertainty. 
#3. Stay Available 24×7  
43% of consumers expect 24×7 customer service from e-Commerce/online retailers while just a little less than that expect the same but for approximately 12 hours a day/7 days a week.
Naturally, a better resolution speed is at the heart of the desire for customers when they expect businesses to be available all the time. 
Providing quick response and fixing an issue in a first contact itself is one BIG differentiating factor when it comes to retaining customers. 
This is one of the top reasons why chatbots are being deployed for delivering superior customer service round the clock.
The customer support chatbot can tap into the comprehensive resources and provide quick responses, any time, even when the support team is unavailable. 
Being able to engage customers at their preferred time improves satisfaction and loyalty towards your brand.
Best practices of using AI powered customer service for round-the-clock support 
Use the bot to

engage your customers by providing instant answers

to common queries.

Address simple queries instantly with customer support chatbots

and reduce the number of support tickets.

Trust the

chatbot template for customer support

to allow agents to focus more on the critical aspects of customer service. 
#4. Ensure a Seamless Hybrid Support   
Businesses that want to provide live chat support can have three options: 
Hybrid approach of using both  
The right balance of both communication channels can help deliver better customer support.
When you offer hybrid support, you are easily able to strike an equilibrium between providing relaxation to the support team and offering qualified services to your leads. 
It will be like embedding your bot in the first stage and putting human support backstage.
This is how businesses can automate the repetitive queries with bots and ensure the complex ones are seamlessly transferred to the human agent. 

Tips to deliver a hybrid support with customer care chatbot
You first need a better understanding of

live chat vs chatbot

by learning the pros and cons of both platforms before offering hybrid support.

There has to be

a seamless transition between the customer service chatbot and human agents

so that customers do not face any inconvenience.

It's important to

trust hybrid support to reduce the number of touchpoints

for overall resolution. 

When the bot is unable to resolve the query, it needs to be directed to the agent for an

effective solution in the first contact itself

. 
#5. Achieve Easy Scalability
Having an option to scale the support is the first thing any customer-centric business can ask for. 
There are times when a sudden hike in traffic is inevitable like the festive seasons or peak hours. For such times,  how would you handle the rush with the same support infrastructure in place?
Obviously, you will encounter challenges such as adding more support experts, providing training, etc.
Adding chatbots to customer support can help you avoid all such issues and also give the scalability to handle conversations in real-time. Plus, doing this is simple and economical as chatbot cost is something you can easily manage. 
Additionally, chatbots in customer service can also help you improve business productivity without any extra costs and resources. 
How to scale support with best customer service chatbots? 
You can easily

balance scalability with both chatbots and live chat

. The simple queries will be managed by the bot and the complex queries are handed over for human support.

Bots can

engage in endless conversations irrespective of time

and volume that brings business growth as well as customer satisfaction. 
#6. Minimize Customer Support Costs
Chatbots can help economize customer support tasks without compromising the quality of service. 
Thanks to bots, your business can save expenses that accrue on adding more support agents, providing support training, or maintaining a robust support infrastructure. 
Deploying a customer service chatbot can help can handle numerous conversations at the same time and deal with an increased volume of customer requests while keeping the costs under check.
For that reason, you should plan to invest in artificial Intelligent for customer support to bring down the costs yet deliver a great chatbot customer experience. 
How can AI powered customer service help in reducing support costs? 
You can

estimate the peak time for your business

and then deploy chatbots for managing the costs. 

If your cost per chat is high, you can

implement a customer support chatbot to handle conversations efficiently

without extra investment.

You can

train your customer service bots regularly with FAQs

and help them understand the user intent better to provide a relevant response. 
#7. Reduce the Number of Support Tickets
Not resolving the customer issues at the earliest can hamper the growth of your business and needless to say, may spur an increasing number of support tickets. 
In fact, 265 billion customer support tickets and calls are made globally every year, resulting in a massive loss to the industry in support costs.
To avoid such losses, you need to think of boosting customer experience with your brand and resolve their issues in a timely manner.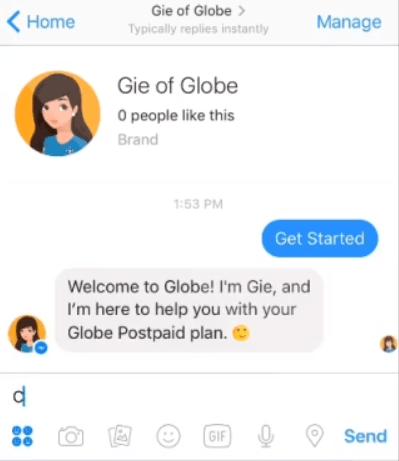 Globe Telecom — a major provider of telecommunications services in the Philippines — is a good example of how to effectively use chatbots in customer service and achieve amazing results as well. The telecom chatbot helped it increase employee productivity by 3.5 times and customer satisfaction by 22 percent as it resolved the simple queries in the first go and improved first contact resolution.  
How do the best customer support bots reduce support tickets? 
You can

automate simple queries such as order status

, return policy, and delivery time with bots and manage your customers efficiently.

Customer support bots can be programmed with all the information to

deliver error-free service, avoid complications

and achieve a higher accuracy level. 
#8. Collect Real-time Feedback 
Feedback is vital for every business as it helps you to know how much the customers are satisfied with your products and services.
However, for businesses, it is not always easy to get the customers to fill up feedback forms or answer questionnaires.
Such situations can be avoided by implementing chatbot services as then you will gain a better feedback loop and improve customer relationships while having better data on users.  
Customer service chatbot templates can help make the process interactive, quick, and easy by helping you get real-time feedback at any stage of your customer's journey, whether as at the end of the chat conversation or at the purchase of a product.

Tips to use a customer service chatbot for customer feedback 
You can

use a chatbot to gather the preliminary information

before connecting the user to the right support representative and shorten the wait times for customers. 

The bots-powered feedback can help you

know the areas to improve in your products, services

, or bot flow for better interaction. 
#9. Improve Productivity of Support Agents
Implementing chatbots for customer support increases the efficiency of a customer service team. 
In fact, support reps can become 3x times more productive in handling priority tasks when bots are there to seamlessly address the FAQs promptly.
Similarly, bots can answer queries round the clock and save agents precious time for other more important tasks. 
How do bots make the support team more productive?
Handle voluminous support requests

– Bots are capable of attending to several customer interactions simultaneously and it ensures your customers are not waiting long for getting a response. 

Escalate issues to the right team

– Some customer issues require expert assistance and bots can route them to the expert support agents and ensure better responses. 
#10. Automate Your Social Media Support
A lot of customers now turn to social media for engagement and customer support. 
However, in the majority of cases, this outreach is neither addressed timely or even not entertained at all. 
One reason may be that businesses are constrained for resources and they may not want additional manpower for social platforms. 
Chatbots for customer support can overcome this problem through automated responses to users' requests on social media. Social bots can seamlessly carry conversations with users, with the purpose of assisting them. 
They can also help in building stronger relationships with customers by delivering targeted content and anticipating user reactions.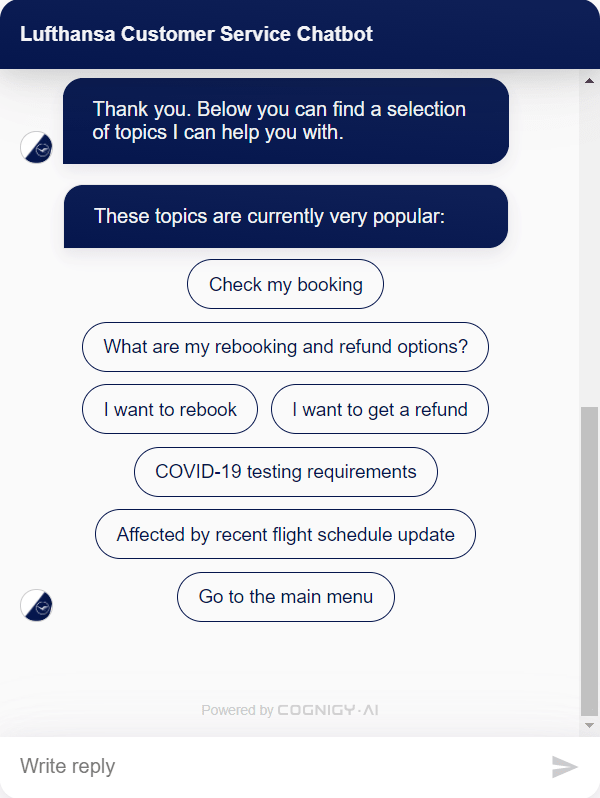 Lufthansa Group has implemented a customer service bot to help users find and book cheap flights without ever leaving their iPhones. The bot is bilingual, speaking both English and German and is extremely easy to use. In order to boost customer satisfaction, the bot is made available on other channels such as airline apps, WhatsApp. 
How to use social bots to connect with customers more efficiently?
You can

respond to the user requests, comments on time

, which will improve the experience. 

Many sectors like retail, travel, entertainment, and even health and finance can use social bots as assistants and

deliver customers great services over social media

. 

Social bots can help you

grow your social image by providing real-time customer support

on a big public platform. 
#11. Minimize IVR Frustrations
Not many customers like using interactive voice response (IVR) systems during phone calls. 
Listening to the menu is a time-consuming task and still not getting personalized responses is a sure-shot recipe for bad customer service. 
In addition, some of the other common IVR inconveniences faced by the customers are calls routed to the wrong teams, hang up of calls, limited options offered, etc. 
Chatbots for customer service can be a great way for businesses to let customers get relief from the frustrating IVR system. 
The straightforward answers without having to wait or choose options will indeed improve user satisfaction.
How to use chatbots to remove IVR issues?
The customer support bots can

engage customers instantly

by providing the answers they are looking for.

The bot automatically

routes the chats to the right team

automatically for quick and effective resolution without making users wait.

You as a business

save time and cost

associated with transferring a customer between different departments. 

 
#12. Track Customer Satisfaction KPIs 
Three in five millennials have used chatbots at least once in their lives. 
It means customers are happy using the chatbot and seem habituated to it. 
However, when you build your customer service chatbot, one of the fundamental practices is to define the end goal of the bot and find out if those goals are met. 
The Customer Satisfaction Score (CSAT ) or Net Promoter Score (NPS) are the key metrics to measure your customer service. 
With the help of these KPIs, you will be able to know how far your customers are happy interacting with your bot. You can improve your bot flow based on the scores to improve the chatbot customer experience.
How to use customer care bots can evaluate CSAT metrics?
You have to

evaluate your CSAT score or NPS score of your bot conversations

and understand whether your customers are happy with the bot.

Based on your measurement scores, you should really check if the bot is helping or not, and then

revisit the flow /design to make sure it is helping customers

.

You should

monitor the bot's performance regularly

to enhance customer satisfaction rates. 

 
REVE Chat as a Smart Customer Service Chatbot
Customer service chatbots have become an essential tool for changing the entire customer service experience, especially as it relates to customer self-service. 
REVE Chat offers a chatbot platform that helps businesses in delivering better conversational experience. The newly added features can make the bot more capable to understand the user intent and provide 24×7 assistance. 
Key features of the platform that makes a smart customer support chatbots are as follows:
More Actions:

Automate your conversational flow to connect the customers with video chat, email or chatbot API.

Sentiment Analysis

: Understand your

customer emotions

and respond more accurately to deliver higher customer satisfaction.

Fallback Options:

There are multiple

fallback options

that uses triggers or surveys to have a seamless conversation if the bot is not able to respond.

Bulk Machine Learning (ML) Training:

It allows you to import your own data in bulk to train your chatbot and improve the overall accuracy.

Data Sanitization:

You can convert your unstructured data into a structured one so that chatbots can deliver accurate responses. 

Bot Analytics:

You have additional reports to understand the leads generated by bots and its time trend.
Ace Your Support Game with Customer Service Chatbots
Artificial Intelligence is now an integral part of user engagement strategies and also greatly changing how businesses provide support to their customers. Thanks to the ever-growing usages of AI, brands find it apt to use customer service chatbots to provide immediate responses and reduce the chances of two-way human intervention. 
Similarly, AI-powered bots have also helped to reduce operational costs which result in greater levels of customer satisfaction. As things stand today, chatbots for customer support are set to have more advanced capabilities of Artificial Intelligence (AI) and Machine Learning (ML) to understand the context and sentiments of customer queries and ensure the response is similar to users' language.